Astronomy Picture Of the Day (APOD)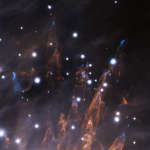 The Orion Bullets
10.01.2013
Cosmic bullets pierce the outskirts of the Orion Nebula some 1500 light-years distant in this sharp infrared close-up. Blasted out by energetic massive star formation the bullets, relatively dense, hot gas clouds about ten times the size of Pluto's orbit, are blue in the false color image.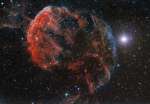 The Elusive Jellyfish Nebula
9.01.2013
Normally faint and elusive, the Jellyfish Nebula is caught in this alluring telescopic view. Drifting near bright star Eta Geminorum, at the foot of a celestial twin, the Jellyfish Nebula is seen dangling tentacles from the bright arcing ridge of emission left of center.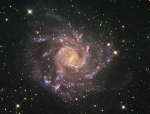 Grand Spiral Galaxy NGC 7424
8.01.2013
The grand, winding arms are almost mesmerizing in this face-on view of NGC 7424, a spiral galaxy with a prominent central bar. About 40 million light-years distant in the headlong constellation Grus, this island universe is also about 100,000 light-years across making it remarkably similar to our own Milky Way.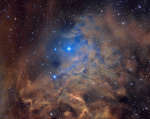 AE Aurigae and the Flaming Star Nebula
7.01.2013
AE Aurigae is called the flaming star. The surrounding nebula IC 405 is named the Flaming Star Nebula and the region seems to harbor smoke, but there is no fire. Fire, typically defined...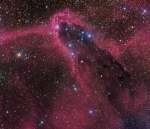 The Dark Tower in Scorpius
6.01.2013
In silhouette against a crowded star field toward the constellation Scorpius, this dusty cosmic cloud evokes for some the image of an ominous dark tower. In fact, clumps of dust and molecular gas collapsing...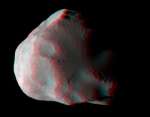 Stereo Helene
5.01.2013
Get out your red/blue glasses and float next to Helene, small, icy moon of Saturn. Appropriately named, Helene is one of four known Trojan moons, so called because it orbits at a Lagrange point. A Lagrange point is a gravitationally stable position near two massive bodies, in this case Saturn and larger moon Dione.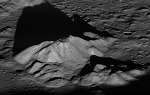 Sunrise at Tycho
4.01.2013
Tycho crater's central peak complex casts a long, dark shadow near local sunrise in this spectacular lunarscape. The dramatic oblique view was recorded on June 10, 2011 by the Lunar Reconnaissance Orbiter. Shown in amazing detail, boulder strewn slopes and jagged shadows appear in the highest resolution version at 1.5 meters per pixel.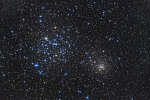 Open Star Clusters M35 and NGC 2158
3.01.2013
Open clusters of stars can be near or far, young or old, and diffuse or compact. Found near the plane of our Milky Way galaxy, they contain from 100 to 10,000 stars, all of which formed at nearly the same time. Bright blue stars frequently distinguish younger open clusters.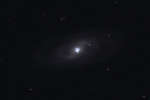 The Einstein Cross Gravitational Lens
2.01.2013
Most galaxies have a single nucleus -- does this galaxy have four? The strange answer leads astronomers to conclude that the nucleus of the surrounding galaxy is not even visible in this image. The central cloverleaf is rather light emitted from a background quasar.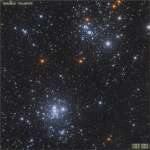 A Double Star Cluster
1.01.2013
Few star clusters are seen to be so close to each other. Some 7,000 light-years away, though, this pair of open or galactic star clusters is an easy binocular target, a lovely starfield in the northern constellation Perseus.