Astronomy Picture Of the Day (APOD)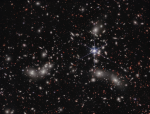 Pandora s Cluster of Galaxies
8.06.2023
This deep field mosaicked image presents a stunning view of galaxy cluster Abell 2744 from the James Webb Space Telescope's NIRCam. Also dubbed Pandora's Cluster, Abell 2744 itself appears to be a ponderous merger of three different massive galaxy clusters some 3.5 billion light-years away toward the constellation Sculptor.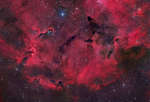 Elephant s Trunk and Caravan
7.06.2023
Like an illustration in a galactic Just So Story, the Elephant's Trunk Nebula winds through the emission region and young star cluster complex IC 1396, in the high and far off constellation of Cepheus. Seen on the left the cosmic elephant's trunk, also known as vdB 142, is over 20 light-years long.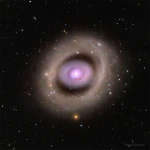 APOD: 2023 June 7 Б M94: A Double Ring Galaxy
6.06.2023
Most galaxies don't have any rings of stars and gas -- why does M94 have two? First, spiral galaxy M94 has an inner ring of newly formed stars surrounding its nucleus, giving it not only an unusual appearance but also a strong interior glow.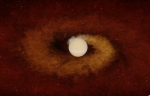 APOD: 2023 June 6 Б Star Eats Planet
5.06.2023
ItБs the end of a world as we know it. Specifically, the Sun-like star ZTF SLRN-2020 was seen eating one of its own planets. Although many a planet eventually dies by spiraling into their central star, the 2020 event, involving a Jupiter-like planet, was the first time it was seen directly.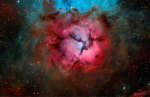 APOD: 2023 June 5 Б In the Center of the Trifid Nebula
4.06.2023
What's happening at the center of the Trifid Nebula? Three prominent dust lanes that give the Trifid its name all come together. Mountains of opaque dust appear near the bottom, while other dark filaments of dust are visible threaded throughout the nebula.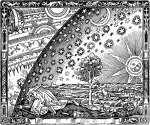 APOD: 2023 June 4 Б Color the Universe
3.06.2023
Wouldn't it be fun to color in the universe? If you think so, please accept this famous astronomical illustration as a preliminary substitute. You, your friends, your parents or children, can print it out or even color it digitally.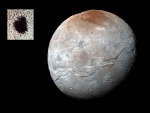 Charon: Moon of Pluto
2.06.2023
A darkened and mysterious north polar region known to some as Mordor Macula caps this premier high-resolution view. The portrait of Charon, Pluto's largest moon, was captured by New Horizons near the spacecraft's closest approach on July 14, 2015.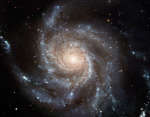 Messier 101
1.06.2023
Big, beautiful spiral galaxy M101 is one of the last entries in Charles Messier's famous catalog, but definitely not one of the least. About 170,000 light-years across, this galaxy is enormous, almost twice the size of our own Milky Way.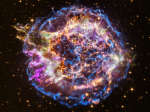 Recycling Cassiopeia A
31.05.2023
Massive stars in our Milky Way Galaxy live spectacular lives. Collapsing from vast cosmic clouds, their nuclear furnaces ignite and create heavy elements in their cores. After a few million years, the enriched material is blasted back into interstellar space where star formation can begin anew.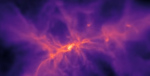 APOD: 2023 May 31 Б Simulation: A Disk Galaxy Forms
30.05.2023
How did we get here? We know that we live on a planet orbiting a star orbiting a galaxy, but how did all of this form? Since our universe moves too slowly to watch, faster-moving computer simulations are created to help find out.