Astronomy Picture Of the Day (APOD)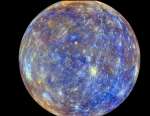 All of Mercury
12.06.2013
For the first time, the entire surface of planet Mercury has been mapped. Detailed observations of the innermost planet's surprising crust have been ongoing since the robotic MESSENGER spacecraft first passed Mercury in 2008 and began orbiting in 2011.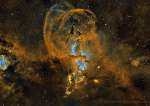 Star Forming Region NGC 3582
11.06.2013
What's happening in the NGC 3582 nebula? Bright stars and interesting molecules are forming. The complex nebula resides in the star forming region called RCW 57. Visible in this image are dense knots...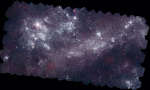 The Large Magellanic Cloud in Ultraviolet
10.06.2013
Where are the hottest stars in the nearest galaxies? To help find out, NASA commissioned its Earth-orbiting Swift satellite to compile a multi-image mosaic of the neighboring Large Magellanic Cloud (LMC) galaxy in ultraviolet light.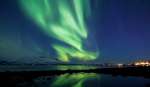 Flowing Auroras Over Norway
9.06.2013
Have you ever seen an aurora? Auroras are occurring again with increasing frequency. With the Sun peaking at its eleven year maximum in aurora-triggering activity, it is exhibiting a greater abundance of sunspots, flares, and coronal mass ejections.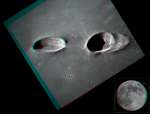 Messier Craters in Stereo
8.06.2013
Many bright nebulae and star clusters in planet Earth's sky are associated with the name of astronomer Charles Messier, from his famous 18th century catalog. His name is also given to these two large and remarkable craters on the Moon.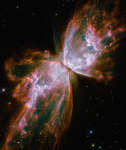 NGC 6903: The Butterfly Nebula
7.06.2013
The bright clusters and nebulae of planet Earth's night sky are often named for flowers or insects. Though its wingspan covers over 3 light-years, NGC 6302 is no exception. With an estimated surface...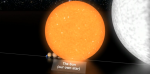 Star Size Comparisons
6.06.2013
How big is our Sun compared to other stars? In a dramatic and popular video featured on YouTube, the relative sizes of planets and stars are shown from smallest to largest. The above video starts with Earth's Moon and progresses through increasingly larger planets in our Solar System.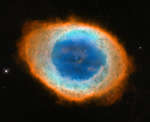 M57: The Ring Nebula
5.06.2013
Except for the rings of Saturn, the Ring Nebula (M57) is probably the most famous celestial band. Its classic appearance is understood to be due to our own perspective, though. The recent mapping...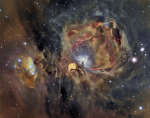 Orion Nebula in Oxygen, Hydrogen, and Sulfur
4.06.2013
Few astronomical sights excite the imagination like the nearby stellar nursery known as the Orion Nebula. The Nebula's glowing gas surrounds hot young stars at the edge of an immense interstellar molecular cloud.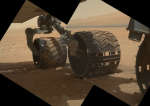 Curiosity: Wheels on Mars
3.06.2013
Could life ever have existed on Mars? To help find out, humanity landed the Curiosity rover on Mars last August. To make sure the car-sized explorer survived the interplanetary trip and dramatic landing intact, the above image and others was taken peering at, under, and around Curiosity.