Astronomy Picture Of the Day (APOD)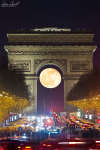 APOD: 2023 April 26 Б The Moon through the Arc de Triomphe
26.04.2023
Was this a lucky shot? Although many amazing photographs are taken by someone who just happenedбto be in the right place at the right time, this image took skill and careful planning. First...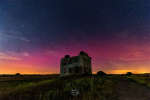 APOD: 2023 April 25 Б Northern Lights over Southern Europe
25.04.2023
Did you see an aurora over the past two nights? Many people who don't live in Earth's far north did. Reports of aurora came in not only from northern locales in the USA as Alaska, but as far south as Texas and Arizona. A huge auroral oval extended over Europe and Asia, too.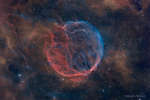 APOD: 2023 April 24 Б The Medulla Nebula Supernova Remnant
24.04.2023
What powers this unusual nebula? CTB-1 is the expanding gas shell that was left when a massive star toward the constellation of Cassiopeia exploded about 10,000 years ago. The star likely detonated when it ran out of elements near its core that could create stabilizing pressure with nuclear fusion.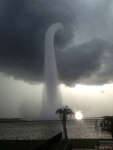 APOD: 2023 April 23 Б A Waterspout in Florida
23.04.2023
What's happening over the water? Pictured here is one of the better images yet recorded of a waterspout, a type of tornado that occurs over water. Waterspouts are spinning columns of rising moist air that typically form over warm water.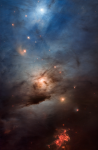 NGC 1333: Stellar Nursery in Perseus
22.04.2023
In visible light NGC 1333 is seen as a reflection nebula, dominated by bluish hues characteristic of starlight reflected by interstellar dust. A mere 1,000 light-years distant toward the heroic constellation Perseus, it lies at the edge of a large, star-forming molecular cloud.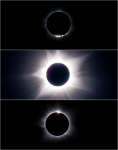 Solar Eclipse from Western Australia
21.04.2023
Along a narrow path that mostly avoided landfall, the shadow of the New Moon raced across planet Earth's southern hemisphere on April 20 to create a rare annular-total or hybrid solar eclipse.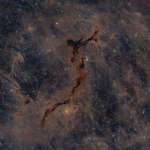 The Dark Seahorse in Cepheus
20.04.2023
Spanning light-years, this suggestive shape known as the Seahorse Nebula appears in silhouette against a rich, luminous background of stars. Seen toward the royal northern constellation of Cepheus, the dusty, obscuring clouds are part of a Milky Way molecular cloud some 1,200 light-years distant.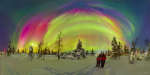 APOD: 2023 April 19 Б Auroral Storm over Lapland
19.04.2023
On some nights the sky is the best show in town. On this night, auroras ruled the sky, and the geomagnetic storm that created this colorful sky show originated from an increasingly active Sun.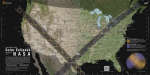 APOD: 2023 April 18 Б Map of Total Solar Eclipse Path in 2024 April
18.04.2023
Would you like to see a total eclipse of the Sun? If so, do any friends or relatives live near the path of next April's eclipse? If yes again, then you might want to arrange a well-timed visit.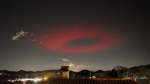 APOD: 2023 April 17 Б ELVES Lightning over Italy
17.04.2023
What's that red ring in the sky? Lightning. The most commonly seen type of lightning involves flashes of bright white light between clouds. Over the past 50 years, though, other types of upper-atmospheric lightning have been confirmed, including red sprites and blue jets.