Astronomy Picture Of the Day (APOD)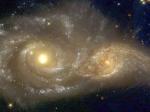 Spiral Galaxies in Collision
21.11.2004
Billions of years from now, only one of these two galaxies will remain. Until then, spiral galaxies NGC 2207 and IC 2163 will slowly pull each other apart, creating tides of matter, sheets of shocked gas, lanes of dark dust, bursts of star formation, and streams of cast-away stars.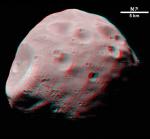 Stereo Phobos
20.11.2004
Get out your red/blue glasses and float next to Phobos, grooved moon of Mars! Also featured in yesterday's episode, the image data from the Mars Express High Resolution Stereo Camera and was recorded at a distance of about 200 kilometers.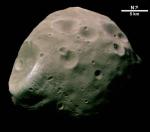 Phobos: Doomed Moon of Mars
19.11.2004
This moon is doomed. Mars, the red planet named for the Roman god of war, has two tiny moons, Phobos and Deimos, whose names are derived from the Greek for Fear and Panic. These...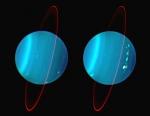 A Sharper View of a Tilted Planet
18.11.2004
These sharp views of tilted gas giant Uranus show dramatic details of the planet's atmosphere and ring system. The remarkable ground-based images were made using a near-infrared camera and the Keck Adaptive Optics system to reduce the blurring effects of Earth's atmosphere.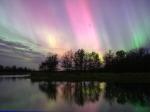 Aurora Over Wisconsin
17.11.2004
The auroral displays of the past week are being reported as some of the most beautiful in memory. In particular, impressive auroral bands fanned out over much of eastern North America after sunset on November 8.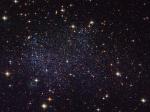 Sagittarius Dwarf Irregular Galaxy
16.11.2004
How old is this galaxy? The nearby Local Group galaxy dubbed the Sagittarius Dwarf Irregular Galaxy (SagDIG) is not only very small but also has relatively few elements more massive than helium.
Burns Cliff on Mars
15.11.2004
The majestic walls of Endurance Crater contain layers of clues about the ancient past of Mars. In fact, the deeper the layer, the older the clue. The particular crater wall imaged above was dubbed Burns Cliff and was in front of the robot rover Opportunity last week.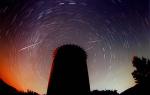 Leonids Above Torre de la Guaita
14.11.2004
The 1999 Leonids Meteor Shower came to an impressive crescendo. Observers in Europe observed a sharp peak in the number of meteors visible around 0210 UTC during the early morning hours of November 18. Meteor counts then exceeded 1000 per hour - the minimum needed to define a true meteor storm.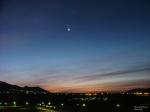 Moon Over Shiraz
13.11.2004
Early morning risers around the world have enjoyed the sight of bright planets in this week's predawn skies - further enhanced by the celestial spectacle of the waning crescent Moon. From some locations the Moon was seen to pass in front of Jupiter or Venus, a lunar occultation.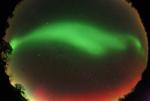 Missouri's Green Ribbon Sky
12.11.2004
The critics rave - "Amazing!", "Unbelievable!", "The best I've ever seen!" They aren't talking about a movie, though. Instead, even casual sky critics are remarking on November's stunning auroral displays, visible with surprising intensities well beyond the confines of high latitudes where auroral activity is normally observed.