Astronomy Picture Of the Day (APOD)
Otherworldly Planet Rise
11.04.2011
What would a sunrise look like on another world? So far, humanity has only recorded sunrises on Mars and Earth, but it is fun to wonder what they would look like on planets known and yet unknown.
Sunspot Loops in Ultraviolet
10.04.2011
It was a quiet day on the Sun. The above image shows, however, that even during off days the Sun's surface is a busy place. Shown in ultraviolet light, the relatively cool dark regions have temperatures of thousands of degrees Celsius.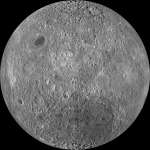 Lunar Farside
9.04.2011
Tidally locked in synchronous rotation, the Moon always presents its familiar nearside to denizens of planet Earth. From lunar orbit, the Moon's farside can become familiar, though. In fact this sharp picture, a mosaic from the Lunar Reconnaissance Orbiter's wide angle camera, is centered on the lunar farside.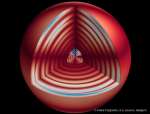 Echoes from the Depths of a Red Giant Star
8.04.2011
A journey to the center of a red giant star is very firmly in the realm of science fiction. But the science of asteroseismology can explore the conditions there. The technique is to time the small variations in a star's brightness measured by the planet hunting Kepler spacecraft.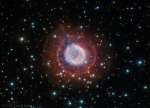 Planetary Nebula NGC 2438
7.04.2011
NGC 2438 is a planetary nebula, the gaseous shroud cast off by a dying sunlike star billions of years old whose central reservoir of hydrogen fuel has been exhausted. About 3,000 light-years distant it lies within the boundaries of the nautical constellation Puppis.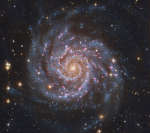 M74: The Perfect Spiral
6.04.2011
If not perfect, then this spiral galaxy is at least one of the most photogenic. An island universe of about 100 billion stars, 32 million light-years away toward the constellation Pisces, M74 presents a gorgeous face-on view.

The Milky Way Over Tenerife
5.04.2011
Have you ever seen the band of our Milky Way Galaxy? Chances are you have never seen it like this -- nor could you. In a clear sky from a dark location at the right time, a faint band of light is visible across the sky. This band is the disk of our spiral galaxy.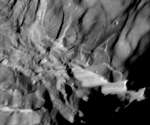 Verona Rupes: Tallest Known Cliff in the Solar System
4.04.2011
Could you survive a jump off the tallest cliff in the Solar System? Quite possibly. Verona Rupes on Uranus' moon Miranda is estimated to be 20 kilometers deep -- ten times the depth of the Earth's Grand Canyon.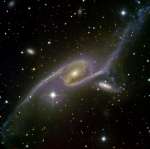 Giant Galaxy NGC 6872
3.04.2011
Over 400,000 light years across NGC 6872 is an enormous spiral galaxy, at least 4 times the size of our own, very large, Milky Way. About 200 million light-years distant, toward the southern...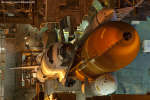 Endeavour Looking Up
2.04.2011
First flown in 1992, Endeavour, the youngest space shuttle orbiter, is being prepared for its 25th and final trip to low Earth orbit. Seen here from an exciting perspective 400 feet above the floor...