Astronomy Picture Of the Day (APOD)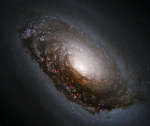 M64: The Sleeping Beauty Galaxy
12.06.2011
The Sleeping Beauty galaxy may appear peaceful at first sight but it is actually tossing and turning. In an unexpected twist, recent observations have shown that the gas in the outer regions of this photogenic spiral is rotating in the opposite direction from all of the stars!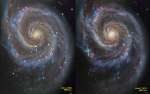 Supernovae in the Whirlpool
11.06.2011
Where do spiral galaxies keep their supernovae? Near their massive star forming regions, of course, and those regions tend to lie along sweeping blue spiral arms. Because massive stars are very short-lived, they don't have a chance to wander far from their birth place.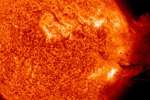 The Sun Unleashed
10.06.2011
On June 7, the Sun unleashed only a medium sized solar flare as rotation carried active regions of sunpots toward the solar limb. But that flare was followed by an astounding gush of magnetized plasma seen erupting at the Sun's edge in this extreme ultraviolet image from the Solar Dynamics Observatory.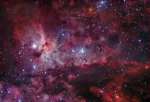 The Great Carina Nebula
9.06.2011
A jewel of the southern sky, the Great Carina Nebula, also known as NGC 3372, spans over 300 light-years, one of our galaxy's largest star forming regions. Like the smaller, more northerly Great...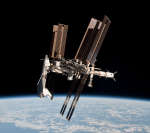 Space Shuttle and Space Station Photographed Together
8.06.2011
How was this picture taken? Usually, pictures of the shuttle, taken from space, are snapped from the space station. Commonly, pictures of the space station are snapped from the shuttle. How, then, can there be a picture of both the shuttle and the station together, taken from space?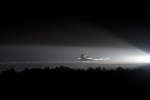 A Last Landing for Space Shuttle Endeavour
7.06.2011
Space shuttle Endeavour is home to stay. In a rare night landing last week, Endeavour glided onto a runway in Cape Canaveral, Florida, USA completing a 16-day mission that included a visit to the International Space Station (ISS).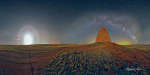 Geometers Playground Over Wyoming
6.06.2011
If you travel several kilometers off a main highway through Wyoming, you may see an unusual sight. In particular, near Buford, Wyoming, USA, you could run across the geometric Ames Monument, visible on the right, built to commemorate the financiers of a historic transcontinental railroad across North America.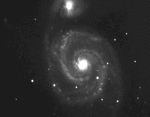 Another Nearby Supernova in the Whirlpool Galaxy
5.06.2011
One of the brightest supernovas in recent years has just been recorded in the nearby Whirlpool galaxy (M51). Surprisingly, a seemingly similar supernova was recorded in M51 during 2005, following yet another one that occurred in 1994.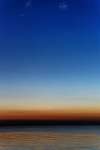 Dawn s Grande Finale
4.06.2011
After more than a month, the lovely lineup of four naked-eye planets in dawn skies is coming to a close. Still, on May 31st a slender Moon joined the grouping along the eastern horizon for a final celestial performance, presented in this early morning scene from a beach near Buenos Aires, Argentina.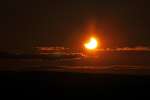 Midnight s Solar Eclipse
3.06.2011
On June 1, the shadow of the New Moon was cast across a land of the midnight Sun in this year's second partial solar eclipse. This picture of the geocentric celestial event above the Arctic Circle was taken near midnight from northern Finland's Kaunispää Hill in Lapland.