Astronomy Picture Of the Day (APOD)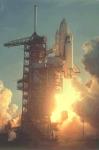 Liftoff of Space Shuttle Columbia
11.04.1999
On April 12, 1981, space flight entered a new era with the first launch of Space Shuttle Columbia. NASA's Space Shuttles land like a normal airplane, carry a heavy cargo, carry a large crew, make use of cheap solid fuel, and are reusable.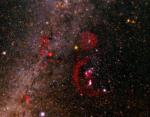 Canaries Sky
10.04.1999
This gorgeous view of stars, nebulae, and the Milky Way comes from the dark night sky above the lovely island of La Palma in the Canaries archipelago. The picture was made by a group...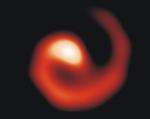 WR 104: Pinwheel Star
9.04.1999
Like a cosmic lawn sprinkler, dust streaming from a rotating star system creates a pinwheel pattern in this false color infrared image. Astronomers discovered the surprising star dust scenario using a sophisticated interferometer and the 10 meter Keck I telescope to observe the bright Wolf-Rayet star WR 104.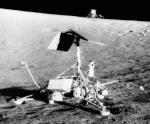 Apollo 12: Surveyor 3 and Intrepid
8.04.1999
On April 20, 1967, NASA's robot spacecraft Surveyor 3 landed on the moon, touching down on the inside slope of a small lunar crater in the Ocean of Storms. Over 2 1/2 years...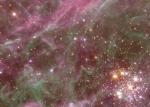 Denizen of the Tarantula Nebula
7.04.1999
The star cluster at lower right, cataloged as Hodge 301, is a denizen of the Tarantula Nebula. An evocative nebula in the southern sky, the sprawling cosmic Tarantula is an energetic star forming region some 168,000 light-years distant in our neighboring galaxy the Large Magellanic Cloud.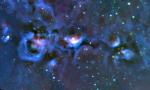 NGC 6334: The Bear Claw Nebula
6.04.1999
NGC 6334 is a cloud of gas and dust that appears to be forming massive stars. At 5500 light-years away, the Bear Claw Nebula, as it has also been dubbed, is more than three times as distant as the Orion Nebula, but still close enough for detailed study.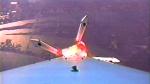 The Launch of STARDUST
5.04.1999
NASA launches powerful rockets. One such rocket, the Delta II, recently lofted the STARDUST mission into the nearby Solar System. STARDUST is expected to photograph Comet Wild in 2004 as it zooms by, and return interstellar dust samples to Earth in 2006.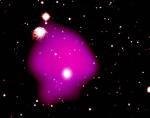 Hot Gas and Dark Matter
4.04.1999
Is the gravity of the galaxies seen in this image high enough to contain the glowing hot gas? Superposed on an optical picture of a group of galaxies is an image taken in X-ray light.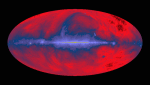 The Radio Sky: Tuned to 408MHz
3.04.1999
Tune your radio telescope to 408MHz (408 million cycles per second) and check out the Radio Sky! You should find that frequency on your dial somewhere between US broadcast television channels 13 and 14.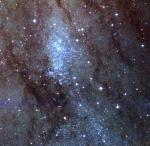 Stars of NGC 206
2.04.1999
Nestled within the dusty arms of the large spiral galaxy Andromeda (M31), the star cluster NGC 206 is one of the largest star forming regions known in our local group of galaxies. The beautiful...