Astronomy Picture Of the Day (APOD)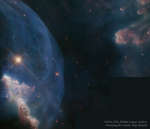 Close up of the Bubble Nebula
3.04.2016
It's the bubble versus the cloud. NGC 7635, the Bubble Nebula, is being pushed out by the stellar wind of massive central star BD+602522. Next door, though, lives a giant molecular cloud, visible to the right. At this place in space, an irresistible force meets an immovable object in an interesting way.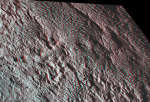 Pluto s Bladed Terrain in 3D
2.04.2016
Get out your red/blue glasses and gaze across a mountainous region informally known as Tartarus Dorsa. This scene sprawls some 300 kilometers (about 180 miles) across the Plutonian landscape. The color anaglyph creates...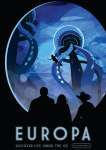 Europa: Discover Life Under the Ice
1.04.2016
Looking for an interplanetary vacation destination? Consider a visit to Europa, one of the Solar System's most tantalizing moons. Ice-covered Europa follows an elliptical path in its 85 hour orbit around our ruling gas giant Jupiter.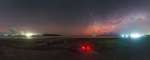 Big Dipper to Southern Cross
31.03.2016
Welcome to an equatorial night. This remarkable 24 frame night skyscape was captured from Maba Beach on the Indonesian island of Halmahera during the evening of March 4. Seen from a mere 0.7 degrees northern latitude, both famous northern and southern asterisms and navigational aids lie within the panoramic view.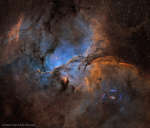 NGC 6188 and NGC 6164
30.03.2016
Fantastic shapes lurk in clouds of glowing gas in the giant star forming region NGC 6188. The emission nebula is found about 4,000 light years away near the edge of a large molecular cloud unseen at visible wavelengths, in the southern constellation Ara.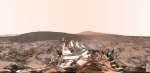 NASAs Curiosity Rover at Namib Dune (360 View)
29.03.2016
Point or tilt to see a spectacular view of Mars visible to the Curiosity rover last December. In the foreground, part of Curiosity itself is visible, including its dusty sundial. Starting about seven meters...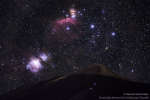 Orions Belt and Sword over Teides Peak
28.03.2016
The southern part of Orion, the famous constellation and mythical hunter, appears quite picturesque posing here over a famous volcano. Located in the Canary Islands off the northwest coast of Africa, the snow-peaked Teide is one of the largest volcanoes on Earth.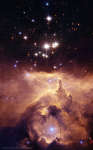 NGC 6357: Cathedral to Massive Stars
27.03.2016
How massive can a normal star be? Estimates made from distance, brightness and standard solar models had given one star in the open cluster Pismis 24 over 200 times the mass of our Sun, making it one of the most massive stars known.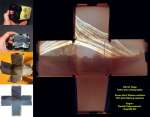 Sostice to Equinox Cubed
26.03.2016
This 3 month long exposure packed the days from December 22, 2015 through March 20 into a box. Dubbed a solargraph, the unconventional, unfolded picture was recorded with a pinhole camera made from a cube-shaped container, its sides lined with photographic paper.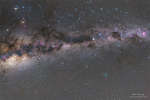 Close Comet and the Milky Way
25.03.2016
Comet 252P/Linear's lovely greenish coma is easy to spot in this expansive southern skyscape. Visible to the naked eye from the dark site near Flinders, Victoria, Australia, the comet appears tailless. Still, its surprisingly bright coma spans about 1 degree, posed here below the nebulae, stars, and dark rifts of the Milky Way.