Astronomy Picture Of the Day (APOD)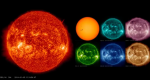 The Sun Rotating
12.03.2014
Does the Sun change as it rotates? Yes, and the changes can vary from subtle to dramatic. In the above time-lapse sequences, our Sun -- as imaged by NASA's Solar Dynamics Observatory -- is shown rotating though the entire month of January.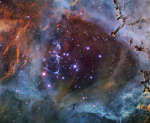 In the Heart of the Rosette Nebula
11.03.2014
In the heart of the Rosette Nebula lies a bright open cluster of stars that lights up the nebula. The stars of NGC 2244 formed from the surrounding gas only a few million years ago.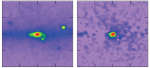 Gamma Rays from Galactic Center Dark Matter
10.03.2014
What is creating the gamma rays at the center of our Galaxy? Excitement is building that one answer is elusive dark matter. Over the past few years the orbiting Fermi Gamma-ray Space Telescope has been imaging our Galaxy's center in gamma-rays.
A Hole in Mars
9.03.2014
What created this unusual hole in Mars? The hole was discovered by chance in 2011 on images of the dusty slopes of Mars' Pavonis Mons volcano taken by the HiRISE instrument aboard the robotic Mars Reconnaissance Orbiter currently circling Mars.

Mount Sharp on the Horizon
8.03.2014
Get out your red/blue glasses (red for the left eye) and look out over this expansive martian landscape. The panoramic stereo view is composed of images from the roving Curiosity's Navcam taken at a rest stop during a 100 meter drive on Sol 548 (February 19).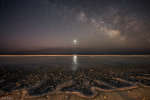 A View from the Zone
7.03.2014
Brilliant Venus and the central Milky Way rise in the early morning hours of March 1 in this sea and skyscape. The scene looks out from a beach at Sea Isle City, New Jersey, USA, planet Earth.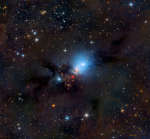 NGC 1333 Stardust
6.03.2014
NGC 1333 is seen in visible light as a reflection nebula, dominated by bluish hues characteristic of starlight reflected by dust. A mere 1,000 light-years distant toward the heroic constellation Perseus, it lies at the edge of a large, star-forming molecular cloud.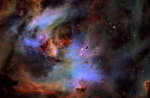 Globules in the Running Chicken Nebula
5.03.2014
The eggs from this chicken may form into stars. The above pictured emission nebula, cataloged as IC 2944, is called the Running Chicken Nebula for the shape of its greater appearance. The image was taken recently from Siding Spring Observatory in Australia and presented in scientifically assigned colors.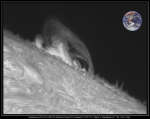 Sun and Prominence
4.03.2014
Dramatic prominences can sometimes be seen looming just beyond the edge of the sun. Such was the case last week as a large prominence, visible above, highlighted a highly active recent Sun. A waving...
Habitable Worlds
3.03.2014
Is Earth the only known world that can support life? In an effort to find life-habitable worlds outside our Solar System, stars similar to our Sun are being monitored for slight light decreases that indicate eclipsing planets. Many previously-unknown planets are being found, including over 700 worlds recently uncovered by NASA's Kepler satellite.