Astronomy Picture Of the Day (APOD)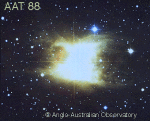 The Toby Jug Nebula
5.01.1996
Is the only thing unusual about this nebula its shape? Pictured above is the IC 2220 - the Toby Jug Nebula - a reflection nebula surrounding a normal red giant star. Reflection nebulae shine by light reflected from the central star(s).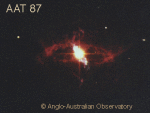 Symbiotic Star System R Aquarii
4.01.1996
Sometimes stars work together to create a spectacular display. Such is the case with the binary star system R Aquarii - a "symbiotic" star system. Here two stars, a variable giant and a white dwarf companion - create both a nebula and a jet.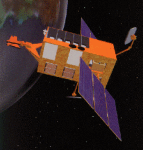 The X-ray Timing Explorer
3.01.1996
Launched Saturday on a Delta rocket, the X-ray Timing Explorer (XTE) will watch the sky for rapid changes in X-rays. XTE carries three separate X-ray telescopes. The Proportional Counter Array (PCA) and the High Energy X-ray Timing Experiment (HEXTE) will provide the best timing information in the widest X-ray energy range yet available.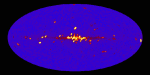 The X-Ray Sky
2.01.1996
What if you could see X-rays? If you could, the night sky would be a strange and unfamiliar place. X-rays are about 1,000 times more energetic than visible light photons and are produced in violent and high temperature astrophysical environments.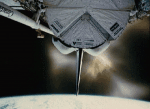 Shuttle Engine Blast
1.01.1996
The Space Shuttle Discovery's orbital maneuvering system (OMS) engine firing produced this dramatic flare as it cruised "upside down" in low Earth orbit. Discovery was named for a ship commanded by Captain James Cook RN, the 18th Century English astronomer and navigator.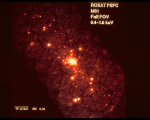 The X-ray Sources of M31
31.12.1995
Just like our own Milky Way Galaxy, the nearest major galaxy M31 has many star systems spewing high energy radiation. High energy X-radiation is visible to certain satellites in Earth orbit such as ROSAT - which took the above picture.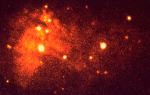 LMC X-1: A Black Hole Candidate
30.12.1995
The strongest source of X-rays in the Large Magellanic Cloud originates from an unusually energetic binary star system. This strong source, dubbed LMC X-1, is thought to be a normal and compact star orbiting each other. Gas stripped of the normal star falls onto the compact star, heats up, and emits X-rays.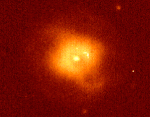 NGC 4361: Galaxy Shaped Planetary Nebula
29.12.1995
Glowing in the red light emitted by hydrogen atoms, the planetary nebula NGC 4361 is pictured above. The nebula itself is formed by the outer layers of gas shrugged off by the central star visible in the image.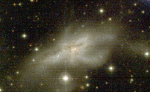 NGC 6240: When Galaxies Collide
28.12.1995
Sometimes even galaxies can suffer a fatal attraction. Here gravity causes two galaxies to collide in a spectacular display of energetic gas, dust, and light. When galaxies collide it is rare that any stars in the galaxies themselves collide, or that any change will be seen in a human lifetime.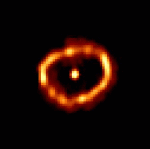 Nova Cygni 1992
27.12.1995
In 1992 a tremendous explosion occurred in the constellation of Cygnus. Dubbed Nova Cygni 1992, this event most probably occurred in an accretion disk binary system. Astronomers hypothesize that this system's white dwarf had so much gas dumped onto it's surface that conditions became ripe for nuclear fusion.