Astronomy Picture Of the Day (APOD)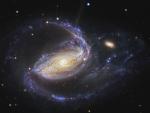 In the Arms of NGC 1097
1.12.2006
A smaller companion seems wrapped in the spiral arms of enigmatic galaxy NGC 1097. This amazingly deep image of the peculiar spiral system, also known as Arp 77, actually combines data from two telescopes, one in the northern and one in the southern hemisphere of planet Earth.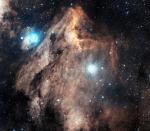 A Pelican in the Swan
30.11.2006
The Pelican Nebula lies about 2,000 light-years away in the high flying constellation Cygnus, the Swan. Also known as IC 5070, this cosmic pelican is appropriately found just off the "east coast" of the North America Nebula (NGC 7000), another surprisingly familiar looking emission nebula in Cygnus.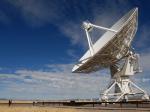 A Big Dish at the VLA Radio Observatory
29.11.2006
They are so large, they are almost unreal. The radio dishes of the Very Large Array (VLA) of radio telescopes might appear to some as a strange combination of a dinosaur skeleton and common satellite-TV receiving dish.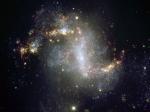 Unusual Starburst Galaxy NGC 1313
28.11.2006
Why is this galaxy so discombobulated? Usually, galaxies this topsy-turvy result from a recent collision with a neighboring galaxy. Spiral galaxy NGC 1313, however, appears to be alone. Brightly lit with new and blue massive stars, star formation appears so rampant in NGC 1313 that it has been labeled a starburst galaxy.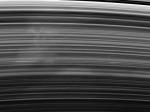 Mysterious Spokes in Saturns Rings
27.11.2006
What causes the mysterious spokes in Saturn's rings? Visible on the left of the above image as ghostlike impressions, spokes were first discovered by the Voyager spacecraft that buzzed by Saturn in the early 1980s. Their existence was unexpected, and no genesis hypothesis has ever become accepted.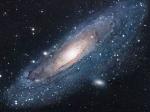 M31: The Andromeda Galaxy
26.11.2006
Andromeda is the nearest major galaxy to our own Milky Way Galaxy. Our Galaxy is thought to look much like Andromeda. Together these two galaxies dominate the Local Group of galaxies. The diffuse light from Andromeda is caused by the hundreds of billions of stars that compose it.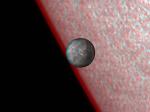 3D Mercury Transit
25.11.2006
Mercury is now visible shortly before dawn, the brightest "star" just above the eastern horizon. But almost two weeks ago Mercury actually crossed the face of the Sun for the second time in the 21st century.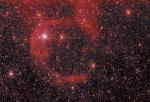 Alpha Cam: Runaway Star
24.11.2006
Runaway stars are massive stars traveling rapidly through interstellar space. Like a ship plowing through cosmic seas, runaway star Alpha Cam has produced this graceful arcing bow wave or bow shock - moving at over 60 kilometers per second and compressing the interstellar material in its path.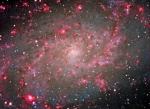 Hydrogen in M33
23.11.2006
Gorgeous spiral galaxy M33 seems to have more than its fair share of hydrogen. Its inner 30,000 light-years are shown here in an image processed to fully reveal the reddish glow of ionized hydrogen regions (HII regions) sprawling along loose spiral arms as they wind toward the galaxy's core.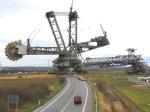 A Bucket Wheel Excavator on Earth
22.11.2006
Please wait while one of the largest mobile machines in the world crosses the road. The machine pictured above is a bucket-wheel excavator used in modern surface mining. Machines like this have given humanity the ability to mine minerals and change the face of planet Earth in new and dramatic ways.