Astronomy Picture Of the Day (APOD)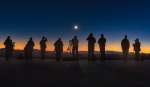 In the Shadow of the Moon
4.07.2019
On July 2 denizens of planet Earth could stand in the Moon's dark umbral shadow during South America's 2019 total solar eclipse. It first touched down in the Southern Pacific Ocean, east of New Zealand.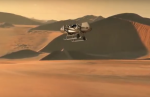 Robotic Dragonfly Selected to Fly Across Titan
3.07.2019
If you could fly across Titan, what would you see? To find out and to better explore this exotic moon of Saturn, NASA recently green-lighted Dragonfly, a mission to Titan with plans to deploy a helicopter-like drone.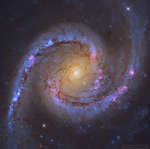 NGC 1566: The Spanish Dancer Spiral Galaxy
2.07.2019
If not perfect, then this spiral galaxy is at least one of the most photogenic. An island universe containing billions of stars and situated about 40 million light-years away toward the constellation of the Dolphinfish (Dorado), NGC 1566 presents a gorgeous face-on view.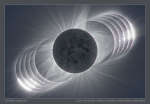 The Big Corona
1.07.2019
Most photographs don't adequately portray the magnificence of the Sun's corona. Seeing the corona first-hand during a total solar eclipse is unparalleled. The human eye can adapt to see coronal features and extent that average cameras usually cannot. Welcome, however, to the digital age.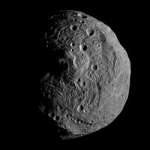 Virtual Flight over Asteroid Vesta
30.06.2019
What would it be like to fly over the asteroid Vesta? Animators from the German Aerospace Center took actual images and height data from NASA's Dawn mission when it visited asteroid Vesta a few years ago and generated a virtual movie.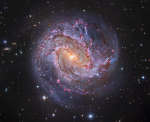 M83: The Thousand Ruby Galaxy
29.06.2019
Big, bright, and beautiful, spiral galaxy M83 lies a mere twelve million light-years away, near the southeastern tip of the very long constellation Hydra. Prominent spiral arms traced by dark dust lanes and blue star clusters lend this galaxy its popular name, The Southern Pinwheel.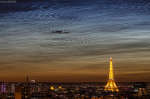 A Solstice Night in Paris
28.06.2019
The night of June 21 was the shortest night for planet Earth's northern latitudes, so at latitude 48.9 degrees north, Paris was no exception. Still, the City of Light had an exceptionally luminous evening. Its skies were flooded with silvery night shining or noctilucent clouds after the solstice sunset.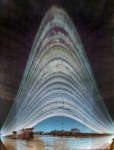 The Longer Days
27.06.2019
This persistent six month long exposure compresses the time from solstice to solstice (December 21, 2018 to June 16, 2019) into a single point of view. Dubbed a solargraph, the unconventional picture was recorded with a tall, tube-shaped pinhole camera using a piece of photographic paper.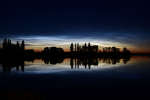 Noctilucent Clouds, Reflections, and Silhouettes
26.06.2019
Sometimes it's night on the ground but day in the air. As the Earth rotates to eclipse the Sun, sunset rises up from the ground. Therefore, at sunset on the ground, sunlight still shines on clouds above.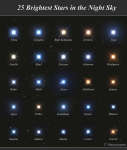 25 Brightest Stars in the Night Sky
25.06.2019
Do you know the names of some of the brightest stars? It's likely that you do, even though some bright stars have names so old they date back to near the beginning of written language.