Astronomy Picture Of the Day (APOD)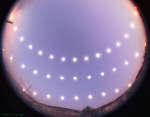 Equinox: The Sun from Solstice to Solstice
23.09.2012
Yesterday was an equinox, a date when day and night are equal. Today, and every day until the next equinox, the night will be longer than the day in Earth's northern hemisphere, and the day will be longer than the night in Earth's southern hemisphere.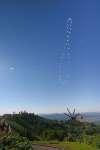 Austrian Analemma
22.09.2012
Today, the Sun crosses the celestial equator heading south at 14:49 Universal Time. An equinox (equal night), this astronomical event marks the first day of autumn in the northern hemisphere and spring in the south.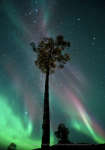 September Aurora
21.09.2012
September's equinox arrives tomorrow as the Sun crosses the celestial equator heading south. The event marks the astronomical beginning of spring in the southern hemisphere and autumn in the north. And though the connection is still puzzling, the equinox seasons bring an increase in geomagnetic storms.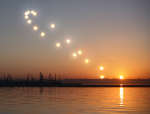 Sunrise Analemma (with a little extra)
20.09.2012
An analemma is that figure-8 curve that you get when you mark the position of the Sun at the same time each day throughout planet Earth's year. In this case, 17 individual images...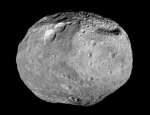 Leaving Vesta
19.09.2012
Next stop: Ceres. Last week the robotic Dawn spacecraft ended its year-long mission to asteroid Vesta, becoming the first spacecraft ever to visit this far off world located between Mars and Jupiter, in the Solar System's main asteroid belt.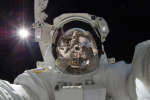 Orbiting Astronaut Self Portrait
18.09.2012
Is it art? Earlier this month, space station astronaut Aki Hoshide (Japan) recorded this striking image while helping to augment the capabilities of the Earth-orbiting International Space Station (ISS). Visible in this outworldly assemblage...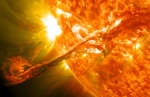 A Solar Filament Erupts
17.09.2012
What's happened to our Sun? Nothing very unusual -- it just threw a filament. At the end of last month, a long standing solar filament suddenly erupted into space producing an energetic Coronal Mass Ejection (CME).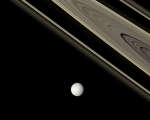 Saturn: Bright Tethys and Ancient Rings
16.09.2012
How old are Saturn's rings? No one is quite sure. One possibility is that the rings formed relatively recently in our Solar System's history, perhaps only about 100 million years ago when a moon-sized object broke up near Saturn.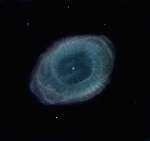 Ring Nebula Drawn
15.09.2012
A planetary nebula with a simple symmetry familiar to telescopic sky gazers, the Ring Nebula (M57) is some 2,000 light-years away in the musical constellation Lyra. Hints of changing colors and subtle details are brought out in this remarkable sketch of the cosmic ring.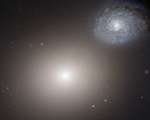 Elliptical M60, Spiral NGC 4647
14.09.2012
Giant elliptical galaxy M60 and spiral galaxy NGC 4647 do look like an odd couple in this sharp cosmic portrait from the Hubble Space Telescope. But they are found in a region of space where galaxies tend to gather, on the eastern side of the nearby Virgo Galaxy Cluster.