Astronomy Picture Of the Day (APOD)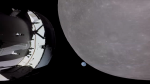 Earthset from Orion
22.11.2022
Eight billion people are about to disappear in this snapshot from space. Taken on November 21, the sixth day of the Artemis 1 mission, their home world is setting behind the Moon's bright edge as viewed by an external camera on the outbound Orion spacecraft.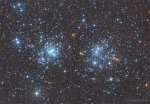 A Double Star Cluster in Perseus
21.11.2022
Few star clusters this close to each other. Visible to the unaided eye from dark sky areas, it was cataloged in 130 BC by Greek astronomer Hipparchus. Some 7,000 light-years away, this pair...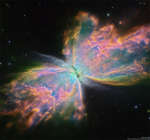 The Butterfly Nebula from Hubble
20.11.2022
Stars can make beautiful patterns as they age -- sometimes similar to flowers or insects. NGC 6302, the Butterfly Nebula, is a notable example. Though its gaseous wingspan covers over 3 light-years and its estimated...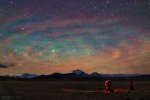 Airglow Ripples over Tibet
19.11.2022
Why would the sky look like a giant target? Airglow. Following a giant thunderstorm over Bangladesh in late April, giant circular ripples of glowing air appeared over Tibet, China, as pictured here. The unusual...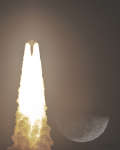 Artemis 1 Moonshot
18.11.2022
When the Artemis 1 mission's Orion spacecraft makes its November 21 powered flyby of the Moon, denizens of planet Earth will see the Moon in a waning crescent phase. The spacecraft will approach...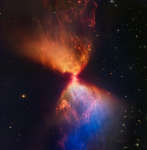 The Protostar within L1527
17.11.2022
The protostar within dark cloud L1527 is a mere 100,000 years old, still embedded in the cloud of gas and dust that feeds its growth. In this NIRCam image from the James Webb...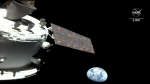 Planet Earth from Orion
16.11.2022
A Space Launch System rocket left planet Earth on Wednesday, November 16 at 1:47am EST carrying the Orion spacecraft on the Artemis 1 mission, the first integrated test of NASAБs deep space exploration systems.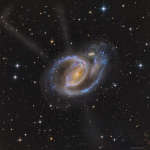 In the Arms of NGC 1097
15.11.2022
Spiral galaxy NGC 1097 shines in southern skies, about 45 million light-years away in the heated constellation Fornax. Its blue spiral arms are mottled with pinkish star forming regions in this colorful galaxy portrait.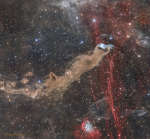 Wolfs Cave Nebula
14.11.2022
The mysterious blue reflection nebula found in catalogs as VdB 152 or Ced 201 really is very faint. It lies at the tip of the long dark nebula Barnard 175 in a dusty complex that has also been called Wolf's Cave.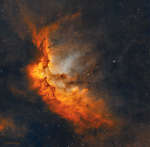 NGC 7380: The Wizard Nebula
13.11.2022
What powers are being wielded in the Wizard Nebula? Gravitation strong enough to form stars, and stellar winds and radiations powerful enough to create and dissolve towers of gas. Located only 8,000 light years away, the Wizard nebula, featured here, surrounds developing open star cluster NGC 7380.