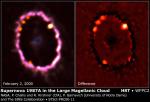 Kol'co sverhnovoi 1987A razgoraetsya vnov'26.05.2000 22:55
|
scientific.ru
SLEVA: Snimok pokazyvaet kol'co svetyashegosya gaza vokrug sverhnovoi 1987A (samaya blizkaya sverhnovaya v istorii sovremennoi astronomii, sluchivshayasya v 1987 g.) na moment 2 fevralya 2000 g. Eto kol'co sushestvovalo do vzryva i yarko zasvetilos' v 1987 g. pod deistviem izlucheniya sverhnovoi. Potom ono postepenno tusknelo, a seichas nekotorye ego chasti vnov' razogrevayutsya doshedshei za 13 let udarnoi volnoi, kotoraya sama po sebe ne vidna.
SPRAVA: Tot zhe snimok, poluchennyi vychitaniem starogo snimka iz novogo, chtoby podcherknut' novye detali razogretogo gaza. Samyi yarkii uzel sprava poyavilsya uzhe v 1997 g. Astronomy zhdali eshe tri goda, poka zazhglis' drugie chasti kol'ca ot togo, chto do nih doshla udarnaya volna. Eto pervyi yavnyi znak nachala burnogo i dramaticheskogo stolknoveniya, kotoroe prodlitsya eshe neskol'ko let, vnov' delaya ostatok SN 1987A moshnym istochnikom rentgenovskogo i radioizlucheniya.
Oba snimka sdelany v vidimom svete.
Credit: NASA, Peter Challis and Robert Kirshner (Harvard-Smithsonian Center for Astrophysics), Peter Garnavich (University of Notre Dame) and the SINS collaboration.
The Supernova Intensive Survey team includes: Dick McCray (University of Colorado, Boulder); Nino Panagia (Space Telescope Science Institute, Baltimore, MD); Nick Suntzeff (Cerro Tololo Inter-American Observatory, Chile); George Sonneborn and Jason Pun (NASA Goddard Space Flight Center, Greenbelt, MD).

Istochnik: StSci, Perevod: Scientific.ru.
Versiya dlya pechati