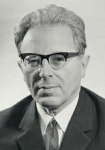 Risunki I.S. Shklovskogo17.01.2019 10:26
|
Astronet
Vydayushiisya sovetskii astrofizik Iosif Samuilovich Shklovskii (1916 – 1985) prinadlezhal k tomu tipu uchenyh, kotorye lyubyat i umeyut shutit'. V vospominaniyah znavshih Iosifa Samuilovicha sohranilos' nemalo primerov ego shutok i ostroumnyh, hotya poroi dovol'no edkih, vyskazyvanii. Mnogim izvesten sbornik ego vospominanii «Eshelon», vyshedshii po chastyam v zhurnale «Himiya i zhizn'» v 1988–92 gg., a v 1991 g. – otdel'noi knizhkoi. V korotkom predislovii Shklovskii pishet, chto uchenym stal sluchaino, a hotel stat' hudozhnikom-portretistom. Vryad li eti slova sleduet vosprinimat' vser'ez, no v kazhdoi shutke neredko soderzhitsya i nechto ser'eznoe.
V predlagaemoi publikacii my hotim poznakomit' vas s eshe odnim obrazcom yumora Iosifa Samuilovicha – ego druzheskimi sharzhami, regulyarno poyavlyavshimisya v znamenitoi nekogda stengazete GAISh – «Vladilena».
Etot material uzhe byl opublikovan na saite GAISh, no my reshili povtorit' publikaciyu v Astronete, gde ee uvidit bol'she chitatelei. Krome togo, zdes' vy mozhete kliknut' na kazhduyu kartinku i posmotret' ee s vysokim razresheniem.
V nashe vremya stengazety sohranilis', pozhalui, tol'ko v shkolah, i to daleko ne vo vseh. A kogda-to eto bylo ves'ma populyarnym sposobom obsheniya, kritiki, vospitaniya v samyh razlichnyh kollektivah. Tak skazat', proobraz sovremennyh internet-forumov. Estestvenno, svoya stengazeta byla i v GAISh. Nazvali ee «Vladilena» («Vladimir Lenin», est' takaya malaya planeta, otkrytaya, po strannomu sovpadeniyu, v god rozhdeniya I.S. Shklovskogo – v 1916 g., pravda, nazvanie svoe poluchila neskol'ko pozzhe, v god smerti V.I. Lenina – v 1924-m.). Poyavilas' stengazeta v GAISh v znamenatel'noe vremya, v konce 1944 g. K pobednomu koncu shla Velikaya otechestvennaya voina. Vozvrativshiesya v 1943 g. iz evakuacii sotrudniki i studenty GAISh vklyuchalis' v nauchnuyu i bytovuyu zhizn' Moskvy, eshe voennoi, no uzhe dyshavshei priblizhayusheisya Pobedoi (posle pervogo — v chest' osvobozhdeniya Orla i Belgoroda — salyuta 1943 goda, otkryvshego celuyu predpobednuyu seriyu ih…). «Vladilena» prosushestvovala do konca 1980-h, poslednie teksty dlya nee nabiralis' uzhe na pervyh v GAISh komp'yuterah.
Naryadu s tekstami vidnoe (vo vseh otnosheniyah) mesto v gazete zanimali risunki na zlobu dnya. Ee glavnym illyustratorom stal I.S. Shklovskii, ne tol'ko uzhe izvestnyi astrofizik, no i nezauryadnyi karikaturist s ostrym vzglyadom na okruzhayushie sobytiya gaishevskoi zhizni. Sobrannye na otdel'nyh listah, perepletennyh v al'bom, oni hranyatsya teper' v Krasnopresnenskoi observatorii (Muzee GAISh), to est' v tom samom meste, gde nachinalas' nekogda aspirantskaya, nauchnaya i pedagogicheskaya (v t.ch. ego pervye lekcii po novoi dlya MGU radioastronomii) deyatel'nost' Iosifa Samuilovicha.
Predstavlennye zdes' risunki I.S. Shklovskogo ne tol'ko otrazhayut eshe odnu gran' ego talanta, no i napominayut o toi pore (a sovremennuyu molodezh' znakomyat s neyu), kogda eshe ne ochen' bol'shoi kollektiv GAISh, «iz dal'nih stranstvii vozvratyas'», zhil edinoi druzhnoi sem'ei, gde nauka tesno perepletalas' i s nemalymi bytovymi zabotami, i s tvorchestvom (mastitye professora uchastvovali v dramaticheskoi samodeyatel'nosti, a chutkii k slovu P.G. Kulikovskii blistal v svoih vystupleniyah celym socvetiem zabavnyh vyrazhenii, pocherpnutyh im iz nauchnyh dokladov kolleg...). Mnogoe iz etoi zhizni nashlo otrazhenie i v risunkah-sharzhah I.S. Shklovskogo.
Eta publikaciya ego risunkov podgotovlena sotrudnikami Krasnopresnenskoi laboratorii i Muzeya GAISh (I.K. Lapinoi – kopirovanie i komp'yuternaya obrabotka risunkov, A.I. Eremeevoi i Yu.L. Mencinym – kommentarii k nim, rabotu zavershila I.V. Mironova). My popytalis' po mere vozmozhnosti sdelat' k risunkam poyasneniya, ponimaya, chto oni budut nebespolezny nyneshnim gaishanam i osobenno studentam. Ved' nekotorym risunkam Shklovskogo bolee 70 let! Lyudi starshego pokoleniya v poyasneniyah, konechno, ne nuzhdalis' by. No malo ih ostalos' sredi nas. Sostaviteli gluboko priznatel'ny sotrudnikam GAISh poslevoennogo vremeni za vnesennye popravki i dopolneniya. Tak, vryad li by poyavilis' kommentarii k nekotorym risunkam bez pomoshi nashih zamechatel'nyh astronomov-veteranov Galiny Aleksandrovny Ponomarevoi i Ol'gi Dmitrievny Dokuchaevoi. V svoi bolee chem preklonnye gody (Galine Aleksandrovne v Den' Pobedy v 2016 g. ispolnilos' 89 let, a Ol'ga Dmitrievna 22.12.2015 g. otmetila 90-letnii yubilei!) oni ne utratili deyatel'nogo interesa k svoemu GAISh, a glavnoe – sohranili v svoei pamyati davnie sobytiya iz ego mnogogrannoi zhizni. Dopolnitel'nym istochnikom svedenii ob istorii GAISh stali vospominaniya Natal'i Borisovny Grigor'evoi («Sorok let v stenah Moskovskoi universitetskoi observatorii»./ IAI (Istor.-astron.issled.). Vyp.XXIV, 1994, 352– 370), astronomicheskaya spravochnaya literatura, dazhe Internet, a poroi i srochnye konsul'tacii po telefonu (k rabote podklyuchilis' i nash otdel kadrov — Tat'yana Viktorovna Matveichuk, i doch' akad. V.G.Fesenkova Lidiya Vasil'evna). Takim obrazom, podgotovka publikacii, posvyashennoi I.S.Shklovskomu-hudozhniku, stala nastoyashim kollektivnym trudom, kotoryi my i vynosim na sud chitatelya i zritelya.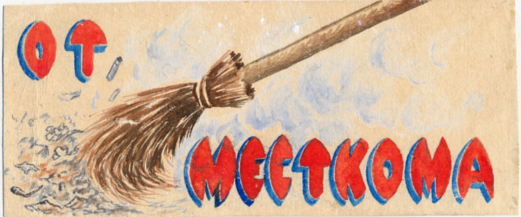 | | |
| --- | --- |
| | Stihi, pryamo skazhem, ne pushkinskie, no glavnoe – iz nih vidno, chto napisany oni, kogda eshe shla voina – upominayutsya «nedobitye nemcy». Sudya po otmetke v al'bome, kuda perenesli risunki, eto 1944 g., vidimo, uzhe konec goda. |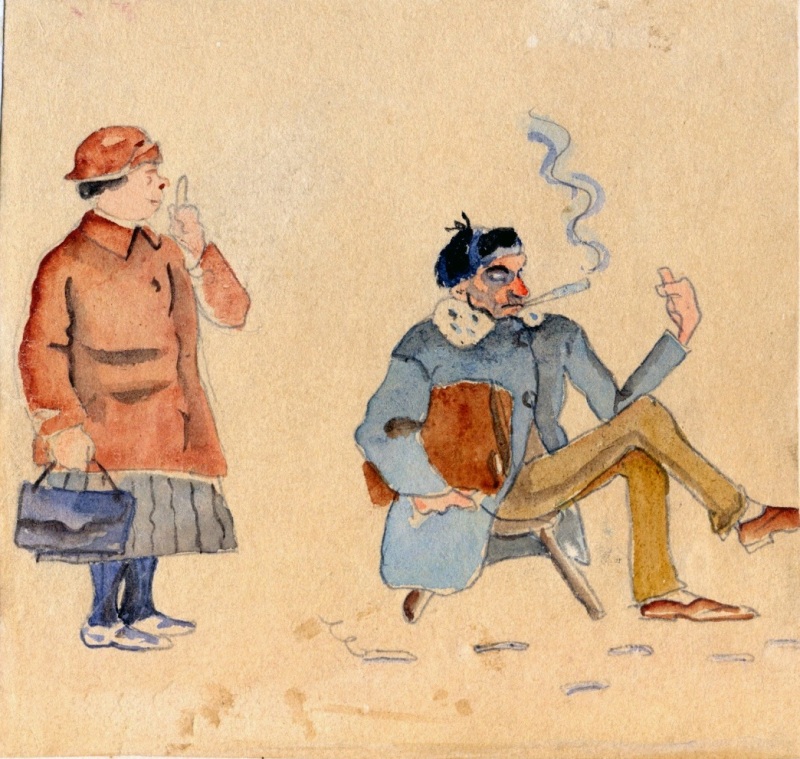 Nash izvestnyi «solnechnik» i astrofotometrist d.f.-m.n. Evgeniya Yakovlevna Bugoslavskaya (1899–1960), ochevidno, vnushaet pravila novogo mestkoma komu-to iz neradivyh sotrudnikov v zimnem odeyanii (v GAISh s pechnym otopleniem byvalo ochen' holodno), narushayushemu eti pravila. Nu, a bor'ba s kureniem, kak izvestno, prodolzhaetsya i po sei den'...
V gody voiny vsya svobodnaya territoriya GAISh na Presne (na yuzhnom sklone) byla prevrashena v ogorody. Oni sluzhili podspor'em dlya sotrudnikov eshe i v 45-m. No chelovecheskaya priroda neispravima – urozhai poroi uspevali ran'she «ubrat'» bolee lovkie gaishevskie sosedi, ostavlyaya ogorodnikam-uchenym lish' «vidimoe nichto» (vershki ot morkovki i kartoshki)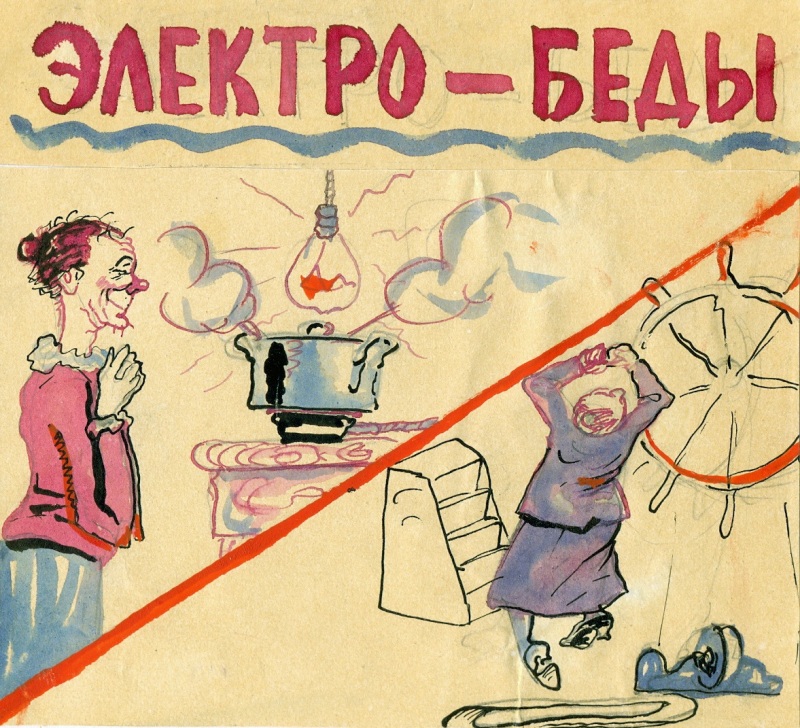 | | |
| --- | --- |
| | V pervye poslevoennye gody v starom GAISh na Presne byli neredki problemy s elektrichestvom (k tomu zhe elektrichestvo eshe veerno otklyuchali i v samoi Moskve). No mestnye nepoladki udavalos' ustranyat' Mitrofanu Stepanovichu Zverevu (1903 –1991, v 1945–1951 gg. zam. direktora GAISh). Na verhnem risunke v sinem plat'e E.Ya.Bugoslavskaya (v obraze «nosyasheisya Zhenechki»...). A vnizu v temnote ‒ gaishane greyutsya u pechki. |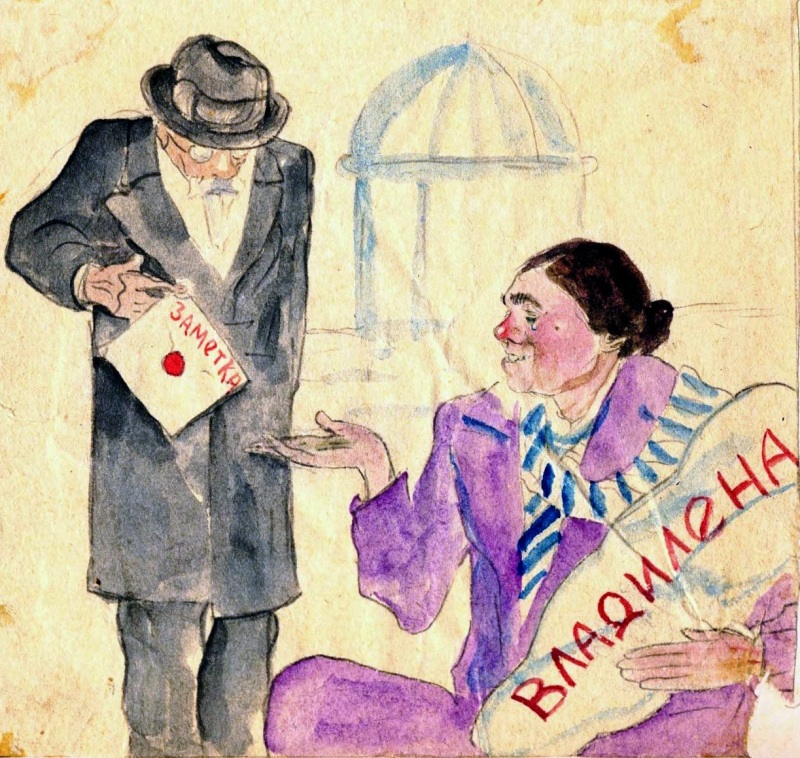 Redaktor «Vladileny» Natal'ya Borisovna Grigor'eva (1913 – 1990), ne tol'ko sotrudnik GAISh, no i zabotlivyi vospitatel' i pokrovitel' studencheskogo naroda, «milostivo» gotova prinyat' ocherednuyu zametku ot ocherednogo avtora, v roli kotorogo, pohozhe, vystupaet prof. Sergei Nikolaevich Blazhko (1870 – 1956)
Vidimo, tipichnaya situaciya s 15-dyuimovikom v observatorii starogo GAISh: shestimetrovaya truba teleskopa, kotoruyu, zacepiv instrument za edinstvenno dostupnyi ee rostu iskatel', staraetsya povernut' kto-to iz nablyudatel'nic, «vznuzdav» ego, kak stroptivogo konya, soprotivlyayushegosya, nesmotrya na vse staraniya i dazhe zabotu (sm. meshok ovsa sprava) ... A na sleduyushem risunke hudozhnik, veroyatno, predlagal shutlivyi proekt bolee «upravlyaemoi» ustanovki dlya nablyudenii («Kul'turnaya kobyla») ... Kstati, sleva pod mordoi loshadi, mozhno zametit' ego avtograf.
Chetyre risunka raznyh let pod obshim zagolovkom

| | |
| --- | --- |
| | Mechty Sergeya Vladimirovicha Orlova (1880 – 1958, v 1943 – 1952 godah direktor GAISh i zav. otdelom komet) v predvkushenii pereezda instituta na Vorob'evy (togda Leninskie) gory. 1952g. |
| | |
| --- | --- |
| | Naznachennyi v 1952 g. direktorom GAISh prof. Boris Vasil'evich Kukarkin (1909 – 1977) uzhe god spustya tyagotilsya etoi administrativnoi dolzhnost'yu. |
| | |
| --- | --- |
| | Andrei Borisovich Severnyi (1913 – 1987) – izvestnyi astrofizik, sotrudnik GAISh v 1938 – 1946 gg. (vposledstvii, s 1952 g. direktor Krymskoi astrofizicheskoi observatorii AN SSSR, s 1968 g. akademik, vice-prezident MAS (1964 – 1970). Mechtaya popast' v N'yu-'ork, on, odnako, zaranee «svysoka» i v duhe vremeni sravnivaet ego (slovami Mayakovskogo) s Konotopom, provincial'nym gorodkom v Sumskoi oblasti. |
| | |
| --- | --- |
| | Scena iz studencheskoi praktiki – rvenie studentov k uchastiyu v nablyudeniyah. V kachestve rukovoditelya praktiki vystupaet E.Ya.Bugoslavskaya. |
Eshe chetyre risunka iz raznyh vypuskov gazety:
| | |
| --- | --- |
| | Lozinskii Aleksandr Markovich (1911–2004). On lyubil fotografirovat' i ne rasstavalsya s fotoapparatom. Byl sotrudnikom GAISh, no posle ocherednoi «chistki» 1949 – 52-h gg. (gody «bor'by s kosmopolitizmom», v deistvitel'nosti zhe razvernuvshayasya togda skrytaya gos. kampaniya antisemitizma, «pyatyi punkt» – nacional'nost' v ankete, k tomu zhe A.M. rodilsya v Myunhene!), v 1952 g. vmeste s A.L. Zel'manovym (1913 – 1987), B.Yu. Levinym (1912 – 1989) i mnogimi drugimi, dazhe prosto «neugodnymi» (vsego 17 chel.), byl uvolen. (A.L. Zel'manov vernulsya pozdnee v GAISh, B.Yu.Levin stal odnim iz vedushih sotrudnikov v kosmogonicheskom otdele O.Yu. Shmidta v Institute fiziki Zemli, I.S. Shklovskogo v te gody sumel otstoyat' rektor MGU akademik I.G.Petrovskii). A.M. Lozinskii stal sotrudnikom Astrosoveta AN SSSR i odnim iz sozdatelei ego zagorodnoi observatorii v Zvenigorode. |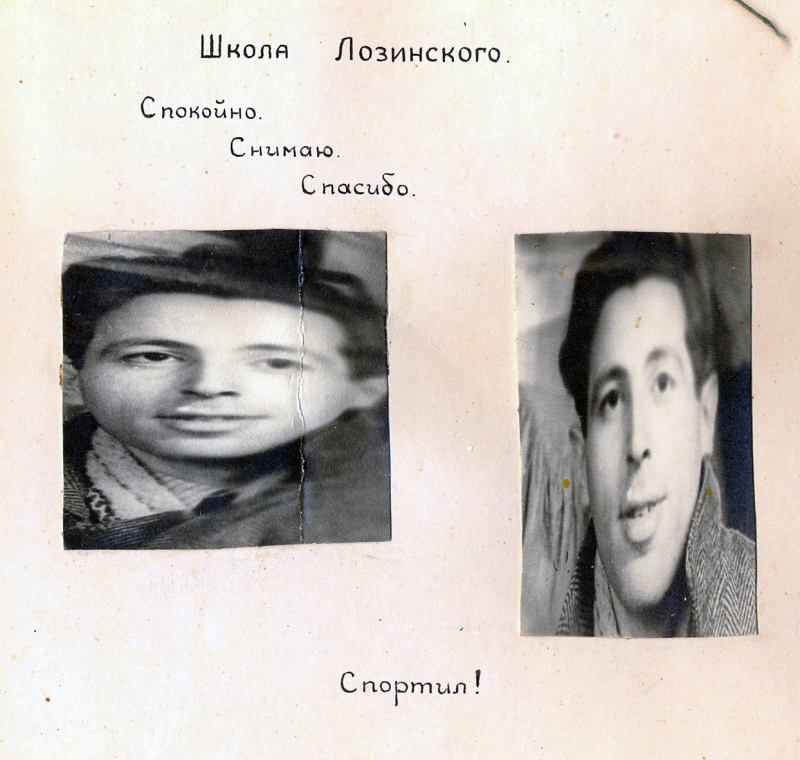 Druzheskaya foto-shutka I.S.Shklovskogo po povodu fotomasterstva A.M.Lozinskogo.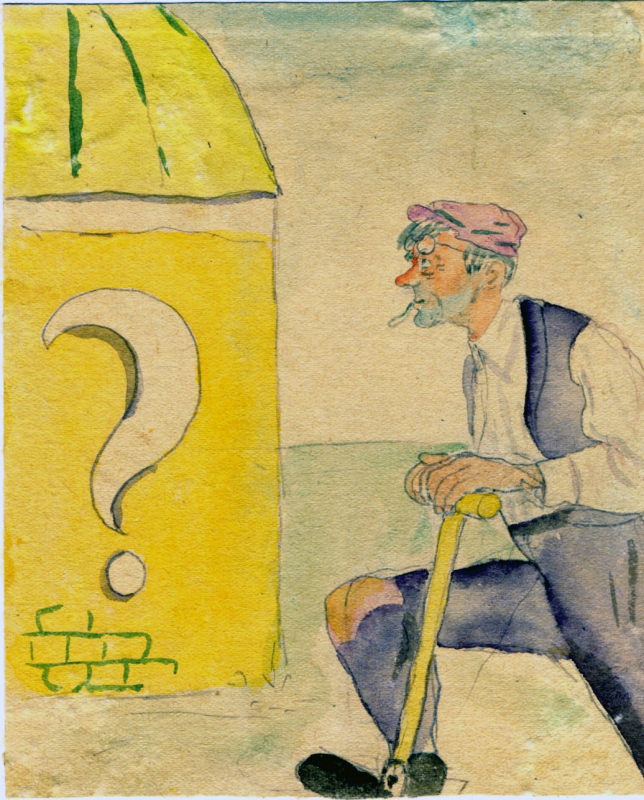 Zagadochnaya scena iz «nenauchnoi» zhizni starogo GAISh. (Naprashivaetsya gipoteza: kto-to iz «ogorodnikov» v tvorcheskom zapale: «A ne snesti li i etu bashenku pod posadki…».)
| | |
| --- | --- |
| | Surovye usloviya nablyudenii v starom GAISh; v skorom vremeni «k uslugam» studentov v novom zdanii na Lengorah byla uzhe uima myagkih divanov, na kotoryh mozhno bylo «prikornut'» dazhe i dnem… |
Razocharovanie i ironiya redakcii stengazety na ozhidanie i nablyudeniya meteornogo potoka «drakonidy» v oktyabre 1946 g. Ozhidalos', chto plotnost' potoka sostavit do neskol'kih soten meteorov v chas, i on takim byl, no v Moskve maksimum potoka prishelsya na predutrennie chasy, i nablyudat' ego polnost'yu ne udalos', obil'nyi meteornyi dozhd' nablyudali v Zapadnoi Evrope.
V poslevoennoi tesnote starogo GAISh mechty o novom zdanii vitali v vozduhe, kazhdyi mechtal o naibolee udobnom dlya sebya rabochem meste: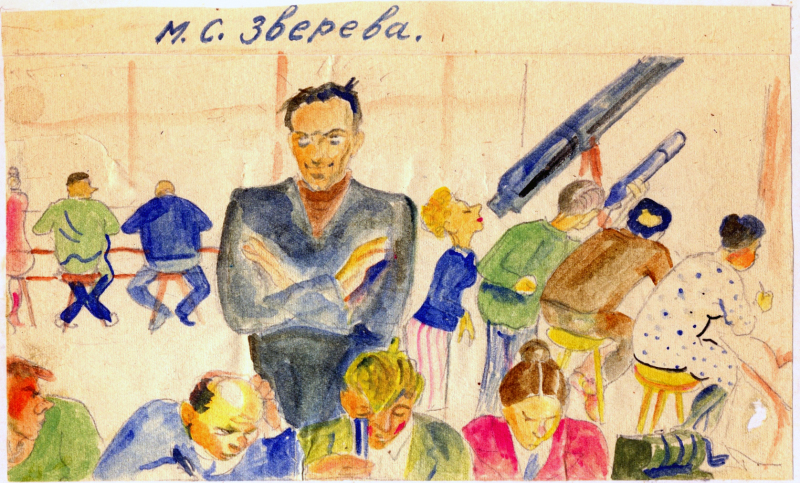 M.S.Zverev (togda zam. direktora GAISh) vidit sebya v okruzhenii userdno trudyashihsya pod ego prismotrom sotrudnikov.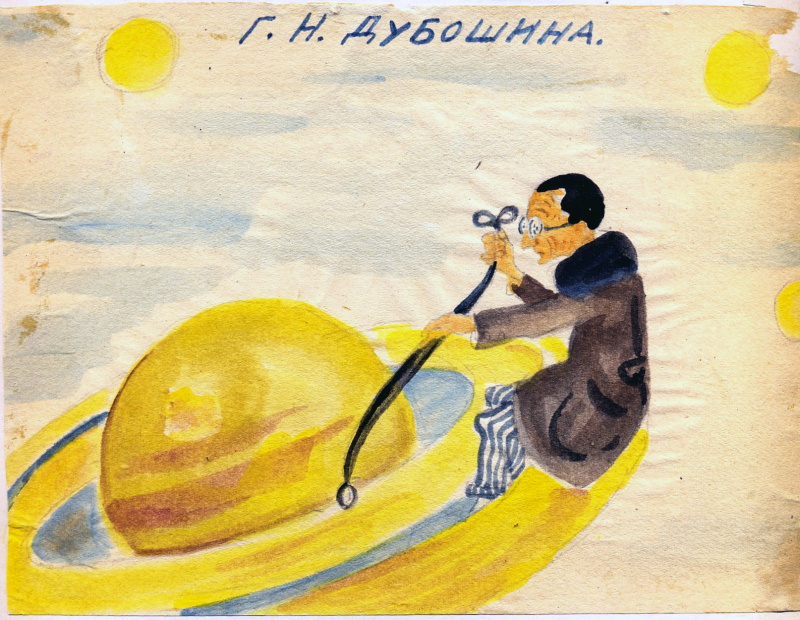 Glava nebesnyh mehanikov Georgii Nikolaevich Duboshin (1904 – 1986) luchshim rabochim mestom schital by … sami kol'ca Saturna (odno iz kotoryh on podgonyaet integralom, kak mal'chishki koleso zheleznym kryuchkom…).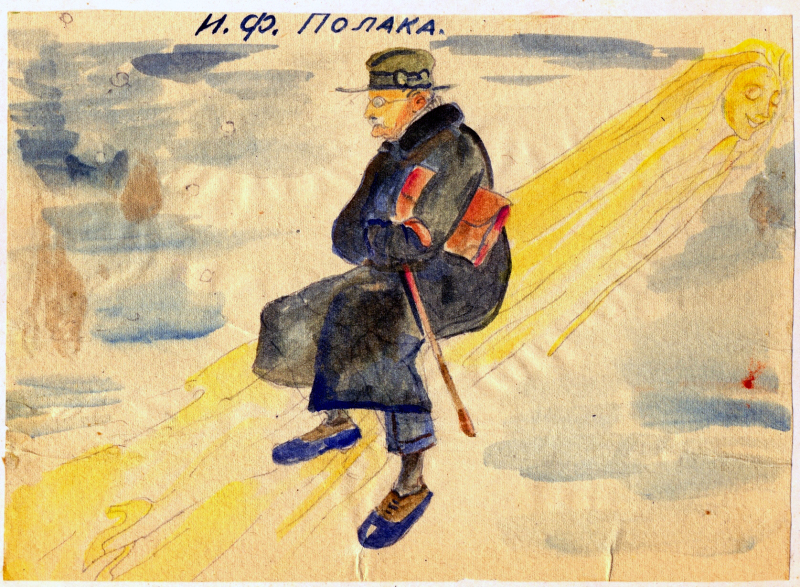 Iosif Fedorovich Polak (1881-1954) – stareishii sotrudnik Universitetskoi observatorii (s 1905 g.). On chital v GAISh v poslevoennye gody kurs istorii astronomii, odnako, buduchi specialistom-kometchikom, udobnee vsego chuvstvoval by sebya ne inache kak na hvoste blagosklonnoi k nemu komety.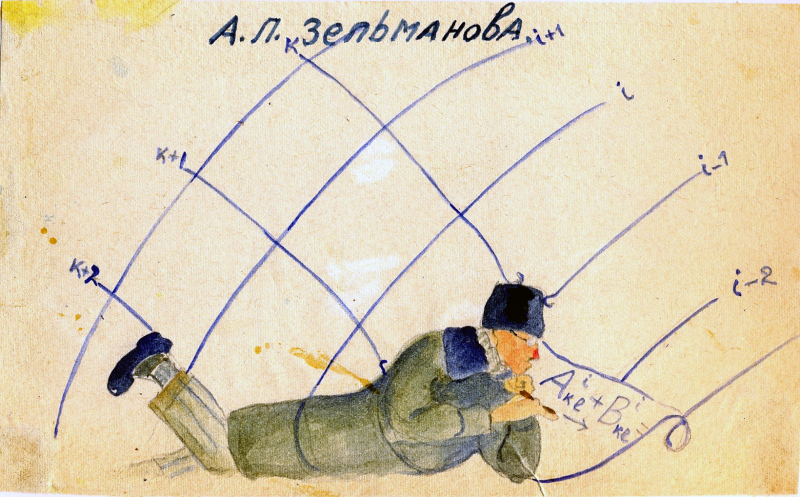 Nash velikii kosmolog Abram Leonidovich Zel'manov, naibolee komfortno emu bylo by v iskrivlennom kosmologicheskom prostranstve («kak ryba v vode», hotya zdes' i v «seti» — iskrivlennyh koordinatnyh linii…)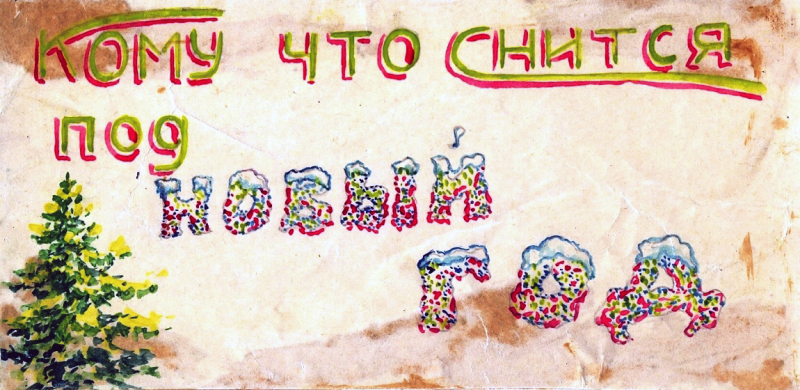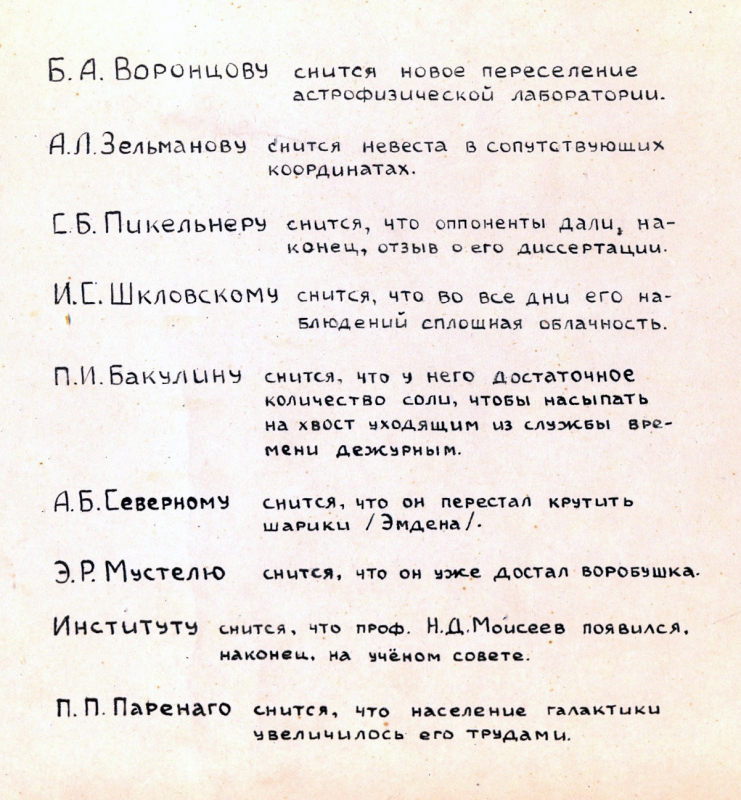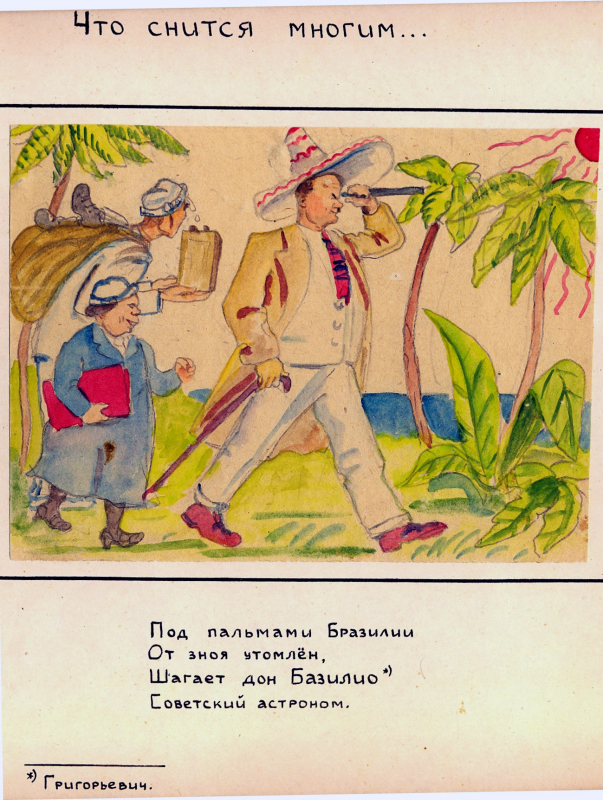 Akademik V.G. Fesenkov (1889 – 1972) v Brazilii (v ekspedicii po nablyudeniyu solnechnogo zatmeniya 1947 g.). Ego soprovozhdaet E.Ya. Bugoslavskaya, a ryadom s neyu nekto, nagruzhennyi priborami (uzh ne N.B. Divari li?). No zdes', deistvitel'no, lish' sny pod novyi 1947 god, ved' ni V.G. Fesenkov, ni E.Ya. Bugoslavskaya v toi ekspedicii ne byli. Fesenkov v to leto otpravilsya v taigu na Sihote-Alin' k mestu padeniya krupnogo zheleznogo meteorita (upal 12 fevralya 1947 g.).
Eta illyustraciya processa sobiraniya zvezd v katalogi P.P. Parenago (1906 – 1960) i B.V. Kukarkinym, zamechatel'na ne tol'ko hudozhestvennym ispolneniem, no i ser'eznym znaniem istorii. V 3-m tys. do n.e. vavilonyane «baranami» nazyvali zvezdy, dvigavshiesya po nebu edinym stadom, a bluzhdavshie sredi nih planety – «kozlami» (bibbu), kotorye, kak bolee soobrazitel'nye sushestva, obychno sluzhili povodyryami v ovech'ih stadah.
Dva risunka I.S. Shklovskogo iz vypuskov «Vladileny» 1947 g.: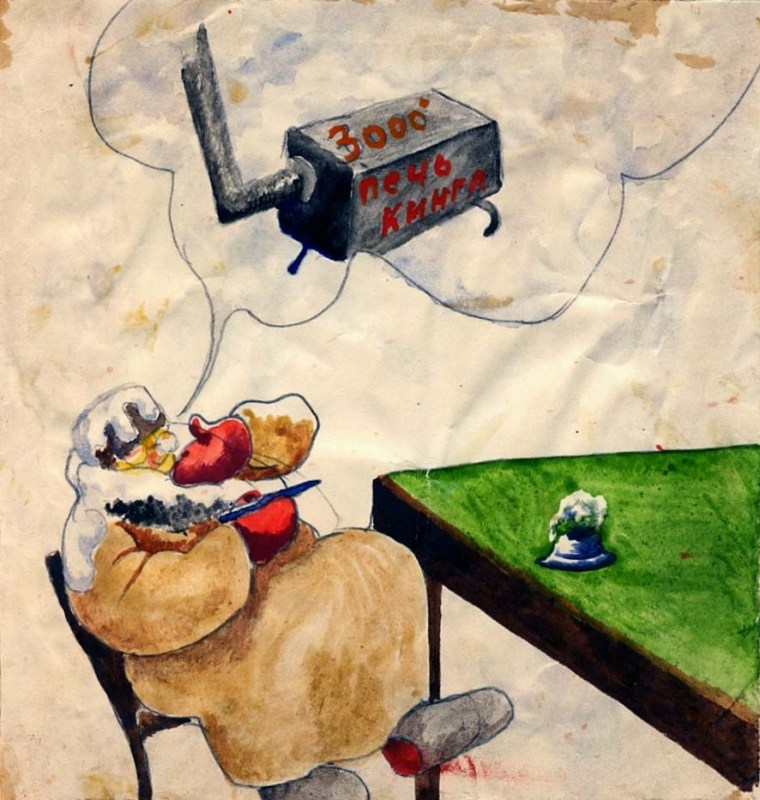 Zima v poslevoennom GAIShe – «ispytanie na morozostoikost'». I.S. Shklovskomu, naravne so vsemi, prihodilos' kolot' drova vo dvore instituta, otoplenie bylo pechnoe. Sotrudnik, sovershenno zakochenevshii, pokryvshiisya ineem, mechtaet okazat'sya vozle pechi Kinga, kotoraya, kak izvestno, byla ne na Presne, a v Kuchino.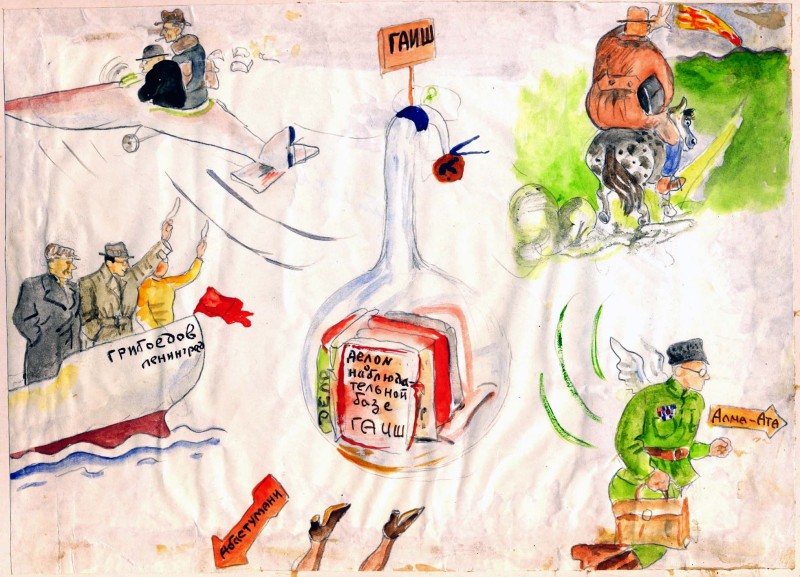 Holoda uzhe perezhili: sotrudniki GAISh raz'ezzhayutsya v ekspedicii: A.A. Mihailov i N.N. Pariiskii na samolete, a I.S. Shklovskii s osnovnoi gruppoi na teplohode «Griboedov» otpravlyayutsya v Braziliyu na nablyudenie solnechnogo zatmeniya; V.G. Fesenkov verhom probiraetsya, veroyatno, k mestu padeniya Sihote-Alin'skogo meteorita … Central'noe mesto zanimaet «delo o nablyudatel'noi baze GAISh» – o neobhodimosti yuzhnoi nablyudatel'noi stancii zagovorili eshe v seredine 1940-h gg. v starom GAISh na Krasnoi Presne.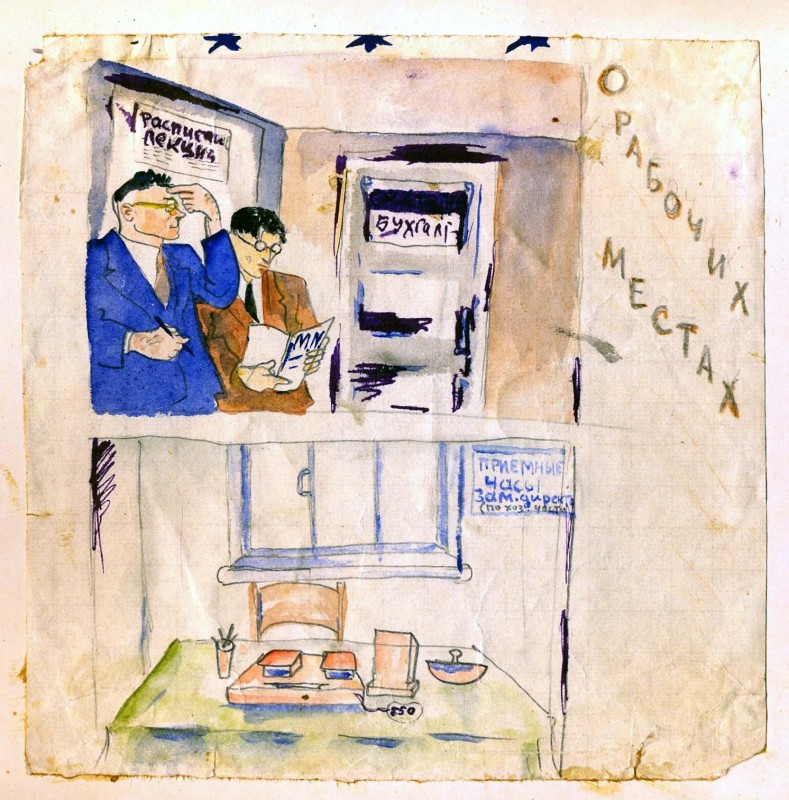 I snova golovnaya bol' o tesnote i pochti navyazchivye mechty ob otdel'nyh rabochih kabinetah.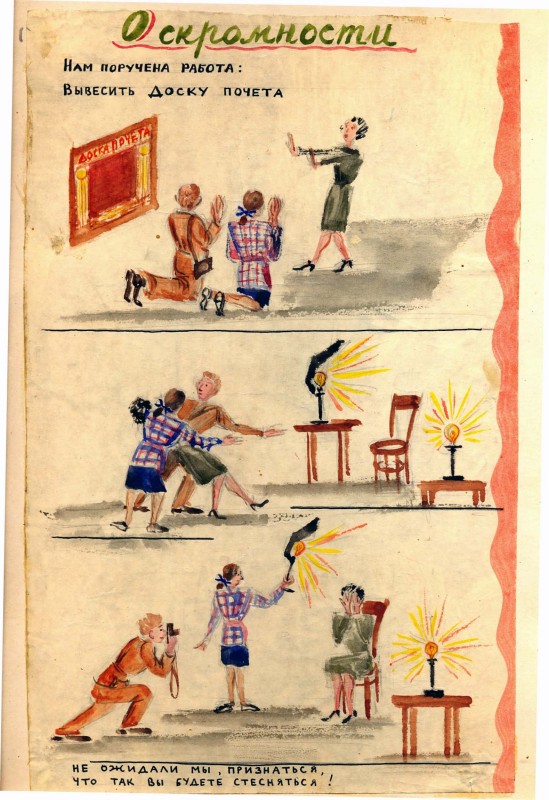 Mariyu Ivanovnu Uranovu (1901 – 1961), sotrudnicu i sekretarya kafedry zvezdnoi astronomii, ugovarivayut sfotografirovat'sya dlya doski pocheta. V roli osvetitelya (v kletchatoi koftochke) – Lidiya Nikolaevna Radlova (1913 – 1999).
Dalee risunki iz novogodnego vypuska stengazety «Vladilena», predvaryaemyi stihami o tom, s kakimi kosmicheskimi chudesami vstrechaetsya i liho raspravlyaetsya GAISh! Pered nimi teryaetsya so svoimi «zemnymi» darami dobravshiisya do nego Ded Moroz v noch' pod novyi, 1948 god.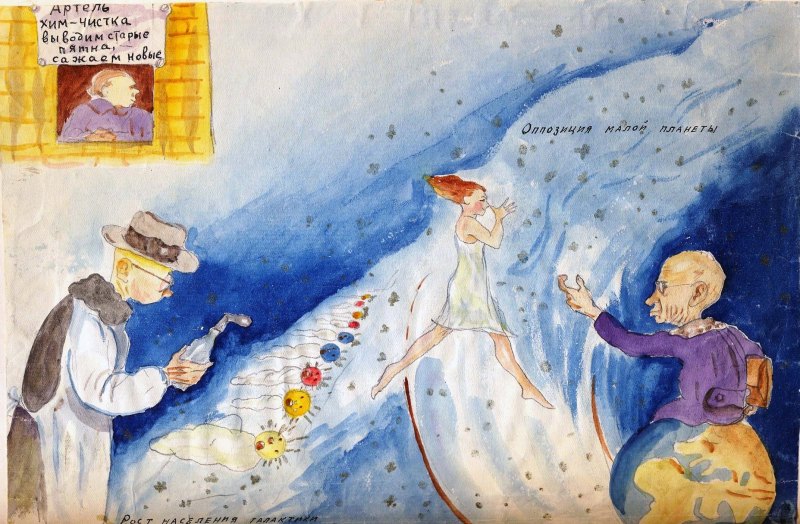 V okoshke satiricheski izobrazhena «kosmicheskaya» «Artel' Himchistka» s devizom: «Vyvodim starye pyatna, sazhaem novye» (na Mlechnom Puti s ego razvilkoi), v roli priemshicy yavno N.B. Grigor'eva. Chistyi Mlechnyi Put' deistvitel'no useyan temnymi pyatnami pylevyh tumannostei.
Tem vremenem P.P. Parenago vskarmlivaet iz soski (konechno zhe, «molokom» iz Mlechnogo Puti) zvezdy (v vide orushih mladencev), zabotyas' ob ih roste i razvitii – evolyucii vdol' glavnoi posledovatel'nosti (kak-to na odnom zasedanii on «priznalsya», chto imenno «ego trudami byl obespechen rost chisla zvezd v Galaktike»).A v roli molodoi osoby (mamy?), ubegayushei ot svoih otpryskov, pohozhe, A.G. Masevich, ostavivshaya «papashu» «s nosom». No kuda ona speshit? Stav v oppoziciyu (vrode maloi planety), ona ustremlyaetsya k glavnomu upravitelyu malymi planetami Borisu Mihailovichu Shigolevu (kotoryi v svoe vremya nemalo pomuchil studentov, zadavaya parallel'nye vychisleniya ih orbit, vsegda v itoge rashodivshihsya u gore-vychislitelei). A nebesnyi mehanik i gravimetrist prof. B.M. Shigolev (1891 – 1976), vossedaya, kak na trone, na Zemnom share s portfelem podmyshkoi, pohozhe, manit A.G. pal'cem v svoyu temu (ili na svoyu kafedru).
A vot i vozmozhnaya razgadka vsei kartiny: na odnom davnem uchenom sovete v GAISh P.P. Parenago, dokladyvaya o rezul'tatah issledovanii problemy evolyucii zvezd vdol' glavnoi posledovatel'nosti (s poterei massy), provedennyh im v tvorcheskom sodruzhestve s A. G. Masevich (1918 – 2008), skazal: «V etoi rabote my s Alloi Genrihovnoi vzaimno oplodotvoryali drug druga…». Eto i ne preminul obygrat' Iosif Samuilovich.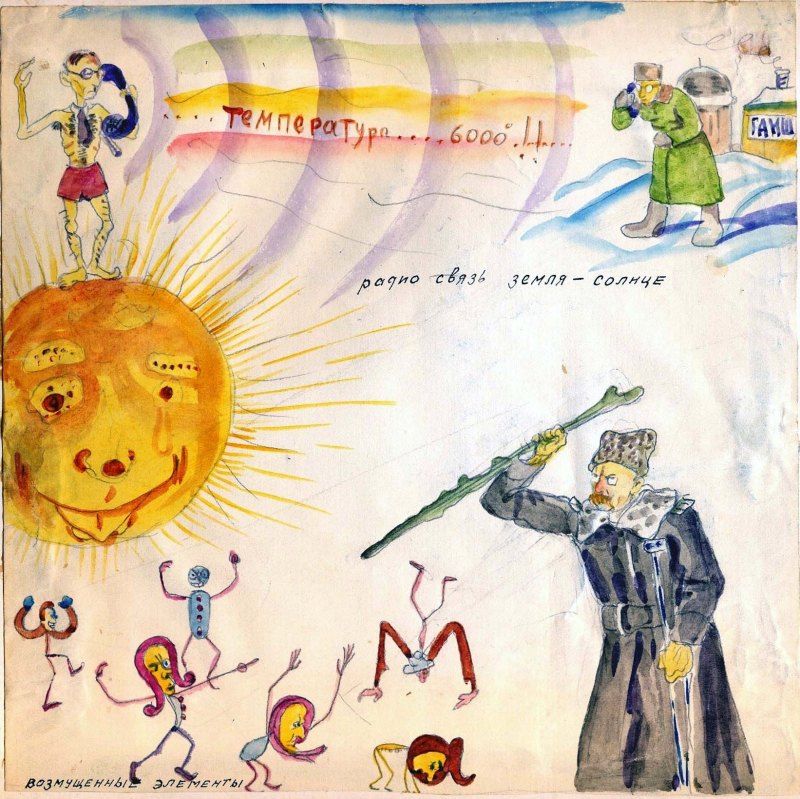 Nalazhivayut radiosvyaz' (derzha telefonnye trubki!) dva sotrudnika GAISh – odin v solnechnoi zhare, drugoi v zimnyuyu novogodnyuyu noch' na Zemle (no kto eto? Trudno ponyat' – na samogo avtora risunkov, pervogo radioastronoma v GAIShe – ne pohozh; A.B.Severnyi, issledovavshii Solnce, uzhe ne rabotal v GAISh, a glavnyi solnechnik GAISh G.F.Sitnik (1911 – 1997) ne zanimalsya radioastronomiei... No imenno togda zarozhdalas' radioastronomiya, a zatem v GAISh byl sozdan otdel radioastronomii – glavnoe detishe I.S. Shklovskogo kak organizatora nauki i rodonachal'nika gaishevskoi radioastronomicheskoi shkoly. Dalee — razgnevannyi glava nebesnyh mehanikov Nikolai Dmitrievich Moiseev (1902 – 1955) razgonyaet «vozmushennye» elementy planetnyh orbit svoim groznym oruzhiem – kostylem.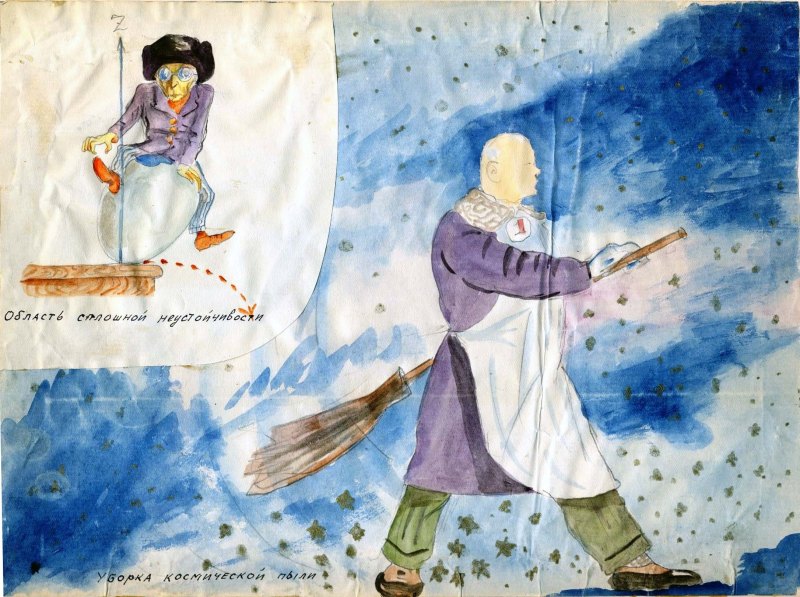 V.G. Fesenkov, s blyahoi glavnogo dvornika [№1], vymetaet iz Kosmosa mezhzvezdnuyu pyl', a sleva ot nego nebesnyi mehanik G.N. Duboshin, sam okazavshiisya v «pikovom polozhenii», popav v «oblast' sploshnoi neustoichivosti» dvizheniya s neuteshitel'nymi perspektivami….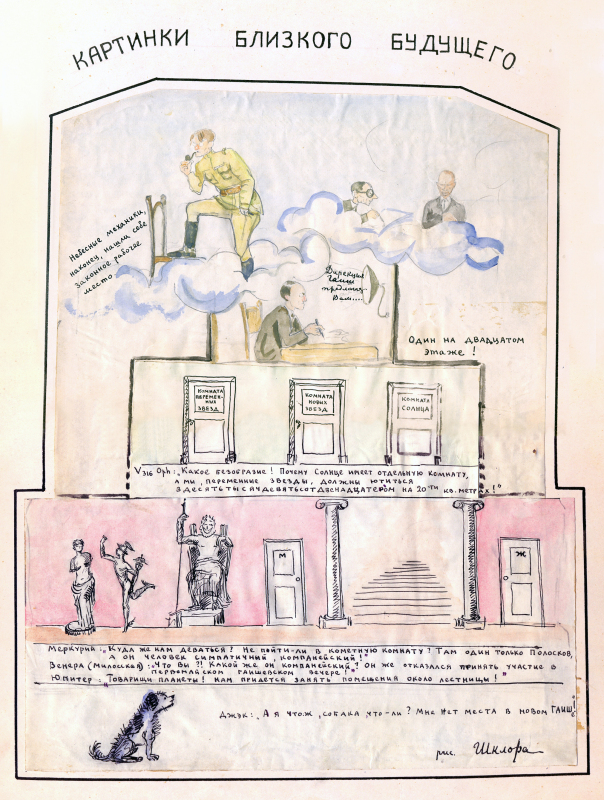 V ozhidanii pereezda na Lengory.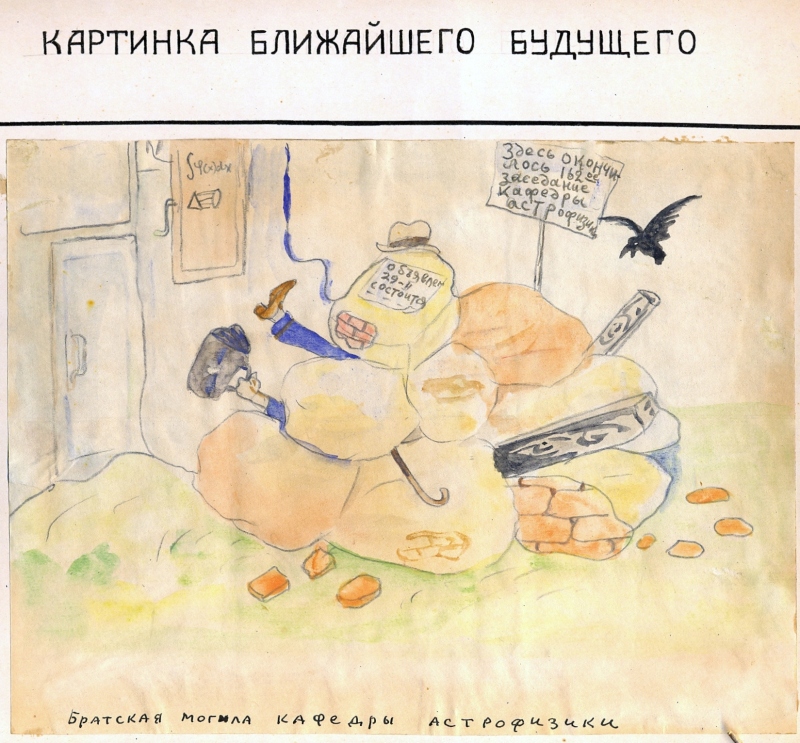 Dramaticheskaya situaciya s kafedroi astrofiziki. Osnovannaya v nachale 30-h V.G.Fesenkovym, ona okazalas' v poslevoennye gody «besprizornoi» posle uhoda s mehmata MGU krupnyh astrofizikov Fesenkova, Severnogo, Mustelya… Sud'ba ee byla neyasnoi i usilenno obsuzhdalas' v GAISh.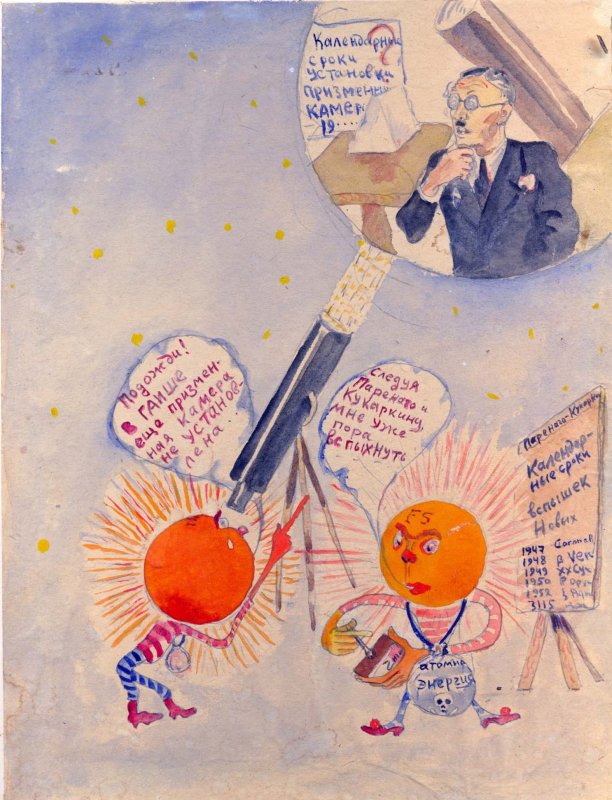 Illyustraciya k blestyashe opravdavshemusya prognozu B.V. Kukarkina i P.P. Parenago, vpervye predvychislivshih povtornye vspyshki ryada novyh zvezd.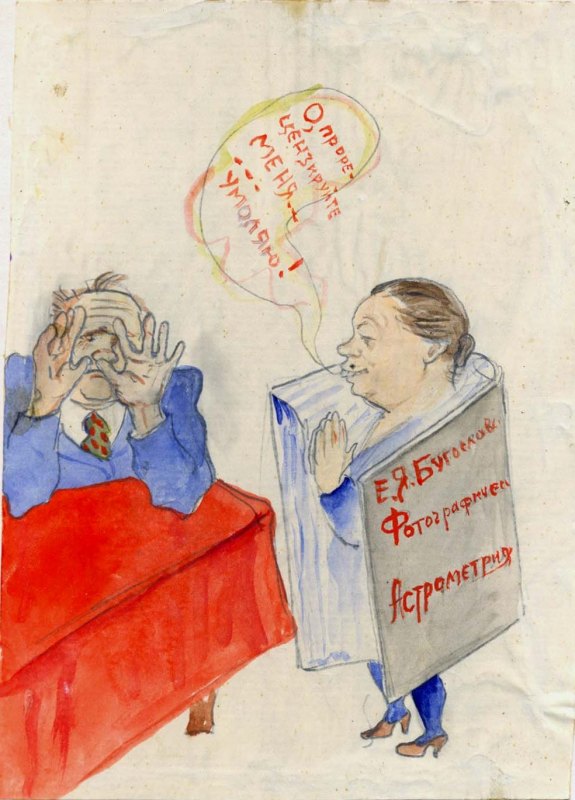 E.Ya. Bugoslavskaya umolyaet dat' recenziyu na tol'ko chto vyshedshuyu ee monografiyu, a zakryvaetsya ot nee kto-to, ochen' pohozhii na D.Ya.Martynova.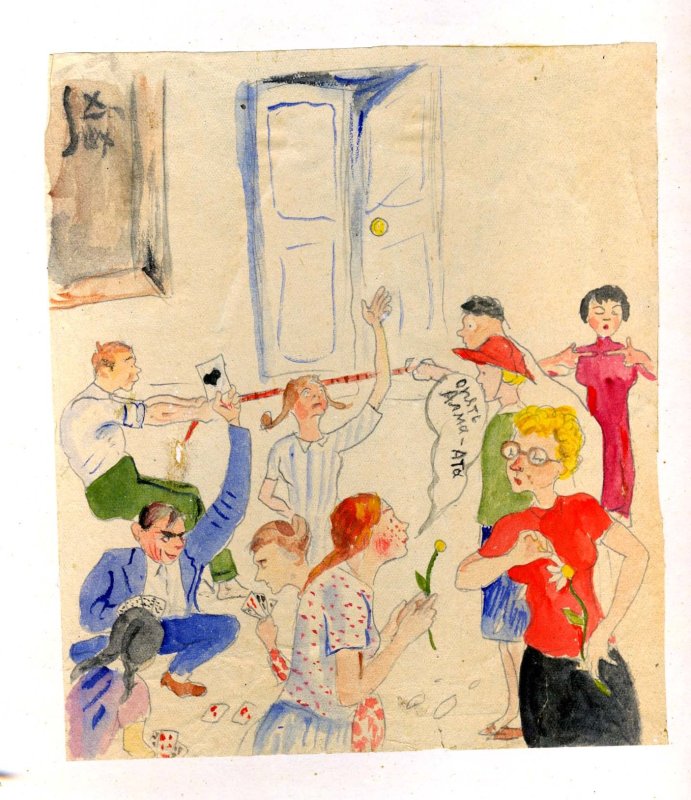 Raspredelenie na letnyuyu praktiku studentov (ili komandirovki sotrudnikov?)– gadaniya i otchayannyi vozglas: «Opyat' AlmaAta!».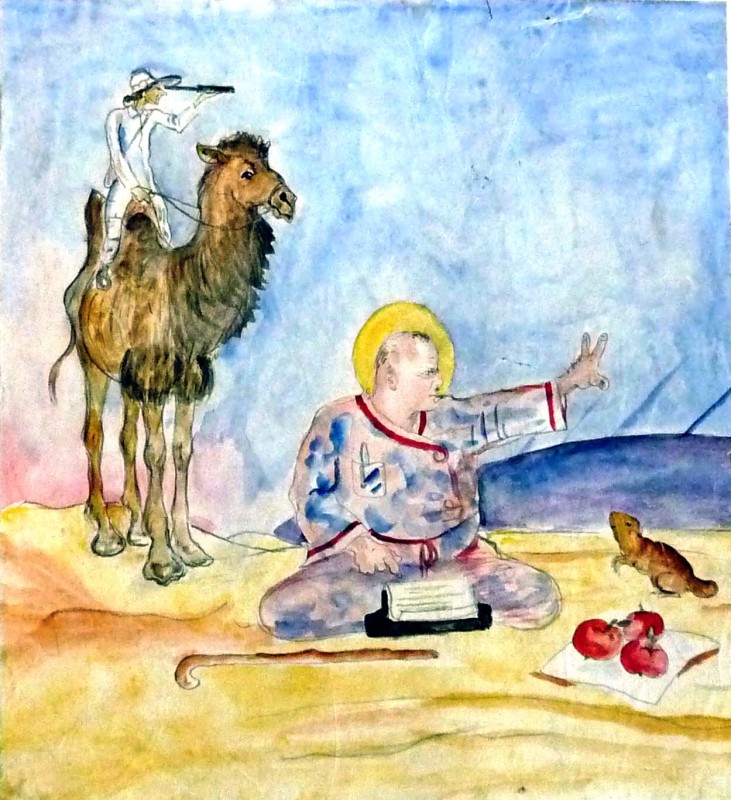 Evgeniya Vladimirovna Pyaskovskaya-Fesenkova (1899 – 1992), «osvoivshaya» ezdu na verblyudah, i «bogopodobnyi» (uvenchannyi nimbom) stareishina sovetskoi astronomii (starshe ego na god byl tol'ko A.A.Mihailov) akademik V.G.Fesenkov, ne rasstayushiisya i zdes' so svoei pishushei mashinkoi – v Egipetskoi ekspedicii, veroyatno, v konce 50-h gg. (Rasskazyvaya o nei A.I. Eremeevoi, Evgeniya Vladimirovna govorila: «My dazhe probralis' v naklonnye koridory piramid! Nu, my zhe togda byli molodye, vsego-to 50 let…».)
Vstupitel'naya stat'ya Yu. Mencin. Kommentarii Yu. Mencin, A. Eremeeva. Tehn. red. I. Lapina. Podgotovka dlya Astroneta D.Cvetkov, O.Bartunov, A.Belinskii
Versiya dlya pechati