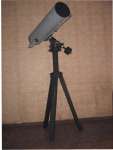 Nezavisimo ot togo, kakoi sisteme teleskopa-reflektora (n'yutonovskoi, kassegrenovskoi, lyuboi drugoi) lyubitel' teleskopostroeniya otdast predpochtenie, v pervuyu ochered' on dolzhen rasschitat' i izgotovit' glavnoe zerkalo, kotoroe obuslavlivaet vse opticheskie i konstruktivnye harakteristiki teleskopa.
Opticheskie sistemy, prednaznachennye dlya nablyudeniya ves'ma otdalennyh predmetov, nazyvayut, kak pomnit chitatel', teleskopicheskimi. Otlichitel'noe opticheskoe svoistvo teleskopicheskih sistem to, chto dlya nih predmet i ego izobrazhenie nahodyatsya v beskonechnosti, to est' v sistemu vhodyat parallel'nye puchki luchei i vyhodyat takzhe parallel'nymi puchkami. Eto klass tak nazyvaemyh opticheskih afokal'nyh sistem.
Lyubaya opticheskaya sistema eto nalichie dvuh i bol'she opticheskih detalei, imeyushih strogo opredelennuyu formu i raspolozhenie i prednaznachennyh dlya opredelennogo formirovaniya puchkov svetovyh luchei. V sluchae teleskopa Kassegrena, o stroitel'stve kotorogo v domashnih usloviyah poidet rech' dalee, eto, prezhde vsego, pervichnoe i vtorichnoe zerkala. Kstati, opytom izgotovleniya kassegrenovskih zerkal iz nerzhaveyushei stali podelilsya avtor v stat'e, opublikovannoi na stranice Astronet 13.03.2012 goda, i nastoyashee rukovodstvo - ee logicheskoe prodolzhenie.
Glavnoe i vtorichnoe zerkala, a takzhe okulyar ob'edinyayut v opticheskuyu sistemu teleskopa, to est', zakreplyayut v tochno opredelennom polozhenii kazhdyi iz elementov sistemy, sohranyaya za nimi vozmozhnost' v neznachitel'nyh predelah naklonyat'sya otnositel'no geometricheskoi osi truby teleskopa. S etoi cel'yu opravy zerkal snabzhayut yustirovochnymi vintami.

Na odnom konce truby kassegrena razmeshayut glavnoe (paraboloidal'noe) zerkalo, na protivopolozhnom vspomogatel'noe (vypukloe giperbolicheskoe). Glavnoe zerkalo opredelyaet deistvuyushee otverstie teleskopa, vtorichnoe zerkalo napravlyaet otrazhennye im luchi, idushie ot glavnogo zerkala s central'nym otverstiem, v fokal'nuyu ploskost' sistemy.

Okulyar ustanavlivaetsya tak, chtoby, vo-pervyh, ego opticheskaya os' sovpala s otrazhennoi opticheskoi os'yu zerkala i, vo-vtoryh, ego mozhno bylo by peremeshat' vdol' opticheskoi osi dlya fokusirovki. Rasstoyanie mezhdu glavnym zerkalom i okulyarom, napomnim, dolzhno ravnyat'sya summe ih fokusnyh rasstoyanii.
Itak, dlya sooruzheniya teleskopicheskoi sistemy neobhodimo smontirovat' opravy zerkal, elementy ih krepleniya i okulyarnyi uzel s fokusirovochnoi kremal'eroi v maksimal'no zhestkoi trube teleskopa. Forma ee i material mogut byt' kakimi ugodno. Vybor resheniya etoi inzhenernoi zadachi diktuyut vozmozhnosti i predpochteniya konstruktora, no v lyubom sluchae ona dolzhna obespechivat' vozmozhnost' privedeniya vseh opticheskih chastei teleskopa v pravil'noe vzaimnoe polozheniya, to est' ego centrirovanie i yustirovanie. Opticheskaya shema "kassegrena" privedena na ris.1.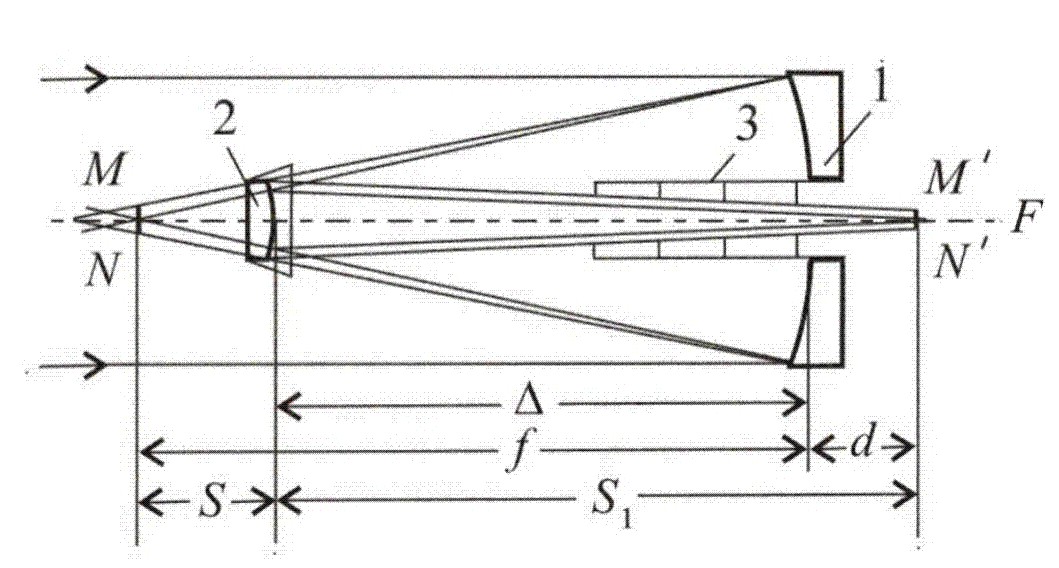 Ris.1
1 - glavnoe zerkalo; f - fokusnoe rasstoyanie glavnogo zerkala; F - fokus sistemy; 2 - vtorichnoe zerkalo; s i s1 - sopryazhennye otrezki: s - rasstoyanie ot vershiny giperbolicheskogo zerkala do fokal'noi ploskosti glavnogo zerkala, s1 - rasstoyanie ot vershiny giperbolicheskogo zerkala do fokal'noi ploskosti vsei sistemy (ekvivalentnogo fokusa); d - rasstoyanie ot vershiny glavnogo zerkala do ekvivalentnogo fokusa (zavisit ot tolshiny zerkala i dna opravy i zhelatel'nogo vynosa fokal'noi ploskosti); rasstoyanie mezhdu glavnym i vtorichnymm zerkalami; 3 - svetozashitnaya trubka;
MN i M'N' - sootvetstvenno lineinye razmery polya zreniya fokal'noi ploskosti glavnogo zerkala i ekvivalentnoi sistemy.
Sleduet zametit', chto zalogom uspeha pri postroike teleskopa budet nalichie, po men'shei mere, dvuh uslovii: pervoe - lyubitel' dolzhen byt' podkovannym teoreticheski i vtoroe - umet' rabotat' rukami. Drugimi slovami, sooruzhenie teleskopa predpolagaet vladenie lyubitelem opredelennymi znaniyami i umeniyami v raznyh remeslah slesarnom, stolyarnom, malyarnom. Krome togo, chto otnyud' ne poslednee delo, lyubitel' pri konstruirovanii teleskopa ne mozhet ne pozabotit'sya ob esteticheskoi storone dela - vneshnem vide svoego detisha, to est' vystupaet tut i dizainerom.
Truba i ustanovka teleskopa dolzhny otvechat' dostatochno zhestkim trebovaniyam i vyderzhat' ih slozhnaya zadacha, no podgotovlennomu i ser'ezno zainteresovannomu lyubitelyu ona, bez somneniya, vpolne po plechu.
Special'naya literatura krugluyu trubu teleskopa do 300-400 mm poperechnikom i dlinoi do 2-2,5 m sovetuet izgotovlyat' iz bumagi, propitannoi epoksidnoi smoloi (12). I vpolne opravdano. Deistvitel'no, bumazhnaya truba, prokleennaya epoksidkoi, pri nebol'shom vese prochna, zhestka, ustoichiva. K tomu zhe, v otlichie ot metallicheskoi truby, uspeshno gasit vibracii. Vmeste s tem, otdavaya dolzhnoe del'nomu sovetu, nel'zya sbrasyvat' so schetov to, chto podobrat' cilindricheskuyu bolvanku dlya izgotovleniya truby i bolee skromnyh, chem upomyanutye, gabaritov, predstavlyaetsya nachinaniem, ne menee slozhnym, chem sooruzhenie samoi truby. Na osnovanii etih soobrazhenii v kachestve materiala dlya truby 185-millimetrovogo kassegrena ispol'zuem oboyudogladkuyu drevesnovoloknistuyu plitu (DVP), polozhitel'nye kachestva kotoroi nichem ne postupayutsya ukazannym kachestvam kleenoi bumagi.

Pridadim ei vos'migrannuyu formu. Pravda, pered kvadratnoi truboi, kotoruyu izgotovit' znachitel'no legche, truba vos'migrannogo secheniya, krome bolee krasivogo vida, osobennyh preimushestv ne imeet, no imenno poetomu i vyberem dlya voplosheniya bolee slozhnuyu formu: krasivyi vid nashego teleskopa - delo ne vtorostepennoe.

K slovu, teleskopostroitelyu, izbravshemu dlya voplosheniya sistemu N'yutona, neobhodimo uchest', chto okulyarnyi uzel dolzhen byt' zakreplen na trube parallel'no poslednei osi vrasheniya ustanovki: osi skloneniya v parallakticheskoi ustanovke. Esli prenebrech' etim, to pri vrashenii teleskopa vokrug osi skloneniya nablyudaem pole zreniya, kotoroe peremeshaetsya pod uglom k napravleniyu peredvizheniya, chto dlya nablyudatelya, bezuslovno, neudobno (4). K tomu zhe, montirovat' okulyarnyi uzel na ploskoi poverhnosti spodruchnee, chem na vypukloi.

Dlina truby nezavisimo ot ee konstrukcii priblizitel'no ravna fokusnomu rasstoyaniyu glavnogo zerkala. Vnutrennii diametr truby (ili kruglyi vyrez v vos'migrannike) dolzhen sostavlyat' priblizitel'no 1,25 diametra glavnogo zerkala, inache luchi zvezdy, kotoraya nahoditsya sboku ot opticheskoi osi, budut chastichno zaslonyat'sya kraem truby.

Sooruzhenie truby teleskopa pereklikaetsya s metodami, kotorye praktikuyut sudomodelisty, i ne vospol'zovat'sya imi znachit namerenno uslozhnit' sebe zhizn'.

V samom dele, iz enciklopedii sudomodelizma (sm. bibliografiyu) doznamsya, chto korpus sudna - eto stoikii pustotelyi karkas, kotoryi sostoit iz ostova - nabora - sudna i vodonepronicaemoi obshivki. Ne imeem li vse osnovaniya to zhe samoe opredelenie primenit' i k trube teleskopa?

Nabor sudna - eto prezhde vsego kil' i shpangouty, to est' - poperechnye elementy konstrukcii korpusa, kotorye po analogii s rebrami zhivotnyh nazyvayutsya rebrami. A chem, kak ne shpangoutami budut rebra zhestkosti, kotorymi snaryadim nashu trubu?
Obshivka sudna, kotoraya pokryvaet nabor sudna - eto obolochka. Ne inache, kak obolochkoi yavlyaetsya vos'migrannaya obshivka truby teleskopa.
Sudomodelisty pri opredelenii razmerov nabora i obshivki ishodyat iz neobhodimosti sozdat' dostatochnye prochnosti i vnutrennii ob'em. Ne takie li zadachi lyubitelya astronomii pri sooruzhenii truby teleskopa?
Pri etom korpus ne dolzhen byt' izlishne tyazhelym. A razve ne zainteresovan v etom i teleskopostroitel'?
Itak, truba teleskopa obretet dostatochnuyu zhestkost', esli ee snaryadit' tak nazyvaemymi rebrami zhestkosti v mestah deistvuyushih na trubu nagruzok, a eto: ves opornoi i osnovnoi plastin opravy glavnogo zerkala i samogo zerkala, rastyazhek i vspomogatel'nogo zerkala v oprave, okulyarnogo uzla. Etim my i zaimemsya vskore, no prezhde vsego napravim nashi usiliya na izgotovlenie oprav dlya zerkal, glavnogo i vspomogatel'nogo.

OPRAVY GLAVNOGO I VTORIChNOGO ZERKAL
Dva diska dlya osnovnoi plastiny opravy glavnogo zerkala poperechnikom, kak i zerkalo, 185 mm izgotovim iz mnogosloinoi fanery tolshinoi 10 mm. V odnom iz nih, otstupiv ot kraya na 20 mm, na rasstoyanii 120drug ot druga vmontiruem vinty M8 dlinoi 45 mm; naznachenie ih - naklonyat' zerkalo v nuzhnom napravlenii (yustirovat'). Golovkam vintov zaranee pridadim napil'nikom pryamougol'nuyu formu, chtoby predupredit' ih vrashenie pri vkruchivanii yustirovochnyh gaek, i utopim v sootvetstvuyushih pazah vtorogo diska. Pocarapav dlya luchshego scepleniya ostriem shila ili koncom sapozhnogo nozha te poverhnosti oboih diskov, kotorye dolzhny byt' soedineny, smazhem ih kleem, stolyarnym ili PVA, i, stisnuv etu paru zheleznymi pastyami strubcin, ostavlyaem do polnogo vysyhaniya. K nim my eshe vernemsya.

Uderzhivayut zerkalo v oprave tri pryamougol'nye lapki iz listovoi nerzhaveyushei stali. Dlina lapki s shipom na verhushke dolzhna uchityvat' tolshinu plastiny opravy zerkala, samogo zerkala, kozhanyh kruzhkov, na kotorye ono opiraetsya, a takzhe tu ee chast', sognutuyu pod pryamym uglom, kotoroi ona krepitsya na oprave. Eta chast' lapki imeet prodolgovatyi central'nyi paz dlya prohoda krepezhnogo vinta, chto daet vozmozhnost' sdvigat' ee vo vremya krepleniya zerkala v oprave (ris.2). Shipy lapok sgibayut pod uglom 45.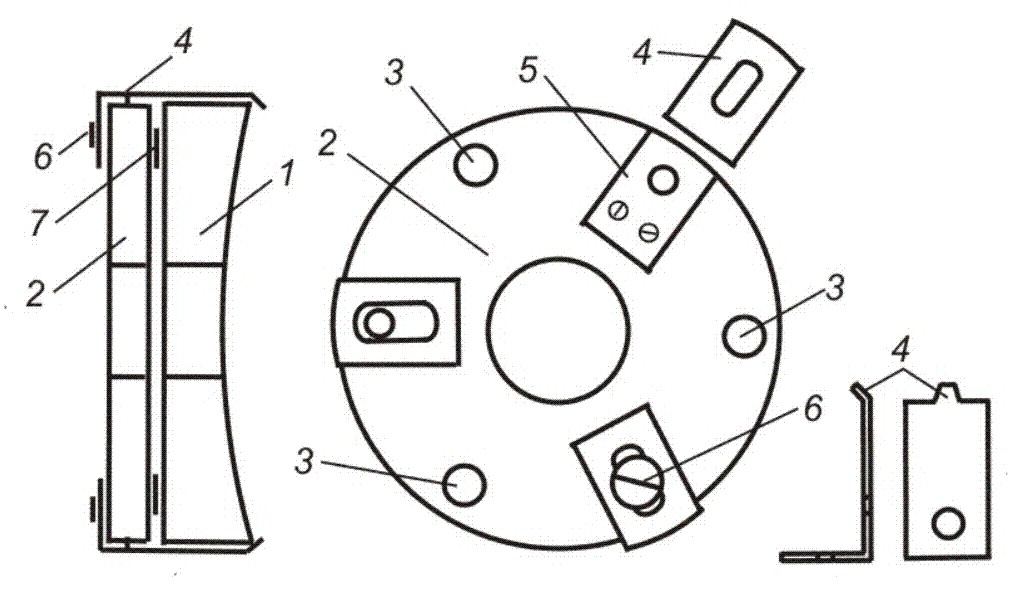 Ris.2
1- zerkalo, 2 - osnovnaya plastina opravy, 3 - yustirovochnye vinty, 4 - lapka, 5 - plastinka dlya krepleniya lapki, 6 - krepezhnyi vint, 7 - kozhanyi kruzhok-opora.
Na odnom iz diskov poseredine mezhdu yustirovochnymi vintami na rasstoyanii 120 drug ot druga zapodlico s ego poverhnost'yu zakrepim shurupami dyuralevye plastinki, kotorye imeyut dva raspotaennyh otverstiya pod shurupy i odno, s rez'boi M4, dlya krepleniya lapok. Lapki, s oglyadkoi na znachitel'nyi ves zerkala (5 kg), izgotavlivaem iz listovoi nerzhaveyushei stali, tolshinoi 1,5 mm. K osnovnoi plastine opravy oni dopolnitel'no krepyatsya shurupami i s bokov.
Opornaya plastina opravy, uderzhivayushaya osnovnuyu plastinu s zakreplennym na nei zerkalom, takzhe sostoit ih dvuh skleennyh mezhdu soboi 10-millimetrovyh fanernyh listov vos'migrannoi formy, razmer kotoroi dolzhen byt' dostatochnym, chtoby zakryt' nizhnii konec truby s torca. Krepyat opravu k nei chetyr'mya vintami M8 sposobom, rech' o kotorom poidet pri izgotovlenii samoi truby. V obeih plastinah opravy (osnovnoi i opornoi) vyrezhem otverstiya diametrom, ravnym diametru otverstiya v glavnom zerkale (60 mm) dlya razmesheniya zdes' okulyarnogo uzla s kremal'eroi.
Yustirovochnye vinty snabzhayut vozvratnymi pruzhinami, razmeshaya ih mezhdu osnovnoi i opornoi plastinami opravy, i za predelami poslednei nakruchivayut na nih gaiki (barashki) s shaibami. Takim obrazom, vinty soedinyayut obe plastiny v odno celoe, chto daet vozmozhnost' pri zakreplennoi na trube opornoi plastine naklonyat' v opredelennyh predelah v nuzhnom napravlenii osnovnuyu plastinu opravy s zerkalom.
Krome yustirovochnyh, tut predusmotreny i stopornye vinty M6, naznachenie kotoryh - nadezhno fiksirovat' posle yustirovki osnovnuyu plastinu opravy. Vvertyvayut ih v opornuyu plastinu, dlya chego mezhdu ee diskami pered tem, kak skleit' ih, vrezayut gaiki s sootvetstvuyushei rez'boi (ris.3).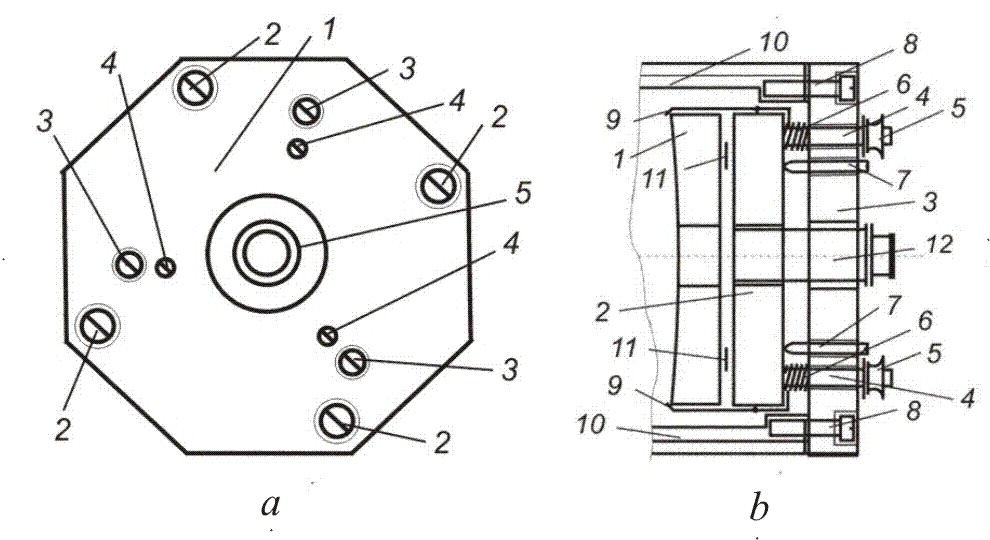 Ris.3
a. 1 - opornaya plastina opravy, 2 - vinty krepleniya opravy, 3 - yustirovochnye vinty, 4 - stopornye vinty, 5 - okulyarnyi uzel;
b. 1 - zerkalo, 2 - osnovnaya plastina opravy, 3 - opornaya plastina opravy, 4 yustirovochnye vinty, 5 - gaiki (barashki), 6 - pruzhiny, 7 - stopornye vinty, 8 - vint krepleniya opravy, 9 - lapki, 10 - truba, 11 - kozhanye opory, 12 - okulyarnyi uzel.
Vtorichnoe zerkalo 185-millimetrovogo kassegrena s oglyadkoi na solidnyi vnutrennii poperechnik truby (220 mm) podveshivayut na chetyreh tonkih (0,5 mm) rastyazhkah, izgotovlennyh iz latunnyh polos. Koncy rastyazhek snabzheny shpil'kami s rez'boi (M8), kotorye skvoz' otverstiya v stenkah truby vyvodyat naruzhu, gde na nih navorachivayut dlya natyazheniya gaiki s shaibami. Rastyazhki zakreplyayut dvumya parami pod uglom v 90 v chetyreh razrezah nevysokih bortov opornoi plastiny opravy (metallicheskogo stakana s central'nym otverstiem), diametr flanca kotoroi raven diametram osnovnoi plastiny opravy i vspomogatel'nogo zerkala (56 mm).
Forma osnovnoi plastiny opravy napominaet grib: kruglaya metallicheskaya (latun', dyural') ploshadka tolshinoi 6 mm na sterzhne diametrom 15 mm s rez'boi (M8) na konce, kotoryi dolzhen svobodno prohodit' skvoz' otverstie v opornoi plastine. Na sterzhen' nakruchivayut special'nuyu gaiku togo zhe diametra. chto i cilindr stakana, pered etim razmestiv mezhdu nei i dnom plastiny vozvratnuyu pruzhinu.
Oprava yustiruetsya tremya vintami (M6), vkruchennymi po krayu flanca opornoi plastiny opravy na odinakovyh rasstoyaniyah odin ot drugogo. Koncy vintov obrabotany pod sferu.
Vtorichnoe zerkalo, kotoroe lezhit na treh kozhanyh oporah, uderzhivayut na ploshadke tri lapki (ris.4).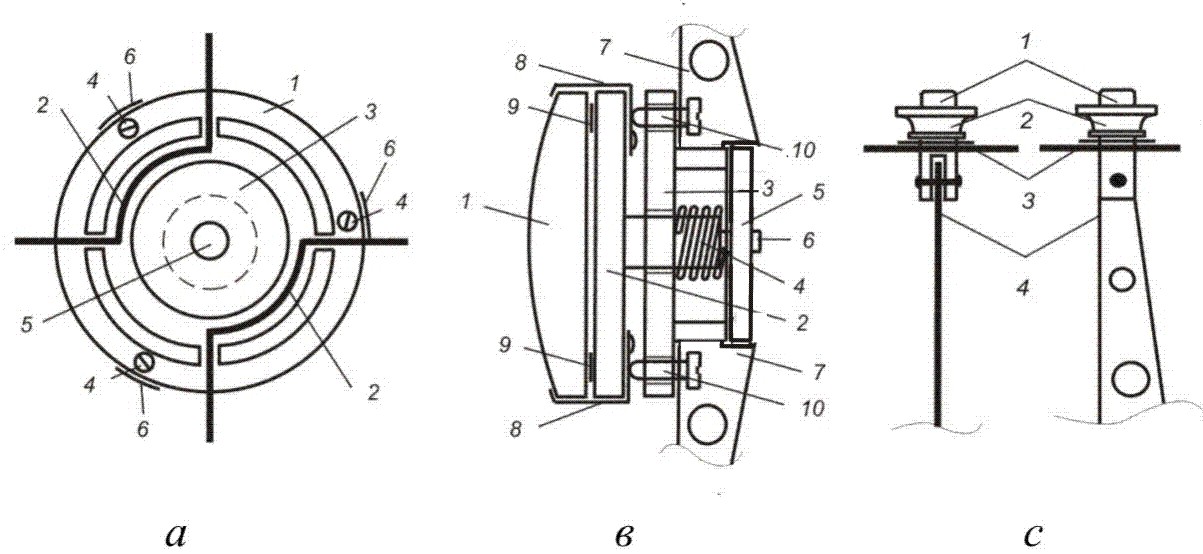 Ris.4
a. 1 - opornaya plastina opravy, 2 - rastyazhki, 3 - gaika, 4 - yustirovochnye vinty, 5 - sterzhen' osnovnoi plastiny opravy, 6 - lapki;
b. 1 - zerkalo, 2 - osnovnaya plastina opravy, 3 - opornaya plastina opravy, 4 - vozvratnaya pruzhina, 5 - gaika, 6 - sterzhen' osnovnoi plastiny opravy, 7 - rastyazhki, 8 - lapki, 9 - kozhanye opory, 10 - yustirovochnye vinty;
s.1 - shpil'ki, 2 - gaiki, 3 - stenka truby, 4 - rastyazhki.
TRUBA "KASSEGRENA"
Formu reber zhestkosti, materialom dlya kotoryh posluzhit mnogosloinaya fanera tolshinoi 10 mm, diktuet sechenie truby. V nashem sluchae eto vos'migranniki s kruglymi vyrezami v nih (vsego ih 6).
V vos'migrannike, prizvannom sluzhit' vhodnym otverstiem teleskopa, nachertim okruzhnost', poperechnikom 220 mm, s takim raschetom, chtoby ona otstupala ot granei na 10 mm, i s pomosh'yu lobzika udalim vnutrennyuyu chast'.
Rebro zhestkosti s protivopolozhnogo konca truby, - dvoinoe, to est', skleennoe iz dvuh vos'migrannikov. Pered skleikoi mezhdu nimi v pazah chetyreh uglov, dlya krepleniya opornoi plastiny opravy, vmontiruem gaiki M8. Zazor mezhdu poperechnikom kruglogo vyreza v nei i zerkalom v oprave ostavim minimal'nym.
Odna iz granei truby kassegrenovskogo teleskopa - suhaya, strugannaya, pryamaya doska dyuimovoi tolshiny, posredstvom kotoroi krepyat trubu na montirovke. Pomnya, chto dlina truby priblizitel'no ravna fokusnomu rasstoyaniyu glavnogo zerkala (925 mm v nashem sluchae), ostanovimsya na metrovoi dline doski.
Dve plastiny iz nerzhaveyushei stali 300x60h4 mm soedinim strubcinoi i, otstupiv ot protivopolozhnyh men'shih torcov na 20 mm, sverlim dva otverstiya pod rez'bu M14 i chetyre otverstiya po uglam pod rez'bu M6.
Otverstiya v odnoi iz plastin rassverlivaem dlya svobodnogo prohozhdeniya vinta M 14, a uglovye otverstiya dlya vinta M6; eti poslednie raspotaivaem. V otverstiyah drugoi plastiny narezaem rez'bu, sootvetstvenno M14 ta M6. Obe plastiny vrezaem s protivopolozhnyh storon v dosku zapodlico s ee poverhnost'yu, sledya, chtoby ih centry sovmestilis' s otmetkoi treti dliny doski i soedinyaem vintami M6. Zatem vvorachivaem vinty M14, pridav predvaritel'no ih golovkam pryamougol'nuyu formu i poverh nakleivaem na dosku po vsei ee dline polosu DVP s pazami dlya golovok vintov, chtoby predotvratit' ih vrashenie.
V doske s pomosh'yu nozhovki i stameski cherez ravnye promezhutki delayut neglubokie pazy dlya vos'migrannikov. Takie zhe pazy vypolnyayut i na odnoi iz ih granei.
Rebro zhestkosti, zamykayushee nizhnii konec truby, i sorazmernye emu dva vos'migrannika obshivaem s pomosh'yu kleya 7-yu polosami 10-millimetrovoi fanery dlinoi, nenamnogo prevyshayushei tret' dliny truby (400 mm). Chtoby obespechit' tesnoe prileganie zagotovok drug k drugu, ih predvaritel'no po dlinnym storonam s pomosh'yu rashpilya snabzhayut faskami. Smazyvaya po ocheredi torcy reber i faski polos stolyarnym kleem ili PVA, soedinyaem ih v stoikii pustotelyi karkas, dlya nadezhnosti prihvatyvaya ih v mestah soprikosnoveniya melkimi gvozdyami. Ostal'nye rebra, razmer kotoryh dolzhny sovpadat' s razmerom tol'ko vot obrazovannogo fanernogo korpusa, ustanavlivaem na kleyu v pazah i so storony doski fiksiruem shurupami.
Kruglyi vyrez vo vtorom ot verhnego kraya truby vos'migrannike raven 210 mm, v tret'em -205 mm, v chetvertom - 200 mm, v pyatom 195 mm.
Sapozhnym nozhom pod metallicheskuyu lineiku zagotovim 16 polos iz DVP dlinoi v 1 m kazhdaya i shirinoi, chut' bol'shei razmera grani reber zhestkosti. Zatem obshivaem trubu polosami DVP, predvaritel'no obrabotav ih po dlinnym storonam rashpilem. Styki granei truby zakleivaem marlevoi lentoi i (posle vysyhaniya) zakreplyaem na kleyu vtoroi sloi polos, sledya za bezuprechnost'yu mest ih soedineniya, i prihvatyvaem gvozdikami. Poverhnosti polos pered smazyvaniem kleem nuzhno pocarapat' ostriem nozha i, skleiv eto sooruzhenie, plotno perevyazat' remeshkom i ne trevozhit' do polnogo vysyhaniya v vertikal'nom polozhenii (ris.5).


Ris.5
1 - truba, 2 - doska, 3 - rebro zhestkosti, 4 - metallicheskaya plastina.
Chtoby predotvratit' popadanie postoronnih luchei sveta v pole zreniya okulyara, v teleskope sistemy Kassegrena primenyayut svetozashitnye trubki (svetootsekateli). Vnutri odnogo iz nih ustanavlivayut ryad diafragm, chtoby pomeshat' proniknoveniyu v okulyar luchei, otrazhennyh ot ego stenok. Mesto razmesheniya diafragm opredelyayut geometricheskim postroeniem. Zakreplyayut svetootsekatel' v central'nom otverstii glavnogo zerkala, sledya, chtoby otrazhenie ego v zerkale pri rassmatrivanii s lyuboi storony bylo prodolzheniem samogo otsekatelya. Dlya polnogo izbavleniya ot parazitnyh luchei zashitnuyu trubku nadevayut i na opravu vtorichnogo zerkala (ris.1).
Na teleskopah dlya legkogo peremesheniya truby i pridaniya ei sposobnosti sohranyat' ravnovesie v lyubom polozhenii razmeshayut dva podvizhnyh protivovesa (ris.6).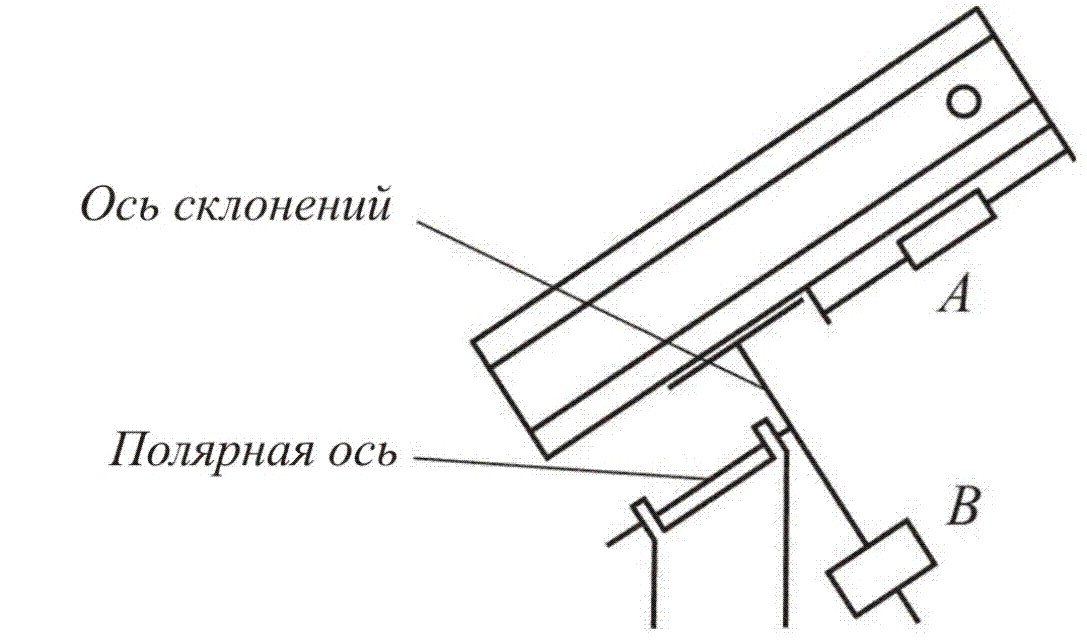 Ris.6
Protivoves A predstavlyaet soboi metallicheskii (nerzhaveyushaya stal', bronza, latun') cilindr s central'nym otverstiem, kotoryi svobodno peredvigaetsya na sterzhne (stal'-serebryanka) diametrom 6 mm pered zakrepleniem stopornym vintom v nuzhnom polozhenii. Dlinu izgotovlennyh iz dvuhmillimetrovoi listovoi nerzhaveiki kronshteinov, kotorye uderzhivayut protivoves, rasschityvayut s uchetom poperechnika cilindra. Na osi sklonenii dlya predotvrasheniya padeniya protivovesa V razmeshayut podvizhnoe kol'co so stopornym vintom.
Vnutrennie stenki truby dolzhny byt' pokrasheny chernoi matovoi kraskoi. Vypolnyayut etu proceduru, obychno, zablagovremenno, vprochem, v nashem sluchae pokraska uzhe sooruzhennoi truby, uchityvaya ee gabarity, kachestvu ne povredit.
Dlya cherneniya vnutrennosti truby, a takzhe oprav glavnogo i vtorichnogo zerkal, primenyayut matovuyu maslyanuyu krasku, kotoraya prigodna i dlya metallicheskih elementov teleskopa. Dlya ustraneniya bleska maslyanoi kraski v nee dobavlyayut poroshkovuyu sazhu, razvedennuyu v tehnicheskom spirte, i voskovuyu emul'siyu, sostav kotoroi (v chastyah) sleduyushii:

Vosk pchelinyi 1.0
Skipidar 1. 0
Voda distillirovannaya 8.0
Nashatyrnyi spirt 2.0

Prigotovlenie. Horosho ochishennyi (belyi) pchelinyi vosk melko nastrugat', vsypat' v banku s shirokim gorlom. Zatem vlit' tuda rasschitannoe kolichestvo skipidara, nastoyat' neskol'ko dnei, poka vosk ne rastvoritsya polnost'yu. V drugoi posude rastvorit' nashatyrnyi spirt v distillirovannoi vode. Banku s rastvorom voska v skipidare vzboltat' do polucheniya odnorodnoi massy, vlit' v nee rastvor nashatyrnogo spirta i distillirovannoi vody i snova vzboltat', poka sostav ne stanet odnorodnym.
Voskovuyu emul'siyu, kotoruyu ispol'zuyut i kak razbavitel' gustotertyh maslyanyh krasok, sohranyayut v tshatel'no zakrytoi steklyannoi posude; pered primeneniem horosho vzbaltyvayut. V krainem sluchae, lyubitel' mozhet vospol'zovat'sya gotovoi kraskoi; pravda, tut emu pridetsya prinyat' to ee kachestvo, kotoroe predlagaet proizvoditel'.
V zavershenie trubu snaruzhi pokryvayut svetlo-seroi maslyanoi kraskoi s dobavleniem v nee nebol'shogo kolichestva poroshka alyuminiya, razvedennogo v tehnicheskom spirte. Venchaet verhnii konec truby poloska chernogo cveta 10 millimetrovoi shiriny, kotoruyu otbivayut, primeniv malyarnuyu lentu. Opravy takzhe pokryvayut chernoi kraskoi.
Trubu v sluchae neobhodimosti obhvatyvayut fanernymi homutami, kotorye krepyat na shipah k plastine osi sklonenii. Esli zhe prodolzhit' analogiyu s "zhargonom" sudomodelistov, to po mneniyu avtora, luchshego nazvaniya, chem fendersy, dlya takogo roda homutov, ne syskat'. V samom dele, "...fendersy - eto vertikal'nye otnositel'no prodol'noi osi sudna usilivayushie rebra na bortu poverh obshivki".
Lishnim budet napominat' chitatelyu o neobhodimosti tshatel'noi obrabotki kazhdoi detali i gotovogo sooruzheniya v celom, vyderzhivaniya trebovanii malyarnoi tehnologii dlya pridaniya teleskopu, chto nazyvaetsya, tovarnogo vida, potomu chto eto razumeetsya samo soboi.
TIPY MONTIROVOK
Naznachenie montirovki (shtativa) obespechit' vozmozhnost' navodit' teleskop na nebesnoe svetilo, uderzhivat' ego vo vremya nablyudeniya v pole zreniya, nadezhno smeshat' trubu na malye ugly. Osnovnoe trebovanie k montirovke ustoichivost', a znachit, obshaya massa ustanovki dolzhna byt' takoi, chtoby v nei pogloshalis' vse postoronnie vrednye kolebaniya.
Vse montirovki delyatsya na dve gruppy: azimutal'nye i parallakticheskie.
Pri vrashenii truby vokrug osnovnoi osi azimutal'noi montirovki vertikal'noi izmenyayutsya azimuty, vrashenie vokrug gorizontal'noi osi izmenyaet vysoty, otsyuda ee nazvanie al't-azimutal'naya montirovka (al't ot angl. altitude - vysota).
Osnovnaya iz osei parallakticheskoi ustanovki naklonena k gorizontu pod uglom, ravnym shirote mesta nablyudeniya, to est', ustanovlena parallel'no osi vrasheniya Zemli (napravlena na Polyarnuyu zvezdu). V svyazi s etim ee nazyvayut chasovoi, ili polyarnoi os'yu. Dvizhenie vokrug chasovoi osi, raspolozhennoi v ploskosti meridiana, izmenyaet pryamoe voshozhdenie.
Dlya kompensirovaniya vidimogo dvizheniya nebesnoi sfery, chto yavlyaetsya, kak izvestno, sledstviem sutochnogo vrasheniya Zemli, teleskop na azimutal'noi montirovke nuzhno povorachivat' odnovremenno po obeim osyam s neodinakovoi skorost'yu, a eto dopolnitel'nye problemy pri bol'shih uvelicheniyah. Parallakticheskaya (inache, ekvatorial'naya) montirovka lishena etogo nedostatka: dlya slezheniya za nebesnym ob'ektom dostatochno ravnomerno vrashat' teleskop lish' vokrug polyarnoi osi.
V raznyh tochkah zemnogo shara chasovaya os' budet imet' neodinakovyi naklon k gorizontu: na severnom i yuzhnom polyusah raspolozhitsya vertikal'no, na ekvatore gorizontal'no, a v promezhutochnyh mestah ona budet tem otvesnee, chem bol'she shirota mesta nablyudeniya.
Vtoraya os', kotoraya pridaet trube dvizhenie v perpendikulyarnom napravlenii, mozhet zanimat' v prostranstve lyuboe polozhenie, no dolzhna nahoditsya v ploskosti, parallel'noi zemnomu ekvatoru. Eta os' nazyvaetsya os'yu sklonenii, potomu chto pri vrashenii vokrug nee teleskop opisyvaet na nebesnoi sfere meridiany, ili krugi sklonenii.
Parallakticheskie montirovki delyatsya na tri tipa: nemeckuyu, angliiskuyu i amerikanskuyu (vilochnuyu). Konstrukciya nemeckoi montirovki s ee vzaimoperpendikulyarnymi osyami, chasovoi i os'yu sklonenii, po suti, ne otlichayutsya ot ustroistva montirovki azimutal'noi, esli ee vertikal'nuyu os' naklonit' k gorizontu pod uglom, ravnym shirote mesta nablyudeniya. Trubu krepyat na osi skloneniya, protivopolozhnyi konec kotoroi, s oglyadkoi na nesimmetrichnost' montirovki, snaryazhayut protivovesom.
Prismotrimsya k nemeckoi montirovke vnimatel'nee, tak kak ona naibolee podhodit dlya krepleniya na nei nashei, kassegrenovskoi truby (v amerikanskoi montirovke, naprimer, pomehoi dlya nablyudenii stanovitsya osnova vilki).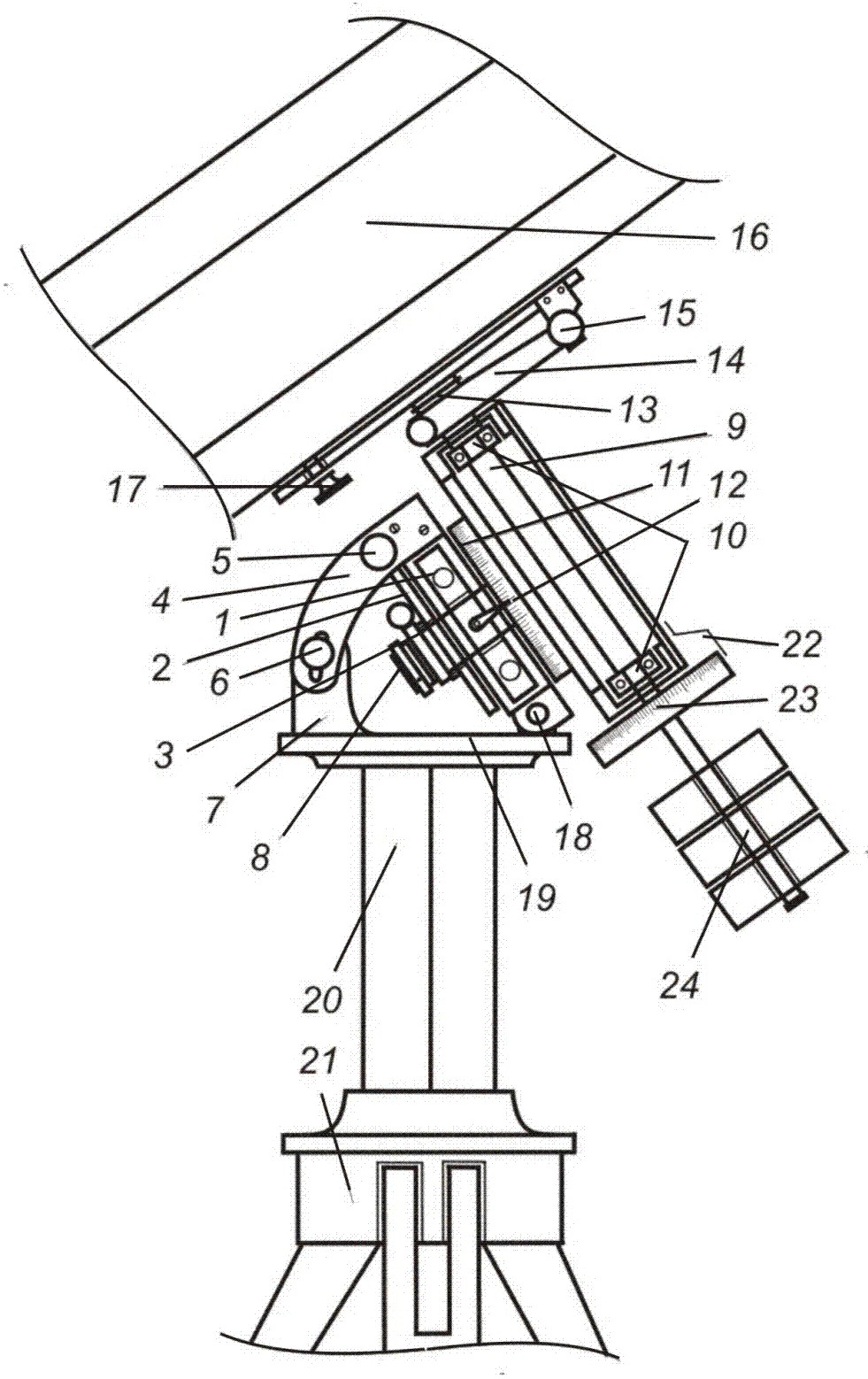 Ris.7
1- podshipnik, 2 - shesternya, 3 - homut, 4 - kulisa, 5 - ruchka chervyaka, 6 - prizhimnoi vint, 7 - stoika, 8 - kol'co, 9 - os' skloneniya, 10 - podshipniki, 11 - koordinatnyi krug, 12 - indikator, 13 - flanec, 14 - homut osi skloneniya, 15 - mikrometrennyi vint, 16 - truba, 17 - vinty krepleniya truby k osi skloneniya, 18 - sharnir, 19 - ploshadka uzla osei, 20 - kolonna, 21 - verhushka trenogi, 22 - indikator, 23 - koordinatnyi krug, 24 - protivoves.
Bol'shoi sharikopodshipnik (150 mm poperechnikom), kotoryi vystupaet tut v kachestve polyarnoi osi zhestko upakovyvaem v korpus: dva krugoobraznye fanernye lista s central'nym otverstiem chut' bol'shim vnutrennei oboimy podshipnika i pryamougol'nymi vystupami, kak eto pokazano na ris.8. Torcy listov soedinyaem na kleyu dvumya sloyami plotnogo kartona, a vystupy s bokov zapolnyaem fanernymi vstavkami.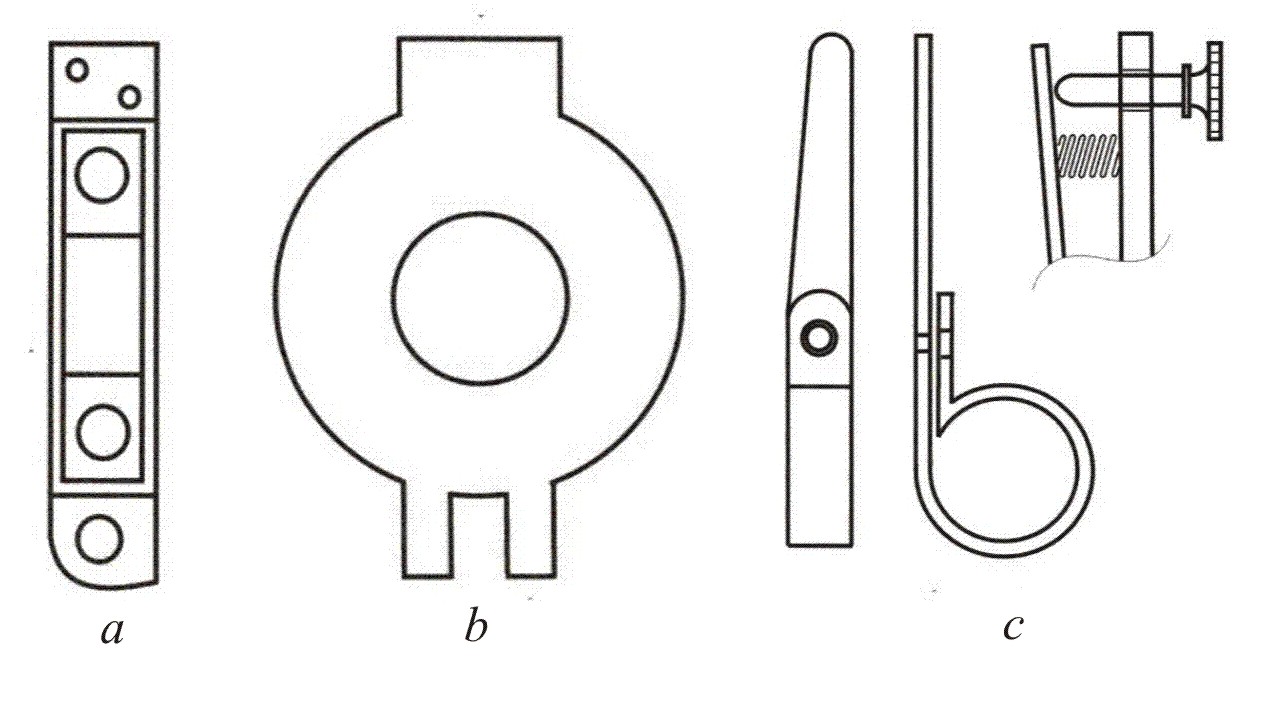 Ris.8
a - upakovannyi v korpus podshipnik, b - korpus, s - homut i vint tonkih dvizhenii.
V oboimu podshipnika ustanavlivaem metallicheskuyu (bronza, latun') vtulku s flancem 5-millimetrovoi tolshiny dlya krepleniya ploshadki, nesushei na sebe korpus osi skloneniya. Flancu s pomosh'yu nozhovki pridaem kvadratnuyu formu. V odnom iz diskov, mezhdu kotorymi zakrepim flanec, vyrezaem dlya nego kvadratnoe uglublenie, posle chego diski skleivaem i prihvatyvaem shurupami.
S protivopolozhnoi storony podshipnika na vtulku nasazhivayut metallicheskoe kol'co (ris.7,8) s tremya stopornymi vintami, raspolozhennymi pod uglom 120 drug ot druga. Naruzhnyi diametr kol'ca raven diametru vnutrennei oboimy podshipnika.
Chast' vtulki, vystupayushei za predely kol'ca, neset na sebe homut dlya osushestvleniya tonkih dvizhenii. Zazor mezhdu homutom, forma kotorogo ponyatna iz ris.8, i vtulkoi dolzhen byt' minimal'nym. Homut imeet otverstie s rez'boi M8, otognutaya chast' ego otverstie diametrom 8,5 mm dlya besprepyatstvennogo prohoda prizhimnogo vinta. Mikrometrennyi vint (M8x1, dlinoi 70 mm) krepyat v odnoi iz kulis, prizvannyh regulirovat' ugol naklona polyarnoi osi k gorizontu.
Esli lyubitelyu udastsya dobyt' podhodyashuyu chervyachnuyu paru, to ee takzhe mozhno ustanovit' na vtulke polyarnoi osi, kak eto pokazano na ris.7. Tut, pravda, pridetsya prinoravlivat'sya k kazhdomu konkretnomu sluchayu, poetomu ostavlyaem emu svobodnoe pole dlya proyavleniya sobstvennoi izobretatel'nosti.
Material dlya kulis, forma kotoryh dana na ris.7,4 - dyural' tolshinoi 4 mm, shirina paza dlya krepezhnyh vintov - 8,5 mm (7,5). Kulisy krepyat k verhnemu pryamougol'nomu vystupu korpusa podshipnika shurupami v zaranee vysverlennye sootvetstvuyushie otverstiya. V nizhnem vystupe korpusa severnoi osi kak i v dvoinoi opore dlya etogo sverlyat 12-milimetrovoe otverstie pod sharnirnyi vint (ris.9).
Uzel osei razmeshayut na krugloi ploshadke (7,19), s odnogo kraya kotoroi zakreplyayut dva opornyh stoyaka (8,7) dlya uderzhaniya kulis, s drugogo (po diametru) sharnir (7,18,). Izgotovlyayut stoyaki, kak i ploshadku, iz mnogosloinoi fanery, prichem v nih vrezayut znakomym nam sposobom gaiki M8.
V kachestve osi skloneniya (ris.7,9) primenim sterzhen' ili tolstostennuyu trubku iz nerzhaveyushei stali dlinoi 450 mm i diametrom, ravnym vnutrennei oboime nalichnogo podshipnika (25 mm dlya 306 nomera). Mezhdu podshipnikami na osi zhestko zakreplyaem metallicheskuyu trubku-rasporku dlinoi 200 mm. Na verhnem konce sterzhnya fiksiruem stopornymi vintami cilindr flanca, vmontirovannogo mezhdu fanernymi listami plastiny, kotoraya imeet 15-millimetrovye otverstiya dlya vintov krepleniya k nei truby (ris.7). Nizhnii konec snaryazhaem koordinatnym krugom i protivovesom metallicheskimi diskami vesom 3-4 kg (ris.7,24). Fiksiruyut protivoves na osi, napominaem, podvizhnym kol'com so stopornym vintom.
Korpus osi skloneniya, materialom dlya kotorogo sluzhit mnogosloinaya fanera, predstavlyaet soboi plastinu so stoikami-oboimami podshipnikov (ris.7,9). Stoiki eto pryamougol'niki s zakruglennoi verhushkoi i kruglym vyrezom dlya zapressovaniya v nih vneshnei oboimy podshipnika. S plastinoi ih soedinyayut na shipah (lastochkin hvost) s pomosh'yu kleya i shurupov, a zatem obshivayut korpus dvumya sloyami plotnogo kartona polucilindricheskoi formy. K plastine polyarnoi osi, mezhdu listami kotoroi vmontirovan flanec vtulki ee podshipnika, krepim koordinatnyi krug, izgotovlenie kotorogo rassmotrim v svoem meste, i poverh nego - korpus osi sklonenii.
Ploshadku s uzlom osei uderzhivaet shestigrannaya kolonna, vysotoi 300 mm, kotoraya opiraetsya na verhushku trenogi (ris.7,19). Izgotovlyayut ee iz bruskov (20x35 mm), boka kotoryh snabzhayut faskami, a zatem soedinyayut ih na kleyu.
Dlinu nozhek trenogi dlya kassegrena vychislyayut s oglyadkoi na to, chto okulyar vertikal'no napravlennoi truby na shtative dolzhen raspolagat'sya na urovne glaz nablyudatelya v sidyachem ego polozhenii, pri etom polnyi razlet nog (ne menee 800 mm po okruzhnosti) trenogi dolzhen obespechivat' predel'nuyu ee ustoichivost'.
Stupen'ki dlya ustanovochnyh vintov trenogi (ris.9) skleivayut iz dvuh sloev 10-millimetrovoi fanery, pered tem razmestiv mezhdu nimi gaiku M12. S nozhkami staniny ih skreplyayut na shipah s pomosh'yu kleya i shurupov. Dlina ustanovochnyh vintov M12 dolzhna byt' dostatochnoi, chtoby naklonyat' trenogu v predelah neskol'kih santimetrov. Snaryazhayut ih (privodim eto kak variant) golovkoi iz treh sloev fanery tolshinoi 5 mm i poperechnikom do 35 mm. B pervom iz nih sverlyat 12-millimetrovoe otverstie, otverstiyu v srednem kruzhke pridayut pryamougol'nuyu formu pod golovku vinta, verhnii kruzhok cploshnoi. Metallicheskuyu golovku vinta napil'nikom obrabatyvayut pod pryamougol'nik i nozhovkoi umen'shayut ee tolshinu do 5 mm. Po okruzhnosti srednego kruzhka, chut' bol'shogo poperechnika, chem dva drugie, trehgrannym napil'nikom propilivayut neglubokie riski, i v zaklyuchenie vse tri kruzhka s vmontirovannym mezhdu nimi vintom soedinyayut na kleyu. Pokryvayut golovku vinta chernoi kraskoi.
Forma nog, kotorye izgotovlyayut iz tverdoi porody dereva (buk, bereza) soedineniem treh reek (80x30 mm) v odno celoe, dany na ris.9. Bolty krepleniya ih k verhushke trenogi - M12 s shaibami. Pokryvayut trenogu chernoi polumatovoi kraskoi.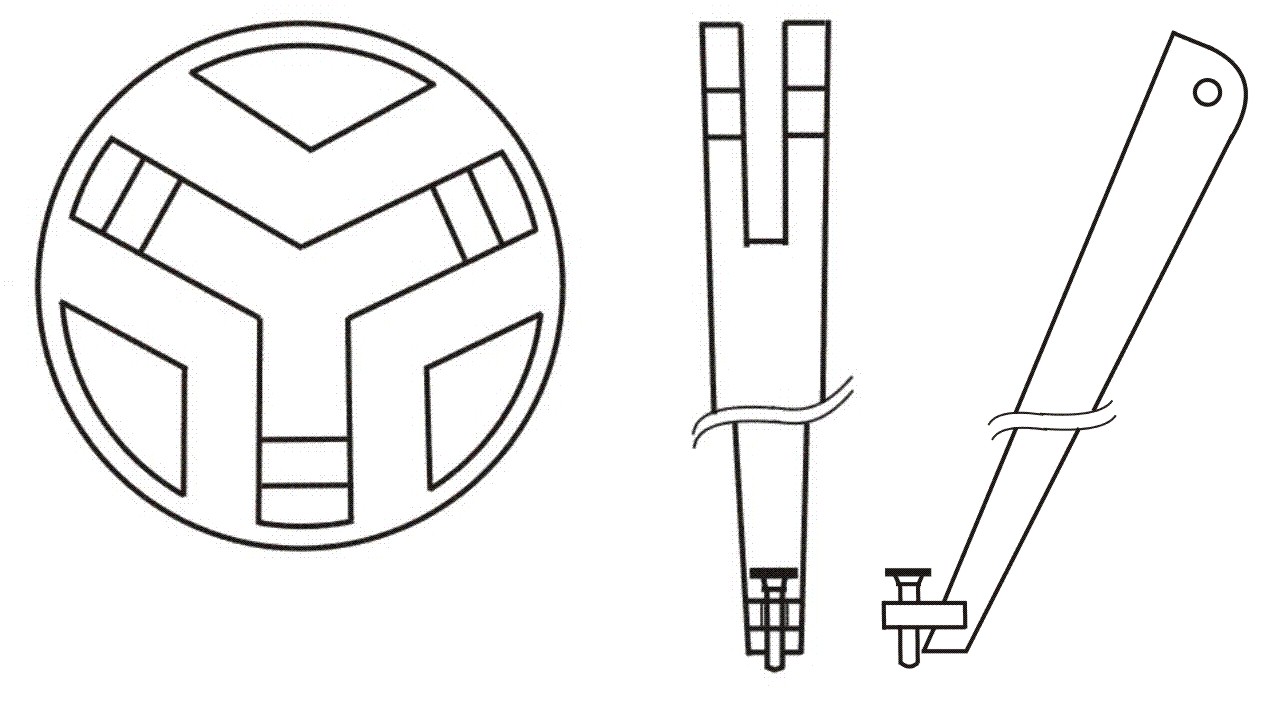 Ris.9
KOORDINATNYE KRUGI
Montirovku snaryazhayut koordinatnymi krugami, s pomosh'yu kotoryh mozhno, naprimer, naiti Veneru i Merkurii dnem i vse takoe. Osnovoi koordinatnyh krugov posluzhit material, prigodnost' kotorogo v teleskopostroitel'stve neodnokratno proverena nami na praktike 10 millimetrovaya fanera.
Na tonkuyu (0,5 mm) alyuminievuyu polosku shirinoi 20 mm i dlinoi 360 mm, pol'zuyas' metallicheskoi lineikoi i cyganskoi igolkoi, nanesem millimetrovye deleniya. Dlina pervogo, nulevogo, shtriha i zatem kazhdogo pyatnadcatogo 8 mm, kazhdogo pyatogo mezhdu nimi 6 mm, ostal'nyh shtrihov 4 mm.
Cifry (dlya kruga polyarnoi osi - ot 0 do 23, dlya osi sklonenii ot 0 do 90 i ot 0 do - 90) shtampuem udarami legkogo molotka po cifrovikam, - naborom stal'nyh sterzhnei, podobnyh kerneru, s ciframi ot 0 do 9 na ih zakalennyh koncah.
Ocifrovku koordinatnogo kruga polyarnoi osi vedut protiv chasovoi strelki, esli smotret' na nego s ego severnogo konca (7).
Sognem gravirovannuyu i ocifrovannuyu polosku v pravil'noe kol'co tak, chtoby ee koncy prishlis' vstyk. Velichina poperechnika dvoinogo fanernogo kruga dolzhna byt' takoi, chtoby kol'co plotno obhvatilo ego, posle chego soedinim ih gvozdikami.
Krug polyarnoi osi krepim mezhdu ee ploshadkoi i korpusom osi sklonenii.
Central'noe otverstie koordinatnogo kruga osi sklonenii soglasovyvayut s ee diametrom i zhestko fiksiruyut ego na nei kol'com so stopornym vintom.
Indikatory obeih osei, kotorye imeyut vozmozhnost' smeshat'sya v nekotoryh predelah, krepim na ih korpusah.
OKULYaRNY' UZEL
Fokus glavnogo zerkala, pomnim, dolzhen sovpadat' s fokusom okulyara. Neobhodimost' perefokusirovki okulyara vyzvana ne tol'ko vozmozhnym otkloneniem zreniya togo ili inogo nablyudatelya ot normy (blizorukost'yu, dal'nozorkost'yu), no i sushestvovaniem okulyarov raznyh sistem, naprimer: okulyar Gyuigensa, fokus kotorogo nahoditsya mezhdu linzami, raspolagayut blizhe k fokusu zerkala, chem okulyar Ramsdena. Krome togo, so smenoi temperatury okruzhayushei sredy razmery i krivizna metallicheskogo zerkala (hot' forma ego poverhnosti i ostaetsya prezhnei) izmenyaetsya, chto takzhe trebuet nekotorogo peredvizheniya okulyara.
Etomu i prednaznachena kremal'era, v kachestve kotoroi ispol'zuem fotograficheskii ob'ektiv ndustar-50-2, zaranee udaliv iz nego opticheskii blok i podognav ego otverstie pod okulyar.
Bumazhno-kleevuyu trubku vmeste s kremal'eroi, dlinu kotoroi vychislyayut s oglyadkoi na raspolozhenie ekvivalentnogo fokusa sistemy, zakreplyayut v central'nom otverstii osnovnoi opravy glavnogo zerkala pod pryamym uglom k nei. Pri yustirovke teleskopa ona dolzhna besprepyatstvenno prohodit' skvoz' central'noe otverstie opornoi plastiny opravy. Vnutrennost' okulyarnogo uzla pokryvayut chernoi matovoi kraskoi.
SAMODEL'NYE ASTRONOMIChESKIE OKULYaRY
Astronomicheskii okulyar - eto uvelichitel'noe steklo dlya rassmatrivaniya melkih detalei sozdannogo ob'ektivom izobrazheniya, kotoroe mozhet byt' chetkim (navedennym na fokus) lish' pri sovpadenii ih fokal'nyh ploskostei. Vidimoe uvelichenie okulyara 250 / fok; v etom sluchae uvelichenie teleskopa M = f 1ob / fok, to est', ono tem bol'she, chem fokusnoe rasstoyanie okulyara men'she fokusnogo rasstoyaniya ob'ektiva.
Pri samostoyatel'nom sostavlenii okulyarov lyubitel' obychno ispol'zuet opticheskoe syr'e sluchainogo proishozhdeniya: melkie linzy, kleenye bloki. Pri etom marka stekla emu neizvestna, ot poverhnosti linz otrazhaetsya znachitel'naya chast' sveta, umen'shaya yarkost' i kontrastnost' izobrazheniya, ob'edinenie ih v sistemu ne mozhet ne greshit' netochnost'yu, neminuemy aberracii... Est' li pri takom rasklade razumnoe osnovanie nachinat' neblagodarnoe, a to i obrechennoe na neudachu delo?
Ishodya iz togo, chto okulyar dolzhen obyazatel'no otvechat' sovershennomu ob'ektivu, inache pozitivnye kachestva poslednego budut svedeny nanet vozmozhnymi ego nedostatkami, daem otvet: v otkaze ot izgotovleniya samodel'nyh okulyarov net razumnogo osnovaniya (adresat avtora tot, kto rukovodstvuetsya pravilom: Delai, chto mozhesh' svoimi rukami). Vo-pervyh, popadaetsya i kachestvennoe opticheskoe syr'e (prosvetlennye, bez carapin linzy), vo-vtoryh, zalog uspeha - v vyderzhivanii opredelennyh sootnoshenii i vzaimnogo raspolozheniya komponent, v-tret'ih, lyubitelyu daetsya shans podtverdit' svoe umenie rabotat' tak zhe tshatel'no, tak zhe otvetstvenno, tak zhe userdno, kak pri izgotovlenii zerkal teleskopa, a eto s prakticheskoi tochki zreniya - tozhe ne minus. Krome togo, samodel'nye okulyary mogut vpolne sosedstvovat' s okulyarami zavodskogo izgotovleniya.
Sosredotochim vnimanie na dvuh iz slozhnyh okulyarah, pervaya linza kotoryh (pri napravlenii po hodu luchei ot ob'ektiva k glazu nablyudatelya nazyvaetsya polevoi ili kollektivom (okulyar Kampani), vtoraya glaznoi. Okulyar Kel'nera, v kotorom horosho ispravleny aberracii, vklyuchaet v sebya prostuyu plosko-vypukluyu ili dvoyakoraznovypukluyu polevuyu linzu i ahromatizirovannyi glaznoi komponent, skleennyi iz dvuh sortov stekla: krona i flinta. Linzy obrasheny drug k drugu svoimi vypuklymi poverhnostyami. Pole zreniya ne prevyshaet 45 (ris.10,a)
Okulyar Plessla. Sostav linz i opticheskaya sila polevoi i glaznoi komponent v simmetrichnoi sisteme odinakovy: dve ahromatizirovannye kleenye pary raspolozheny bolee vypukloi storonoi drug k drugu s rasstoyaniem mezhdu nimi 0,5 - 1 mm. Otrezok ot centra sistemy do diafragmy (D-D) ravnyaetsya rasstoyaniyu vyhodnogo zrachka (R). Aberracii pri pole zreniya 50 horosho skorrektirovany, vyhodnoi zrachok - 0,7 F (10,b)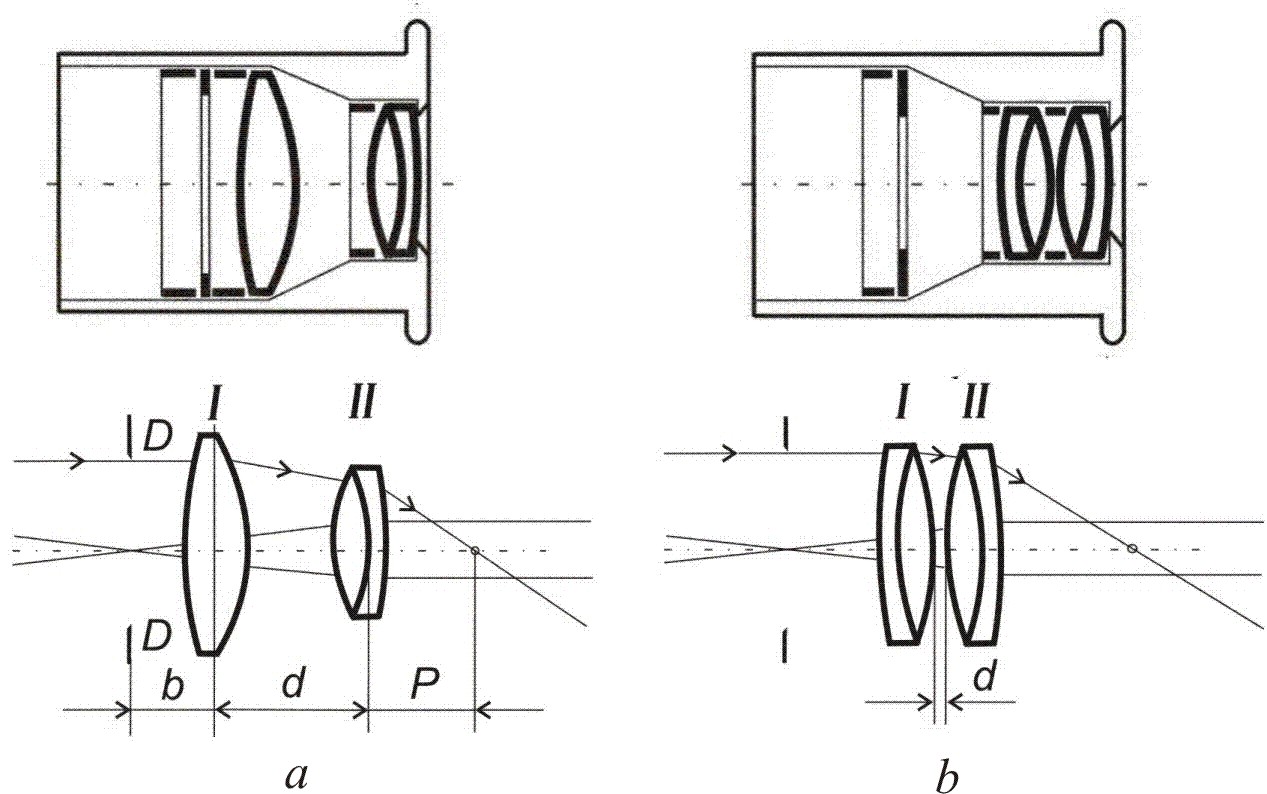 Ris.10
a - okulyar Kel'nera, b - okulyar Plessla i ih shemy
Fokusnoe rasstoyanie sistemy iz dvuh linz:


gde f1 - fokusnoe rasstoyanie pervoi linzy, f2 - fokusnoe rasstoyanie vtoroi linzy, d - rasstoyanie mezhdu glavnymi ploskostyami linz.
Primenim v dal'neishem i takie oboznacheniya: b rasstoyanie ot kollektiva do diafragmy, DD diametr diafragmy, R rasstoyanie vyhodnogo zrachka okulyara.

Kratnost' okulyara opredelyaetsya kak 250 / Fekv (250 - rasstoyanie yasnogo zreniya).
Dlya rascheta okulyara Kel'nera s ekvivalentnym fokusnym rasstoyaniem 20 mm, pol'zuyas' tablicei (dopuskayutsya otkloneniya ukazannyh v tablice koefficientov i fokusnyh rasstoyanii komponent v tu ili inuyu storonu na 10 %), naidem fokusnoe rasstoyanie pervoi komponenty:

F1 = Fekvx 1,75 = 20 x 1,75 = 35 mm.
Fokusnoe rasstoyanie vtoroi komponenty:
F2 = F ekv x 1,33= 20 x 1,33 = 27 mm.
Rasstoyanie mezhdu komponentami:
d = Fekv x 0,75 = 20 x 0,75 = 15 mm.
Rasstoyanie ot pervoi komponenty do diafragmy:
b = Fekv x 0,15 = 20 x 0,15 = 3 mm
Diametr diafragmy:

DD = Fekv x 0,6 = 20 x 0,6 = 12 mm.
Rasstoyanie vyhodnogo zrachka:
R = Fekv x 0,3 = 20 x 0,3 = 6 mm.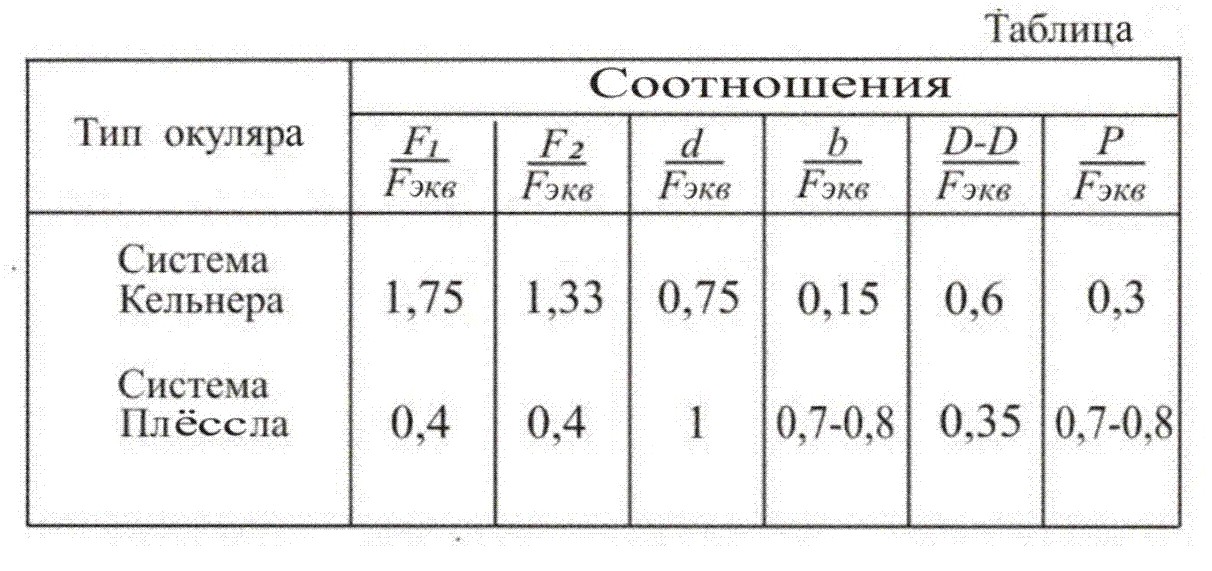 Na osnovanii rascheta sostavlyayut chertezh s ukazaniem vseh konstruktivnyh elementov okulyara, prichem, obmeryaya fokusnoe rasstoyanie, tolshinu, poperechnik dvoyakovypuklyh linz i kleeennyh par, rasstoyaniya berut ot centra ih tolshiny.
Konechno, stupenchatyi korpus, vytochennyi s pomosh'yu tokarnogo stanka iz metalla, nadezhnee obespechit tochnuyu sborku komponent, ih soosnost' i parallel'nost' mezhdu soboi ploskostei, chem dyuralevye, latunnye ili bumazhno-kleevye trubki, primenennye s etoi cel'yu. Pervomu variantu i otdadim preimushestvo.
Vnutrennie poverhnosti tubusa, vkladki, diafragmu, prizhimnoe kol'co kroyut chernoi matovoi kraskoi, linzy staratel'no i ostorozhno chistyat stirannoi hlopchatobumazhnoi tryapochkoi. Vse elementy okulyara ustanavlivayut v opredelennom poryadke, sledya, chtoby kreplenie ih v korpuse nuzhnogo diametra ne imelo perekosov, bylo postoyannym i zhestkim. Dlina tubusa okulyara ne dolzhna byt' men'she ego poperechnika (ris.9).

ISKATEL'
Pole zreniya teleskopa i pri naimen'shem uvelichenii slishkom malo dlya bechlopotnogo navedeniya ego na nebesnoe svetilo. Imenno dlya oblegcheniya etoi zadachi teleskop i snaryazhayut iskatelem - refraktorom umerennyh gabaritov s bol'shim polem zreniya. Sostoit on, napomnim, iz nabora linz, kotorye imeyut opredelennuyu formu i raspolozheny v strogo opredelennom poryadke: ob'ektiva i okulyara s rasstoyaniem mezhdu nimi, kotoroe ravnyaetsya summe ih fokusnyh rasstoyanii.
V kachestve ob'ektiva ispol'zuem ahromaticheskuyu linzu s fokusnym rasstoyaniem 250 mm - AL-4-M52 0,75 - i nadelennyi kremal'eroi okulyar s 20-millimetrovym fokusnym rasstoyaniem ot kakogo-nibud' opticheskogo instrumenta ili pribora.
Vnutrennii poperechnik opravy AL-4, a otsyuda i trubki iskatelya - 46 mm, sledovatel'no, dlya ego sooruzheniya pozabotimsya o podyskanii cilindricheskoi bolvanki togo zhe poperechnika.
Naibolee podhodyashii material dlya korpusa trubki - plotnaya bumaga, naprimer, chertezhnaya, vpolne prigodnyi klei dlya bumagi PVA, nailuchshaya tut chernaya matovaya kraska guash', k kotoroi dobavleno nemnogo upomyanutogo kleya.
Polosu bumagi shirinoi 200 mm s odnoi storony na protyazhenii 150 mm ot kraya pokroem kraskoi. Posle ee vysyhaniya svobodno obernem bolvanku zachernennym koncom, i ostatok polosy, smazyvaya postepenno i ravnomerno kleem, navorachivaem na osnovu, poka poperechnik korpusa trubki ne sravnyaetsya s vneshnim poperechnikom opravy ob'ektiva.
Torec trubki dolzhen byt' perpendikulyarnym k ee osi. Dlya obespecheniya etogo est' prostoi i nadezhnyi sposob: obernem trubku listom bumagi, obrezannoi v usloviyah predpriyatiya tochno pod pryamym uglom i po ego krayu, ne snimaya s bolvanki, akkuratno obrezhem nozhom izlishek trubki. Zatem navernem na nee ocherednuyu prokleennuyu bumazhnuyu polosu shirinoi 205 mm dlya sozdaniya bortika, prednaznachennogo uderzhivat' ulozhennuyu na torec trubki opravu ob'ektiva.
Nizhnii ee torec plotno zakuporim s dobavleniem kleya bumazhno-kleevoi vtulkoi, otverstie v kotoroi dolzhno byt' dostatochnym dlya svobodnogo prohoda konusa luchei, prelomlennyh ob'ektivom. Okulyar s kremal'eroi krepim vo vtulke.
Ispolnit glavnoe svoe prednaznachenie iskatel' lish' pri uslovii parallel'nosti opticheskih osei ego i teleskopa. Tol'ko v etom sluchae nebesnoe svetilo pri navedenii na nego ochutitsya v centre polya zreniya kak iskatelya, tak i teleskopa. S etoi cel'yu i uderzhivayut iskatel' v dvuh kol'cah s tremya regulirovochnymi vintami v kazhdom. Drugie vpolne opravdannye sposoby krepleniya iskatelya ostavlyaem tut vne nashego vnimaniya.
Material dlya kolec i stoek, na kotoryh kol'ca krepyat na trube teleskopa listovoi alyuminii tolshinoi 3 mm. Iz tshatel'no podgotovlennoi polosy shirinoi 15 mm svernem kol'ca takogo poperechnika, chtoby korpus iskatelya v nih mozhno bylo s dostatochnym zapasom pri vkruchivanii vintov sdvigat' v nuzhnuyu storonu.
V kol'cah sverlim otverstiya pod uglom 120 drug ot druga pod rez'bu M5 dlya vintov regulirovki, a zatem v meste stykov ih sklepyvaem so stoikami, forma kotoryh ponyatna iz ris.11. Krepyat stoiki k trube na nizhnem ee konce vintami, dlya chego v lapkah stoek sverlyat sootvetstvuyushie otverstiya pod vinty M5 s gaikami i shaibami (ris.11). Iskatel' iznutri kroyut chernoi kraskoi, snaruzhi toi, chto i trubu teleskopa. Nuzhno prinyat' vo vnimanie, chto pri regulirovanii parallel'nosti opticheskih osei iskatelya i teleskopa ob'ekt nablyudeniya dolzhen raspolagat'sya na rasstoyanii ne men'shem, chem 1000 metrov.

Ris.11
ZAKLYuChENIE
Predlagaya nastoyashee kratkoe rukovodstvo k izgotovleniyu lyubitel'skogo teleskopa Kassegrena, avtor ni koem sluchae ne nameren posyagnut' na proyavlenie lichnoi izobretatel'nosti teleskopostroitelya, naprotiv, gotov vsyacheski privetstvovat' i pooshryat' ego tvorcheskuyu iniciativu, kotoraya, bez somneniya, vpolne budet emu k licu.
Bibliografiya
1. Kurti O. Postroika modelei sudov. L.: Sudostroenie, 1988.
2. Lyubitel'skoe teleskopostroenie. M.: Nauka, 1966.
3. Lyubitel'skie teleskopy. Sb. statei pod red. M.M.Shemyakina, Nauka, 1975.
4. Navashin M.S. Teleskop lyubitelya astronomii. M.: Nauka, 1975.
5. Naumov D.A. Izgotovlenie optiki dlya lyubitel'skih teleskopov-reflektorov i ee kontrol'. M.: Nauka, 1988.
6. Sikoruk L.L. Teleskopy dlya lyubitelei astronomii. - M.: Nauka, 1990.
7. Sikoruk L.L., Shpol'skii M.R. Lyubitel'skaya astrofotografiya. - M.: Nauka, 1986.
8. Chikin A.A. Otrazhatel'nye teleskopy. Petrograd, 1915.
Lyubitel'skie teleskopy (refraktory i reflektory),
na montirovkah dvuh grupp (azimutal'noi i ekvatorial'noi),
na dvuh ih tipah (nemeckoi i amerikanskoi),
nastol'nye i nazemnye,
s zerkalami reflektorov ot 55 mm do 250 mm,
izgotovlennyh vruchnuyu iz raznogo materiala
(stekla, dyuralyuminiya i nerzhaveyushei stali),
v usloviyah odnokomnatnoi hrushevki v Odesse,
nachav v proshlom veke i prodolzhiv v nyneshnem,
postroil dostupnymi sredstvami na dosuge
lyubitel' astronomii
(osnovnye ego professii - hudozhnik i uchitel' istorii)

Chernoval
Vladimir Anatol'evich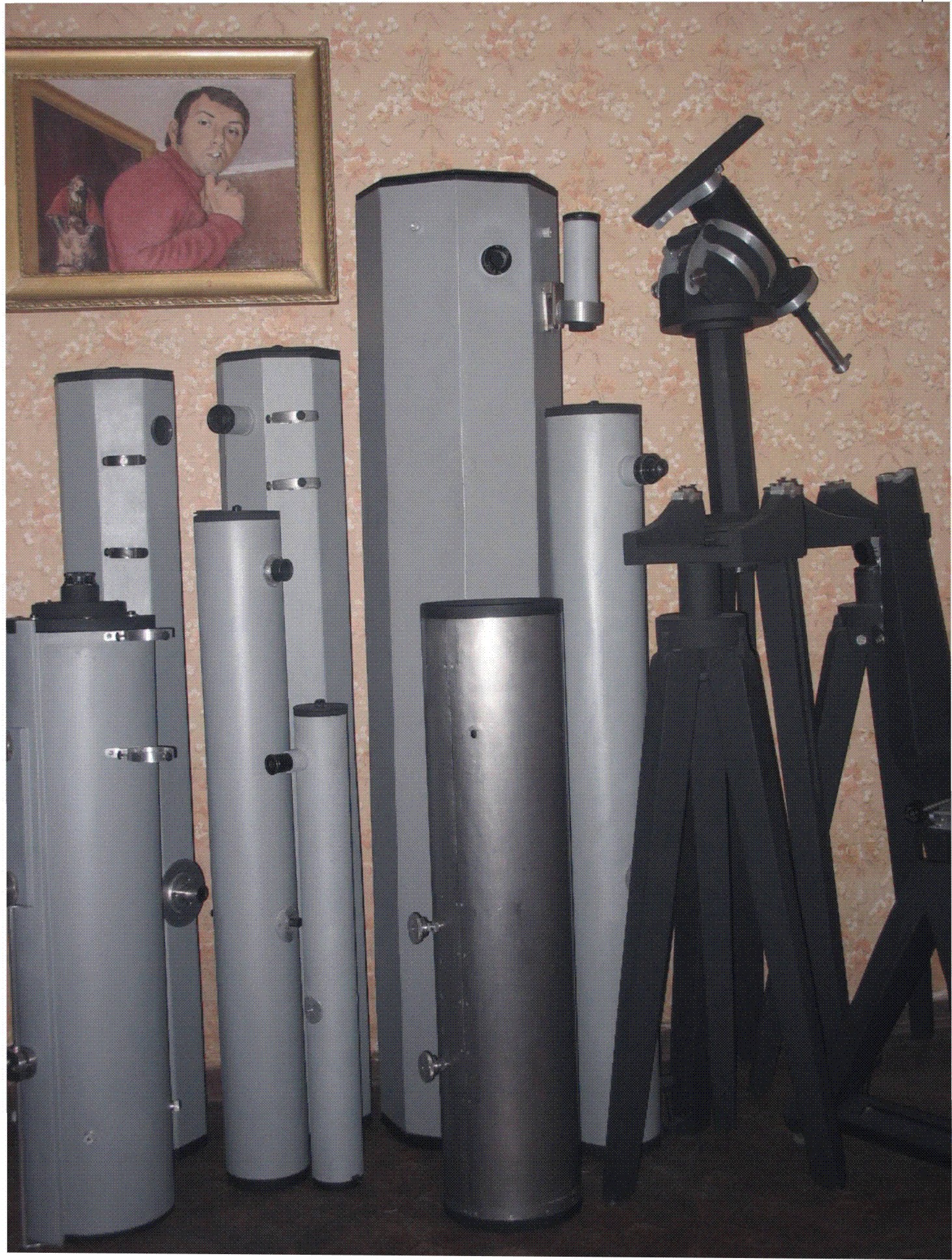 REFRAKTORY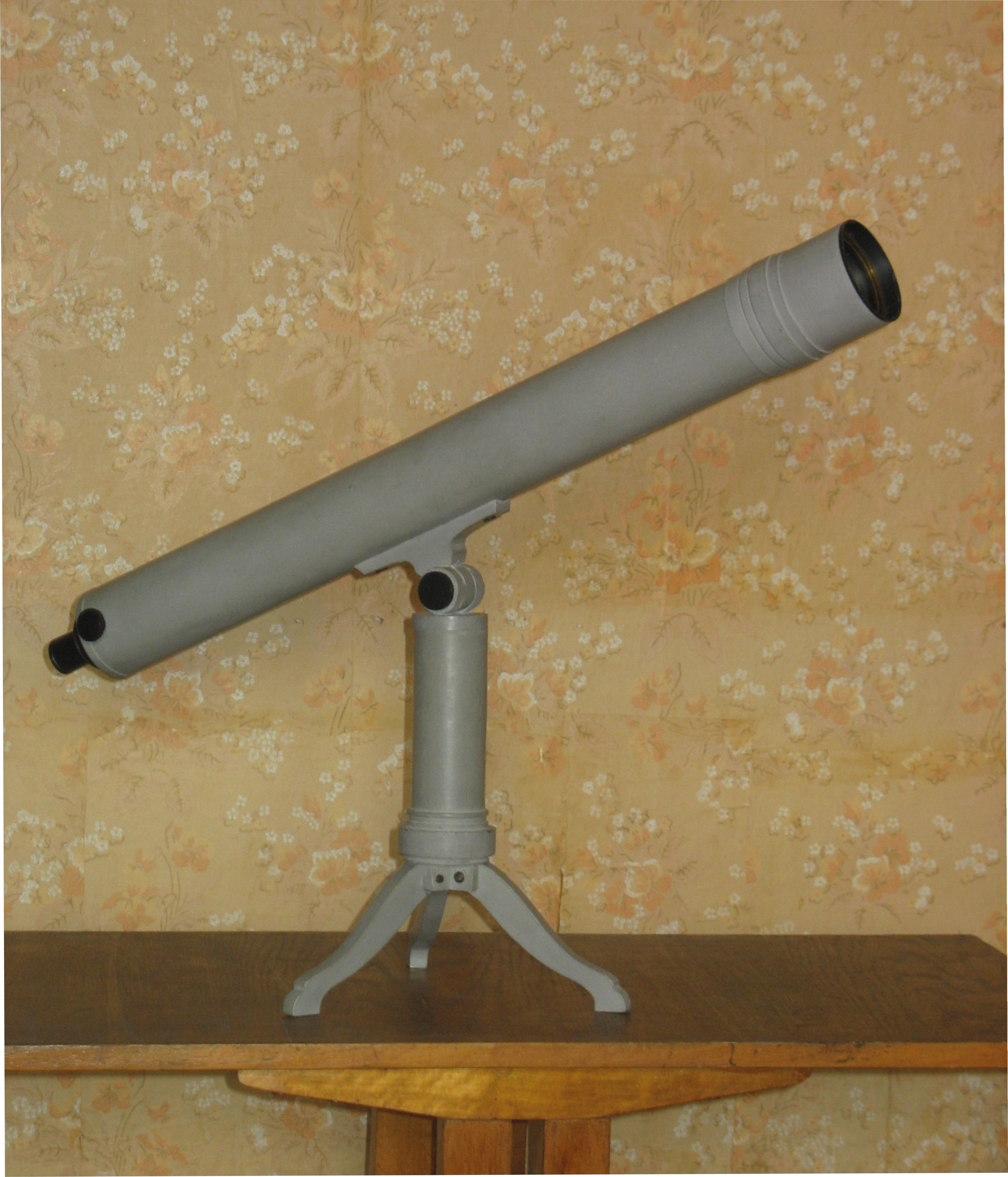 Ill.1
Teleskop s 65-millimetrovym ob'ektivom ot starinnoi podzornoi truby (v bronzovoi oprave). Fokusnoe rasstoyanie - 650 mm.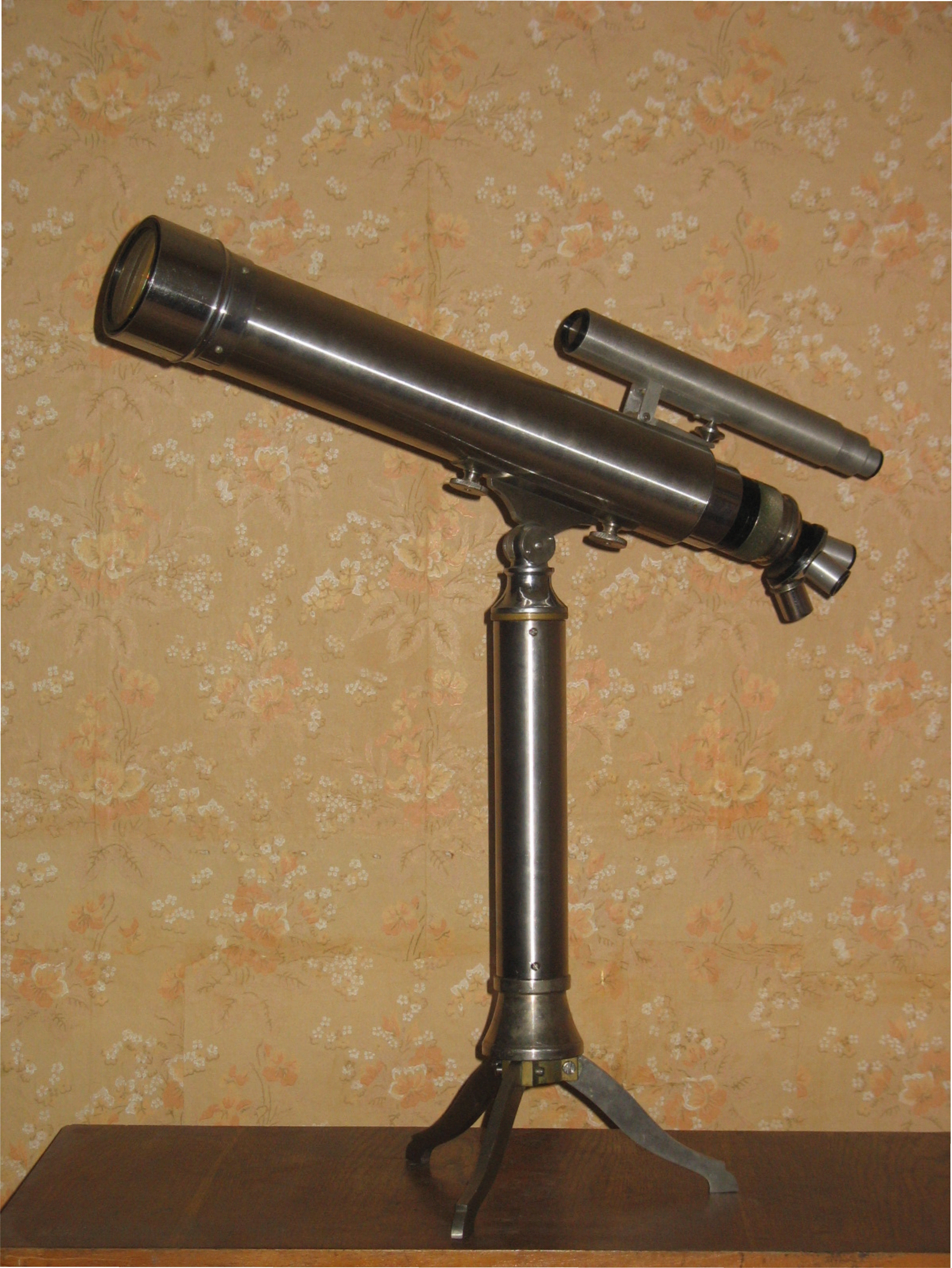 Ill.2
Teleskov s ob'ektivom ot spisannogo artilleriiskogo pricela diametrom 75 mm i fokusnym rasstoyaniem 700 mm.
REFLEKTORY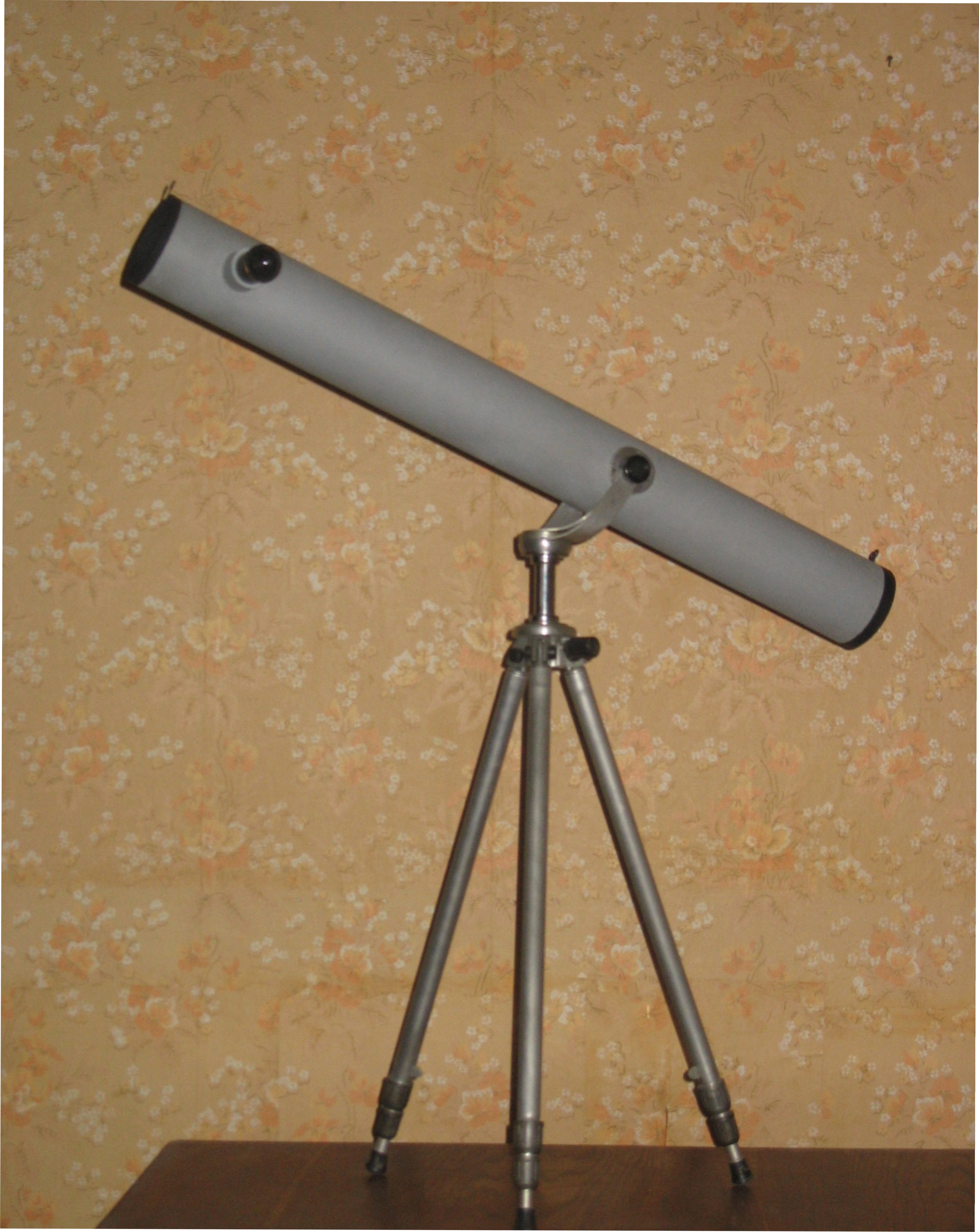 Ill.3
N'yuton, 56-millimetrovoe zerkalo kotorogo izgotovleno iz nerzhaveyushei stali.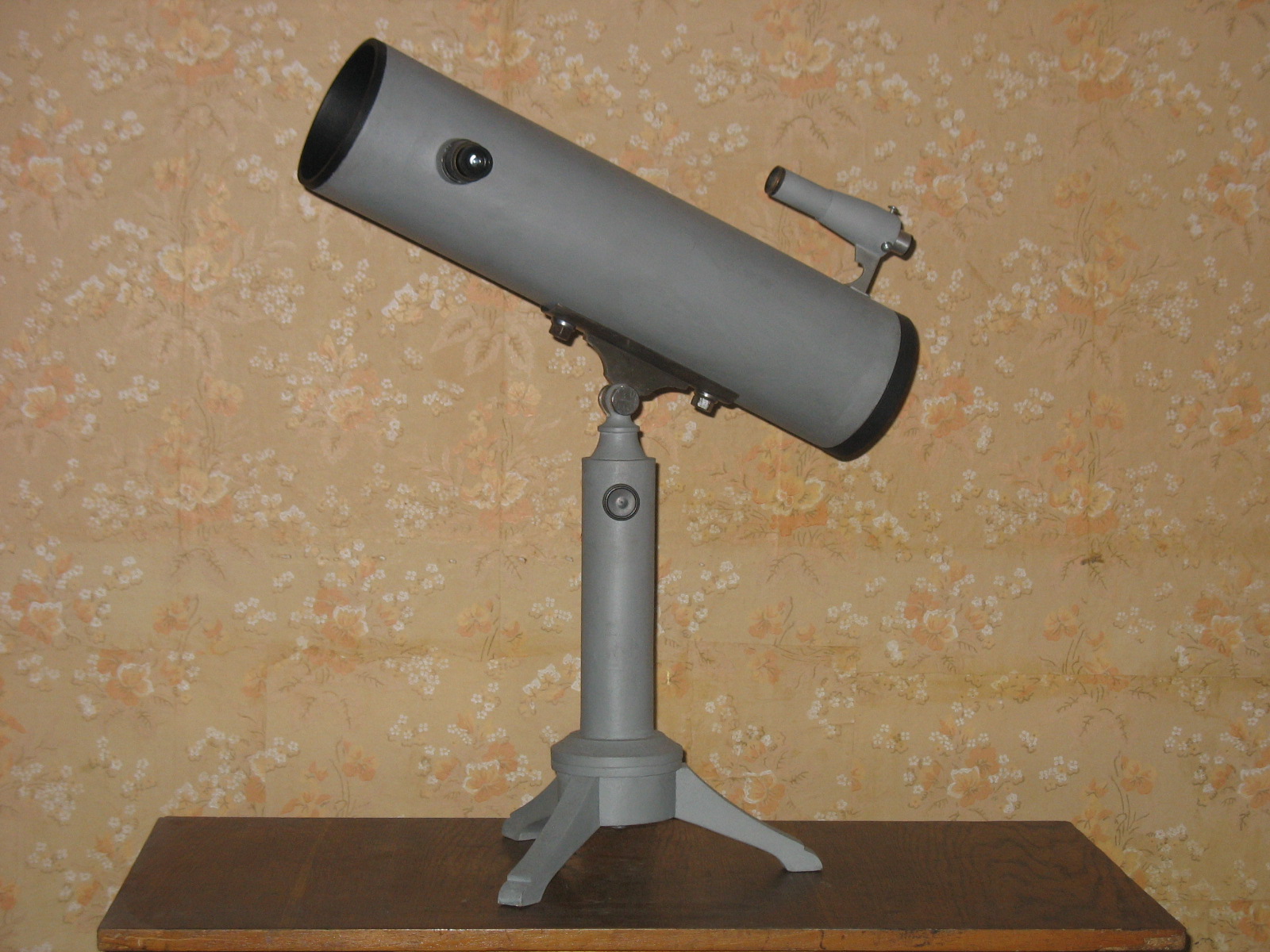 Ill.4
Teleskop N'yutona so steklyannym zerkalom diametrom 100 mm. Fokusnoe rasstoyanie - 600 mm.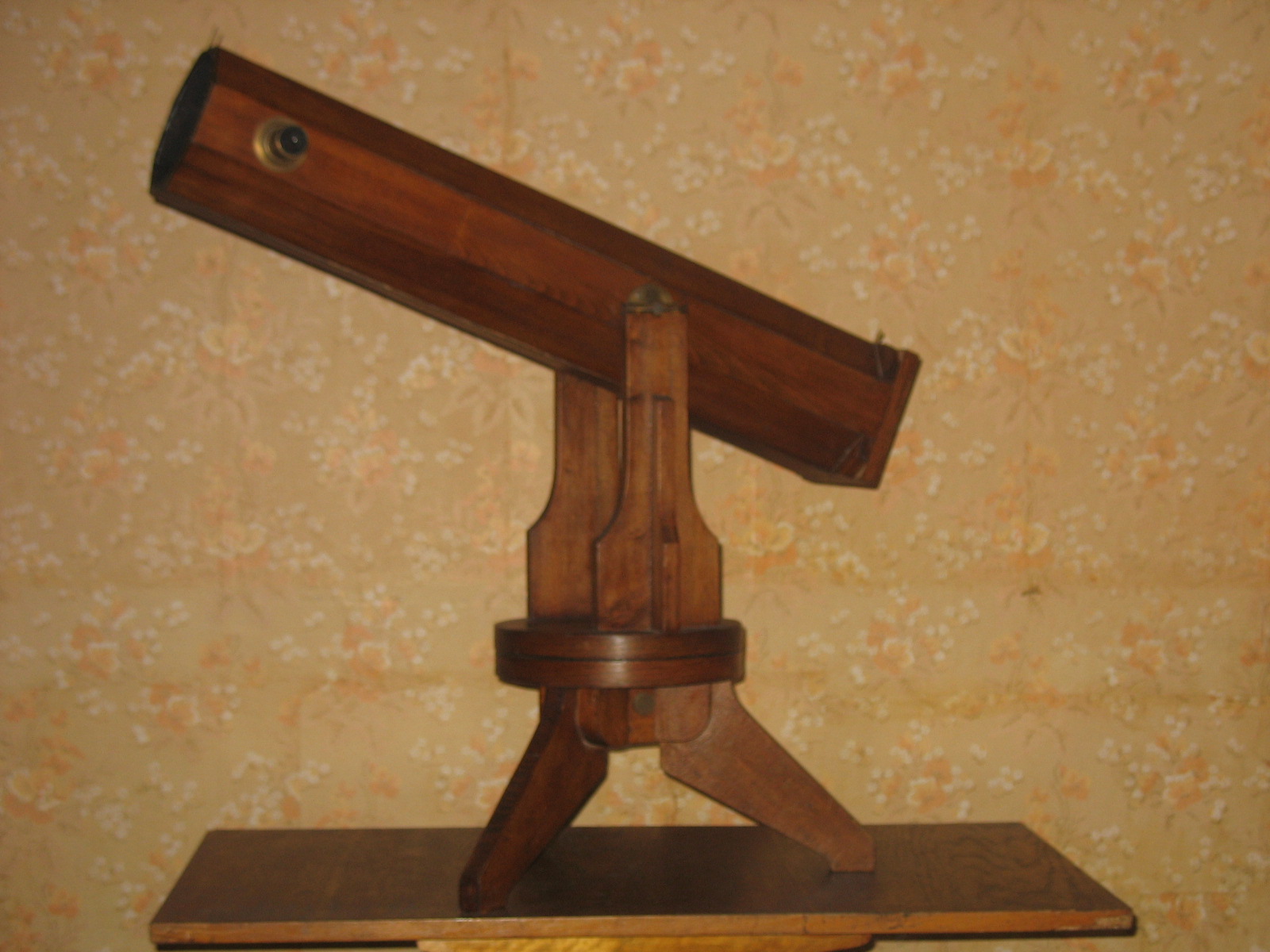 Ill.5
"N'yuton". 100-millimetrovoe zerkalo ego (F- 710 mm) steklyannoe.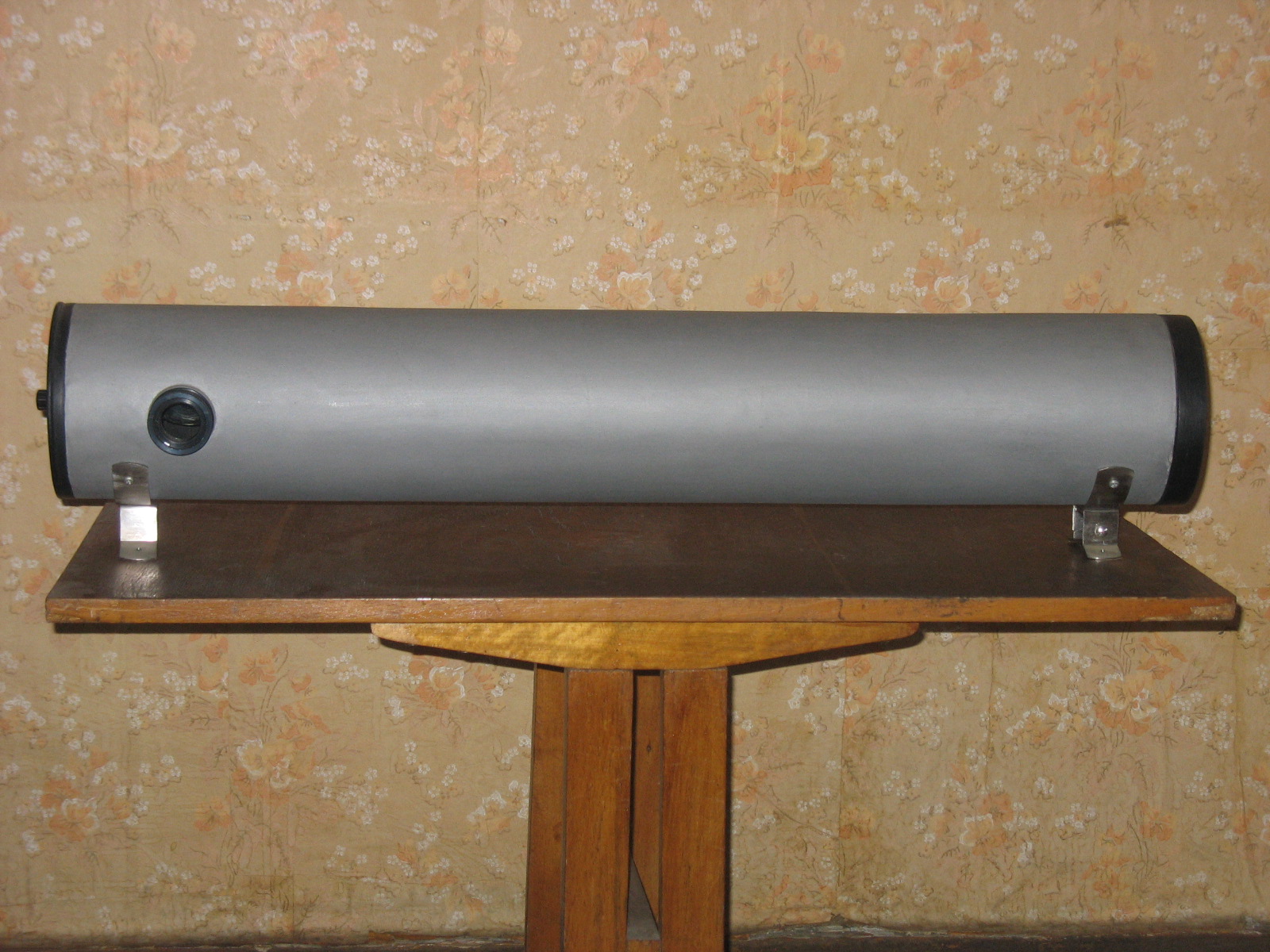 Ill.6
"N'yuton", 100-millimetrovyi teleskop-gid. Zerkalo steklyannoe (F- 840 mm).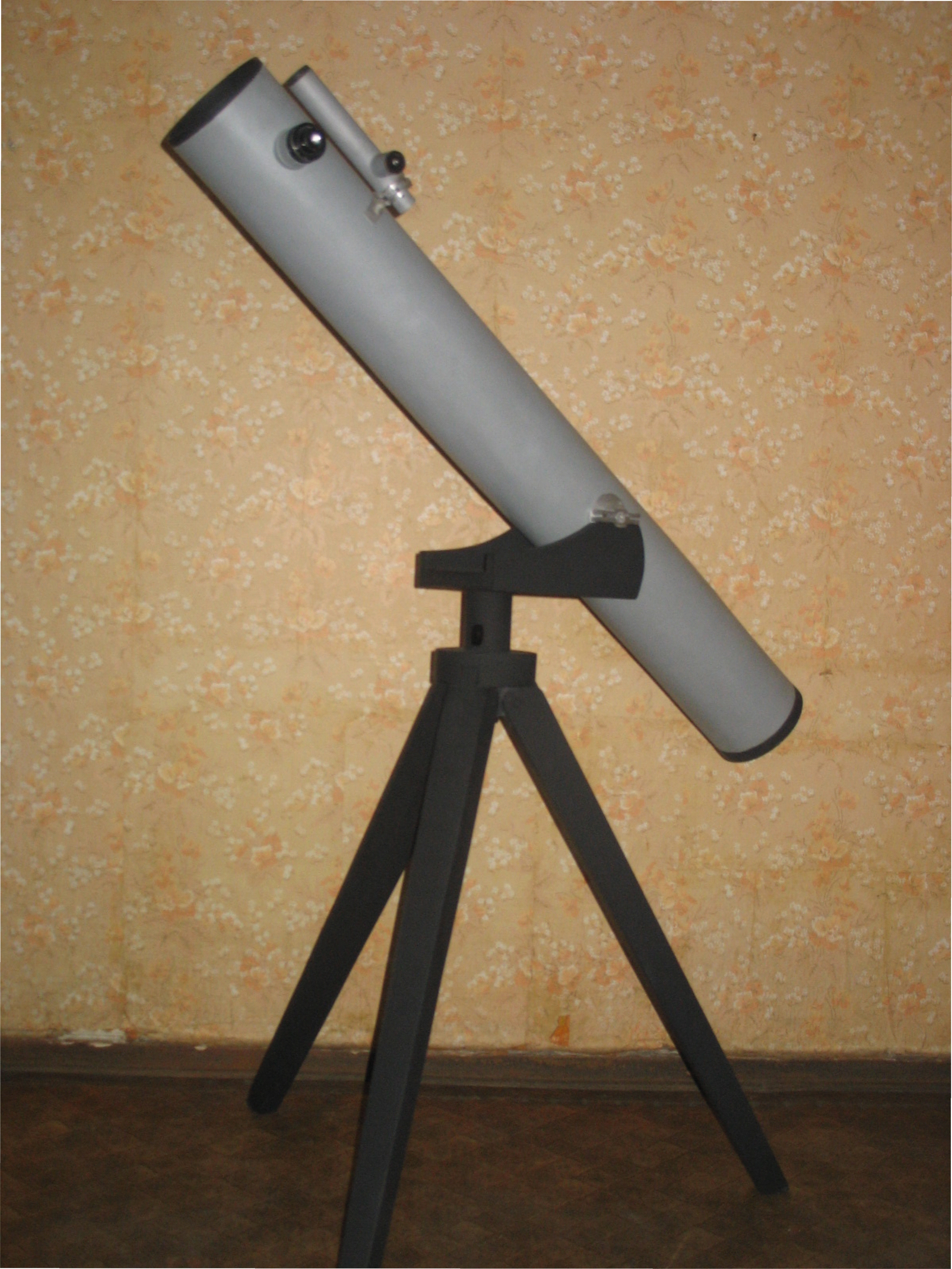 Ill.7
N'yutonovskii teleskop s 100-millimetrovym glavnym zerkalom, izgotovlennym iz stekla.(F- 1040 mm)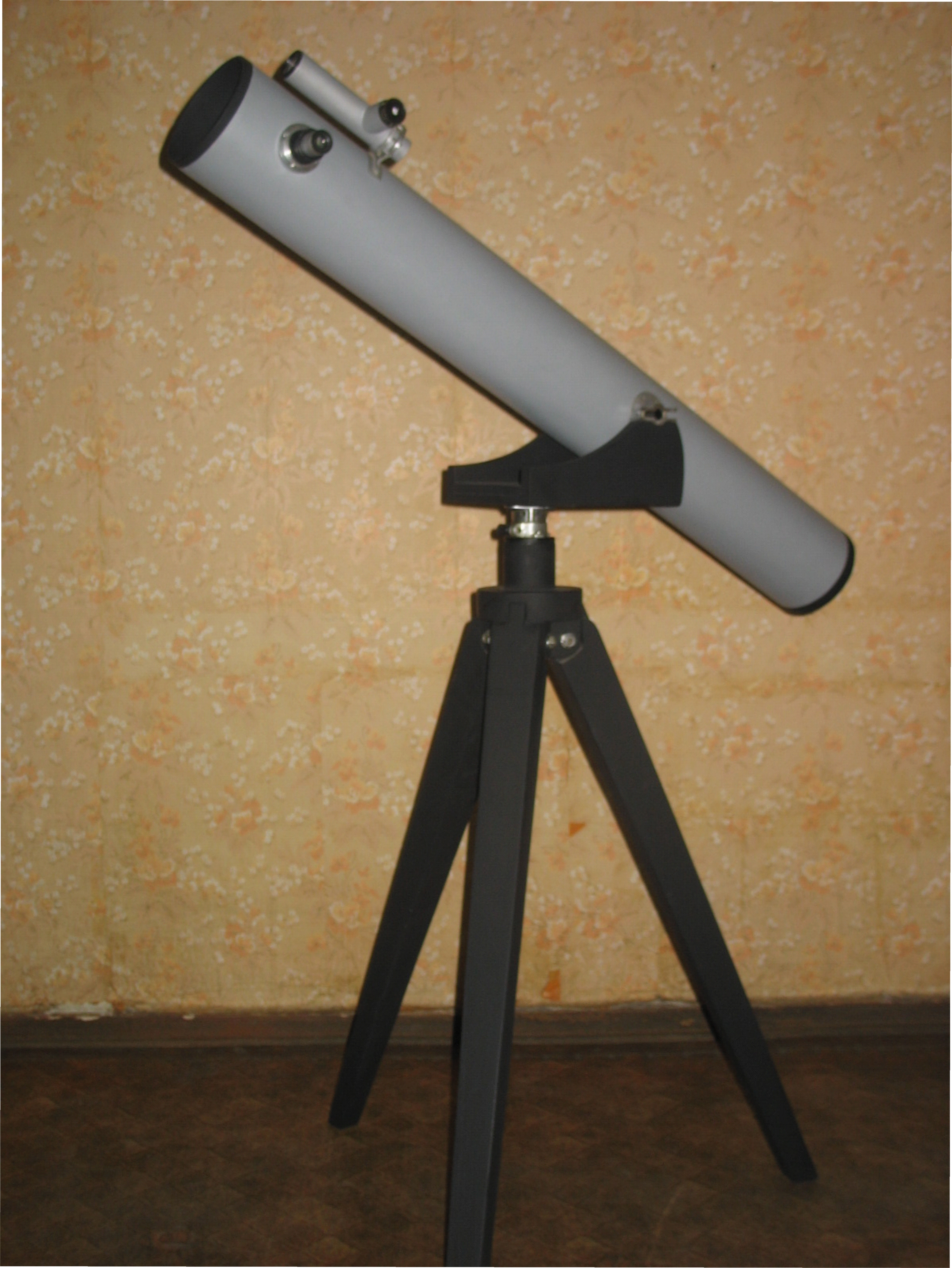 Ill.8
N'yutonovskii teleskop s dyuralyuminievym 120-millimetrovym glavnym zerkalom.(F- 1210 mm)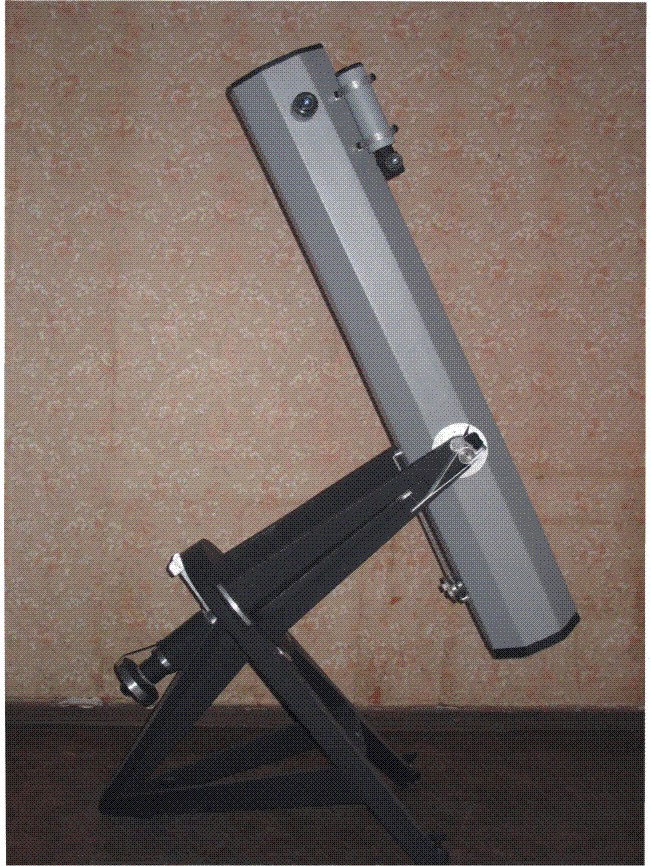 Ill.9
150-millimetrovyi "n'yuton", (F- 1270 mm).Glavnoe zerkalo - steklyannoe.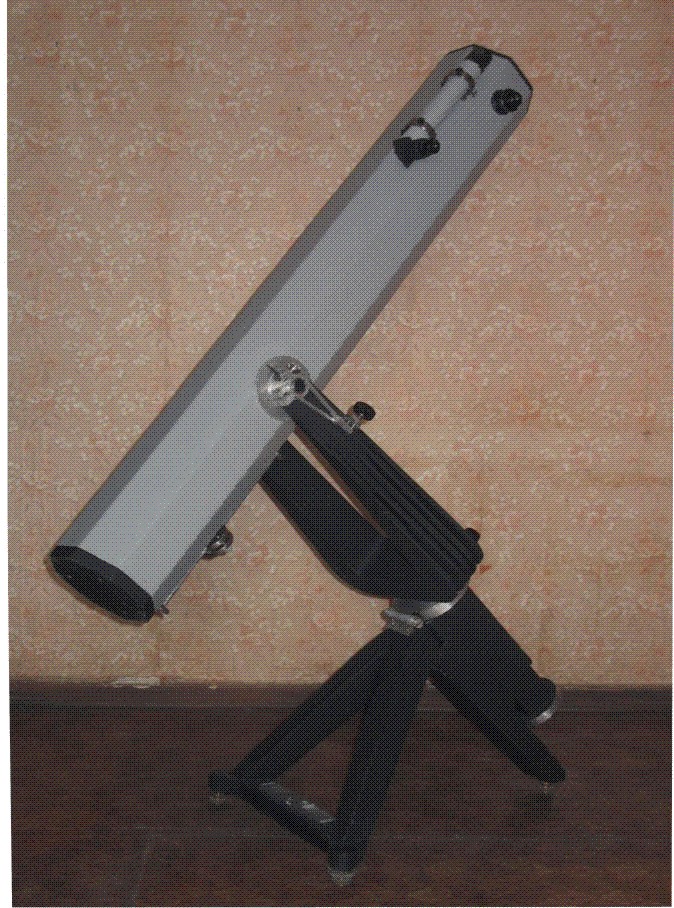 Ill.10
"N'yuton". Glavnoe zerkalo - 150 mm, steklyannoe, (F- 1300 mm).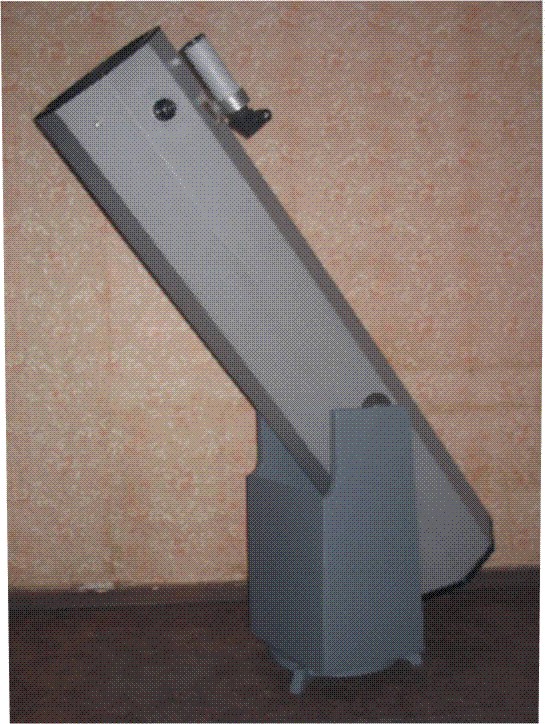 Ill.11
"Dobson". Glavnoe zerkalo, diametrom 250 mm (F- 1540 mm) - steklyannoe.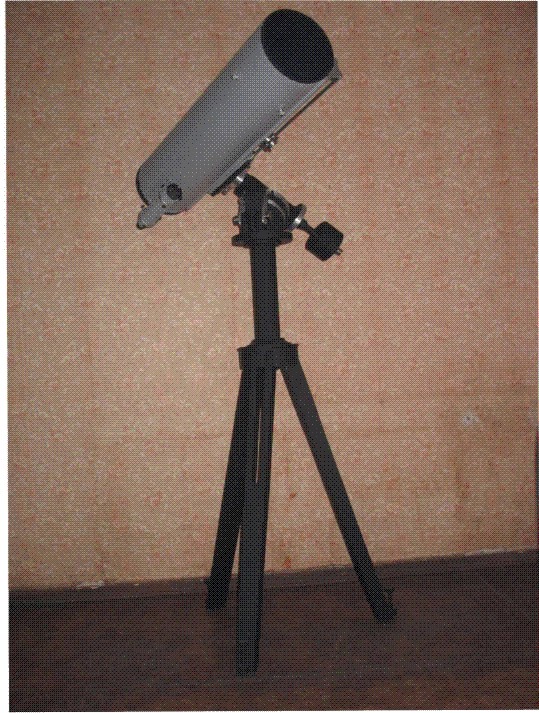 Ill.12
Teleskop Kassegrena. Zerkala, glavnoe diametrom 185 i vtorichnoe 56-millimetrovoe, iz nerzhaveyushei stali.
I v zavershenie: glavnyi svoi teleskop avtor eshe ne postroil.
Odessa
13 aprelya 2012 goda
Versiya dlya pechati