P2010 A2: neobychnyi hvost asteroida – posledstviya sil'nogo stolknoveniya?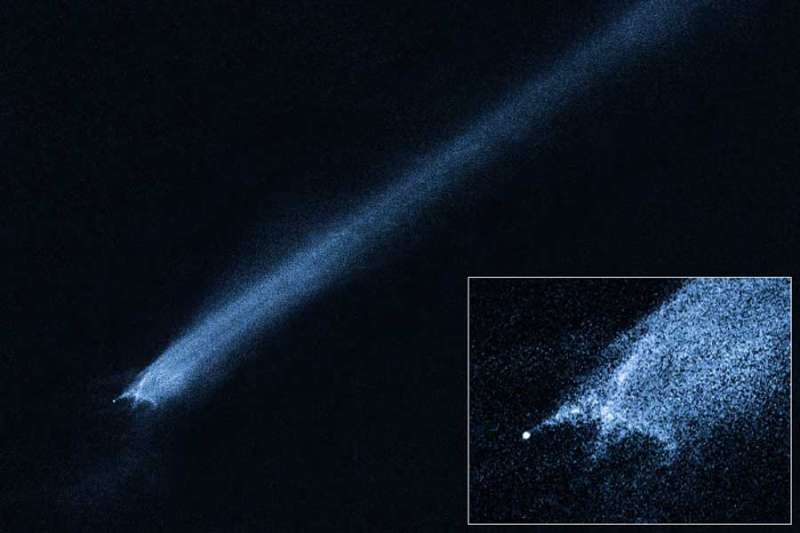 Perevod: D.Yu.Cvetkov
Poyasnenie:
Chto eto za strannyi ob'ekt? On byl otkryt na izobrazheniyah, poluchennyh nazemnoi observatoriei po programme
LINEAR
(Issledovanie okolozemnyh asteroidov v laboratorii Linkol'na) 6-go yanvarya. Ob'ekt pokazalsya takim neobychnym, chto bylo prinyato reshenie prodolzhit' issledovaniya na proshloi nedele s pomosh'yu
kosmicheskogo teleskopa "Habbl"
.
Zdes' pokazano
, chto uvidel teleskop "Habbl". Ob'ekt P/2010 A2 okazalsya ne pohozhim na vse ranee izvestnye. Na pervyi vzglyad kazhetsya, chto u nego
hvost
, kak u komety. Odnako pri pristal'nom izuchenii vyyasnyaetsya, chto 140-metrovoe
yadro
nahoditsya v storone ot serediny hvosta, chto okolo yadra est' neobychnye struktury i v hvoste net priznakov nalichiya gaza. Izvestno, chto
orbita
ob'ekta nahoditsya v
poyase asteroidov
mezhdu
Marsom
i
Yupiterom
. Soglasno predvaritel'noi gipoteze, po-vidimomu, ob'yasnyayushei osnovnye fakty,
P/2010 A2
– eto ostatki nedavnego
stolknoveniya
dvuh malen'kih asteroidov. Esli eto deistvitel'no tak, to
stolknovenie
moglo proizoiti na skorosti bolee 15 tysyach kilometrov v chas – v pyat' raz bystree
vintovochnoi puli
– a vydelivshayasya energiya prevoshodila energiyu
yadernoi bomby
. Iz-za davleniya
solnechnogo sveta
vybroshennoe pri vzryve veshestvo zatem rastyanulos' v dlinnyi hvost. Dal'neishie
issledovaniya P/2010 A2
pomogut luchshe ponyat' prirodu porodivshego ego vzryva, vozmozhno, chelovechestvo smozhet luchshe predstavit' sebe
rannie gody Solnechnoi sistemy
, kogda dolzhno bylo proishodit' mnogo podobnyh stolknovenii.
Authors & editors:
Robert Nemiroff
(
MTU
) &
Jerry Bonnell
(
USRA
)
NASA Web Site Statements, Warnings, and Disclaimers
NASA Official:
Jay Norris.
Specific rights apply
.
A service of:
LHEA
at
NASA
/
GSFC
&
Michigan Tech. U.
Versiya dlya pechati