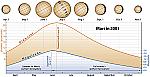 V avguste 2003 g. proizoidet ne prosto Velikoe, a Velichaishee protivostoyanie Marsa! Gotov'te svoi teleskopy!
Ris. 1. Fotokarty dvuh polusharii Marsa, sostavlennye po rezul'tatam nablyudenii avtomaticheskih zondov.
Zemlya i Mars - kosmicheskie sosedi. Zemlya obrashaetsya po orbite chut' blizhe k Solncu, a Mars - chut' dal'she. Oborot Zemli proishodit za god, a Marsa - pochti za dva zemnyh goda. Poetomu Zemlya "po vnutrennei dorozhke" snachala peregonyaet medlitel'nyi Mars, no vskore, obognav ego na krug, vnov' okazyvaetsya v roli dogonyayushego. Tak oni i "begayut" uzhe neskol'ko milliardov let, postoyanno sblizhayas' i udalyayas' drug ot druga. Sblizheniya Zemli i Marsa - astronomy nazyvayut eti sobytiya "protivostoyaniyami" - proishodyat primerno cherez kazhdye dva goda. Astronomy zhdut etih momentov: v period protivostoyaniya, kogda Mars priblizhaetsya k Zemle, ego poverhnost' udobnee vsego izuchat' v teleskop.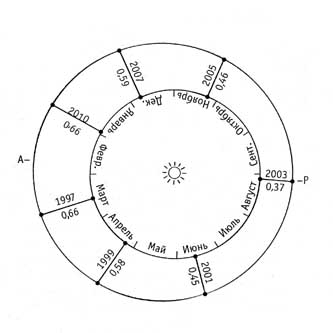 Ris. 2. Protivostoyaniya Marsa s 1997 g. po 2010 g. Vdol' orbity Zemli (vnutrennyaya okruzhnost') ukazany mesyacy ee prohozhdeniya po dannomu uchastku. U orbity Marsa (naruzhnaya okruzhnost') ukazany tochki ee perigeliya (R) i afeliya (A). Na liniyah, soedinyayushih planety v moment protivostoyaniya, ukazan god i minimal'noe rasstoyanie do Marsa v astronomicheskih edinicah.
Esli by orbity Zemli i Marsa byli sovershenno kruglymi, to vse protivostoyaniya etih planet byli by odinakovymi. No eto ne tak: orbity planet ellipticheskie. Pravda, orbita Zemli lish' chut'-chut' otlichaetsya ot okruzhnosti, no orbita Marsa vytyanuta ves'ma zametno. A poskol'ku vremya mezhdu protivostoyaniyami nemnogo bol'she dvuh let, to Zemlya za eto vremya sovershaet chut' bol'she dvuh oborotov po orbite a Mars - nemnogo bol'she odnogo oborota. Znachit, pri kazhdom protivostoyanii eti planety vstrechayutsya v raznyh mestah svoih orbit, priblizhayas' drug k drugu na raznoe rasstoyanie. Esli protivostoyanie sluchaetsya v period nashei zimy, - s yanvarya po mart, - to rasstoyanie do Marsa dovol'no veliko, okolo 100 mln km. No esli Zemlya sblizhaetsya s Marsom v konce leta, kogda Mars prohodit perigelii svoei orbity, to rasstoyanie ot nas do Marsa sokrashaetsya vsego do 56-60 mln km. Takie blagopriyatnye protivostoyaniya nazyvayut VELIKIMI, oni sluchayutsya cherez kazhdye 15 ili 17 let i nepremenno prinosyat astronomam novye otkrytiya o prirode Krasnoi planety. Protivostoyanie tem blagopriyatnee, chem blizhe ono prihoditsya k 28 avgusta, tak kak v etot den' Zemlya prohodit blizhe vsego k perigeliyu orbity Marsa.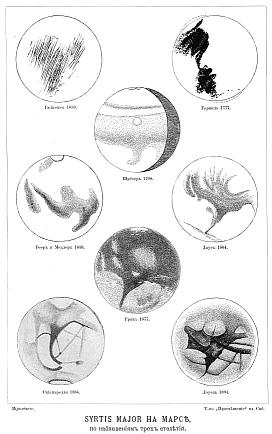 Ris. 3. Zarisovki odnogo i togo zhe polushariya Marsa, vypolnennye raznymi astronomami na protyazhenii dvuh s polovinoi stoletii. Temnaya detal' v centre risunkov - samoe zametnoe pyatno na Marse, otkrytoe eshe Gyuigensom. Na kartah Skiaparelli eto treugol'noe pyatno nazvano Bol'shoi Sirt (Syrtis Major), kak sredizemnomorskii zaliv na severe Afriki, u poberezh'ya Livii (na nyneshnih kartah - Zaliv Sidra). Sovremennye issledovaniya Marsa s kosmicheskih apparatov pokazali, chto Bol'shoi Sirt - deistvitel'no samaya temnaya oblast' na Marse; no eto ne morskoi zaliv, a gornoe plato.
Samym znamenitym protivostoyaniem Marsa po pravu schitayut sluchivsheesya v nachale sentyabrya 1877 g. Imenno togda amerikanskii astronom Asaf Holl (1829-1907) otkryl dva edinstvennye sputnika Marsa - Fobos i Deimos. I togda zhe ital'yanskii astronom Dzhovanni Skiaparelli (1835-1910) otkryl znamenitye marsianskie "kanaly". Nazyvaya temnye pyatna na Marse "moryami" i "zalivami", a soedinyayushie ih linii - "kanalami", Skiaparelli prosto sledoval astronomicheskoi tradicii, horosho ponimaya, chto Mars, skoree vsego, - planeta suhaya. No pozzhe nekotorye entuziasty vosprinyali eti nazvaniya vser'ez i dazhe polagali, chto kanaly - eto iskusstvennye sooruzheniya, sozdannye marsianami dlya orosheniya polei. Odnim iz etih entuziastov, mnogo sdelavshim dlya izucheniya Marsa i drugih planet, byl amerikanskii astronom Persival' Lovell (1855-1916). Na ego kartah Marsa, sostavlennyh 1894-96 gg., my vidim mnozhestvo odinochnyh i sdvoennyh kanalov, pryamyh kak strela, tyanushihsya na tysyachi kilometrov. V te gody Lovell mnogih zarazil svoim entuziazmom: naprimer, angliiskii pisatel' Gerbert Uells pod vpechatlenie astronomicheskih otkrytii sozdal v 1898 g. "Voinu mirov" - samyi izvestnyi roman o nashestvii marsian na Zemlyu.
Ris. 4. Sleva: polnaya karta Marsa, sostavlennaya Skiaparelli v 1877-1888 gg. Obratite vnimanie, chto zdes', kak i na drugih starinnyh kartah Marsa, planeta pokazana v perevernutom, "teleskopicheskom" vide. Sprava: portret Dzhovanni Skiaparelli.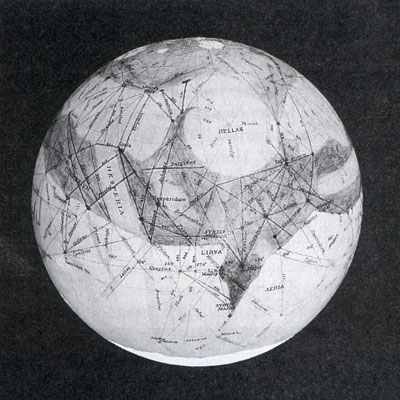 Ris. 5. Tak vyglyadit set' marsianskih kanalov po nablyudeniyam Lovella.
Odnako velikoe protivostoyanie 1909 goda prineslo razocharovanie storonnikam marsianskoi civilizacii: novye krupnye teleskopy i blizkoe raspolozhenie Marsa k Zemle pozvolili provesti velikolepnye nablyudeniya, podorvavshie veru v iskusstvennye kanaly. Osobenno otlichilsya pri etom francuzskii astronom E. Antoniadi (1870-1944), grek po nacional'nosti. Provedya bol'shuyu seriyu nablyudenii na prekrasnom bol'shom teleskope v Medonskoi observatorii pod Parizhem i poluchiv zamechatel'no tochnye zarisovki vida poverhnosti planety, Antoniadi pokazal, chto "kanaly" predstavlyayut soboi nepravil'nye temnye polosy, obrazuemye otdel'nymi pyatnami razlichnoi velichiny. Peripetii velikogo stoletiya v izuchenii Marsa - s serediny XIX do serediny XX vv. - vy smozhete prosledit' po fragmentam iz klassicheskih knig o Krasnoi planete, predstavlennym v sleduyushih razdelah etoi stat'i.
Mezhdu tem, prodolzhaya nablyudeniya Marsa, Antoniadi pokazal, chto eta planeta vse zhe ne sovsem "mertvoe" telo: vo vremya protivostoyaniya 1924 goda on v techenie chetyreh nochei nablyudal svetyashiesya vybrosy na krayu diska planety, nad oblast'yu Hellas. Otkrytiya Antoniadi vnov' vyzvali k Marsu zhiveishii interes shirokoi publiki. Vse ozhidali sleduyushego velikogo protivostoyaniya 1939 goda. Imenno k nemu i bylo podgotovleno novoe izdanie knigi moskovskogo astronoma, professora Iosifa Fedorovicha Polaka (1881-1954) "Planeta Mars i vopros o zhizni na nei", s fragmentami iz kotorogo vy mozhete poznakomit'sya v sleduyushih razdelah etoi stat'i. Kniga Polaka i teper' predstavlyaet bol'shoi interes dlya teh, kto reshit samostoyatel'no nablyudat' Mars. A sovremennye dannye o Marse i dopolnitel'nye rekomendacii po nablyudeniyam mozhno naiti v knigah: Kulikovskii P.G. Spravochnik lyubitelya astronomii, M.: URSS, 2002. Bronshten V.A. Planety i ih nablyudenie. M.: Nauka, 1979.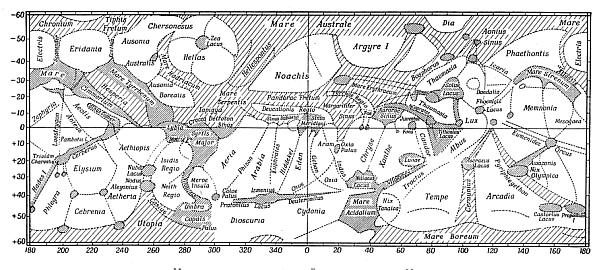 Ris. 6. Osnovnye detali na poverhnosti Marsa. Po krayam karty otmecheny shirota i dolgota. Polyarnye oblasti ne pokazany.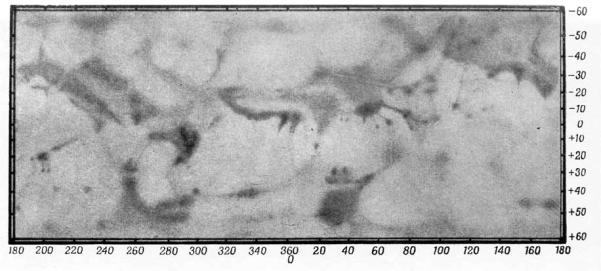 Ris. 7. Karta poverhnosti Marsa, sostavlennaya po zarisovkam i fotografiyam planety, poluchennym v 1939 i 1941 gg. luchshimi astronomami-nablyudatelyami teh let: Vokulerom, Zhentili, Kamishelem, Lio i Slaiferom.
V nashu epohu Mars izuchayut s pomosh'yu kosmicheskih teleskopov i avtomaticheskih mezhplanetnyh apparatov, no uvidet' samomu poverhnost' planety, na kotoroi, vozmozhno, byla (a mozhet byt' i est'!) vnezemnaya zhizn', - pover'te, eto ostavlyaet nezabyvaemoe vpechatlenie. Takoi sluchai predstavitsya nam v blizhaishee vremya. Vozmozhno, nakonec-to udastsya ponyat', kakie imenno pyatna na poverhnosti Marsa skladyvayutsya v stroinye pryamye linii, i glavnoe - pochemu!
Poslednie "nevelikie" protivostoyaniya Marsa proishodili v aprele 1999 g. i v iyune 2001 g. A v avguste nyneshnego, 2003 g., sostoitsya velikoe, bolee togo - Velichaishee protivostoyanie Marsa! Za vsyu epohu teleskopicheskih nablyudenii neba, to est' za proshedshie chetyre stoletiya, ni razu velikoe protivostoyanie ne popadalo na 28 avgusta - na moment naibol'shego sblizheniya planet. Vpervye eto proizoidet teper'. Posmotrite v tablicu: za poslednie dva stoletiya pochti stol' zhe ekstremal'nyh sblizhenii Zemli s Marsom bylo vsego tri. Eti "pochti velichaishie" protivostoyaniya proishodili s promezhutkom v 80 let. Dvazhdy v zhizni takoe ne uvidish'!
Ris. 8. Poslednee velikoe protivostoyanie dokosmicheskoi ery (1956 g.).
Sleva: A.A.Kolchin, Stalingrad, 21 avgusta 1956 g., 20 chas 00 min, 300-mm refraktor, uvel. 312.
V centre: A.M.Cherepashuk, Kuibyshev, 26 avgusta 1956 g., 20 chas 32 min; 200-mm reflektor, uvel. 105.
Sprava: I.D.Novikov, Stalingrad, 29 avgusta 1956 g., 21 chas 45 min, 300-mm refraktor, uvel. 312.
Itak, formal'no nyneshnee protivostoyanie proizoidet 28 avgusta, kogda rasstoyanie do Marsa stanet 55,8 mln km, a vidimyi diametr diska planety sostavit 25 uglovyh sekund. Vprochem, sleduet pomnit', chto usloviya dlya nablyudeniya Marsa budut velikolepnymi ves' avgust i sentyabr'. Odnako imenno v konce avgusta usloviya stanut nailuchshimi, poskol'ku na 27 avgusta prihoditsya novolunie, i nebo v eti dni budet osobenno temnym, blagopriyatnym dlya nablyudenii. Mars v etot period budet ochen' yarkim, ego zvezdnaya velichina dostignet znacheniya -2,8 (pochti kak u Venery v periody naibol'shego bleska). V raione polunochi Mars budet viden tochno na yuge, ne ochen' vysoko nad gorizontom: v 20 gradusah na shirote Moskvy, dlya yuzhan - vyshe, dlya severyan - nizhe.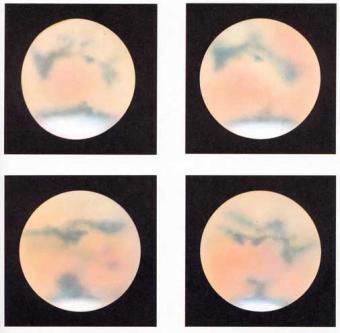 Ris. 9. Risunki angliiskogo astronoma Patrika Mura demonstriruyut sezonnoe umen'shenie severnoi polyarnoi shapki Marsa. Sleva napravo, sverhu vniz: 19 noyabrya 1960 g., 25 dekabrya 1960 g., 11 yanvarya 1961 g., 6 fevralya 1961 g.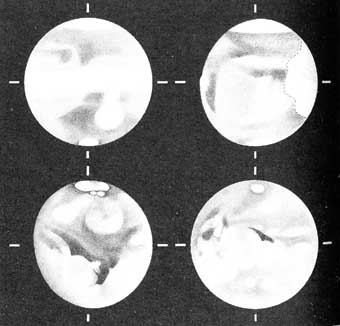 Ris. 10. Zarisovki Marsa, sdelannye ital'yanskimi lyubitelyami astronomii v 1984-88 gg. pri pomoshi teleskopov s ob'ektivami diametrom ot 20 do 36 sm.
Vsem, kto imeet svoi teleskop ili vozmozhnost' vospol'zovat'sya chuzhim instrumentom, sovetuyu ne upustit' shans i ponablyudat', zarisovat' ili sfotografirovat' Mars v eti nochi. Ne dumaite, chto eto budet prosto: luchshe vydelit' dlya etogo neskol'ko nochei i potrenirovat'sya zaranee. Blago - eto period otpuskov i kanikul. Zhelatel'no imet' teleskop s diametrom ob'ektiva ne menee 10 sm, togda vy navernyaka smozhete uvidet' yuzhnuyu polyarnuyu shapku Marsa. A pri opredelennom terpenii, dozhdavshis' blagopriyatnogo sostoyaniya atmosfery, dayushego horoshee izobrazhenie, i primeniv okulyar s bol'shim uvelicheniem, vy smozhete zametit' i glavnye geograficheskie obrazovaniya planety - "morya", "zalivy" i, vozmozhno, nekotorye "kanaly".
Kstati, spustya dve nedeli posle velichaishego protivostoyaniya Marsa, 9 sentyabrya, proizoidet eshe odno lyubopytnoe yavlenie - pokrytie Marsa Lunoi. Pravda, nablyudat' ego smogut lish' zhiteli Vostochnoi Sibiri i Dal'nego Vostoka (Buryatiya, Chitinskaya i Amurskaya oblasti). Zato 9 noyabrya vse zhiteli Evropeiskoi chasti Rossii i Belorussii smogut polyubovat'sya polnym lunnym zatmeniem, kotorogo na Zemle nikto ne videl uzhe neskol'ko let. Zhelayu vam chistogo neba!
Tablica 1. Velikie protivostoyaniya Marsa s 1830 g. po 2035 g. Rasstoyanie ot Zemli do Marsa ukazano v astronomicheskih edinicah.
Data
Rasstoyanie
19
sentyabrya
1830
0,388 a.e.
18
avgusta
1845
0,373
17
iyulya
1860
0,393
5
sentyabrya
1877
0,377
4
avgusta
1892
0,378
24
sentyabrya
1909
0,392
23
avgusta
1924
0,373
23
iyulya
1939
0,390
10
sentyabrya
1956
0,379
10
avgusta
1971
0,376
22
sentyabrya
1988
0,394
28
avgusta
2003
0,373
27
iyulya
2018
0,386
15
sentyabrya
2035
0,382
---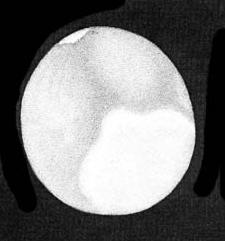 Mars. V etoi planete my chasto vidim sovershenno yavstvenno takie ochertaniya, kotorye mogut oboznachat' materiki i morya. Na risunke Mars predstavlen ne sovsem polnym, kak on byl viden 16 avgusta 1830 g. v 20-futovyi reflektor v Slau. Pervye, to-est' materiki, imeyut tot krasnovatyi ottenok, kotorym otlichaetsya cvet etoi planety, bez somneniya oboznachayushii obshii vohryanoi ton pochvy; v takom zhe vide, tol'ko yarche, mozhet byt', predstavlyayutsya zhitelyam Marsa chasti zemnoi poverhnosti, pokrytye krasnym peschanikom. V protivopolozhnost' etomu, po obshemu zakonu optiki, morya kazhutsya zelenovatymi. Vprochem pyatna ne vsegda pokazyvayutsya s odinakovoi yasnost'yu; no kogda oni byvayut vidimy, togda ochertaniya ih predstavlyayutsya, pri vrashenii planety, v opredelennom i ves'ma harakteristicheskom vide, tak chto pri pomoshi tshatel'nyh nablyudenii nashli vozmozhnym sostavit' grubuyu kartu vsei poverhnosti planety. Raznoobrazie pyaten mozhet proishodit' ot togo, chto planeta ne lishena atmosfery i oblakov; a blestyashie pyatna pri ee polyusah delayut takoe predpolozhenie ves'ma veropodobnym: odno iz nih izobrazheno na nashem risunke. Polagayut, chto eti pyatna veroyatno proishodyat ot snega, potomu chto oni ischezayut, kogda ostayutsya dolgo pod vliyaniem Solnca, i byvayut naibol'shie po vyhode iz dlinnoi nochi polyarnoi zimy.
---
(Iz glavy 4. "Planeta Mars - umen'shennoe podobie Zemli")
Pervyi vopros, voznikayushii pri rassmatrivanii karty Marsa, sostoit v tom, deistvitel'no li te temnye pyatna, kotorye my nazyvaem moryami, predstavlyayut soboyu vodnye prostranstva. Mozhet byt' otnositel'no Marsa my v nastoyashee vremya nahodimsya v takom zhe zabluzhdenii, v kakom okazyvalis' do poloviny poslednyago veka po otnosheniyu k Lune. Chto eti pyatna mogut byt' moryami - eto ne podlezhit somneniyu, potomu chto voda pogloshaet svet vmesto togo, chtoby otrazhat' ego podobno tverdoi zemle; no izvestnogo roda temnye veshestva, chisto mineral'nye, ili mestnosti, pokrytye rastitel'nym kovrom, mogli by proizvesti na svet takoe zhe deistvie; eto imenno i okazalos' vernym dlya Luny, gde tochnoe nablyudenie obnaruzhilo suhuyu i nerovnuyu pochvu na teh obshirnyh seryh prostranstvah, kotorye dolgoe vremya schitalis' nastoyashimi moryami.
Konechno, nazvanie morei v prilozhenii k temnym pyatnam Marsa moglo by ostavat'sya dazhe i v tom sluchae, kogda by eto na samom dele byli i ne morya: nazvaniya mogli by imet' opravdanie uzhe v odnom tol'ko shodstve; odnako esli by bylo dokazano, chto eto - zabluzhdenie, to my ne imeli by nikakogo prava pri samom vozniknovenii geografii Marsa prinimat' takuyu terminologiyu, i bylo by gorazdo predpochtitel'nee pol'zovat'sya takimi vazvaniyami, kotorye sovsem ne predreshali by voprosa v tom ili drugom smysle. No my seichas ubedimsya, chto esli eshe ne absolyutno dostoverno, chto temnyya pyatna Marsa - deistvitel'no morya, podobnyya tem, kakiya imeyutsya na nashei planete, to eto po krainei mere ves'ma veroyatno.
Takim obrazom, vse svidetel'stva soglasno vedut k tomu zaklyucheniyu, chto morya, oblaka i polyarnye l'dy Marsa bolee ili menee shodny s nashimi, i izuchenie Marsovoi geografii mozhet idti v tom zhe napravlenii, kak i geografii zemnoi. Tem ne menee, ne sleduete speshit' s zaklyucheniem o sovershennom tozhestve obeih planet v geograficheskom i meteorologicheskom otnosheniyah. Mars predstavlyaet takzhe i znachitel'nye neshodstva s nami. Nash shar pokryt vodami morei na protyazhenii treh chetvertei ego poverhnosti; samye bol'shie iz nashih materikov, mozhno skazat', ne chto inoe, kak ostrova. Obshirnyi Atlanticheskii i bespredel'nyi Tihii okeany zapolnyayut svoimi vodami glubokie vpadiny zemnoi poverhnosti. Na Marse vody i materiki raspredeleny bolee ravnomerno, i dazhe materikov tam bol'she, chem morei. Eti poslednie predstavlyayut soboyu nastoyashie sredizemnye morya, vnutrennie ozera ili uzkie prolivy, napominayushie Lamansh i Krasnoe more, chto daet geograficheskii risunok, sovershenno otlichnyi ot zemnogo.
No est' drugoe obstoyatel'stvo, ne menee dostoinoe nashego vnimaniya: morya Marsa predstavlyayut zamechatel'nuyu raznicu v svoem cvete ili ottenke. S odnoi storony, oni bolee temny u ekvatora, chem v bolee vysokih shirotah, a s drugoi - nekotoryya iz nih osobenno temny, kakovy naprimer morya Guka, Maral'di, krugloe more Terbi i Pesochnoe more. Sravnenie nyneshnih risunkov so starymi pokazyvaet, chto to zhe samoe bylo pyat'desyat i sto let tomu nazad, no chto vse-taki ottenki eti izmenyayutsya. Sledovatel'no takaya postepennost' ottenkov deistvitel'no sushestvuet. V chem zaklyuchaetsya eya prichina? Samoe prostoe ob'yasnenie sostoit v dopushenii, chto eto zavisit ot bol'shei ili men'shei glubiny.
Kogda proletaesh' na aerostate nad shirokoi rekoyu, nad ozerom ili morem, i esli voda spokoina i prozrachna, to mozhno byvaet videt' dno, i inogda do takoi stepeni yasno, chto vody nad nim kak budto net. Mne samomu prihodilos' eto nablyudat' odnazhdy, imenno 10 iyunya n. s. 1867 g. v 7 ch. utra, derzhas' na vysote 1400 sazhen nad Luaroi. Na morskih beregah razlichayut dno na glubine ot 5 do 9 sazhen v rasstoyanii neskol'kih sazhen ot berega, smotrya po osvesheniyu i sostoyaniyu morya. Pri takom predpolozhenii svetlymi moryami Marsa byli by morya podobnyya naprimer Zyuiderzee, t. e. imeyushiya lish' neskol'ko sazhen glubiny; seryya morya byli by neskol'ko glubzhe etogo, a chernyya - samyya glubokiya. Odnako eto ne edinstvennoe iz vozmozhnyh ob'yasnenii, potomu chto i samyi cvet vody, samoi po sebe, mozhet byt' ochen' razlichen, smotrya po mestnosti. Chem solonee voda, tem ona kazhetsya i temnee, blagodarya chemu mozhno na bol'shom protyazhenii razlichat' morskiya techeniya, potoki, podobnye naprimer Gol'fshtrimu i obrazuyushie soboyu kak by reki menee plotnoi vody, tekushiya po poverhnosti okeana v zhidkih, no bolee plotnyh beregah. Solenost' morskih vod zavisit ot bystroty ispareniya, i net nichego udivitel'nago v tom, chto ekvatorial'nyya morya Marsa bolee soleny i bolee temny, chem vse drugiya. No samo soboyu voznikaet v nashem ume i tret'e ob'yasnenie. U nas na Zemle imeyutsya morya: Goluboe, Zheltoe, Krasnoe, Beloe i Chernoe; esli ne sovsem i ne bezuslovno, eti nazvaniya vse-taki bolee ili menee sootvetstvuyut vidu etih morei. Kogo ne porazhal izumrudno-zelenyi cvet vody Reina bliz Bazelya, ili Aara bliz Berna; kto ne voshishalsya temnoi lazur'yu Sredizemnago morya i Neapolitanskago zaliva, kto ne nablyudal zheltyh vod Seny u Gavra, zametnyh sredi morya, i voobshe vsevozmozhnyh ottenkov, predstavlyaemyh rekami i ih pritokami? Itak, my mozhem troyakim obrazom ob'yasnyat' cvet vodnyh prostranstv na Marse, kak i na Zemle. Svetlyya mestnosti mogut byt' bolotistymi pribrezhnymi ravninami ili zatoplennymi vremenno prostranstvami. Osnovnoi cvet Marsovyh morei - zelenyi, takoi zhe kak i u Zemnyh morei; no etot ottenok menyaetsya, kak izmenyayutsya zhe i samye razmery morei. Nam otsyuda prihoditsya inogda nablyudat' yavleniya, podobnyya tem, kakie mogli by predstavit' nam obshirnyya mestnosti, podvergshiesya bol'shomu navodneniyu. Podobno tomu kak nashi reki posle bur' delayutsya zheltymi i mutnymi, tochno tak-zhe i na Marse cvet vod menyaetsya so vremenami goda.
Materiki Marsa otlichayutsya zheltym cvetom, eto i daet planete tot ognennyi ottenok, kakoi zamechaem my prostym glazom. V etom otnoshenii Mars sushestvenno raznitsya ot Zemli. Nasha planeta, rassmatrivaemaya izdali, dolzhna kazat'sya zelenovatoyu, potomu chto zelenyi cvet yavlyaetsya preobladayushim kak v nashih moryah, tak i na materikah. Blagodarya prisutstviyu atmosfery, etot zelenyi cvet dolzhen smyagchat'sya i perehodit v golubovatyi. Astronomy Venery i Merkuriya dolzhny videt' nashi morya temno-zelenymi, a materiki - svetlozelenymi s raznymi ottenkami, pustyni - zheltymi, polyarnye l'dy i snega - yarko-belymi; belymi zhe kazhutsya im i nashi oblaka, ravno kak i vershiny vysokih gornyh hrebtov, pokrytyya vechnym snegom. Na Marse snega, oblaka i morya predstavlyayutsya pochti v takom zhe vide, kak u nas, no materiki ego imeyut zheltyi cvet, kak budto eto sploshnyya polya rzhi, pshenicy, kukuruzy, yachmenya ili ovsa.
Eta zheltaya okraska gorazdo sil'nee dlya prostogo glaza, chem pri rassmatrivanii v trubu; chem sil'nee uvelichenie, tem menee ona zametna. V chem zaklyuchaetsya eya prichina? Ona ne mozhet zaviset' ot atmosfery, t. e. ot togo, chto atmosfera eta, kak inye polagali, krasnago, a ne golubogo cveta, kak nasha; potomu chto v takom sluchae podobnaya okraska rasprostranyalas' by na vsyu planetu i napryazhennost' eya uvelichivalas' by ot centra k okruzhnosti po mere uvelicheniya tolshiny atmosfernago sloya, prohodimago otrazhennymi ot planety luchami. Poetomu nam ostaetsya dlya ob'yasneniya sdelat' dva predpolozheniya: ili materiki Marsa - sploshnyya pustyni, pokrytyya peskom i drugimi mineralami zheltago cveta, ili zhe dopustit', chto preobladayushii cvet rastitel'nosti na Marse - zheltyi.
Pervaya iz etih dvuh gipotez nahoditsya v polnom protivorechii s prirodoi Marsa, i mozhno tol'ko udivlyat'sya, kakim obrazom mnogie astronomy, dopuskayushie ee, ne zamechayut etogo protivorechiya. Dopustit', chto eta okraska zavisit ot cveta mineral'noi poverhnosti etogo shara, znachit dopustit', chto na etoi poverhnosti net nichego, nikakoi rastitel'nosti, nikakogo pokrova hotya by iz lishaev i mhov, chto tam net ni lesov, ni lugov, ni polei, potomu chto kakova by ni byla rastitel'nost', pokryvayushaya etu poverhnost', vo vsyakom sluchae my vidim ee, a ne goluyu pochvu. Sledovatel'no pervoe predpolozhenie ravnosil'no osuzhdeniyu etogo mira na vechnoe bezplodie.
Vid materikov Marsa pryamo vnushaet nam prostuyu mysl' - rasshirit' neskol'ko nash krugozor v botanicheskom otnosheshi i dopustit', chto rastitel'nost' ne dolzhna byt' nepremenno zelenago cveta vo vseh mirah, chto hlorofil mozhet proyavlyat'sya razlichnym obrazom i chto raznoobraznaya i pestraya okraska cvetov i list'ev u raznyh vidov rastenii, nablyudaemaya nami na Zemle, mozhet proyavlyat'sya vo sto krat bol'she v zavisimosti ot tysyachi novyh uslovii. My ne razlichaem otsyuda form marsovskih rastenii, no mozhem zaklyuchit', chto vsya tamoshnyaya rastitel'nost', v obshei sovokupnosti, ot gigantskih derev'ev do mikroskopicheskih mhov, otlichaetsya preobladaniem zheltago i oranzhevago cvetov - po tomu li, chto tam mnogo krasnyh cvetov ili plodov takogo zhe cveta, ili po tomu, chto sami rasteniya, t. e. ih list'ya - ne zelenago, a zheltago cveta. Krasnoe derevo s plodami zelenago cveta po nashim zemnym ponyatiyam kazhetsya nam nelepost'yu; no na samom dele dostatochno, chtob himicheskoe soedinenie chastic ili dazhe prostoe razmeshenie ih proizoshlo inache, chem na Zemle, chtoby odin cvet peremenilsya na drugoi.
V samom dele sushestvovanie materikov i morei pokazyvaet nam, chto eta planeta podobno nashei podvergalas' glubokim vnutrennim perevorotam, proizvedshim podnyatie odnih mestnostei i opushenie drugih. Tam byli svoi zemletryaseniya i vulkanicheskiya izverzheniya, vidoizmenivshiya odnoobraznuyu vnachale i rovnuyu koru etogo shara. Sledovatel'no tam est' gory i doliny, ploskiya vozvyshennosti i ravniny, ovragi i pribrezhnye utesy i skaly. Kakim obrazom dozhdevyya vody vozvrashayutsya v more? - Putem istochnikov, ruch'ev, rechek i rek. Vodyanaya kaplya, upavshaya iz oblaka, kak i na Zemle, probiraetsya chrez pronicaemye dlya vody sloi, skatyvaetsya po sklonam, ne propuskayushim vody, vyglyadyvaet nakonec na svet bozhii v prozrachnom klyuche, zhurchit v ruch'e, stremitel'no bezhit v gornoi rechke i velichestvenno i medlenno spuskaetsya po bol'shoi reke do eya ust'ev. Poetomu trudno ne videt' na Marse zrelish, shodnyh s temi, kakiya predstavlyayutsya nam v razlichnyh mestnostyah zemli - s ruch'yami, struyashimisya po ruslam iz raznocvetnyh kameshkov, otsvechivayushih vsemi cvetami radugi pri osveshenii ih luchami solnca, s bezymyannymi rechkami, peresekayushimi ravniny i v vide vodopadov skatyvayushimisya v doliny i nizmennosti, po kotorym oni medlenno katyat svoi vody k moryam. Reki na Marse, tak zhe kak i zdes', poluchayut svoyu dan' ot ruch'ev i potokov; tamoshniya morya, podobno nashim, byvayut to spokoiny i gladki kak zerkalo, to vzbudorazheny volnami; tochno tak zhe, kak i zdes', oni vzdymayutsya i opuskayutsya pod deistviem solnca i lun, bystro kruzhashihsya po nebu Marsa, prichinyaya poperemenno prilivy i otlivy.
No povidimomu materiki Marsa bolee ploski i rovny, chem nashi, i pochti vsyudu predstavlyayut obshirnyya ravniny, potomu chto s odnoi storony zdeshniya morya vystupayut iz beregov i zalivayut chasto gromadnyya prostranstva zemli, otstupaya potom na takiya zhe rasstoyaniya; s drugoi zhe storony pryamyya linii ili kanaly, otkrytye v 1879 g. Skiaparelli i s teh por vnov' vidennye ne tol'ko etim astronomom, no i drugimi, dokazyvayut nam, chto zdes' vozmozhna geometricheskaya set' pryamyh linii, tyanushihsya po vsem materikam na ogromnyya rasstoyaniya.
Eti pryamye linii, privodyashiya v soobshenie vse marsovskiya morya mezhdu soboyu, sostavlyayut kakuyu-to udivitel'nuyu geometricheskuyu setku. Linii tyanutsya inogda na protyazhenii do 5 ili 6 tysyach verst, imeya do 100 verst shiriny. Ih cvet povidimomu ukazyvaet na to, chto eto deistvitel'no kanaly, napolnennye vodoyu.
Zdes' ne mesto opisyvat' podrobno eti otkrytiya, no chitateli nashi mogut sostavit' sebe predstavlenie ob etoi svoeobraznoi seti kanalov, rassmatrev kartu Skiaparelli, prilagaemuyu zdes' (mars107s.jpg). Bol'shaya chast' etih kanalov sostoit iz dvuh parallel'nyh linii, to vidimyh, to nevidimyh. Kakaya udivitel'naya i neponyatnaya dlya nas geografiya! No kogda-nibud', bez somneniya, udastsya razgadat' etu tainu.
---
(Iz glavy V, "Kanaly i oazisy na Marse")
Tridcat' let tomu nazad te oblasti na Marse, kotoryya prinimalis' za materiki, kazalis' gladkimi pyatnami; da i stranno bylo by ozhidat' chego-libo drugogo, rassmatrivaya materiki na takom dalekom rasstoyanii.
No v 1877 godu zamechatel'nyi nablyudatel' sdelal eshe bolee zamechatel'noe otkrytie. V etom godu Skiaparelli, vsmatrivayas' v materiki Marsa, otkryl na nih dlinnyya uzkiya polosy, kotoryi s teh por poluchili ochen' bol'shuyu izvestnost' pod nazvaniem kanalov Marsa. Uzhe pri pervom poverhnostnom znakomstve oni proizveli porazitel'noe vpechatlenie, no chem bol'she ih izuchali, tem chudesnee oni okazyvalis'. Ne budet preuvelicheniem skazat', chto eti kanaly yavlyayutsya samymi porazitel'nymi ob'ektami, kakie nebo kogda-libo pokazyvalo nam. Byvayut na nebe zrelisha bolee oslepitel'nyya, kartiny, vnushayushiya bol'she blagogoveinago uzhasa; no na myslyashago nablyudatelya, kotoromu poschastlivilos' videt' ih, nichto na nebe ne proizvodit takogo glubokago vpechatleniya, kak eti kanaly Marsa. Eto vsego lish' tonkiya linii, nichtozhnyya pautinnyya niti, oputyvayushiya svoei set'yu lik Marsova diska. No i za milliony kilometrov pustogo prostranstva, otdelyayushago nas ot planety, eti niti neuderzhimo vlekut k sebe nashu mysl'.
Chto kasaetsya ih shiriny, to bylo by blizhe vsego k istine skazat', chto oni vovse ne imeyut shiriny. V samom dele, chem blagopriyatnee byli usloviya nablyudeniya kanalov, tem oni okazyvalis' vse uzhe i uzhe. Tshatel'nyya nablyudeniya Flagstaffskoi observatorii pokazali, chto samye uekie iz nih dolzhny imet', povidimomu, ne bolee dvuh kilometrov shiriny. Chto stol' tonkaya liniya vse eshe vidima dlya glaz, obuslovlivaetsya eya dlinoi i ob'yasnyaetsya eto, veroyatno, mnogochislennost'yu konusov retiny glaza, na kotorye ona deistvuet. Esli by vozdeistviyu podvergalsya odin tol'ko konus retiny, kak eto bylo by v sluchae tochki, to glaz, konechno, ne mog by otkryt' etih linii.
Pri sravnitel'nom raznoobrazii kanalov tem bolee porazitel'nym yavlyaetsya tot fakt, chto kazhdyi iz nih na vsem svoem protyazhenii imeet sovershenno odinakovuyu shirinu. Naskol'ko lish' vozmozhno razlichit', v shirine vpolne razvitogo kanala net skol'ko-nibud' zametnyh razlichii po vsei dline ego ot odnogo konca do drugogo. Lish' vycherchennaya na bumage po lineike pryamaya liniya mozhet sravnit'sya s kanalom po pravil'nosti i ravnomernosti.
Kak ni porazitelen vid odnogo otdel'nago kanala, no eto nichto v sravnenii s tem vpechatleniem, kotoroe proizvodit na nablyudatelya kolichestvo ih i eshe bolee ih raschlenennost'. Kogda Skiaparelli zakonchil rabotu, kotoroi on posvyatil svoyu zhizn', im bylo otkryto vsego 113 kanalov; v nastoyashee vremya chislo eto vozroslo do 437 blagodarya novym kanalam, otkrytym vo Flagstaffe. Tak zhe, kak i s otkrytiem asteroidov, pozzhe naidennye kanaly voobshe men'she i potomu huzhe vidny, chem otkrytye ran'she. No eto pravilo ne bez isklyuchenii; i --- zdes' lezhit otlichie ot ohoty za asteroidami --- isklyuchenie v dannom sluchae ob'yasnyaetsya ne tem, chto v bezbrezhnyh nebesah mozhno legko propustit' ob'ekt: prichina kroetsya v samom kanale.
Eti mnogochislennyya linii obrazuyut sochlenennoe celoe. Kazhdaya soedinena s blizhaishei (i dazhe s neskol'kimi blizhaishimi) samym neposredstvennym i prostym obrazom: oni vstrechayutsya svoimi koncami. No tak kak kazhdaya iz nih imeet svoyu osobuyu dlinu i svoe osoboe napravlenie, to v rezul'tate poluchaetsya, tak skazat', nepravil'naya pravil'nost'. Poluchaetsya takaya kartina, kak budto ves' disk opleten kruzhevom slozhnago i izyashnago risunka, pokryvayushim lik planety. Takim obrazom poverhnost' planety razdelyaetsya na bol'shoe chislo mnogougol'nikov, kletochek Marsa.
Odnoi iz samyh zamechatel'nyh osobennostei etih linii yavlyaetsya ih raspolozhenie. Oni soedinyayut drug s drugom vse vydayusheesya punkty poverhnosti. Esli my voz'mem kartu planety i vse brosayushayasya v glaza mesta na nei soedinim pryamymi liniyami, to my naidem, k nashemu izumleniyu, chto poluchilos' vosproizvedenie deistvitel'nosti. To obstoyatel'stvo, chto eti linii s odnoi storony nahodyatsya v takoi zavisimosti ot topografii, a s drugoi storony sovershenno ne zavisyat ot togo, kakiya oblasti oni peresekayut, ves'ma krasnorechivo govorit nam o haraktere etih obrazovanii: ono pokazyvaet, chto eti linii bolee pozdnyago proishozhdeniya, chem sami glavnyya osobennosti poverhnosti. V samom dele, ob etom nashi linii svidetel'stvuyut nezavisimo ot togo, chto oni predstavlyayut soboi. Korotko govorya, harakternyya svoistva i raspolozhenie etih linii pokazyvayut, chto uzhe posle togo, kak poverhnost' planety sformirovalas' v glavnyh chertah, linii byli nalozheny na eti posledniya.
Dolgoe vremya pionery, kotorye otkryvali etot novyi mir, ne razglashali svoih otkrytii, tak kak neumeyushie smotret' v teleskop raskritikovyvali vse eto, kak' pustyya mneniya i illyuzii: tak legko lyudi poddayutsya obmanchivomu golosu predubezhdeniya. No v 1901 godu na Flagstaffskoi observatorii byli nachaty popytki zastavit' eti otkrytiya samim povedat' o sebe miru putem sobstvennoi zapisi na fotograficheskoi plastinke. Proshlo odnako mnogo vremeni prezhde, chem udalos' zastavit' ih sdelat' eto. Pervaya popytka ne dala nikakogo rezul'tata, vtoraya, dva goda spustya, byla bolee udachna: posvyashennye, no tol'ko odni oni, mogli uzhe videt' slabye nameki; no spustya eshe dva goda dolgiya usiliya uvenchalis' uspehom. Nakonec-to udalos' zapechatlet' etu strannuyu geometrichnost' na snimke. Fotograficheskii podvig, zaklyuchavshiisya v tom, chtoby zastavit' eti linii derzhat'sya nepodvizhnymi otnositel'no kamery dostatochno dolgoe vremya, t. e. ulovit' vozdushnyya volny takoi dliny, chtoby izobrazheshe kanalov uspelo zakrepit'sya na fotograficheskoi plastinke, --- etot podvig sovershil Lampland. Tshatel'noe izuchenie, terpenie i iskusstvo pomogli emu dobit'sya uspeha v etom neobyknovennom dele, o kotorom Skiaparelli s udivleniem pisal avtoru etoi knigi: "ya nikogda ne poveril by, chto eto vozmozhno".
Kak ni udivitelen vid kanalov, no izuchenie raskrylo v nih nechto eshe bolee udivitel'noe: ih vid izmenyaetsya v zavisimosti ot vremeni. Kanaly postoyanny po svoemu polozheniyu i nepostoyanny po svoemu harakteru. V odnu epohu oni yavlyayutsya ob'ektami, kotorye brosayutsya v glaza, tak chto ih pochti nevozmozhno ne zametit', v druguyu, spustya nemnogo mesyacev, prihoditsya napryagat' vsyu ostrotu zreniya, chtoby tol'ko naiti ih. No i eto eshe ne vse; nekotorye pokazyvayutsya, kogda drugie ostayutsya skrytymi, a eti drugie poyavlyayutsya, kogda pervye stanovyatsya nevidimymi. Celyya oblasti byvayut ohvacheny takim samoproizvol'nym ischeznoveniem i samoproizvol'nym poyavleniem, togda kak v sosednih oblastyah odnovremenno proishodit protivopolozhnoe.
Nashe izuchenie privodit, po-vidimomu, k zaklyucheniyu, chto rostom i ubyl'yu etih strannyh obrazovanii upravlyaet opredelennyi zakon. Voda, osvobozhdennaya tayaniem polyarnyh pokrovov, ozhivlyaet kanaly, oni bystro stanovyatsya yavstvennymi, ostayutsya takimi v techenie neskol'kih mesyacev i zatem medlenno zamirayut. Kazhdyi v svoyu ochered' sovershaet prednachertannyi krug i process ozhivleniya medlenno, no uverenno shestvuet ot shiroty k shirote vniz po disku.
My zaklyuchaem, chto yavleniya, obnaruzhivaemyya kanalami, ob'yasnyayutsya vegetaciei. Ne prosto perenos vody, no sleduyushee za perenosom prevrashenie daet nam klyuch k ponimaniyu. Ne samoe veshestvo vody, no zhivotvoryashii duh, probuzhdaemyi eyu, porozhdaet te yavleniya, kotoryya my vidim. Nakoplennaya v vide snega voda, sbrosiv ledyanyya okovy i osvobodivshis' iz zimnih vmestilish, nachinaet tech' i na svoem puti vyzyvaet k zhizni rastitel'nost'. Poslednyaya yavlyaetsya deistvitel'noi prichinoi togo, chto my vidim kanaly s postepenno vozrostayushei yasnost'yu.
Nichto ne mozhet zaderzhat' etogo razmerennago dvizheniya, nikakiya prepyatstviya ne otklonyayut ego puti. Po poryadku dostigaetsya i prohoditsya odin poyas za drugim, peresekaetsya dazhe ekvator i volna zalivaet territoriyu drugogo polushariya. Izdali po eya sledam idet bolee medlennyi process ubyli. No tem vremenem s pokrova drugogo polyusa uzhe dan impul's takogo zhe haraktera; on peredaetsya takim zhe obrazom, no v obratnuyu storonu, shestvuya k severu, kak pervyi impul's shel k yugu. Kazhdyi Marsov god bol'shaya chast' planety dvazhdy yavlyaetsya arenoi etih smenyayushihsya protivopolozhnyh voln, vyzyvayushih k zhizni rastitel'nost', neuklonno nesushihsya vpered, ne vziraya ni na kakiya prepyatstviya. Mars imeet poetomu dva perioda proizrastaniya; odin prihodit iz arkticheskago poyasa planety, a drugoi iz antarkticheskago i ekvator eya --- lyubopytno zametit' --- popolugodno svyazan to s odnim, to s drugim polyusom.
Est' chto-to vozbuzhdayushee v predstavlenii ob etoi soglasovannosti dvizheniya, sorazmerennago s techeniem goda. Glaz, kazhetsya, pochti shvatyvaet shag etogo bezmolvnago dvizheniya v unisson s postepennym potemneniem kanalov. I to, chto ono neset zhizn', a ne smert', ni na iotu ne umen'shaet vyzyvaemago im vozbuzhdeniya. Pri vsei mirnosti celi, ritmicheskoe velichie yavleniya vyzyvaet v nas mysl' o chem'-to moguchem. Eto vpechatlenie vpolne podhodit k imeni planety, opravdyvaya ego v horoshem, ne zloveshem smysle. Planeta, nazvannaya po imeni boga brani, ostaetsya vernoi ego harakteru po razmerennoi pravil'nosti proishodyashih na nei velichestvennyh izmenenii.
---
(Iz glavy VIII, "Mars - planeta ugasshei zhizni")
Mnogie schitayut, chto Mars naibolee interesnyi nebesnyi ob'ekt, tak kak eto edinstvennyi mir, dlya kotorogo u nas, po-vidimomu, imeyutsya pryamye dokazatel'stva zhizni i tak kak, po mneniyu nekotoryh astronomov, izuchenie Marsa privodit k ubezhdeniyu o sushestvovanii na nem razumnyh sushestv.
Nashi vozmozhnosti dlya udovletvoritel'nyh nablyudenii Marsa v izvestnoi mere ogranicheny. Ego vidimyi diametr izmenyaetsya ot 3,5 sekundy dugi, kogda Mars nahoditsya v naibol'shem udalenii, do 25 sekund v naibolee blagopriyatnyh protivostoyaniyah. V etih sluchayah diametr ego izobrazheniya, vidimyi v teleskop, priblizitel'no v 7 raz bol'she, a poverhnost' izobrazheniya primerno v 50 raz bol'she, chem kogda planeta nahoditsya v naibol'shem udalenii ot Zemli. Dlya izucheniya tonkih detalei na poverhnosti planety usloviya bolee ili menee blagopriyatny v techenie tol'ko nemnogih mesyacev do i posle protivostoyaniya, inymi slovami, primerno neskol'ko mesyacev v techenie kazhdyh dvuh let.
Predpolozhim, chto v nashem rasporyazhenii imeetsya bol'shoi teleskop s fokusnym rasstoyaniem v 7,5 m. Pri naibolee blagopriyatnyh protivostoyaniyah diametr izobrazheniya Marsa v fokal'noi ploskosti takogo instrumenta neskol'ko menee 1 mm, pri naimenee blagopriyatnyh - priblizitel'no v dva raza men'she; pri naibol'shem udalenii planety on raven primerno 0,1 mm.
Pri stol' malom razmere izobrazheniya dazhe v bol'shoi teleskop okazyvaetsya nevozmozhnym izuchit' tonkie detali stroeniya poverhnosti Marsa s pomosh'yu fotografii. Eti detali nastol'ko slozhny v svoei strukture, chto mnogie iz nih mel'che zeren fotograficheskoi plastinki; k tomu zhe planeta nikogda ne byvaet dostatochno yarka, chtoby ee mozhno bylo fotografirovat' momental'no. Neobhodimy snimki s vyderzhkoi; no togda legkie toki atmosfery, kotorye vsegda imeyutsya v bol'shei ili men'shei stepeni, sovershenno zatushevyvayut naibolee tonkie detali izobrazheniya. Esli my popytaemsya oboiti zatrudnenie s zernistost'yu plastinki, primenyaya melkozernistye plastinki maloi chuvstvitel'nosti, to prihoditsya znachitel'no uvelichivat' vyderzhku; no vmeste s etim vozrastaet i vrednoe vliyanie nespokoistviya atmosfery. Takim obrazom, v oboih sluchayah imeetsya predel dlya detalei, kotorye mogut byt' obnaruzheny fotograficheski. V etom prichina togo obstoyatel'stva, chto na fotografiyah Marsa vidno men'she detalei, chem na risunkah, vypolnennyh opytnymi nablyudatelyami. Pri vizual'nyh nablyudeniyah vsegda est' vozmozhnost' vyzhdat' moment, kogda atmosfera na korotkoe vremya uspokoitsya i vse detali budut rezko ochercheny. Pochti v kazhduyu yasnuyu noch' mozhno otmetit' neskol'ko korotkih intervalov, vo vremya kotoryh usloviya vidimosti stanovyatsya gorazdo luchshe, chem oni byvayut v srednem.
Pervoe, deistvitel'no detal'noe i tshatel'noe izuchenie poverhnosti Marsa bylo vypolneno ital'yanskim astronomom Skiaparelli pri ves'ma blagopriyatnom protivostoyanii Marsa v 1877 g. Skiaparelli byl ves'ma iskusnym nablyudatelem; on imel v svoem rasporyazhenii otlichnyi teleskop; usloviya nablyudenii byli horoshi, i Mars nahodilsya togda na isklyuchitel'no blizkom rasstoyanii ot Zemli. Sushestvovanie temnyh oblastei na poverhnosti planety, vydelyayushihsya na ee obshem krasno-korichnevom fone, bylo uzhe izvestno, i predpolagalos', chto eti pyatna predstavlyayut soboi morya, a samyi fon planety - oblasti sushi na ee poverhnosti. No v 1877 g. Skiaparelli otkryl, chto na Marse imeyutsya ne nablyudavshiesya do teh por temnovatye polosy; oni peresekayut oblasti sushi (ili "kontinenty") i soedinyayut drug s drugom razlichnye "morya". Skiaparelli vvel dlya etih polos nazvanie canali, chto v perevode oznachaet prolivy ili kanaly. Odnako, shodstvo ital'yanskogo slova s angliiskim slovom "kanal" bylo prichinoi togo, chto termin, vvedennyi Skiaparelli, stali ponimat' v neskol'ko bolee uzkom smysle, chem sam on imel v vidu; otsyuda proizoshlo dovol'no mnogo neyasnostei i nevernyh tolkovanii. [Prim.: V ego bolee obshem smysle, ital'yanskoe slovo canali oboznachaet vsyakii uzkii protok vody, no ne obyazatel'no iskusstvenno sooruzhennyi. - Red.knigi.]
Zaklyuchenie, k kotoromu prishel Skiaparelli posle dlitel'nogo izucheniya planety, sostoyalo v tom, chto eti "kanaly" byli postoyannymi obrazovaniyami na ee poverhnosti. Ih dlina i raspolozhenie ostavalis' neizmennymi ili kolebalis' tol'ko v nebol'shih predelah. No vid ih i samaya stepen' vidimosti izmenyalis' znachitel'no ot odnogo protivostoyaniya Marsa k drugomu, ili dazhe v techenie neskol'kih nedel'. K tomu zhe eti izmeneniya vida "kanalov" ne byli odnovremenny; oni poyavlyalis' neozhidannym obrazom, tak chto odin "kanal" mog sdelat'sya neotchetlivym ili dazhe nevidimym, v to vremya kak "kanal" po blizosti stanovilsya ochen' zametnym. "Kanaly" peresekali drug druga pod vsevozmozhnymi uglami, no obychno oni vstrechalis' u nebol'shih temnyh pyaten, kotorye Skiaparelli istolkoval, kak ozera. Kazhdyi "kanal" okanchivalsya libo u ozera, libo u drugogo "kanala", libo u morya. No ni odin iz nih ne byl srezan posredi kontinenta, ostavayas' kak by bez nachala ili konca.
Zaklyuchenie Skiaparelli (1893 g.), ves'ma produmannoe, sostoyalo v tom, chto "kanaly" v deistvitel'nosti predstavlyayut soboi borozdy ili uglubleniya na poverhnosti planety, prednaznachennye dlya protoka vody. Izmeneniya vneshnego vida "kanalov" Skiaparelli pripisyval navodneniyam, vyzvannym tayaniem snegov, za kotorym sledovalo vsasyvanie vody v pochvu, i v otdel'nyh sluchayah ee vysyhanie. Skiaparelli dobavlyal, chto vsya pautina "kanalov" predstavlyaet soboi, veroyatno, geologicheskoe obrazovanie, tak chto net neobhodimosti predpolozhit' v nih rezul'tat sozidatel'nogo truda razumnyh sushestv.
Krupnym pobornikom teorii iskusstvennogo proishozhdeniya kanalov byl amerikanskii astronom Parsival' Louell. V 1894 g. Louell osnoval observatoriyu v Flagstaffe v shtate Arizona special'no dlya izucheniya planet i v osobennosti Marsa. Mestopolozhenie etoi observatorii na bol'shoi vysote v suhoi Arizone bylo vybrano iz-za prevoshodnyh atmosfernyh uslovii. Zdes' v techenie dolgih let Louell i ego sotrudniki uporno izuchali Mars, kogda tol'ko ego polozhenie bylo udobnym dlya nablyudenii, i sobrali znachitel'nyi fakticheskii material, otnosyashiisya k izmeneniyam na ego poverhnosti.
Louell utverzhdal, chto i on takzhe nablyudal razdvoenie ili sparivanie nekotoryh kanalov, o chem, kak my uzhe govorili, eshe ranee soobshal Skiaparelli. Po opisaniyam Louella znachitel'naya chast' kanalov ostavalas' postoyanno i neizmenno odinochnoi, no nekotoraya chast' ih po vremenam kazalas' tainstvennym obrazom razdvoennoi; pri etom vtoroi kanal byl kak by tochnoi kopiei pervogo, t. e. on prohodil po vsei ego dline ryadom s nim i na postoyannom ot nego rasstoyanii podobno (kak my uzhe govorili) dvum putyam zheleznodorozhnogo polotna. Rasstoyanie mezhdu dvumya kanalami v odnoi pare izmenyalos' po Louellu ot 120 do 600 km.
Louell zaklyuchal, chto "kanaly" yavlyayutsya iskusstvennymi protokami, sozdannymi razumnymi sushestvami dlya perenosa tayushih vod ot polyusov na vsyu poverhnost' planety i provedennymi ot tochki k tochke po kratchaishemu puti. Po mere togo kak voda rasprostranyaetsya po kanalam, oroshenie vyzyvaet poyavlenie rastitel'nosti vdol' ih beregov; v oazisah, gde vstrechayutsya kanaly, nahodyatsya plodorodnye oblasti, gde i zhivut marsianskie sushestva.
V chem zhe prichina neobhodimosti provedeniya etih gigantskih irrigacionnyh setei? Ukazat' ee otnyud' netrudno. Oni vyzyvayutsya instinktom samosohraneniya obitatelei planety; postepenno prevrashayusheisya v bezvodnye pustyni. V usilivayushemsya nedostatke vody marsiane poluchili preduprezhdenie ob ozhidayushei ih sud'be. Vse ostal'nye voprosy otoshli dlya nih na vtoroi plan po sravneniyu o zhidnennoi neobhodimost'yu dobyvat' vodu. Edinstvennym mestom, gde imeyutsya zapasy vody i otkuda ee mozhno poluchit', yavlyayutsya polyarnye shapki; otsyuda ves' stroi zhizni na Marse dolzhen imet' kak by svoim centrom zadachu prisposobit' eti zapasy vody k zaprosam zhizni. No raz dobyvanie ee stalo ih glavnoi zadachei i zabotoi, to chto udivitel'nogo v tom, chto imenno plody etih rabot raskryli ih sushestvovanie pered vzorom lyudei.
Tol'ko pri nalichii razumnogo naseleniya i nikakim drugim obrazom mozhno bylo predupredit' neizbezhnoe i vse usilivayusheesya vysyhanie planety. Ochevidno, nedostatok vody ne mog skazat'sya vnezapno; dlya etogo neobhodim medlennyi i postepennyi process. Mestnye nuzhdy zastavlyali obrashat'sya k bolee otdalennym zapasam, kak eto delaetsya i na Zemle, chtoby obespechit' nadlezhashuyu podachu vody v krupnyh centrah i gorodah. Tak postepenno na Marse perehodili k zapasam vody na vse bol'shih rasstoyaniyah, poka, v konechnom schete, vsya planeta ne pokrylas' obshirnoi set'yu kanalov, obespechivayushih vodu i vozmozhnost' razvitiya rastitel'nogo mira na planete.
Takova byla v ee osnove teoriya Louella; privlekatel'naya, ostroumnaya i logichnaya - esli tol'ko ta, dostavlennaya nablyudeniyami baza, na kotoroi ona pokoitsya, mozhet byt' prinyata. No imenno zdes' i voznikaet zatrudnenie; hotya nekotorye nablyudateli Marsa, imevshie v svoem rasporyazhenii instrumenty srednih razmerov, i podtverzhdali nablyudeniya Louella, no byli i takie nablyudateli, kotorym ne udavalos' konstatirovat' osnovnye yavleniya, sostavlyavshie bazu ego teorii; nekotorye iz nih obladali bol'toi ostrotoi zreniya, pol'zovalis' zasluzhennoi reputaciei i rabotali na moshnyh instrumentah i v prevoshodnyh usloviyah. Vopros o prirode detalei, nablyudaemyh na Marse, sdelalsya predmetom zhestokoi polemiki. No vremya shlo; polemika zamerla; teper' my dostigli nekotorogo soglasiya v otnoshenii togo, chto sobstvenno my v sostoyanii uvidet' na Marse. Poprobuem osmotret'sya vo vsem polozhenii veshei i vyyasnit', chto mozhno teper' schitat' ustanovlennym vne vsyakih somnenii.
Klimat Marsa mozhno sravnit' s klimatom vysokogornyh oblastei na Zemle v yasnye dni. Dnem na Marse solnechnoe izluchenie ochen' redko pogloshaetsya oblakami ili tumanami. V techenie nochi teplo bystro otdaetsya poverhnost'yu v prostranstvo, i nastupaet rezkii holod. Eto - klimat krainostei. Kolebaniya temperatury ot dnya k nochi i ot odnogo vremeni goda k drugomu ochen' znachitel'ny, K tomu zhe vremena goda zdes' prodolzhitel'nee, chem na Zemle, i ih dlina usilivaet raznicu mezhdu letnimi i zimnimi usloviyami. Sezonnye kolebaniya vyrazheny bolee rezko v yuzhnom polusharii, chem v severnom. Rasstoyanie mezhdu Marsom i Solncem v techenie ego obrasheniya po orbite iamenyaetsya na 40 mln. km. Mars blizhe vsego k Solncu, kogda na ego severnom polusharii zima, a na yuzhnom - leto, i on dal'she vsego ot Solnca, kogda leto na severnom polusharii, zima - na yuzhnom. Poetomu na yuzhnom polusharii leto teplee, a zima holodnee, chem na severnom.
My byli vynuzhdeny otvergnut' te soobrazheniya, na kotoryh Louell osnovyval svoyu teoriyu o zhizni na Marse razumnyh sushestv. Odnako, ne imeetsya li dostatochnyh dokazatel'stv sushestvovaniya na nem kakih-libo form zhizni voobshe, hotya by i ne obyazatel'no zhizni razumnoi? Temperatura zdes' ne nastol'ko vysoka i ne nastol'ko nizka, chtoby my mogli sovershenno isklyuchit' vozmozhnost' zhizni, hotya znachitel'noe sutochnoe kolebanie temperatury i bystrota ee izmenenii mogli by okazat'sya ochen' tyagostnymi dlya lyuboi formy zhizni, s kotoroi my znakomy na Zemle. Vodyanye pary, nesomnenno, imeyutsya v ego atmosfere, i est' dokazatel'stva nalichiya kisloroda, hotya zapasy ego, byt' mozhet, i priblizhayutsya k istosheniyu. Ne sushestvuet prichin, po kotorym zhizn' na Marse ne mogla by prisposobit'sya k takim usloviyam.
O tom, chto na poverhnosti Marsa vremya ot vremeni proishodyat izmeneniya, my uzhe govorili. Nekotorye iz nih nosyat chisto sezonnyi harakter, drugie zhe sovershenno neregulyarny. Louell utverzhdal, chto emu udalos' ustanovit' volnu potemneniya, rasprostranyayushuyusya v napravlenii ekvatora planety po mere tayanii ledyanoi shapki v letnem polusharii. Eti ukazaniya ego ne byli polnost'yu podtverzhdeny drugimi nablyudatelyami, kotorye nahodili, chto eti izmeneniya i ne tak prosty i ne tak yarko vyrazheny. Odnako, vse, po-vidimomu, shodyatsya v tom, chto imeyutsya bol'shie izmeneniya kak vneshnego vida, tak i okraski razlichnyh detalei, sovpadayushie so smenoi vremen goda. Eti izmeneniya bylo by trudno ob'yasnit' inache, kak dopustiv sezonnyi rost rastitel'nogo pokrova. Rastitel'nost' pokryvaet temnye uchastki planety, ostal'naya ee chast' predstavlyaet soboi pustynyu. Po mere togo, kak ledyanaya shapka taet, vlaga dostigaet bolee nizkih shirot, vozmozhno v vide potokov i rek, no bolee veroyatno - v dozhdyah ili v rose. S poyavleniem vlagi rastitel'nyi mir ozhivaet, i okraska ploshadei, pokrytyh rastitel'nost'yu, perehodit v zelenye tona. Kogda zhe vozvrashaetsya zima, zelenyi cvet postepenno ustupaet mesto seromu i korichnevomu.
Kak my uzhe govorili, cvet poverhnosti Marsa sluzhit opredelennym dokazatel'stvom prisutstviya na nem svobodnogo kisloroda, vo vsyakom sluchae - v proshlom. No nalichie svobodnogo kisloroda pochti nesomnenno trebuet sushestvovaniya rastitel'nosti. Sopostavlyaya eto zaklyuchenie s temi dokazatel'stvami, kotorye my poluchaem, izuchaya izmeneniya, proishodyashie na poverhnosti Marsa, my mozhem priiti k vyvodu, chto ta ili inaya forma rastitel'noi zhizni na Marse pochti nesomnenno sushestvuet.
My videli na primere Venery planetnyi mir, na kotorom usloviya, veroyatno, ne ochen' sil'no otlichayutsya ot teh, kotorye sushestvovali na Zemle mnogo millionov let tomu nazad. Naprotiv, na Marse sushestvuyushie teper' usloviya takovy, kak te, kotorye, mozhno dumat', ustanovyatsya na Zemle cherez mnogo millionov let, kogda Zemlya utratit znachitel'nuyu chast' toi atmosfery, kotoroi ona obladaet teper'.
---
(Iz glavy "Teorii Marsa")
Dlya ob'yasneniya yavlenii, kotorye Lovell videl na poverhnosti Marsa, on pridumal svoyu izvestnuyu teoriyu obitaemosti planety. Vprochem, ves'ma veroyatno, chto ne teoriya yavilas' vyvodom iz nablyudaemyh faktov, a, naoborot, samye yavleniya, otkrytye na Flagstaffskoi observatorii, byli sledstviem zaranee predvzyatoi idei. Tverdoe ubezhdenie, chto Mars naselen vysoko organizovannymi razumnymi sushestvami, zastavilo Lovella i bol'shuyu chast' ego sotrudnikov sozdat' iz blednyh, mimoletnyh tenei na diske planety tu kartinu, kotoruyu oni zhelali videt' i kotoraya, k sozhaleniyu, ochen' daleka ot deistvitel'nosti.
Po mneniyu Lovella, Mars, blagodarya svoim men'shim razmeram, razvivalsya bystree Zemli i v nastoyashee vremya nahoditsya v toi stadii evolyucii, cherez kotoruyu Zemle tozhe suzhdeno proiti, no v ochen' otdalennom budushem. V etom otnoshenii Mars "igraet dlya Zemli rol' proroka", i pritom proroka zloveshego.
Kakova zhe ta pechal'naya uchast', kotoraya uzhe postigla nashego nebesnogo soseda i kogda-nibud' postignet i Zemlyu? Eto - vysyhanie, otvechaet Lovell. Mars po svoei velichine zanimaet srednee mesto mezhdu Zemlei i Lunoi; takoe zhe promezhutochnoe polozhenie mezhdu etimi mirovymi telami zanimaet on i po kolichestvu vlagi. Na Zemle eshe pochti 3/4 poverhnosti pokryty vodoi, na Lune zhe vsya poverhnost' prevratilas' v sploshnuyu pustynyu. Na Marse bezvodnaya, bezzhiznennaya pustynya zahvatila uzhe pochti stol'ko, skol'ko na Zemle zanimaet okean, imenno - vse krasnovato-zheltye prostranstva ili "materiki" planety. Tol'ko na odnoi treti s nebol'shim na poverhnosti Marsa, v oblasti tak nazyvaemyh "morei", eshe derzhitsya vlaga v takom kolichestve, chto tam vozmozhna rastitel'nost'. Itak, po Lovellu, morya Marsa - eto mesta, pokrytye rastitel'nost'yu. Eto dokazyvaetsya izmeneniem ih vida v raznye vremena goda; oni bledneyut zimoi i stanovyatsya osobenno temnymi k seredine leta. Podobnye zhe izmeneniya okraski my videli by na materikah Zemli, esli by mogli nablyudat' ee s drugoi planety.
Gde zhe i v kakom vide nahoditsya na Marse voda, pitayushaya etu rastitel'nost'? Glavnym, dazhe, veroyatno, edinstvennym istochnikom vody, podderzhivayushim rastitel'nost' na vsei planete, yavlyayutsya polyarnye snega, kotorye letom tayut i voda kotoryh mogla by v eto vremya byt' ispol'zovana dlya orosheniya... esli by na Marse kto-nibud' ustroil podhodyashuyu orositel'nuyu sistemu. I vot, po glubokomu ubezhdeniyu Lovella, na Marse takaya gigantskaya orositel'naya set' sushestvuet; ona yavlyaetsya sozdaniem zhivyh sushestv, kotorye po razumu i tehnicheskoi moshi nastol'ko zhe prevoshodyat lyudei, naskol'ko gigantskaya "kanalizaciya" Marsa prevoshodit nashi zemnye kanaly. Obitateli etogo mira, pogibayushego ot vysyhaniya, prinyali vse mery k tomu, chtoby sohranit' i ispol'zovat' skudnyi zapas vody, eshe sohranivshiisya na planete, glavnym obrazom v ee atmosfere (v vide vodyanogo para). Zimoi eti pary osazhdayutsya okolo polyusa i obrazuyut snezhnyi pokrov. S nastupleniem vesny, kogda sneg prevratilsya v vodu, a voda eshe ne uspela prevratit'sya v par, nachinayut deistvovat' kakie-to kolossal'nye mehanicheskie prisposobleniya, perekachivayushie vodu ot polyusa k ekvatoru po sisteme trub ili sravnitel'no uzkih kanalov, blagodarya kotorym voda pronikaet v samye otdalennye ugolki planety.
No samye kanaly s Zemli ne vidny. Te linii i poloski, kotorye my nazyvali etim slovom, v deistvitel'nosti tak shiroki, chto dazhe Lovell ne reshaetsya dopustit', chtoby obitateli Marsa mogli proryt' prolivy v desyatki kilometrov shirinoi, tyanushiesya na tysyachi kilometrov. To, chto my vidim s Zemli, - eto polosa oroshennoi i pokrytoi rastitel'nost'yu pochvy; posredine ee prohodit uzkii nastoyashii kanal, podderzhivayushii zhizn' na bolee ili menee shirokom prostranstve, a dal'she, po obe storony zeleneyushei polosy, prostiraetsya mertvaya, vyzhzhennaya pustynya. Takim obrazom volna potemneniya i poyavleniya kanalov, rasprostranyayushayasya na Marse kazhduyu vesnu ot polyusa k ekvatoru, oznachaet ozhivlenie rastitel'nosti, "vesennii rumyanec, kotoryi razlivaetsya po licu planety, probuzhdayusheisya ot zimnego sna". Na Zemle volna probuzhdeniya prirody rasprostranyaetsya v protivopolozhnom napravlenii, ot ekvatora k polyusam; u nas rastitel'nost' ozhivaet s usileniem solnechnogo nagrevaniya, na Marse - s poyavleniem vody, kotoraya oroshaet ran'she polyarnye oblasti, chem ekvatorial'nye.
Vot v kratkom izlozhenii eta uvlekatel'naya teoriya, kotoraya poluchila shirokuyu izvestnost' blagodarya ostroumiyu i literaturnomu talantu Lovella.
Samym goryachim protivnikom lovellovoi kartiny poverhnosti Marsa yavlyaetsya angliiskii astronom Maunder. On sobral vse fakty i soobrazheniya, govoryashie protiv geometricheskoi seti kanalov, i prodelal s toi zhe cel'yu ryad lyubopytnyh opytov.
Pri nablyudeniyah planet zamechalis' nesomnennye temnye linii pravil'noi formy. Eto - deleniya kol'ca Saturna, tak nazyvaemye linii Kassini i Enke, temnye "sheli", kotorymi otdelyayutsya drug ot druga koncentricheskie kol'ca, raspolozhennye vokrug etoi zamechatel'noi planety. Kak i sledovalo ozhidat', eti sheli vidny tem luchshe, chem sil'nee instrument; naprimer, glavnoe delenie, "liniya Kassini", s trudom zametno v treh- ili chetyrehdyuimovuyu trubu v vide ochen' tonkoi slaboi linii i predstavlyaetsya shirokoi chernoi polosoi v samye moshnye instrumenty nashego vremeni. Sovsem ne to proishodit, kak my videli, s kanalami Marsa. V bolee sil'nye truby oni splosh' i ryadom vidny ne luchshe, a huzhe, chem v slabye. Sam Lovell otmechaet, chto oni kak by "vovse ne imeyut shiriny" i kazhutsya tem uzhe, chem usloviya nablyudeniya blagopriyatnee. Oni ne podchinyayutsya, takim obrazom, zakonam optiki i, sledovatel'no, sub'ektivny.
Pochti odnovremenno s Maunderom i sovershenno nezavisimo ot nego k tem zhe samym vyvodam prishel ital'yanskii astronom Cherulli. Vo vremya protivostoyaniya 1896 g. emu udalos' rassmotret', chto nekotorye iz kanalov Skiaparelli predstavlyayut slozhnuyu sistemu otdel'nyh melkih pyatnyshek. Eto zaklyuchenie on rasprostranil i na ostal'nye kanaly. Bol'she vsego zainteresovalo astronomicheskii mir ego otkrytie kanalov na... Lune. Cherulli pokazal, chto esli rassmatrivat' Lunu v slabyi binokl', to bez truda mozhno zametit' na poverhnosti nashego sputnika pryamye temnye linii, kotorye pri nablyudenii v teleskop sovershenno ischezayut. Takie zhe kanaly mozhno otkryt' i na fotografiyah Luny, tol'ko ne na bol'shih fotografiyah s pomosh'yu gromadnyh instrumentov, a na fotografiyah s goroshinu velichinoi, esli ih rassmatrivat' prostym glazom!
Antoniadi razdelyaet vzglyad Lovella, chto Mars predstavlyaet soboi planetu, gorazdo dal'she prodvinuvshuyusya v svoem vysyhanii, chem nasha Zemlya. Bol'shaya chast' ego poverhnosti pokryta zhelto-krasnymi bezvodnymi pustynyami. Temnye chasti ("morya"), nesomnenno, izmenyayushie svoi cvet i gustotu okraski mogut byt' pokryty rastitel'nost'yu, analogichnoi rastitel'nosti zemnyh polupustyn' (tak nazyvaemaya "kserofil'naya" rastitel'nost'). Eta rastitel'nost' mozhet, po krainei mere chastichno, sushestvovat' za schet podpochvennyh vod.
Nastoyashih morei na Marse net, v luchshem sluchae est' tol'ko bol'shie ozera. Temnye oblasti, ne menyayushie svoei okraski, dolzhny imet' kakuyu-to druguyu prirodu.
Ris. 12. Dva risunka Marsa, sdelannye Antoniadi 20 sentyabrya 1909 g. s promezhutkom v 1,5 chasa, demonstriruyut sil'nuyu zavisimost' geometrii risunka ot kachestva izobrazheniya. Pervyi risunok sdelan pri ideal'nyh atmosfernyh usloviyah; na nem mnogo pyaten i nerovnyh uzlovatyh linii. Vtoroi risunok sdelan pri hudshem sostoyanii atmosfery: uzor stal proshe, linii - pryamee. Veroyatno, v etom povinny osobennosti nashego zreniya.
Nikakoi pravil'noi geometricheskoi seti pryamyh linii - kanalov - na Marse ne sushestvuet. Pyatna na planete vezde imeyut ochen' slozhnoe stroenie, chrezvychaino nepravil'noe i sovershenno estestvennoe. No vo mnogih sluchayah nepravil'nye detali poverhnosti Marsa raspolagayutsya polosami kak na Zemle. Vspomnim "pryamye" linii nashih geograficheskih kart malogo masshtaba: cepi gor i ostrovov, doliny bol'shih rek, beregovye linii nekotoryh materikov. Takie zhe "pryamye" linii est' i na Lune (gornye cepi, treshiny, svetlye polosy). Pochemu zhe im ne byt' i na Marse, tverdaya kora kotorogo obrazovalas', veroyatno, v rezul'tate teh zhe processov, chto i zemnaya kora? Na mestah etih-to priblizitel'no pryamyh polos karty Marsa nashi slabye truby i pokazyvayut neyasnye chertochki-kanaly. V bolee sil'nye instrumenty pryamye chertochki ischezayut, razdelyayas' na mnozhestvo pyaten. Eta teoriya pol'zuetsya teper' pochti vseobshim priznaniem.
Ostal'nye teorii, izlozhennye nizhe, vse predpolagayut, chto na Marse imeyutsya dlinnye pryamye kanaly, i pytayutsya ih tak ili inache ob'yasnit'. Poetomu v nastoyashee vremya oni imeyut pochti tol'ko istoricheskoe znachenie.
Kanaly - treshiny ili "rasseliny" v kore Marsa, podobnye sushestvuyushim na Zemle "geotektonicheskim liniyam". Inogda takaya treshina v kore planety ne vidna, a ee sushestvovanie obnaruzhivaetsya cep'yu "ozer", raspolozhennyh vdol' dlinnoi rasseliny. Eti ozera i doliny napolneny, odnako, ne vodoi, a gryaz'yu (kak nekotorye ozera zemnyh pustyn'), kotoraya obrazuetsya iz pyli pustyn', nanesennoi vetrami. Vlaga prevrashayushaya pyl' v gryaz', chast'yu vystupaet iz nedr planety v vide istochnikov, chast'yu pogloshaetsya iz vozduha.
Otdalenno napominaet predydushuyu. Po nei kanaly - tozhe dlinnye polosy bolotistoi pochvy, prichem voda, uvlazhnyayushaya eti mesta, osazhdaetsya iz atmosfernyh parov. Napravlenie i polozhenie "kanalov" opredelyaetsya glavnym obrazom ne geologicheskimi, a meteorologicheskimi prichinami, imenno vozdushnymi techeniyami, kotorye perenosyat vozdushnye pary ot polyusov (pri tayanii polyarnyh l'dov) k ekvatoru. Vsledstvie vrasheniya Marsa okolo osi napravlenie etih vozdushnyh techenii otklonyaetsya ot meridiana, podobno zemnym passatam. Avtor po forme nekotoryh kanalov pytaetsya dazhe opredelit' skorost' i napravlenie vetrov v atmosfere planety.
Eta teoriya idet sovershenno v razrez so vsemi drugimi i samaya vozmozhnost' ee poyavleniya dokazyvaet, kak malo my eshe znaem prirodu Marsa. Po Baumanu, poverhnost' Marsa predstavlyaet ne sushu, a zamerzshii okean, a temnye pyatnyshki, obyknovenno nazyvaemye "ozerami", eto - kak raz susha, imenno ostrova vulkanicheskogo proishozhdeniya, pokrytye vulkanami, deistvuyushimi eshe i teper'. Vulkanicheskaya pyl', padavshaya s nezapamyatnyh vremen na obledeneluyu poverhnost' planety, pokryla ee zheltym naletom, i na etoi svoeobraznoi pochve razvilas' polyarnaya rastitel'nost' (temnye "morya"). Letom eta rastitel'nost' rasprostranyaetsya daleko k polyusam, i pod neyu pochti ischezayut "polyarnye shapki", chem i ob'yasnyaetsya ih periodicheskoe umen'shenie. Kanaly - treshiny vo l'du, odni drevnego, drugie novogo proishozhdeniya. Ob'yasnyaet teoriya Baumana i udvoenie kanalov; dlya ob'yasneniya izmeneniya vida nekotoryh "ozer" (ili, po etoi teorii, "ostrovov") ona pribegaet k vulkanicheskim izverzheniyam i t. p.
---
Versiya dlya pechati