Vybiraite temnye mesta30.10.2001 14:25
|
I. E. Panchenko
,
O. S. Bartunov
Zhiteli gorodov, v kotoryh noch' svetla kak den' - posmotrite na
atlas yarkosti nochnogo neba
! Na nashei planete eshe est' mesta, gde iskusstvennaya podsvetka ne meshaet sozercaniyu krasot zvezdnogo neba. Etot atlas byl sostavlen ital'yanskimi uchenymi pod rukovodstvom
Pierantonio Cinzano
pri pri podderzhke Light Pollution Science and Technology Institute, (
ISTIL)
po dannym mnogoletnih
nablyudenii
amerikanskih meteorologicheskih
sputnikov
.
Esli sovmestit' eti dannye s kartoi plotnosti naseleniya Zemli, okazyvaetsya, chto 2/3 ee naseleniya (i 99% naseleniya SShA i Zapadnoi Evropy) zhivut v raionah s zametnoi iskusstvennoi podsvetkoi fona neba. A dlya 10% naseleniya mira (v SShA - 40%, a v Zapadnoi Evrope - 17%) ona polnost'yu zatmevaet zvezdy.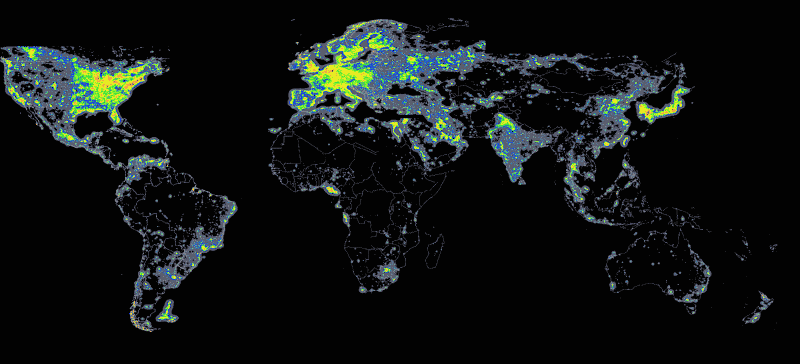 Posmotrite na karty: mira, Rossii, Evropy, Severnoi i Yuzhnoi Ameriki, Afriki, Central'noi i Yugo-Vostochnoi Azii i Avstralii. Naidite svoi gorod. Obratite vnimanie na ostrova v okeane i nitki avtomobil'nyh i zheleznodorozhnyh magistralei. V Rossii horosho zametno razlapistoe pyatno Moskvy, drugie krupnye goroda, BAM i Transsib.
Eti karty s maksimal'nym prostranstvennym razresheniem mozhno skachat' s etogo saita v vide arhivov, soderzhashih izobrazheniya v formate TIFF.
Iskusstvennaya podsvetka neba meshaet professional'nym astronomam i lyubitelyam, i lishaet sushestvennuyu chast' naseleniya Zemli vozmozhnosti videt' zvezdy. Za rubezhom ee nazyvayut "Svetovym zagryazneniem" (light pollution) i rassmatrivayut naryadu s drugimi formami zagryazneniya okruzhayushei sredy deyatel'nost'yu civilizacii. Dlya bor'by za prava narodov za temnoe nebo byla sozdana obshestvennaya organizaciya "Controlling light pollution", a s 1999 g. - organizovana special'naya rabochaya gruppa OON i MAS "Controlling light pollution". V Italii deistvuet Nauchno-tehnicheskii institut po problemam svetovogo zagryazneniya (ISTIL), v ramkah programmy kotorogo bylo sdelano dannoe issledovanie.
Literatura:
P.Cinzano, F.Falchi, C.D. Elvidge. The first world atlas of the artificial night sky brightness astro-ph/0108052
Prava
Privedennye zdes' izobrazheniya zashisheny avtorskimi pravami. Oni mogut rasprostranyat'sya svobodno pri upominanii obladatelei prav:
            
Credit: P. Cinzano, F. Falchi (University of Padova), C. D. Elvidge (NOAA National            
Geophysical Data Center, Boulder).            
Copyright Royal  Astronomical Society. Reproduced from the Monthly Notices of the            
RAS by permission of Blackwell Science.            

i vypolnenii
dopolnitel'nyh uslovii
.
Dopolnenie:
Nedavno specialistami NASA byli poluchena eshe odna karta raspredeleniya molnii po poverhnosti Zemli. Ispol'zovalis' dannye nablyudenii so sputnikov v period 15 aprelya 1997 goda po mart 2000 i v period s dekabrya 1997 goda po noyabr' 2000. Interesno, chto molnii izbegayut okean, no ochen' lyubyat Floridu.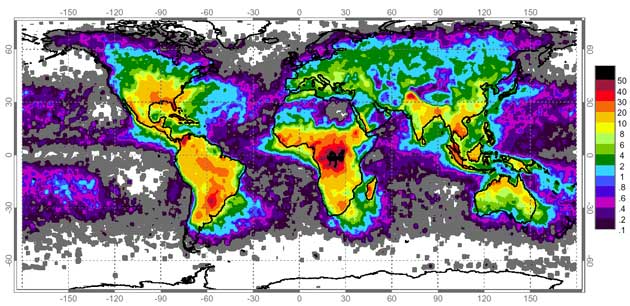 Versiya dlya pechati