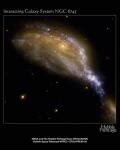 Oblako molodyh zvezd kak rezul'tat stolknoveniya galaktik26.05.2000 23:13
|
scientific.ru
To, chto pohozhe na golovu pticy, naklonivsheisya nad pishei, yavlyaetsya rezul'tatom stolknoveniya galaktik: bol'shoi spiral'noi, ch'e yadro ne zatronuto i malen'koi, nahodyasheisya v nizhnem pravom uglu snimka. Galaktiki ne prosto gravitacionno vzaimodeistvuyut - oni deistvitel'no perenesli stolknovenie.
Kogda stalkivayutsya galaktiki, so zvezdami nichego ne proishodit - veroyatnost' ih stolknoveniya nichtozhna i oni svobodno proletayut skvoz' chuzhuyu galaktiku. Zato mezhzvezdnaya sreda (gaz pyl' i magnitnoe pole) ispytyvaet nastoyashee stolknovenie so szhatiem i udarnymi volnami. Udarnoe szhatie, daet start dal'neishemu szhatiyu oblakov mezhzvezdnoi sredy pod deistviem sobstvennogo tyagoteniya i, v konechnom schete, obrazovaniyu zvezd.
Tak malen'kaya galaktika otmetila svoi put' cherez telo bol'shoi polosoi molodyh yarkih glubyh zvezd.
Snimok poluchen gruppoi naslediya Habbla na osnove arhivnyh dannyh, poluchennyh Shirokougol'noi planetarnoi kameroi 2 v marte 1996 g.
Image Credit: NASA and The Hubble Heritage Team (STScI/AURA) Acknowledgment: Roger Lynds (KPNO/NOAO)

Istochnik: StSci, Perevod: Scientific.ru.
Versiya dlya pechati