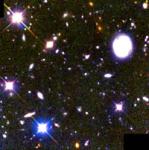 Glubokii snimok v infrakrasnom i vidimom svete28.05.1999 22:23
|
scientific.ru
Etot uzkougol'nyi glubokii snimok Vselennoi otkryvaet izobilie galaktik (dohodyashih do yarkosti slabee 28-oi velichiny), takoe, kakim ono predstaet v infrakrasnom i vidimom svete. Gamma cvetov sdvinuta: krasnovatye galaktiki svetyatsya v infrakrasnom diapazone, golubye - v vidimom. Vidny neskol'ko chetkih vidov galaktik: golubye karlikovye, diskovye galaktiki i ochen' krasnye ellipticheskie galaktiki. verhnem pravom uglu vidna yarkaya blizkaya spiral'naya galaktika.
Galaktiki mogut byt' yarkimi v infrakrasnom svete (i krasnymi na snimke) po neskol'kim prichinam. Oni mogut byt' pyl'nymi, libo soderzhat' ochen' starye zvezdy, libo nahodit'sya ochen' daleko - pri bol'shom krasnom smeshenii. Neskol'ko iz krasnyh galaktik na snimke imyut plavnuyu simmetrichnuyu formu tipichnuyu dlya staryh ellipticheskih galaktik.
Sushestvovanie takih ob'ektov v rannei Vselennoi i ih chislo mogut dat' vazhnye ogranichentiya na epohu, kogda obrazovalis' i sformirovali bol'shuyu chast' zvezd rannie galaktiki. V celom, razmery i formy naibolee slabyh galaktik odinakovy v vidimom i infrakrasnom diapazonah. Eto znachit, chto molodye i starye zvezdy vezde horosho peremeshany i pyl' ne slishkom iskazhaet kartinu.
Snimok sdelan infrakrasnoi kameroi NICMOS i obychnoi STIS. Krasnyi i zedenyi cveta sootvetstvuyut dlinam voln 1.6 i 1.1 mikrona sootvetstvenno. Goluboi sootvetstvuet chuvsvitel'nosti STIS, perekryvayushii ves' diapazon vidimogo sveta.
R. Williams (STScI) and the HDF-South team, and NASA.

Istochnik: StSci, Perevod: Scientific.ru.
Versiya dlya pechati