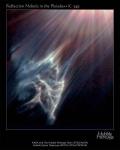 Tumannost'-prizrak v Pleyadah26.05.2000 23:14
|
M. E. Prohorov
/
GAISh, Moskva
Na snimke Kosmicheskogo teleskopa - temnoe mezhzvezdnoe oblako pyli i gaza v processe razrusheniya i vymetaniya svetom yarkoi zvezdy v skoplenii Pleyady. Oblako - plotnoe i holodnoe i svetitsya otrazhennym svetom zvezdy, podobnye ob'ekty nazyvayutsya tumannostyami otrazheniya. Tak svetilos' by v svete zvezdy tverdoe telo.
Eta tumannost' byla otkryta amerikanskim astronomom Barnardom v 1890 g. On nablyudal ee v 36-dyuimovyi teleskop Likskoi observatorii, opisav kak neobychno yarkuyu tumannost' vblizi yarkoi zvezdy Pleyad - Merope. Yarka tumannost' tol'ko potomu, chto ochen' blizka k yarkoi zvezde - 0.06 svetovyh goda ili 3500 astronomicheskih edinic.
Na snimok Merope ne popala - ona nahoditsya chut' za kraem vverhu sprava. Cvetnye luchi, rashodyashiesya ot zvezdy - opticheskoe yavlenie, voznikayushee v teleskope. Odnako, parallel'nye volokna, idushie snizu sleva vverh napravo, real'ny. Oni vyyavleny na etom snimke vpervye, blagodarya vysokomu razresheniyu Habbla, astronomami Dzhordzhem Herbigom i Teodorom Saimonom 19 sentyabrya 1999 g.
Herbig i Saimon predpolozhili, chto neobychnaya kartina voznikla blagodarya davleniyu izlucheniya zvezdy. Oblako dvigaetsya po napravleniyu k zvezde i tormozitsya davleniem izlucheniya. Pri etom, chasticy raznogo razmera ispytyvayut raznoe uskorenie i poluchaetsya nechto vrode separatora: bolee krupnye chasticy vyryvayutsya vpered formiruya luchi, bolee melkie i gaz tormozyatsya bystree i otstayut.
Za neskol'ko tysyach let tumannost' proletit mimo zvezdy (esli izbezhit polnogo razrusheniya) v chem-to podobno komete. Podobnye sluchainye stolknoveniya pozvolyayut astronomam izuchat' mezhzvezdnyi material, pol'zuyas' takoi redkoi "metodikoi", kak separaciya pyli davleniem sveta.
Znamenitoe skoplenie Pleyady nahoditsya v 380 svetovyh godah ot nas. Nevooruzhennym glazom vidny shest' ili sem' zvezd, v nebol'shoi teleskop - sotni.
Image Credit: NASA and The Hubble Heritage Team (STScI/AURA)
Acknowledgment: George Herbig and Theodore Simon (Institute for Astronomy, University of Hawaii)

Istochnik: StSci, Perevod: Scientific.ru.
Versiya dlya pechati