Astronomicheskaya kartinka dnya (APOD)
za avgust 2013 goda.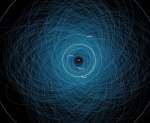 Orbity potencial'no opasnyh asteroidov
12.08.2013 | Astronomicheskaya kartinka dnya
Opasny li asteroidy? Nekotorye – da, odnako veroyatnost' stolknoveniya opasnogo asteroida s Zemlei v techenie kakogo-libo goda ochen' mala. Nekotorye proishodivshie v proshlom massovye vymiraniya biologicheskih vidov svyazyvayut s udarami asteroidov. Poetomu chelovechestvo schitaet neotlozhnoi zadachei obnaruzhenie i katalogizaciyu asteroidov, kotorye smogut kogda-libo povliyat' na zhizn' na Zemle.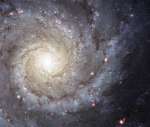 M74: ideal'naya spiral'
11.08.2013 | Astronomicheskaya kartinka dnya
Dazhe esli eta spiral'naya galaktika i ne yavlyaetsya ideal'noi, to ona po krainei mere odna iz samyh fotogenichnyh. Galaktika M74 – prekrasnaya ostrovnaya vselennaya, kotoruyu my vidim plashmya, ona sostoit iz primerno 100 milliardov zvezd i raspolozhena na rasstoyanii okolo 32 millionov svetovyh let ot nas v napravlenii na sozvezdie Ryb.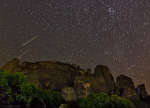 Perseidy nad Meteorami
10.08.2013 | Astronomicheskaya kartinka dnya
Dva yarkih meteora, vspyshki kotoryh zapechatleny 7-go avgusta na etom nochnom peizazhe, prinadlezhat k meteornomu potoku Perseidy. Na prodolzhenii raznocvetnyh sledov nahoditsya radiant potoka. On raspolozhen v sozvezdii Perseya, v verhnem pravom uglu kartinki. Severnaya, ili Polyarnaya zvezda nahoditsya v centre vseh korotkih izognutyh sledov zvezd – vverhu sleva.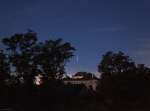 Perseidy nad zamkom Al'brehtsberg
9.08.2013 | Astronomicheskaya kartinka dnya
Okruzhennyi derev'yami srednevekovyi zamok Al'brehtsberg nahoditsya okolo severnogo berega reki Pilah i goroda Mel'k v Avstrii. Na etoi fotografii, zapechatlevshei 12-go avgusta 2012 goda vid na zapad i proyasnyayusheesya nochnoe nebo, on stoit pod severnymi letnimi sozvezdiyami Vodoleya, Orla i slabym, kompaktnym sozvezdiem Del'fina (vyshe i pravee centra).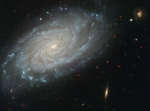 NGC 3370: bolee chetkii vid
8.08.2013 | Astronomicheskaya kartinka dnya
Spiral'naya galaktika NGC 3370 nahoditsya na rasstoyanii 100 millionov svetovyh let ot Solnca i vidna na nebe v sozvezdii L'va. Po razmeram i strukture ona pohozha na nash Mlechnyi Put'. Eto prevoshodnoe izobrazhenie bol'shoi i krasivoi spiral'noi galaktiki, razvernutoi k nam svoei ploskost'yu, polucheno na kosmicheskom teleskope im.Habbla s pomosh'yu usovershenstvovannoi kamery dlya obzorov.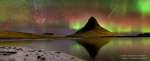 Meteory i polyarnoe siyanie nad Islandiei
7.08.2013 | Astronomicheskaya kartinka dnya
Chto proishodit za etim vulkanom? Da nichego osobennogo. Sam vulkan, nazvannyi Kirk'yufell, ochen' staryi. On nahoditsya na zapade Islandii, nedaleko ot goroda Gryundarf'erdyur. Pered krutymi sklonami vulkana raskinulsya f'ord. V to vremya, kogda byla sdelana eta fotografiya — v seredine dekabrya 2012 goda — on uzhe nachal zamerzat'.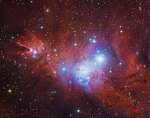 Vblizi tumannosti Konus
6.08.2013 | Astronomicheskaya kartinka dnya
Poblizosti ot tumannosti Konus nablyudayutsya strannye formy i struktury. Obrazovaniya neobychnoi formy voznikayut pri vzaimodeistvii goryachego izlucheniya i gaza, vybroshennogo molodymi zvezdami, s tonkoi mezhzvezdnoi pyl'yu. Samaya yarkaya zvezda sprava na risunke — eto S Edinoroga (S Mon). Oblast' nad nei, blagodarya svoemu cvetu i strukture, poluchila nazvanie tumannost' Lisii meh.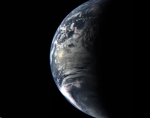 Pokidaya Zemlyu
5.08.2013 | Astronomicheskaya kartinka dnya
Chto by vy uvideli, pokidaya nashu planetu? Podobnoe sobytie bylo detal'no zapisano na video kosmicheskim apparatom Messendzher. Vosem' let nazad, otpravlyayas' v puteshestvie k Merkuriyu, Messendzher obernulsya i napravil svoi kamery na Zemlyu. Na etom video-rolike vidno, kak Zemlya vrashaetsya, postepenno udalyayas'.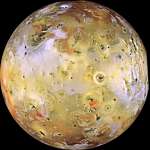 Poverhnost' Io: v processe razrabotki
4.08.2013 | Astronomicheskaya kartinka dnya
Slovno eto zemlya v okruge vashego lyubimogo goroda ili svoya stranichka v internete... poverhnost' Io postoyanno nahoditsya v processe razrabotki. Etot sputnik Yupitera otlichaetsya ot drugih lun. Eto samyi vulkanicheski aktivnyi ob'ekt v Solnechnoi sisteme, i ego poverhnost' postoyanno preobrazhaetsya pod novymi potokami lavy.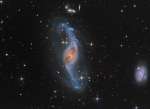 Vzaimodeistvuyushaya galaktika NGC 3718
3.08.2013 | Astronomicheskaya kartinka dnya
Pri vnimatel'nom izuchenii vsego polya zreniya na etom chetkom izobrazhenii mozhno obnaruzhit' neozhidanno bol'shoe kolichestvo kak blizkih, tak i dalekih galaktik, raspolozhennyh v sozvezdii Bol'shoi Medvedicy. Samaya zamechatel'naya, konechno, NGC 3718 – deformirovannaya spiral'naya galaktika okolo centra kartinki.