Astronomicheskaya kartinka dnya (APOD)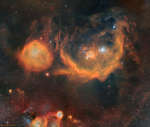 Mezhzvezdnye oblaka Oriona
5.06.2019 | Astronomicheskaya kartinka dnya
Sozvezdie Oriona – gorazdo bol'she, chem ryad iz treh zvezd. Eto napravlenie v kosmose bogato vpechatlyayushimi tumannostyami. Chtoby eshe luchshe ocenit' etu horosho izvestnuyu oblast' neba, novoe izobrazhenie bylo polucheno s dlinnoi ekspoziciei v techenie neskol'kih yasnyh nochei v yanvare, fevrale i marte. Kamera rabotala 23 chasa, i eshe mnogo chasov zanyala obrabotka izobrazheniya.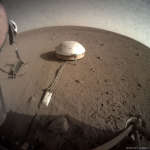 SEIS: slushaya marsotryaseniya
4.06.2019 | Astronomicheskaya kartinka dnya
Esli vy prilozhite uho k Marsu, to chto vy uslyshite? Chtoby uznat' eto i issledovat' vnutrennie chasti Krasnoi planety, sovershivshii posadku na Marse kosmicheskii apparat NASA "InSait" v konce proshlogo goda pomestil na poverhnost' planety chuvstvitel'nyi seismometr SEIS, kotoryi mozhet registrirovat' marsotryaseniya.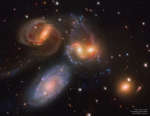 Kvintet Stefana
3.06.2019 | Astronomicheskaya kartinka dnya
Kogda eti bol'shie galaktiki nachali svoi tanec? Na samom dele tol'ko chetyre iz pyati galaktik Kvinteta Stefana uchastvuyut v kosmicheskom tango iz povtoryayushihsya sblizhenii, proishodyashih na rasstoyanii v 300 millionov svetovyh let ot nas. Lishnyuyu galaktiku legko zametit' na etom pereobrabotannom izobrazhenii, poluchennom Kosmicheskim teleskopom im.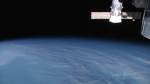 Pryamaya translyaciya s Mezhdunarodnoi kosmicheskoi stancii
2.06.2019 | Astronomicheskaya kartinka dnya
Esli by vy seichas plyli v kosmose nad Zemlei, vy mogli by uvidet' nechto podobnoe. V 2014 godu avtomaticheskii gruzovoi korabl' Drakon kompanii SpaceX, kotoryi dostavil na obrashayushuyusya po orbite vokrug Zemli Mezhdunarodnuyu kosmicheskuyu...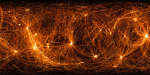 NICER noch'yu
1.06.2019 | Astronomicheskaya kartinka dnya
Issledovatel' vnutrennego stroeniya neitronnyh zvezd (Neutron star Interior Composition Explorer – NICER) nahoditsya na bortu Mezhdunarodnoi kosmicheskoi stancii. On povorachivaetsya i naklonyaetsya, chtoby sledit' za kosmicheskimi istochnikami rentgenovskogo izlucheniya, v to vremya kak stanciya sovershaet oborot vokrug planety Zemlya kazhdye 93 minuty. Rentgenovskie detektory vklyuchayutsya, kogda orbita stancii prohodit po nochnoi storone.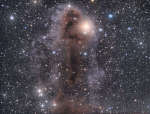 Temnaya tumannost' Lindsa LDN1251
31.05.2019 | Astronomicheskaya kartinka dnya
V temnoi tumannosti Lindsa LDN 1251 rozhdayutsya zvezdy. Bogatoe pyl'yu molekulyarnoe oblako, nahodyasheesya primerno v tysyache svetovyh godah ot nas, yavlyaetsya chast'yu slozhnogo kompleksa tumannostei v napravlenii na oblast' zvezdoobrazovaniya v Cefee nad ploskost'yu Mlechnogo Puti.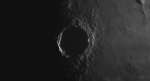 Voshod Solnca v kratere Kopernik
30.05.2019 | Astronomicheskaya kartinka dnya
V lunnom okeane Bur' raspolozhen horosho zametnyi udarnyi krater Kopernik. On nahoditsya v centre etogo teleskopicheskogo portreta, zapechatlevshego svet i teni na Lune. Kartinka sozdana slozheniem videokadrov, snyatyh 14 aprelya v 3:30 po Vsemirnomu vremeni, kogda lunnyi terminator – granica mezhdu dnem i noch'yu – prohodil cherez seredinu kratera diametrom v 93 kilometra.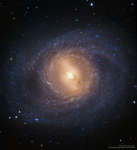 M95: spiral'naya galaktika s vnutrennim kol'com
29.05.2019 | Astronomicheskaya kartinka dnya
Pochemu u nekotoryh spiral'nyh galaktik est' kol'co vokrug centra? Bol'shaya, krasivaya galaktika M95 – odna iz blizkih spiral'nyh galaktik s peremychkoi. Eta kartinka smontirovana iz izobrazhenii, poluchennyh Kosmicheskim teleskopom im.Habbla i neskol'kimi nazemnymi teleskopami.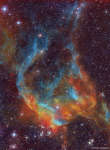 Zvezdy, pyl' i gaz okolo NGC 3572
28.05.2019 | Astronomicheskaya kartinka dnya
Zvezdoobrazovanie mozhet byt' raznocvetnym. Na etom cvetnom kosmicheskom portrete zapechatleny svetyashiisya gaz i temnaya pyl' okolo nedavno sformirovavshihsya zvezd v NGC 3572, slabo izuchennom zvezdnom skoplenii okolo tumannosti Kilya. Zvezdy NGC 3572 vidny okolo nizhnego kraya kartinki, a protyazhennoe oblako gaza nad nimi – veroyatno, ostatki tumannosti, iz kotoroi eti zvezdy sformirovalis'.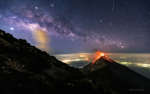 Ognennyi vulkan pod Mlechnym Putem
27.05.2019 | Astronomicheskaya kartinka dnya
Inogda trudno reshit', kakoi vid bolee vpechatlyaet – Zemli ili neba. Na fotografii na Zemle zapechatleno izverzhenie Ognennogo vulkana, na ego vershine viden krasnyi raskalennyi pepel, sduvaemyi vetrom, a po sklonu stekayut svetyashiesya potoki lavy. Ogni blizkogo goroda vidny skvoz' legkuyu dymku vnizu.