Astronomicheskaya kartinka dnya (APOD)
za 2021 god.
A Supercell Thunderstorm Over Texas
13.06.2021 | Astronomicheskaya kartinka dnya
Is that a cloud or an alien spaceship? It's an unusual and sometimes dangerous type of thunderstorm cloud called a supercell. Supercells may spawn damaging tornados, hail, downbursts of air, or drenching rain. Or they may just look impressive.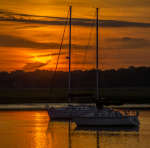 Eclipse on the Water
12.06.2021 | Astronomicheskaya kartinka dnya
Eclipses tend to come in pairs. Twice a year, during an eclipse season that lasts about 34 days, Sun, Moon, and Earth can nearly align. Then the full and new phases of the Moon separated by just over 14 days create a lunar and a solar eclipse.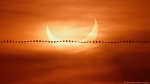 Prolet pered zatmeniem
11.06.2021 | Astronomicheskaya kartinka dnya
10 iyunya novaya Luna proshla pered Solncem. Proshlo vsego dva dnya posle togo, kak Luna dostigla apogeya – samoi dalekoi ot Zemli tochki na ee ellipticheskoi orbite. Blagodarya malen'komu uglovomu razmeru Luny proizoshlo kol'ceobraznoe solnechnoe zatmenie.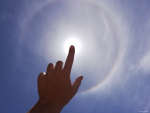 Krugloe solnechnoe galo
10.06.2021 | Astronomicheskaya kartinka dnya
Hotite uvidet' kol'co vokrug Solnca? Eto prosto osushestvit' dnem v lyubom meste na Zemle. Kruglye galo s radiusom v 22 gradusa mozhno uvidet' gorazdo chashe, chem radugi. Galo sozdayutsya sluchaino orientirovannymi ledyanymi kristallami v vysokih peristyh oblakah. Eto galo bylo sfotografirovano smartfonom 29 maya okolo Rima v Italii.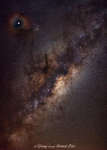 Korona polnogo lunnogo zatmeniya
9.06.2021 | Astronomicheskaya kartinka dnya
Eta Luna vyglyadit strannoi po neskol'kim prichinam. Polnolunie v eto vremya goda nazyvayut Cvetochnoi Lunoi. No ne eto delaet ee strannoi, ved' polnolunie proishodit raz v mesyac. Etu Lunu nazyvayut superlunoi, potomu chto ona dostigla polnoi fazy, nahodyas' okolo blizhaishei k Zemle tochki na svoei ellipticheskoi orbite.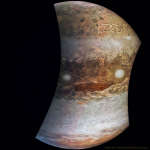 "Lico" v oblakah Yupitera ot "Yunony"
8.06.2021 | Astronomicheskaya kartinka dnya
Chto vy vidite v oblakah Yupitera? Krupnomasshtabnaya struktura opoyasyvayushih Yupiter oblakov – eto chereduyushiesya svetlye zony i krasnovato-korichnevye poyasa. Podnimayushiisya v zonah gaz, v sostave kotorogo preobladayut vodorod i gelii, obychno zakruchivaetsya vokrug oblastei s vysokim davleniem. Opuskayushiisya gaz v poyasah obychno vrashaetsya vokrug raionov s nizkim davleniem, kak ciklony i uragany na Zemle.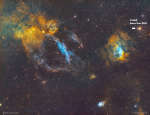 Yarkaya Novaya v Kassiopee
7.06.2021 | Astronomicheskaya kartinka dnya
Chto eto za novoe svetyasheesya pyatnyshko v Kassiopee? — Novaya zvezda. Hotya Novye dovol'no chasto vstrechayutsya vo Vselennoi, eta Novaya, izvestnaya kak Novaya Kassiopei 2021 ili V1405 Cas, stala v proshlom mesyace na zemnom nebe nastol'ko yarkoi, chto ee mozhno bylo uvidet' nevooruzhennym glazom. Novaya Kassiopei 2021 vpervye poyarchala v seredine marta.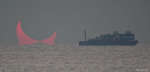 Voshod iskazhennogo zatmivshegosya Solnca
6.06.2021 | Astronomicheskaya kartinka dnya
Videli li vy podobnyi voshod Solnca? Oblaka razoshlis', i mozhno bylo nablyudat' voshod Solnca, kotoroe vyglyadelo razdelennym na dve chasti, vo vremya chastnogo zatmeniya. Dlya fotografa eto byl samyi udivitel'nyi voshod za vsyu ego zhizn'. Solnce pokrasnelo iz-za poglosheniya sveta v atmosfere.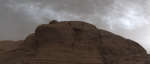 Svetyashiesya oblaka na Marse
5.06.2021 | Astronomicheskaya kartinka dnya
Vyvetrennyi sloistyi sklon gory Merku vozvyshaetsya na perednem plane etoi kartinki, sozdannoi iz izobrazhenii, poluchennyh kameroi Mastcam na marsohode K'yuriositi. 21 snimok byl poluchen srazu posle zakata 19 marta – v 3063-i marsianskii den' s nachala issledovanii K'yuriositi na Krasnoi planete.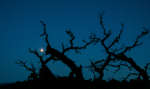 Chudovishnaya krovavaya Luna
4.06.2021 | Astronomicheskaya kartinka dnya
26 maya polnaya Cvetochnaya Luna byla zapechatlena na etom snimke, kogda ona vyhodila iz teni Zemli i utrennie sumerki nachinali podsvechivat' nebo na zapade. Zatmivshiisya lunnyi disk v konce polnoi fazy zatmeniya poziruet okolo gorizonta, pozadi ogolennyh dubov v Nacional'nom parke Pinnakls v central'noi Kalifornii. Ten' Zemli ne polnost'yu temnaya.