Astronomicheskaya kartinka dnya (APOD)
za dekabr' 2019 goda.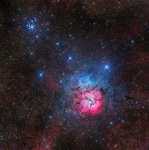 Mess'e 20 i 21
29.12.2019 | Astronomicheskaya kartinka dnya
Prekrasnuyu Trehrazdel'nuyu tumannost', izvestnuyu takzhe kak Mess'e 20, legko naiti s pomosh'yu nebol'shogo teleskopa v bogatom tumannostyami sozvezdii Strel'ca. Raznocvetnaya tumannost' udalena ot nas na 5 tysyach svetovyh let i yavlyaetsya podhodyashim ob'ektom dlya issledovaniya kosmicheskih kontrastov.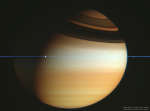 "Kassini" peresekaet ploskost' kolec Saturna
28.12.2019 | Astronomicheskaya kartinka dnya
Esli eto Saturn, to gde zhe kol'ca? Kogda "pridatki" Saturna ischezli v 1612 godu, Galileo Galilei ne ponyal, pochemu eto proizoshlo. Odnako pozdnee v 17 veke stalo yasno, chto neobychnye "vystupy" u diska Saturna – eto kol'ca, i kogda Zemlya peresekaet ploskost' kolec, oni vidny "s rebra" i pochti ne zametny.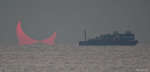 Voshod iskazhennogo zatmivshegosya Solnca
27.12.2019 | Astronomicheskaya kartinka dnya
Videli li vy podobnyi voshod Solnca? Oblaka razoshlis', i mozhno bylo nablyudat' voshod Solnca vo vremya chastnogo zatmeniya, kotoroe vyglyadelo razdelennym na dve chasti. Dlya fotografa eto byl samyi udivitel'nyi voshod za vsyu ego zhizn'. Solnce pokrasnelo iz-za poglosheniya sveta v atmosfere.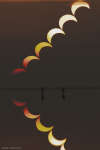 Otrazheniya chastnogo solnechnogo zatmeniya
26.12.2019 | Astronomicheskaya kartinka dnya
Chto sluchilos' s Solncem? Esli vchera vy nahodilis' v pravil'nom meste v pravil'noe vremya, to mogli uvidet' voshod Solnca, chastichno zakrytogo Lunoi. Neobychnaya kartina byla zapechatlena na etoi fotografii, ob'edinivshei posledovatel'nost' iz shesti kadrov. Zatmenie vidno ne tol'ko na nebe, no i v otrazhenii ot solenogo ozera Soltan v Irane.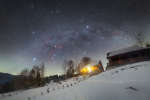 Severnyi zimnii shestiugol'nik
25.12.2019 | Astronomicheskaya kartinka dnya
V eto prazdnichnoe vremya nastupilo dekabr'skoe novolunie, i v nekotoryh mestah mozhno bylo nablyudat' solnechnoe zatmenie. Vo vsem mire lyubiteli sozercat' nebesa mogli uvidet' prekrasnoe temnoe nochnoe nebo. Na kartinke, zapechatlevshei bezlunnuyu severnuyu zimnyuyu noch', voshodyat yarkie zvezdy Zimnego shestiugol'nika i Mlechnyi Put'.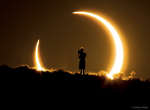 Kol'ceobraznoe solnechnoe zatmenie nad N'yu-Meksiko
24.12.2019 | Astronomicheskaya kartinka dnya
Chto delaet etot chelovek? V 2012 godu kol'ceobraznoe zatmenie Solnca bylo vidno iz uzkoi polosy, kotoraya peresekala severnuyu chast' Tihogo okeana i neskol'ko zapadnyh shtatov v SShA. Kol'ceobraznoe solnechnoe zatmenie proishodit, kogda Luna slishkom daleka ot Zemli i ne mozhet celikom zakryt' Solnce, kotoroe vyglyadyvaet iz-za diska Luny, sozdavaya ognennoe kol'co.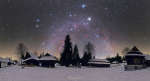 Panorama severnogo zimnego neba
23.12.2019 | Astronomicheskaya kartinka dnya
Kakie zvezdy siyayut na nebe severnogo polushariya Zemli zimoi? Na kartinke zapechatleny yarkie zvezdy, kotorye byli vidny v nachale etogo mesyaca. Eto – 360-gradusnaya panorama, smontirovannaya iz 66 vertikal'nyh kadrov, snyatyh posledovatel'no odnoi kameroi iz odnogo mesta okolo 2 chas 30 min nochi.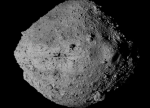 OSIRIS REx: vybor mesta dlya sbora obrazcov s asteroida Bennu
22.12.2019 | Astronomicheskaya kartinka dnya
Gde nahoditsya luchshee mesto, chtoby sobrat' obrazcy s poverhnosti asteroida Bennu? V 2016 godu NASA zapustilo avtomaticheskii apparat OSIRIS-REx (Origins, Spectral Interpretation, Resource Identification, Security, Regolith Explorer – Issledovatel' proishozhdeniya, spektrov, resursov, bezopasnosti i regolita), chtoby issledovat' 500-metrovyi asteroid 101955 Bennu.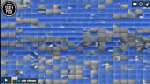 Ot solncestoyaniya do solncestoyaniya: god neba
21.12.2019 | Astronomicheskaya kartinka dnya
Smozhete li vy naiti den' zimnego solncestoyaniya? Kazhdyi pryamougol'nik pokazyvaet odin den'. Vsego ih 360, i v kazhdom mozhno uvidet' nebo v uskorennom dvizhenii. Zapis' sdelana videokameroi na kryshe muzeya Eksploratorium v San-Francisko, Kaliforniya.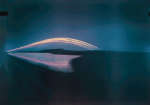 Ot solncestoyaniya do solncestoyaniya: solyarografiya
20.12.2019 | Astronomicheskaya kartinka dnya
Dekabr'skoe solncestoyanie – pervyi den' zimy v severnom polusharii planety Zemlya i leta v yuzhnom polusharii – v 2019 godu nastupit v 4:19 po Vsemirnomu vremeni 22 dekabrya. Odnako v Severnoi Amerike eto budet 21 dekabrya. Otmet'te etot den', posmotrev etu animaciyu, zapechatlevshuyu dvizhenie Solnca po nebu v raznye vremena goda.