Astronomicheskaya kartinka dnya (APOD)
za avgust 2019 goda.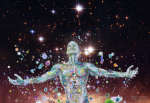 Human as Spaceship
18.08.2019 | Astronomicheskaya kartinka dnya
You are a spaceship soaring through the universe. So is your dog. We all carry with us trillions of microorganisms as we go through life. These multitudes of bacteria, fungi, and archaea have different DNA than you. Collectively called your microbiome, your shipmates outnumber your own cells.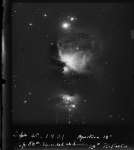 1901 Photograph: The Orion Nebula
17.08.2019 | Astronomicheskaya kartinka dnya
By the turn of the 20th century advances in photography contributed an important tool for astronomers. Improving photographic materials, long exposures, and new telescope designs produced astronomical images with details not visible at the telescopic eyepiece alone.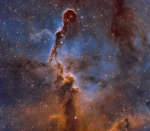 Tumannost' Slonovii hobot v Cefee
16.08.2019 | Astronomicheskaya kartinka dnya
Kak illyustraciya k galakticheskim "Skazkam prosto tak", tumannost' Slonovii hobot izvivaetsya vokrug emissionnoi tumannosti i molodogo zvezdnogo skopleniya v komplekse IC 1396, vysoko v nebe v sozvezdii Cefeya. Dlina kosmicheskogo slonov'ego hobota, izvestnogo takzhe kak vdB 142 – bolee 20 svetovyh let.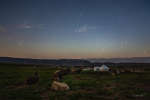 Perseidy i Plug
15.08.2019 | Astronomicheskaya kartinka dnya
Nesmotrya na meshayushii svet Luny, mnogie obitateli planety Zemlya smogli v etom godu nablyudat' meteornyi potok Perseidy. Na etom sel'skom peizazhe zapechatleny mestnye lyubiteli sozercat' nebo, lyubuyushiesya korotkimi vspyshkami v nebe v predrassvetnye chasy 13 avgusta, okolo maksimuma aktivnosti potoka, s lugov Nalati v Sin'czyane v Kitae.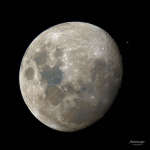 Saturn pozadi Luny
14.08.2019 | Astronomicheskaya kartinka dnya
Chto eto okolo Luny? — Saturn. V nachale etoi nedeli, sovershaya svoe ezhemesyachnoe puteshestvie vokrug Zemli i po zemnomu nebu, Luna proshla pochti tochno pered obrashayushimsya vokrug Solnca Saturnom. Iz shirokoi polosy v yuzhnom...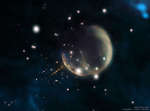 Sverhnovaya vystrelivaet pul'sar J0002
13.08.2019 | Astronomicheskaya kartinka dnya
Chto mozhet vystrelit' neitronnoi zvezdoi, kak pushechnym yadrom? — Sverhnovaya. Okolo 10 tysyach let nazad sverhnovaya, sozdavshaya tumannost' – ostatok CTB 1, ne tol'ko razrushila massivnuyu zvezdu, no i vybrosila sformirovavshuyusya pri vzryve neitronnuyu zvezdu – pul'sar – v Galaktiku Mlechnyi Put'.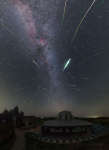 Meteory iz potoka Perseid nad Slovakiei
12.08.2019 | Astronomicheskaya kartinka dnya
Eta noch' horosha dlya nablyudenii meteorov. Pyl' iz komety prol'etsya dozhdem na planetu Zemlya, na temnom nebe budut vidny yarkie vspyshki vo vremya maksimuma ezhegodnogo meteornogo potoka Perseidy. Eto izobrazhenie bylo polucheno v proshlom godu, meteory iz potoka Perseid zapechatleny iz parka temnogo neba Poloniny v Slovakii.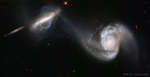 Arp 87: slivayushiesya galaktiki
11.08.2019 | Astronomicheskaya kartinka dnya
Eto smertel'nyi tanec. Kosmicheskii most iz zvezd, gaza i pyli protyanulsya na 75 tysyach svetovyh let i soedinil dve bol'shie galaktiki, uchastvuyushie v poedinke. Most svidetel'stvuet o tom, chto dve ogromnye zvezdnye sistemy sblizhalis' drug s drugom i ispytyvali burnoe prilivnoe vzaimodeistvie, vyzvannoe silami gravitacii.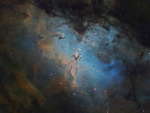 M16 krupnym planom
10.08.2019 | Astronomicheskaya kartinka dnya
Molodoe zvezdnoe skoplenie, vozrast kotorogo okolo 2 millionov let, okruzheno oblakami kosmicheskoi pyli, iz kotoroi ono sformirovalos', i svetyashegosya gaza. M16 takzhe nazyvayut tumannost'yu Orla. Na udivitel'no podrobnom izobrazhenii zapechatleny kosmicheskie skul'ptury, kotorye izvestny vsem po fotografiyam etoi oblasti zvezdoobrazovaniya, sdelannym Kosmicheskim teleskopom imeni Habbla.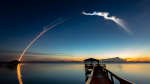 "Atlas" na rassvete
9.08.2019 | Astronomicheskaya kartinka dnya
Na etoi fotografii, snyatoi s ekspoziciei v 251 sekundu, zapechatleno nachalo poleta rakety "Atlas-V". Zapusk rakety kompanii "United Launch Alliance" sostoyalsya 8 avgusta v 6:13 utra po mestnomu vremeni iz Voenno-vozdushnoi stancii na myse Kanaveral na planete Zemlya. Sled byl napravlen na vostok, navstrechu rassvetu.