Astronomicheskaya kartinka dnya (APOD)
za iyul' 2019 goda.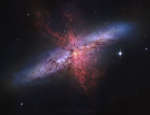 M82: Galaxy with a Supergalactic Wind
23.07.2019 | Astronomicheskaya kartinka dnya
Why is the Cigar Galaxy billowing red smoke? M82, as this starburst galaxy is also known, was stirred up by a recent pass near large spiral galaxy M81. This doesn't fully explain the source of the red-glowing outwardly expanding gas and dust, however.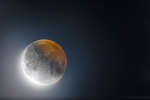 Kruglaya ten' Zemli na Lune
22.07.2019 | Astronomicheskaya kartinka dnya
Chto moglo sozdat' takuyu bol'shuyu krugluyu ten' na Lune? — Zemlya. Na proshloi nedele polnaya Luna – Olen'ya Luna – nahodilas' pochti tochno na linii, soedinyayushei Solnce i Zemlyu. Kogda eto proishodit, Zemlya otbrasyvaet ten' na Lunu.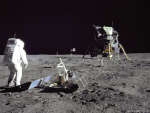 Neozhidanno chastye lunotryaseniya
21.07.2019 | Astronomicheskaya kartinka dnya
Pochemu proishodit tak mnogo lunotryasenii? Analiz dannyh, poluchennyh seismometrami, ostavlennymi na Lune ekspediciyami na korablyah Apollon, pokazal, chto neozhidanno mnogo lunotryasenii proishodit na glubine do 100 kilometrov ot poverhnosti. Deistvitel'no, s 1972 po 1977 gody bylo zaregistrirovano 62 lunotryaseniya. Mnogie iz etih lunotryasenii nedostatochno sil'ny, chtoby sdvinut' mebel' v lunnoi kvartire.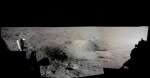 Panorama mesta posadki Apollona-11
20.07.2019 | Astronomicheskaya kartinka dnya
Vy videli nedavno panoramu iz drugogo mira? Eta panorama, smontirovannaya iz otskanirovannyh s vysokim razresheniem kadrov na fotoplenkah, zapechatlela pustynnye prostory okolo mesta posadki Apollona-11 v lunnom more Spokoistviya. Snimki byli sdelany Nilom Armstrongom iz illyuminatora posadochnogo modulya "Orel" pyat'desyat let nazad, srazu posle posadki 20 iyulya 1969 goda.

Panorama bazy Spokoistviya
19.07.2019 | Astronomicheskaya kartinka dnya
20 iyulya 1969 g. posadochnyi modul' Orel korablya Apollon-11 sovershil uspeshnuyu posadku na Lune. Mesto posadki nahodilos' okolo yugo-zapadnogo ugla lunnogo morya Spokoistviya, ono bylo nazvano bazoi Spokoistviya. Eta panorama bazy Spokoistvie byla smontirovana iz istoricheskih fotografii, snyatyh s poverhnosti Luny.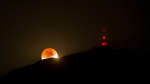 Shadowed Moon and Mountain
18.07.2019 | Astronomicheskaya kartinka dnya
On July 16 the Moon celebrated the 50th anniversary of the launch of Apollo 11 with a lunar eclipse visible from much of planet Earth. In this view part of the lunar disk is immersed in Earth's dark, reddened umbral shadow. Near the maximum eclipse phase, it just touches down along a mountain ridge.
Apollo 11: Descent to the Moon
17.07.2019 | Astronomicheskaya kartinka dnya
It had never been done before. But with the words "You're Go for landing", 50 years ago this Saturday, Apollo 11 astronauts Aldrin and Armstrong were cleared to make the first try.
Apollo 11 Launches Humans to the Moon
16.07.2019 | Astronomicheskaya kartinka dnya
Everybody saw the Moon. Nobody had ever been there. Humans across planet Earth watched in awe 50 years ago today as a powerful Saturn V rocket attempted to launch humans -- to the Moon. Some...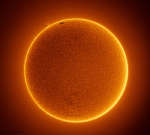 Kosmicheskaya stanciya peresekaet Solnce bez pyaten
15.07.2019 | Astronomicheskaya kartinka dnya
Eto – ne solnechnoe pyatno. Eto – Mezhdunarodnaya kosmicheskaya stanciya (MKS), zapechatlennaya vo vremya prohozhdeniya po disku Solnca. U solnechnyh pyaten est' temnaya central'naya chast' – umbra, okruzhennaya bolee svetloi penumbroi, i u nih ne byvaet solnechnyh panelei. MKS – eto slozhnyi mehanizm, odna iz samyh bol'shih i sovershennyh mashin, sozdannyh chelovechestvom.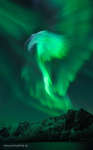 Severnoe siyanie v vide orla nad Norvegiei
14.07.2019 | Astronomicheskaya kartinka dnya
Chto eto v nebe? – Severnoe siyanie. Ogromnyi koronal'nyi vybros, kotoryi proizoshel na Solnce v 2012 godu, za pyat' dnei do togo, kak byl sdelan etot snimok, napravil v storonu Zemli oblako bystro dvizhushihsya elektronov, protonov i ionov.