Astronomicheskaya kartinka dnya (APOD)
za 2019 god.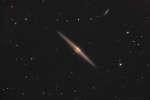 NGC 4565: Galaxy on Edge
21.02.2019 | Astronomicheskaya kartinka dnya
Magnificent spiral galaxy NGC 4565 is viewed edge-on from planet Earth. Also known as the Needle Galaxy for its narrow profile, bright NGC 4565 is a stop on many telescopic tours of the northern sky, in the faint but well-groomed constellation Coma Berenices.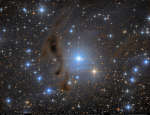 Otrazheniya v vdB 9
20.02.2019 | Astronomicheskaya kartinka dnya
V centre etogo nebesnogo natyurmorta nahoditsya krasivaya golubaya tumannost' vdB 9 – devyatyi ob'ekt v kataloge otrazhatel'nyh tumannostei, sostavlennom Sidneem van den Bergom v 1966 godu. Pole zreniya etogo teleskopicheskogo izobrazheniya primerno v dva raza bol'she vidimogo razmera diska polnoi Luny.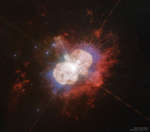 Obrechennaya zvezda η Kilya
19.02.2019 | Astronomicheskaya kartinka dnya
η Kilya mozhet skoro vzorvat'sya. No nikto ne znaet kogda – mozhet byt', v sleduyushem godu, a mozhet byt', cherez million let. Massa η Kilya pochti v 100 raz prevyshaet massu nashego Solnca, chto delaet ee ves'ma veroyatnym kandidatom v sverhnovye.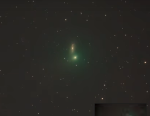 Kometa Ivamoto pered spiral'noi galaktikoi NGC 2903
18.02.2019 | Astronomicheskaya kartinka dnya
Ne kazhduyu noch' kometa prohodit okolo galaktiki. V proshlyi chetverg kometa C/2018 Y1 (Ivamoto), kotoruyu mozhno uvidet' v binokl', proshla pochti tochno pered spiral'noi galaktikoi NGC 2903. Yarkost' komety i galaktiki byla primerno odinakovoi. Kometa Ivamoto byla otkryta v konce proshlogo goda, ona obrashaetsya vokrug Solnca po vytyanutomu ellipsu.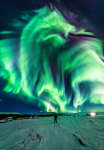 Drakon severnogo siyaniya nad Islandiei
17.02.2019 | Astronomicheskaya kartinka dnya
Videli li vy v nebe drakona? V deistvitel'nosti letayushie drakony ne sushestvuyut, odnako ogromnoe severnoe siyanie, pohozhee na drakona, bylo vidno v nebe nad Islandiei v nachale etogo mesyaca. Severnoe siyanie bylo vyzvano dyroi v solnechnoi korone, iz kotoroi byli vybrosheny zaryazhennye chasticy.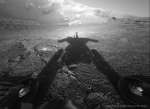 Ten' marsianskogo robota
16.02.2019 | Astronomicheskaya kartinka dnya
Predstav'te, chto vy nahodites' na Marse i uvideli svoyu ten', kotoraya ne pohozha na ten' cheloveka. Eto mozhet oznachat', chto vy – marsohod Opport'yuniti, issledovavshii Mars. Opport'yuniti izuchal Krasnuyu planetu s 2004 do 2018 goda, on obnaruzhil sledy vody, tekushei v proshlom po poverhnosti, i posylal zahvatyvayushie snimki cherez vsyu vnutrennyuyu chast' Solnechnoi sistemy.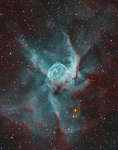 NGC 2359: Shlem Tora
15.02.2019 | Astronomicheskaya kartinka dnya
Eto imeyushee formu shlema kosmicheskoe oblako s pohozhimi na kryl'ya pridatkami obychno nazyvayut Shlemom Tora. Razmer Shlema Tora dostigaet 30 svetovyh let – dazhe skandinavskomu bogu on ne pokazhetsya malen'kim. V deistvitel'nosti shlem bol'she pohozh na kosmicheskii puzyr', vydutyi bystrym vetrom ot yarkoi massivnoi zvezdy okolo ego centra v okruzhayushem molekulyarnom oblake.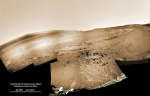 "Opport'yuniti" v doline Nastoichivosti
14.02.2019 | Astronomicheskaya kartinka dnya
"Opport'yuniti" dostig doliny Nastoichivosti v iyune 2018 goda. Otkryvshiisya emu vid pokazan na etoi mozaike iz izobrazhenii, poluchennyh kameroi Navcam na bortu marsohoda. Dolina Nastoichivosti – podhodyashee nazvanie dlya etogo mesta. "Opport'yuniti" byl rasschitan...

Semeinyi portret Solnechnoi sistemy
13.02.2019 | Astronomicheskaya kartinka dnya
V Den' Svyatogo Valentina v 1990 godu kosmicheskii apparat Voyadzher-1, proletaya na rasstoyanii v 4 milliarda mil' ot Solnca, oglyanulsya, chtoby zapechatlet' etot pervyi semeinyi portret nashei Solnechnoi sistemy. Polnyi portret – eto mozaika iz 60 izobrazhenii, poluchennyh iz tochki, raspolozhennoi pod uglom 32 gradusa nad ploskost'yu ekliptiki.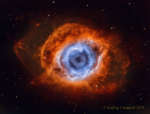 Tumannost' Ulitka v svechenii vodoroda i kisloroda
12.02.2019 | Astronomicheskaya kartinka dnya
Deistvitel'no li tumannost' Ulitka smotrit na vas? Konechno, net, odnako ona vyglyadit dovol'no pohozhei na glaz. Tumannost' Ulitka nazvana tak, potomu chto kazhetsya, chto my smotrim vdol' osi spirali. Teper' stalo ponyatno, chto struktura tumannosti ochen' slozhnaya, v nei est' radial'nye volokna i protyazhennye vneshnie petli.