Astronomicheskaya kartinka dnya (APOD)
za 2019 god.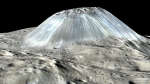 Unusual Mountain Ahuna Mons on Asteroid Ceres
16.06.2019 | Astronomicheskaya kartinka dnya
What created this unusual mountain? There is a new theory. Ahuna Mons is the largest mountain on the largest known asteroid in our Solar System, Ceres, which orbits our Sun in the main asteroid belt between Mars and Jupiter. Ahuna Mons, though, is like nothing that humanity has ever seen before.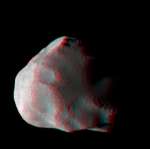 Stereo Helene
15.06.2019 | Astronomicheskaya kartinka dnya
Get out your red/blue glasses and float next to Helene, small, icy moon of Saturn. Appropriately named, Helene is one of four known Trojan moons, so called because it orbits at a Lagrange point. A Lagrange point is a gravitationally stable position near two massive bodies, in this case Saturn and larger moon Dione.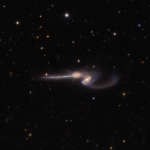 NGC 4676: moguchie myshki
14.06.2019 | Astronomicheskaya kartinka dnya
Dve ogromnye galaktiki razryvayut drug druga na chasti. Izvestnye kak Myshki iz-za svoih ochen' dlinnyh hvostov, eti spiral'nye galaktiki uzhe prohodili odna skvoz' druguyu. Dlinnye hvosty obrazuyutsya iz-za deistviya gravitacionnyh prilivnyh sil, a ne iz-za stolknovenii otdel'nyh zvezd.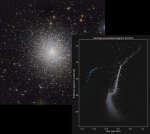 Cveta i zvezdnye velichiny v M13
13.06.2019 | Astronomicheskaya kartinka dnya
M13 chasto nazyvayut Bol'shim sharovym zvezdnym skopleniem v Gerkulese. Shar iz neskol'kih soten tysyach zvezd s diametrom okolo 150 svetovyh let udalen ot nas na 25 tysyach svetovyh let. Chetkoe cvetnoe izobrazhenie M13 vverhu sleva znakomo mnogim astrofotografam.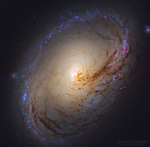 Spiral'naya galaktika M96 ot teleskopa im.Habbla
12.06.2019 | Astronomicheskaya kartinka dnya
Kazhetsya, chto polosy pyli zakruchivayutsya vokrug yadra Mess'e 96 na etom podrobnom cvetnom portrete prekrasnoi ostrovnoi vselennoi. Konechno, M96 – eto spiral'naya galaktika, ee razmer, vklyuchaya slabye rukava, prostirayushiesya daleko za predely central'noi yarkoi oblasti, prevyshaet sto tysyach svetovyh let, chto pohozhe na razmer nashego Mlechnogo Puti.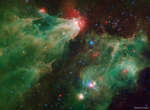 Tumannost' Peshera v infrakrasnom svete
11.06.2019 | Astronomicheskaya kartinka dnya
Chto proishodit vnutri i vokrug tumannosti Peshera? Chtoby popytat'sya uznat' eto, orbital'nyi teleskop NASA im.Spitcera nablyudal etu temnuyu v optike oblast' zvezdoobrazovaniya v chetyreh diapazonah infrakrasnogo izlucheniya. Tumannost' Peshera, zanesennaya v katalog kak Sh2-155, dovol'no yarka v infrakrasnom svete.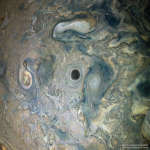 Bezdna Yupitera
10.06.2019 | Astronomicheskaya kartinka dnya
Chto eto za chernoe pyatno na Yupitere? Nikto poka ne mozhet dat' tochnogo otveta. Vo vremya poslednego proleta avtomaticheskogo kosmicheskogo apparata NASA "Yunona" okolo Yupitera byli polucheny snimki neobychno temnogo oblaka, kotoroe poluchilo neformal'noe nazvanie "Bezdna". Okruzhayushie oblaka pokazyvayut, chto Bezdna – centr vodovorota.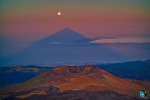 Treugol'naya ten' bol'shogo vulkana
9.06.2019 | Astronomicheskaya kartinka dnya
Pochemu ten' etogo vulkana vyglyadit kak treugol'nik? Sam vulkan Maunt Teide vovse ne imeet takoi pravil'noi piramidal'noi formy, kak mozhet pokazat'sya po vidu ego treugol'noi teni. Odnako, pohozhee yavlenie treugol'nyh tenei harakterno ne tol'ko dlya Maunt Teide. Takoe zrelishe obychno mozhno uvidet' s vershin vseh vysokih gor i vulkanov.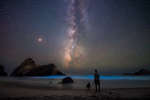 Na beregu s Marsom
8.06.2019 | Astronomicheskaya kartinka dnya
V konce leta v severnom polusharii v proshlom godu Mars vse eshe yarko siyal noch'yu posle svoego oslepitel'nogo protivostoyaniya. Nebesnyi mayak privlek vnimanie dvuh lyubitelei sozercat' nochnoe nebo, kotorye nepodvizhno stoyali nekotoroe vremya, dostatochnoe, chtoby okazat'sya zapechatlennymi na etom nochnom peizazhe iz Big-Sura na planete Zemlya.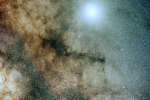 Planeta i Trubka
7.06.2019 | Astronomicheskaya kartinka dnya
Yarkaya planeta Yupiter siyaet na nochnom nebe na fone bogatogo zvezdami i tumannostyami polya v nashei Galaktike. Na etoi cvetnoi fotografii central'noi chasti Mlechnogo Puti, sdelannoi s teleob'ektivom, on viden okolo verhnego kraya, svoim bleskom podavlyaya vse okruzhenie. Pole zreniya snimka – okolo 20 gradusov.