Astronomicheskaya kartinka dnya (APOD)
za 2018 god.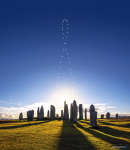 Equinox: Analemma over the Callanish Stones
22.09.2018 | Astronomicheskaya kartinka dnya
Does the Sun return to the same spot on the sky every day at the same time? No. A more visual answer to that question is an analemma, a composite image taken from the same spot at the same time over the course of a year.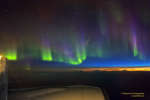 Window Seat over Hudson Bay
21.09.2018 | Astronomicheskaya kartinka dnya
On the August 18 night flight from San Francisco to Zurich, a window seat offered this tantalizing view when curtains of light draped a colorful glow across the sky over Hudson Bay. Constructed...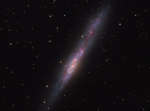 Nepravil'naya galaktika NGC 55
20.09.2018 | Astronomicheskaya kartinka dnya
Nepravil'naya galaktika NGC 55, veroyatno, pohozha na Bol'shoe Magellanovo Oblako (BMO). Odnako esli BMO udaleno ot nas vsego na 180 tysyach svetovyh let i yavlyaetsya horosho izvestnym sputnikom nashei Galaktiki Mlechnyi Put', to NGC 55 nahoditsya gorazdo dal'she – na rasstoyanii v 6 millionov svetovyh let i prinadlezhit k gruppe galaktik Skul'ptora.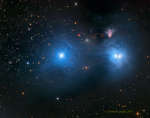 Zvezdy i pyl' v Yuzhnoi Korone
19.09.2018 | Astronomicheskaya kartinka dnya
Oblaka kosmicheskoi pyli protyanulis' poperek bogatogo molodymi zvezdami polya na etom teleskopicheskom izobrazhenii, zapechatlevshem oblast' okolo severnoi granicy sozvezdiya Yuzhnaya Korona. Samaya plotnaya chast' pylevogo oblaka nahoditsya na rasstoyanii menee 500 svetovyh let, imeet dlinu okolo 8 svetovyh let i effektivno pogloshaet svet bolee dalekih zvezd Mlechnogo Puti.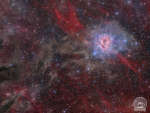 Glubokoe pole s tumannost'yu Kokon
18.09.2018 | Astronomicheskaya kartinka dnya
Vnutri tumannosti Kokon nahoditsya zarozhdayusheesya zvezdnoe skoplenie. Kosmicheskii Kokon nahoditsya v verhnei pravoi chasti kartinki, a dlinnyi ryad pogloshayushih svet oblakov mezhzvezdnoi pyli protyanulsya nalevo ot nego. Zanesennaya v katalog pod nomerom IC 5146, eta krasivaya tumannost' razmerom okolo 15 svetovyh let raspolozhena v severnom sozvezdii Lebedya, na rasstoyanii okolo 3300 svetovyh let.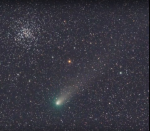 Sol', perec i led
17.09.2018 | Astronomicheskaya kartinka dnya
Fotogenichnaya kometa seichas dvizhetsya po nebu. Kometa 21P / Dzhiakobini-Cinnera nemnogo slabee predela vidimosti nevooruzhennym glazom. U nee razvilsya dlinnyi hvost, poetomu ona yavlyaetsya horoshei cel'yu dlya nablyudenii s pomosh'yu binoklya i dlya chuvstvitel'nyh fotokamer. Etot videofil'm demonstriruet dvizhenie komety 21P po nebu, 90 minut s'emki szhaty do 2.5 sekund.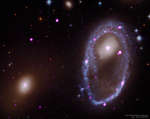 Kosmicheskoe stolknovenie sformirovalo kol'co vokrug galaktiki
16.09.2018 | Astronomicheskaya kartinka dnya
Kak galaktika priobrela formu, pohozhuyu na kol'co? Goluboi obodok vokrug galaktiki v pravoi chasti etoi fotografii – eto ogromnaya kol'ceobraznaya struktura diametrom 150 tysyach svetovyh let, sostoyashaya iz molodyh, ochen' yarkih massivnyh zvezd. Eta galaktika – AM 0644-741 – izvestna kak kol'ceobraznaya galaktika, kotoraya obrazovalas' v rezul'tate grandioznogo stolknoveniya galaktik.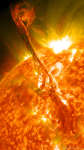 Vybros solnechnogo volokna
15.09.2018 | Astronomicheskaya kartinka dnya
Chto sluchilos' s nashim Solncem? Nichego osobenno neobychnogo – ono prosto vybrosilo volokno. V seredine 2012 goda proizoshel proryv davno sushestvovavshego solnechnogo volokna v kosmicheskoe prostranstvo, v rezul'tate voznik moshnyi koronal'nyi vybros. Volokno v techenie neskol'kih dnei uderzhivalos' peremennym magnitnym polem Solnca, i izverzhenie proizoshlo neozhidanno.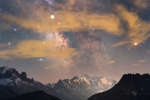 Monblan, meteor i Mlechnyi Put'
14.09.2018 | Astronomicheskaya kartinka dnya
Zasnezhennyi Monblan viden okolo centra etogo nochnogo nebesnogo peizazha, zapechatlevshego vid na yug iz yuzhnoi chasti Shveicarskih Al'p na samuyu vysokuyu vershinu Evropy. Vysokie tonkie oblaka zakryli chast' neba, odnako na 13-sekundnoi ekspozicii vse-taki udalos' zapechatlet' slabye zvezdy i temnye pylevye polosy Mlechnogo Puti nad znamenitoi beloi goroi.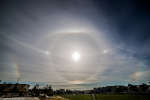 Ledyanye galo nad 'ellounaifom
13.09.2018 | Astronomicheskaya kartinka dnya
Veroyatno, vy uzhe videli krug vokrug Solnca. Ledyanye galo, naprimer, 22-gradusnoe krugovoe galo, vstrechayutsya chashe, chem radugi. Ih legko uvidet', osobenno esli zakryt' glaza ot pryamogo solnechnogo sveta. Odnako takoe mnozhestvo ledyanyh galo mozhno uvidet' dovol'no redko.