Astronomicheskaya kartinka dnya (APOD)
za 2018 god.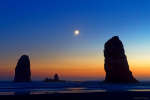 Moon and Venus over Cannon Beach
17.07.2018 | Astronomicheskaya kartinka dnya
What's that spot next to the Moon? Venus. Two days ago, the crescent Moon slowly drifted past Venus, appearing within just two degrees at its closest. This conjunction, though, was just...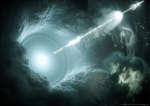 Neitrino, svyazannye s dzhetom dalekogo blazara
16.07.2018 | Astronomicheskaya kartinka dnya
S pomosh'yu apparatury, vmerzshei v led gluboko pod yuzhnym polyusom Zemli, chelovechestvo otkrylo neitrino, priletevshie iz dalekoi oblasti Vselennoi. Esli otkrytie budet podtverzhdeno, eto okazhetsya pervoi nadezhnoi registraciei neitrino s kosmologicheskih rasstoyanii i obnaruzheniem svyazi mezhdu vysokoenergichnymi neitrino i kosmicheskimi luchami, sozdavaemymi moshnymi dzhetami vo vspyhivayushih kvazarah (blazarah).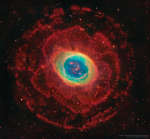 Kol'ca vokrug tumannosti Kol'co
15.07.2018 | Astronomicheskaya kartinka dnya
Horosho znakomaya tumannost' Kol'co (M57) na samom dele gorazdo bol'she togo, chto mozhno uvidet' v malen'kii teleskop. Diametr legko razlichimogo central'nogo kol'ca – okolo odnogo svetovogo goda, no na etom chrezvychaino glubokom snimke, sostavlennom iz dannyh s treh bol'shih teleskopov, stanovyatsya vidny petli iz volokon svetyashegosya gaza, tyanushiesya gorazdo dal'she ot central'noi zvezdy tumannosti.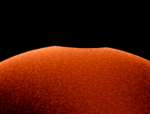 Sherbina na Solnce
14.07.2018 | Astronomicheskaya kartinka dnya
Samoe slaboe iz treh chastnyh solnechnyh zatmenii 2018 goda proizoshlo vchera, v pyatnicu 13 iyulya. Zatmenie mozhno bylo nablyudat' v osnovnom iz otkrytogo okeane mezhdu Avstraliei i Antarktidoi. Odnako etot videokadr, zapechatlevshii kroshechnuyu sherbinku...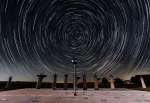 Sledy zvezd i solnechnye "radio-chasy" Breisvella
13.07.2018 | Astronomicheskaya kartinka dnya
V solnechnyh chasah polozhenie teni pokazyvaet vremya i sluzhit dlya izmereniya vrasheniya Zemli. Eti solnechnye chasy okolo Ochen' bol'shogo massiva radioteleskopov v shtate N'yu-Meksiko byli sozdany v pamyat' ob istorii radioastronomii i ob odnom iz osnovopolozhnikov radioastronomii – Ronal'de Breisvelle.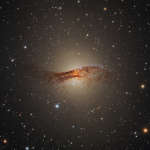 Centavr A
12.07.2018 | Astronomicheskaya kartinka dnya
Centavr A – blizhaishaya k Zemle aktivnaya galaktika, udalennaya ot nas vsego na 11 millionov svetovyh let. Eta pekulyarnaya ellipticheskaya galaktika, protyanuvshayasya bolee chem na 60 tysyach svetovyh let i takzhe izvestnaya kak NGC 5128, zapechatlena na etom chetkom teleskopicheskom izobrazhenii.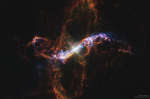 Simbioticheskaya zvezda R Vodoleya
11.07.2018 | Astronomicheskaya kartinka dnya
Esli nablyudat' etu zvezdu s pomosh'yu binoklya v techenie goda, to mozhno uvidet', kak ona izmenyaet yarkost'. Peremennaya zvezda R Vodoleya – eto vzaimodeistvuyushaya dvoinaya zvezdnaya sistema – dve blizkie zvezdy, mezhdu kotorymi voznikli simbioticheskie otnosheniya.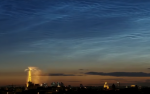 Serebristye oblaka nad parizhskim feierverkom
10.07.2018 | Astronomicheskaya kartinka dnya
Nastupil sezon severnyh serebristyh oblakov – podhodyashee vremya dlya prazdnovaniya! Serebristye oblaka sostoyat iz malen'kih kristallov l'da, formiruyushihsya tol'ko pri opredelennyh usloviyah v verhnei atmosfere, ih mozhno uvidet' letom, kogda oni podsvechivayutsya snizu Solncem. Serebristye oblaka – samye vysokie iz vseh izvestnyh oblakov, ih takzhe nazyvayut polyarnymi mezosfernymi oblakami.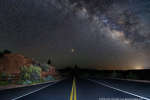 Doroga k Marsu
9.07.2018 | Astronomicheskaya kartinka dnya
Chto eto za svetilo v konce dorogi? — Mars. Nastupil podhodyashii mesyac dlya togo, chtoby pokazat' Mars vashim druz'yam i chlenam sem'i, potomu chto sosednyaya planeta dostignet naibol'shei yarkosti za 15 let i budet vidna pochti vsyu noch'.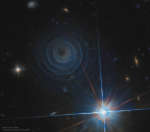 Udivitel'naya spiral' v LL Pegasa
8.07.2018 | Astronomicheskaya kartinka dnya
Kak voznikla strannaya spiral'naya struktura, kotoraya vidna vyshe i levee centra na etoi kartinke? Poka okonchatel'nogo otveta net, odnako vozmozhno, ona svyazana so zvezdoi v dvoinoi sisteme, vstupayushei v stadiyu planetarnoi tumannosti, kogda ee vneshnyaya atmosfera sbrasyvaetsya. Razmer ogromnoi spirali – okolo odnoi treti svetovogo goda.