Astronomicheskaya kartinka dnya (APOD)
za 2018 god.
Unexpected Trajectory Interstellar Asteroid Oumuamua
20.11.2018 | Astronomicheskaya kartinka dnya
Why is 'Oumuamua differing from its expected trajectory? Last year, 1I/2017 U1 'Oumuamua became the first known asteroid from interstellar space to pass through our Solar System. Just over a year ago, this tumbling interstellar rock even passed rather close to the Earth.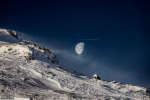 Nepolnaya Luna nad shvedskimi gorami
19.11.2018 | Astronomicheskaya kartinka dnya
Eto – Luna v faze mezhdu polnoluniem i poslednei chetvert'yu. Dlya bol'shinstva obitatelei Zemli bolee znakomy polnaya Luna, kogda ves' disk Luny osveshen Solncem, i polumesyac, kogda osveshen tol'ko krai lunnogo diska. Kogda osvesheno bolee poloviny Luny, no vse zhe ne ves' disk, eta faza nazyvaetsya nepolnoi.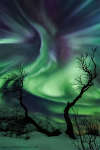 Polyarnoe siyanie nad Norvegiei v vide skazochnogo sushestva
18.11.2018 | Astronomicheskaya kartinka dnya
Nastupil Hellouin, i nebo vyglyadelo kak skazochnoe sushestvo. Astrofotograf ne znaet, chto eto za sushestvo (odnako, mozhet byt', vy smozhete predlozhit' svoi variant). No tochno izvestno, chto porodilo takuyu zloveshuyu kartinu v 2013 godu: odno iz samyi krasochnyh polyarnyh siyanii v nedavnei istorii. Eto effektnoe polyarnoe siyanie razrisovalo nebo s neobychainymi detalyami.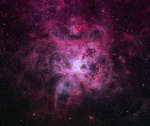 Tumannost' Tarantul
17.11.2018 | Astronomicheskaya kartinka dnya
Diametr tumannosti Tarantul, takzhe izvestnoi kak 30 Zolotoi Ryby – bolee tysyachi svetovyh let. Eta gigantskaya oblast' zvezdoobrazovaniya nahoditsya v galaktike Bol'shoe Magellanovo Oblako na rasstoyanii okolo 180 tysyach svetovyh let ot nas. Eto kosmicheskoe paukoobraznoe – samye bol'shie i samye burnye zvezdnye yasli vo vsei Mestnoi gruppe galaktik.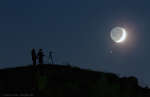 The Hill, The Moon, and Saturn
16.11.2018 | Astronomicheskaya kartinka dnya
Last Sunday when the Moon was young its sunlit crescent hung low near the western horizon at sunset. With strong earthshine it was joined by Saturn shining in the early evening sky for a beautiful conjunction visible to skygazers around our fair planet.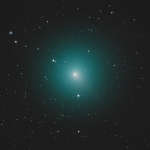 Kometa 46P Virtanena
15.11.2018 | Astronomicheskaya kartinka dnya
Periodicheskaya kometa 46P/Virtanena seichas – samaya yarkaya kometa na nochnom nebe, no vse-taki ona nedostatochno yarkaya, chtoby ee mozhno bylo uvidet' nevooruzhennym glazom. Odnako vozmozhno, ona stanet vidna nevooruzhennym glazom iz mest s temnym nebom.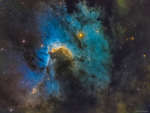 Tumannost' Peshera v izluchenii vodoroda, kisloroda i sery
14.11.2018 | Astronomicheskaya kartinka dnya
Chto nahoditsya vnutri kosmicheskoi peshery? Zvezdnye yasli razmerom 10 svetovyh let. Na etom nebesnom peizazhe dominiruet pylevaya tumannost' Sh2-155, ili tumannost' Peshera. Kartinka smontirovana iz teleskopicheskih izobrazhenii, poluchennyh s uzkopolosnymi fil'trami. Izluchenie vodoroda, kisloroda i sery pokazano razlichnymi cvetami po sheme, ispol'zuemoi dlya snimkov teleskopa im.Habbla.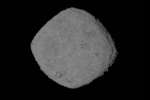 Vrashayushiisya asteroid Bennu ot apparata OSIRIS REx
13.11.2018 | Astronomicheskaya kartinka dnya
Mozhet li etot blizkii asteroid kogda-nibud' stolknut'sya s Zemlei? Mozhet, no esli eto i proizoidet, to takogo sobytiya pridetsya zhdat' ochen' dolgo. Odnako v sleduyushem stoletii asteroid, veroyatno, proletit vnutri orbity Luny. Chtoby luchshe...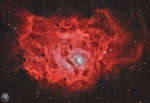 Tumannost' Laguna: zvezdy, pyl' i gaz
12.11.2018 | Astronomicheskaya kartinka dnya
V velikolepnoi bol'shoi tumannosti Laguna mnogo molodyh zvezd i goryachego gaza. Ona udalena ot nas vsego na 5 tysyach svetovyh let, a ee razmer – 100 svetovyh let. Tumannost' Laguna takaya bol'shaya i yarkaya, chto ee mozhno uvidet' dazhe bez teleskopa v sozvezdii Strel'ca.

Panorama s Apollona-15: astronavty issleduyut Lunu
11.11.2018 | Astronomicheskaya kartinka dnya
Kakovo eto – issledovat' Lunu? Chelovechestvo uznalo eto v konce 1960-h i nachale 1970-h godov, kogda NASA osushestvilo programmu Apollon. Ekspediciya kosmicheskogo korablya Apollon-15 byla posvyashena issledovaniyu lunnoi poverhnosti i izucheniyu gor, dolin, morei i vozvyshennostei na Lune. Astronavty Devid Skott i Dzheims Irvin proveli na Lune pochti tri dnya.