Astronomicheskaya kartinka dnya (APOD)
za 2017 god.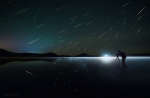 Meteors over Inner Mongolia
13.12.2017 | Astronomicheskaya kartinka dnya
Did you ever get caught in a meteor shower? If yes, then every minute or so the sky sparked with fleeting flashes of light. This was the fate of the pictured astrophotographer during last year's Perseids meteor shower.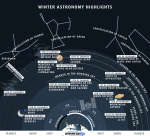 Astronomicheskie yavleniya na zimnem nebe
12.12.2017 | Astronomicheskaya kartinka dnya
Chto proizoidet na nebe etoi zimoi? Na kartinke pokazany nekotorye astronomicheskie yavleniya dlya severnogo polushariya Zemli. Kartinka pohozha na ciferblat s centrom vnizu, prichem sobytiya, kotorye proizoidut v nachale zimy, otmecheny sleva, a ozhidaemye v konce zimy – sprava.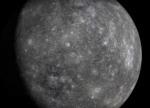 Polet nad Merkuriem ot "Messendzhera"
11.12.2017 | Astronomicheskaya kartinka dnya
Kakovo eto – proletet' nad planetoi Merkurii? Izobrazheniya i dannye, poluchennye avtomaticheskim kosmicheskim apparatom NASA "Messendzher", kotoryi obrashalsya vokrug Merkuriya s 2011 po 2015 god, byli ob'edineny pri cifrovoi obrabotke tak, chtoby sozdat' vpechatlenie virtual'nogo poleta nad bol'shei chast'yu poverhnosti goryachei planety.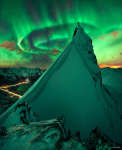 V zelenoi kompanii: polyarnoe siyanie nad Norvegiei
10.12.2017 | Astronomicheskaya kartinka dnya
Podnimite ruki, esli uvidite polyarnoe siyanie. Imenno s takimi instrukciyami proshli dve nochi nablyudenii. Vprochem, obe oni byli oblachnymi. Na tret'yu noch', kogda nablyudateli vernulis' na tu zhe goru, nebo ne tol'ko ochistilos' ot oblakov, no i ozarilos' krasochnym polyarnym siyaniem.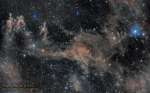 Zvezdnaya pyl' v Ovne
9.12.2017 | Astronomicheskaya kartinka dnya
Eta kompoziciya iz zvezdnoi pyli pokryvaet bolee 8 gradusov na severnom nebe. Pole zreniya raspolozheno zapadnee znakomogo zvezdnogo skopleniya Pleyady, v zodiakal'nom sozvezdii Ovna i v ploskosti nashei Galaktiki Mlechnyi Put'. Okolo pravogo kraya glubokogo izobrazheniya nahoditsya golubaya zvezda ε Ovna, kotoraya udalena ot nas na 330 svetovyh let i vidna nevooruzhennym glazom.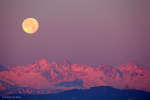 Zahod Luny nad Al'pami i holmom Superga
8.12.2017 | Astronomicheskaya kartinka dnya
Dekabr'skoe polnolunie proizoshlo, kogda Luna nahodilas' okolo perigeya – samoi blizkoi k Zemle tochke na ee orbite. Bol'shoi i yarkii, polnost'yu osveshennyi Solncem lunnyi disk zahodit nad skalistymi gorami na etom peizazhe, zapechatlevshim vid rannim utrom iz Turina v Italii.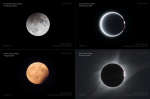 Vse zatmeniya 2017 goda
7.12.2017 | Astronomicheskaya kartinka dnya
Vse lunnye i solnechnye zatmeniya 2017 goda, kotorye mozhno bylo uvidet' s planety Zemlya, pokazany v odnom masshtabe na chetyreh kartinkah. Nebesnye igry tenei etogo goda byli zapechatleny v chetyreh raznyh stranah odnim predpriimchivym ohotnikom za zatmeniyami. Nachalo sezona zatmenii pokazano vverhu sleva: polnaya Luna byla sfotografirovana v fevrale v Chehii.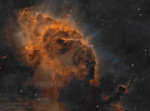 HH 666: pylevoi stolb s dzhetom v Kile
6.12.2017 | Astronomicheskaya kartinka dnya
Nekotorym eto mozhet pokazat'sya pohozhim na ulei so zloi pcheloi. Na samom dele eto izobrazhenie, poluchennoe teleskopom im.Habbla, zapechatlelo kosmicheskii pylevoi stolb dlinoi v dva svetovyh goda, vnutri kotorogo nahoditsya ob'ekt Herbiga-Aro 666 – molodaya zvezda, vybrasyvayushaya moshnyi dzhet.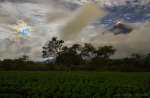 Gorizont s golubym i krasnym
5.12.2017 | Astronomicheskaya kartinka dnya
Chto proishodit na gorizonte? Na gorizonte, za polem shpinata v Gvatemale, vidny ne tol'ko derev'ya, no i bol'shoi vulkan de Fuego (Ognennyi vulkan). Krasnoe svechenie na vershine vulkana – goryachaya lava. Odnako vashe vnimanie mozhet privlech' takzhe goluboi krug nad gorizontom sleva. On okruzhaet Lunu i nazyvaetsya koronoi.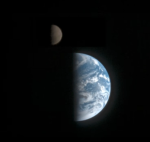 Zemlya i Luna
4.12.2017 | Astronomicheskaya kartinka dnya
Zemlyu i Lunu fotografiruyut vmeste ochen' redko. Odin iz takih zamechatel'nyh sluchaev predstavilsya 25 let nazad v etom mesyace, kogda napravlyavshiisya k Yupiteru kosmicheskii apparat Galileo proletel okolo nashei planetnoi sistemy. Togda Galileo nablyudal...