Astronomicheskaya kartinka dnya (APOD)
za sentyabr' 2015 goda.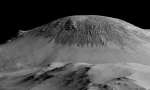 Sezonnye izmeneniya polos na Marse govoryat o tom, chto nedavno tam tekla voda
30.09.2015 | Astronomicheskaya kartinka dnya
Otkuda na Marse vzyalis' eti menyayushiesya polosy? Eti temnye osobennosti poverhnosti, nazyvaemye rekurrentnymi naklonnymi liniyami (Recurring Slope Linea — RSL), nachinayutsya na sklonah holmov i kraterov, no obychno ne dohodyat do niza. Eshe bolee...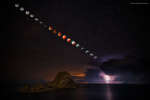 Polnoe zatmenie superluny i groza
29.09.2015 | Astronomicheskaya kartinka dnya
Est' li chto-nibud' bolee redkoe, chem polnoe zatmenie superluny? Vozmozhno, eto polnoe zatmenie superluny nad grozoi. Eta effektnaya seriya snimkov byla sdelana vchera na Ibice – ostrove na yugo-vostoke Ispanii. Astrofotograf tshatel'no vybral krasivoe mesto s'emki, rasschital vremya, chtoby zapechatlet' vsyu posledovatel'nost' zatmeniya.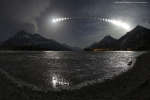 Polnoe lunnoe zatmenie nad ozerom Uoterton
28.09.2015 | Astronomicheskaya kartinka dnya
Eta fotografiya polnogo lunnogo zatmeniya byla sdelana v aprele 2014 goda, v kachestve peizazha byl vybran yuzhnyi bereg pokrytogo l'dom ozera Uoterton v Nacional'nom parke Uoterton-Leiks v Al'berte, v Kanade, na planete Zemlya. Na samom gorizonte vidneyutsya gornye vershiny Nacional'nogo parka Gleisher v SShA.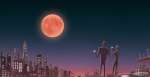 Segodnya noch'yu: zatmenie superluny
27.09.2015 | Astronomicheskaya kartinka dnya
Segodnya noch'yu yarkaya polnaya Luna potemneet i pokrasneet. Etoi noch'yu Luna budet osobenno yarkoi, potomu chto ona dostignet fazy polnoluniya, nahodyas' sravnitel'no blizko ot Zemli na svoei ellipticheskoi orbite. Etu polnuyu Lunu nazyvayut superlunoi...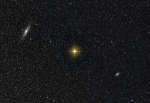 M31 protiv M33
26.09.2015 | Astronomicheskaya kartinka dnya
Spiral'nye galaktiki M31 (sleva) i M33 na nebe planety Zemlya razdelyayut okolo 14 gradusov (28 diskov polnoi Luny). Obe galaktiki vmeste s nashim Mlechnym Putem vhodyat v Mestnuyu gruppu galaktik. Eto izobrazhenie smontirovano...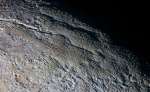 "Zmeinaya kozha" na Plutone
25.09.2015 | Astronomicheskaya kartinka dnya
Goristaya oblast', neoficial'no izvestnaya kak Tartarus Dorsa, protyanulas' na 530 kilometrov na etom peizazhe Plutona. Cvetnoe izobrazhenie smontirovano iz kadrov, snyatyh v sinem, krasnom i infrakrasnom diapazonah. Dannye byli nedavno peredany apparatom "Novye Gorizonty", a polucheny oni byli vo vremya sblizheniya s Plutonom 14 iyulya.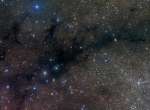 LDN 988 i druz'ya
24.09.2015 | Astronomicheskaya kartinka dnya
Zvezdy formiruyutsya v temnom, bogatom pyl'yu molekulyarnom oblake LDN 988. LDN 988 i drugie blizkie temnye tumannosti, nahodyashiesya okolo centra kartinki, udaleny ot nas primerno na dve tysyachi svetovyh let i byli zaneseny v katalog Beverli T. Lindsom v 1962 godu, ispol'zuya plastinki Palomarskogo obzora neba.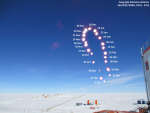 Antarkticheskaya analemma
23.09.2015 | Astronomicheskaya kartinka dnya
Does the Sun return to the same spot on the sky every day? No. A better and more visual answer to that question is an analemma, a composite image taken from the same spot at the same time over the course of a year.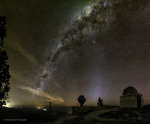 Mlechnyi Put' nad stanciei Bosku Alegre v Argentine
22.09.2015 | Astronomicheskaya kartinka dnya
Chto eto za svetlye polosy v nebe? Vo-pervyh, izognuvshayasya dugoi struktura – eto central'naya polosa nashei Galaktiki Mlechnyi Put'. V etoi galakticheskoi polose vidny milliony dalekih zvezd i mnogochislennye prozhilki temnoi pyli. Trudnee razglyadet' pochti vertikal'nyi luch sveta, podnimayushiisya ot gorizonta pravee centra kartinki.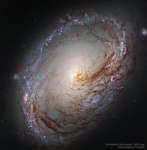 Spiral'naya galaktika M96 ot Habbla
21.09.2015 | Astronomicheskaya kartinka dnya
Kazhetsya, chto polosy pyli zakruchivayutsya vokrug yadra Mess'e 96 na etom podrobnom cvetnom portrete prekrasnoi ostrovnoi vselennoi. Konechno, M96 — eto spiral'naya galaktika, i ee razmer, vklyuchaya slabye rukava, prostirayushiesya daleko za predely central'noi yarkoi oblasti, prevyshaet sto tysyach svetovyh let, chto pohozhe na razmer nashego Mlechnogo Puti.