Astronomicheskaya kartinka dnya (APOD)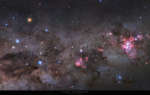 Southern Cross to Eta Carinae
26.04.2019 | Astronomicheskaya kartinka dnya
Tracking along the southern Milky Way this beautiful celestial mosaic was recorded under dark Brazilian skies. Spanning some 20 degrees it actually starts with the dark expanse of the Coalsack nebula at the lower left, tucked under an arm of the Southern Cross.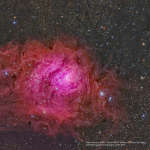 Tumannost' Laguna ot teleskopa Pan-STARRS
25.04.2019 | Astronomicheskaya kartinka dnya
Polosy svetyashegosya mezhzvezdnogo gaza i temnye pylevye oblaka obitayut v bespokoinyh kosmicheskih glubinah tumannosti Laguna. Yarkaya oblast' zvezdoobrazovaniya, izvestnaya takzhe kak M8, udalena ot nas na 5 tysyach svetovyh let. Ona yavlyaetsya populyarnym ob'ektom dlya puteshestvii s teleskopom po sozvezdiyu Strel'ca, v napravlenii na centr nashei Galaktiki Mlechnyi Put'.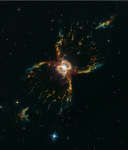 Forma Yuzhnogo Kraba
24.04.2019 | Astronomicheskaya kartinka dnya
Tumannost' Yuzhnyi Krab vydelyaetsya svoei slozhnoi simmetrichnoi formoi, pohozhei na vlozhennye drug v druga pesochnye chasy. Tumannost' nahoditsya v yuzhnom sozvezdii Centavra, na rasstoyanii v 7 tysyach svetovyh let. V ee centre raspolozhena zamechatel'naya simbioticheskaya dvoinaya zvezdnaya sistema, sostoyashaya iz goryachego belogo karlika i holodnogo, pul'siruyushego krasnogo giganta, kotoraya i sozdaet zamechatel'nuyu tumannost'.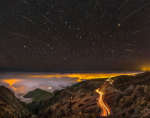 Meteory, kometa i Bol'shoi Kovsh nad La-Pal'moi
23.04.2019 | Astronomicheskaya kartinka dnya
Meteornye potoki – eto gruppy tverdyh chastic, vmeste dvizhushihsya v kosmose. Razmer etih chastic – kak u pylinok, odnako est' i bolee krupnye. V bol'shinstve sluchaev orbity meteornyh potokov pozvolyayut otozhdestvit' ih s pyl'yu, vybroshennoi iz komet. Kogda Zemlya prohodit skvoz' potok, chastichki ostavlyayut yarkie sledy v nochnom nebe, razrushayas' v zemnoi atmosfere.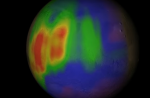 Zagadochnyi metan na Marse
22.04.2019 | Astronomicheskaya kartinka dnya
Est' li na Marse metan i otkuda on beretsya? Problema stanovitsya vse bolee zaputannoi. Orbital'nyi apparat dlya issledovaniya malyh gazovyh sostavlyayushih v atmosfere, sozdannyi EKA i Roskosmosom po programme EkzoMars, poluchil novye, neozhidannye rezul'taty: metan v atmosfere Marsa ne obnaruzhen.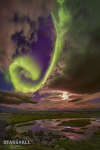 Spiral'noe severnoe siyanie nad Islandskim razlomom
21.04.2019 | Astronomicheskaya kartinka dnya
Voshishaites' krasotoi, no opasaites' chudovisha. Prekrasnoe severnoe siyanie prinyalo formu ogromnoi zelenoi spirali. Ono nahoditsya mezhdu zhivopisnymi oblakami, yarkaya Luna i zvezdy vidny na dal'nem fone. Chudovishe – eto volna zaryazhennyh chastic, kotoraya sozdala severnoe siyanie, odnako kogda-to mozhet prichinit' usherb civilizacii. V 1859 godu severnye siyaniya byli vidny po vsemu zemnomu sharu.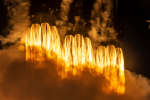 Zapusk rakety Falkon Hevi
20.04.2019 | Astronomicheskaya kartinka dnya
Plamya vyryvaetsya iz dvadcati semi dvigatelei Merlin na etom snimke krupnym planom zapuska rakety Falkon Hevi. Raketa Falkon Hevi sobrana iz treh pervyh stupenei rakety Falkon-9, kazhdaya ih kotoryh osnashena devyat'yu dvigatelyami Merlin. Zapusk sostoyalsya 11 aprelya so startovoi ploshadki 39A Kosmicheskogo centra im.Kennedi NASA.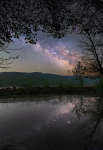 Vesennii Mlechnyi Put'
19.04.2019 | Astronomicheskaya kartinka dnya
Na vesennem nochnom peizazhe zapechatlen vid nad ozerom Alandan v gorah Al'borc na planete Zemlya. Snimok byl sdelan 17 aprelya posle polunochi, kogda central'naya chast' Mlechnogo Puti voshodila nad yugo-vostochnym gorizontom. Siyanie zvezd i tumannostei v ploskosti nashei Galaktiki otrazilos' v zerkal'noi gladi ozera.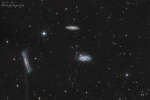 Triplet L'va
18.04.2019 | Astronomicheskaya kartinka dnya
Eta gruppa galaktik populyarna vesnoi v severnom polusharii. Ona izvestna kak Triplet L'va – tri velikolepnye galaktiki sobralis' v odnom pole zreniya. Ih izobrazheniya vyglyadyat vpechatlyayushe, dazhe esli oni polucheny na nebol'shih teleskopah. Vot perechen' galaktik, vhodyashih v gruppu: NGC 3628 (sleva), M66 (vnizu sprava) i M65 (vverhu). Vse tri – ogromnye spiral'nye galaktiki.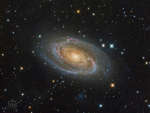 Mess'e 81
17.04.2019 | Astronomicheskaya kartinka dnya
Odna iz yarchaishih galaktik na nebe Zemli – bol'shaya krasivaya galaktika Mess'e 81, po razmeram sravnimaya s Mlechnym Putem. Ona takzhe izvestna kak NGC 3031 ili galaktika Bode, v chest' astronoma, otkryvshego ee v 18-m veke. Velikolepnuyu spiral'nuyu galaktiku mozhno naiti na nebe v napravlenii na severnoe sozvezdie Bol'shoi Medvedicy.