Astronomicheskaya kartinka dnya (APOD)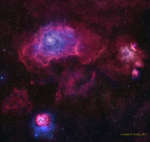 A Sagittarius Triplet
26.07.2017 | Astronomicheskaya kartinka dnya
These three bright nebulae are often featured on telescopic tours of the constellation Sagittarius and the crowded starfields of the central Milky Way. In fact, 18th century cosmic tourist Charles Messier cataloged two of them; M8, the large nebula above and left of center, and colorful M20 near the bottom of the frame.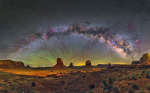 Mlechnyi Put' nad Dolinoi Monumentov
25.07.2017 | Astronomicheskaya kartinka dnya
Ne obyazatel'no priezzhat' v Dolinu Monumentov, chtoby uvidet' takuyu dugu Mlechnogo Puti na nebe, hotya tam ona deistvitel'no mozhet byt' vidna luchshe. No tol'ko v Doline Monumentov v SShA vy smozhete uvidet' krasochnyi peizazh s ogromnymi skalami – ostancami.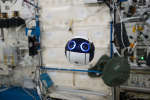 Dron "Int-Ball" aktivirovan na kosmicheskoi stancii
24.07.2017 | Astronomicheskaya kartinka dnya
Vas presleduet privlekatel'nyi letayushii myach, kotoryi fotografiruet vas? Togda vy, veroyatno, astronavt na bortu Mezhdunarodnoi kosmicheskoi stancii (MKS). Skonstruirovannaya Yaponskim aerokosmicheskim issledovatel'skim agentstvom Vnutrennyaya sharovaya kamera yaponskogo issledovatel'skogo modulya (JEM Internal Ball Camera), kotoruyu...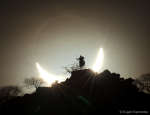 A Hybrid Solar Eclipse over Kenya
23.07.2017 | Astronomicheskaya kartinka dnya
Chasing solar eclipses can cause you to go to the most interesting places and meet the most interesting people. Almost. For example, chasing this eclipse brought this astrophotographer to Kenya in 2013. His contact...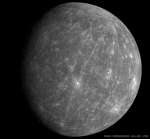 "Messendzher" pokazyvaet Merkurii
22.07.2017 | Astronomicheskaya kartinka dnya
Nikogda do etogo Merkurii ne udavalos' rassmotret' takim obrazom. V 2008 godu avtomaticheskii kosmicheskii apparat "Messendzher" vo vtoroi raz proletel okolo Merkuriya i sfotografiroval oblasti, grubye karty kotoryh byli ranee polucheny tol'ko s pomosh'yu radara. Eto izobrazhenie bylo polucheno cherez 90 minut posle proleta "Messendzhera" okolo planety, s vysoty 27 tysyach kilometrov.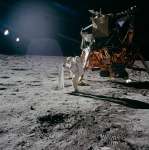 Apollon-11: kak poimat' nemnogo Solnca
21.07.2017 | Astronomicheskaya kartinka dnya
Yarkii svet Solnca i dlinnye temnye teni pridayut osobuyu vyrazitel'nost' etoi fotografii lunnoi poverhnosti, snyatoi astronavtom Apollona-11 Nilom Armstrongom – pervym chelovekom, stupivshim na Lunu. Na fotografii viden lunnyi posadochnyi modul' Orel i odetyi v kosmicheskii skafandr pilot lunnogo modulya Baz Oldrin, razvorachivayushii dlinnuyu polosu fol'gi – sbornik dlya solnechnogo vetra.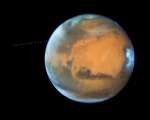 Fobos: sputnik nad Marsom
20.07.2017 | Astronomicheskaya kartinka dnya
Fobos – malen'kii sputnik s zhutkim imenem – poyavlyaetsya iz-za Krasnoi planety na etoi serii snimkov, sdelannyh obrashayushimsya vokrug Zemli kosmicheskim teleskopom im.Habbla. 13 ekspozicii byli sdelany v techenie 22 minut vo vremya samogo tesnogo sblizheniya Marsa s planetoi Zemlya v 2016 godu. Chtoby uvidet' voshod Fobosa, marsianam nuzhno smotret' na zapad.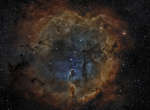 IC 1396: emissionnaya tumannost' v Cefee
19.07.2017 | Astronomicheskaya kartinka dnya
V velikolepnoi emissionnoi tumannosti IC 1396 smeshalis' svetyashiisya kosmicheskii gaz i temnye pylevye oblaka, nahodyashiesya v vysokom i dalekom sozvezdii Cefeya. Podpityvaemaya energiei yarkoi central'noi zvezdy, eta oblast' zvezdoobrazovaniya rastyanulas' na sotni svetovyh let. Na nebe Zemli ona zanimaet 3 gradusa, a rasstoyanie do nee – vsego 3 tysyachi svetovyh let.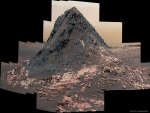 Ireson Hill on Mars
18.07.2017 | Astronomicheskaya kartinka dnya
What created this unusual hill on Mars? Its history has become a topic of research, but its shape and two-tone structure makes it one of the more unusual hills that the robotic Curiosity rover on Mars has rolled near. Dubbed Ireson Hill, the mound rises about 5 meters high and spans about 15 meters across.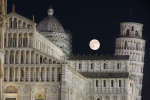 Grozovaya Luna nad Pizoi
17.07.2017 | Astronomicheskaya kartinka dnya
Chto ne tak na etoi kartinke? Esli vy poimete eto, to dogadaetes', gde byla sdelana fotografiya. Neobychnym yavlyaetsya odno iz zdanii – ono naklonilos'. Padayushaya Pizanskaya bashnya stala legendarnoi vskore posle togo, kak v 1173 godu nachalos' ee stroitel'stvo. Seichas ona yavlyaetsya priznannym YuNESKO ob'ektom vsemirnogo kul'turnogo naslediya.