Astronomicheskaya kartinka dnya (APOD)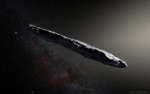 APOD: 2017 November 22 Oumuamua: Interstellar Asteroid
22.11.2017 | Astronomicheskaya kartinka dnya
Nothing like it has ever been seen before. The unusual space rock 'Oumuamua is so intriguing mainly because it is the first asteroid ever detected from outside our Solar System -- although likely many more are to follow given modern computer-driven sky monitoring.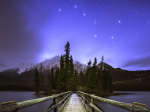 Bol'shoi Kovsh nad goroi Piramida
21.11.2017 | Astronomicheskaya kartinka dnya
Kogda vy vpervye nauchilis' nahodit' etu gruppu zvezd? Etot asterizm znakom mnogim lyudyam vo vsem mire, odnako v raznyh kul'turah on svyazan s razlichnymi obrazami i predaniyami. V SShA on izvesten kak Bol'shoi Kovsh, ego zvezdy vhodyat v sozvezdie, nazvanie kotorogo bylo utverzhdeno Mezhdunarodnym astronomicheskim soyuzom v 1922 godu – Bol'shaya Medvedica.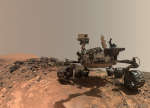 Marsohod K'yuriositi delaet selfi na Marse
20.11.2017 | Astronomicheskaya kartinka dnya
A vy kogda-nibud' delali selfi na Marse? Eto udalos' sdelat' marsohodu K'yuriositi. Etot avtoportret smontirovan iz mnozhestva izobrazhenii, poetomu na nem ne viden mehanicheskii manipulyator, na kotorom zakreplena kamera. (Hotya ego ten' vidna!) Eto izobrazhenie bylo polucheno v seredine 2015 goda.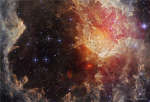 NGC 7822: zvezdy i pylevye stolby v infrakrasnom svete
19.11.2017 | Astronomicheskaya kartinka dnya
Molodye zvezdy razrushayut svoi yasli v NGC 7822. Na etom kosmicheskom peizazhe, zapechatlennom v infrakrasnom svete kosmicheskim apparatom NASA dlya shirokougol'nogo infrakrasnogo obzora neba WISE, v tumannosti vidny yarkie kromki i slozhnye pylevye struktury.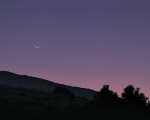 Luna ulybaetsya v pyatnicu
18.11.2017 | Astronomicheskaya kartinka dnya
V pyatnicu staraya Luny ulybalas' dlya prosnuvshihsya rannim utrom. Ee ubyvayushii osveshennyi Solncem serp zapechatlen na etoi fotografii, snyatoi pri yasnom nebe iz okrestnostei Bursy v Turcii na planete Zemlya. V sumerkah nebo okrasheno v tonkie ottenki, yarkie nebesnye svetila na nem – Yupiter (vverhu) i Venera, sverkayushaya okolo vostochnogo gorizonta.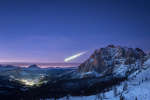 Yarkii bolid
17.11.2017 | Astronomicheskaya kartinka dnya
Zakat okrasil nebo v myagkie rozovatye ottenki na etom gornom moroznom peizazhe. Na fotografii, sdelannoi 14 noyabrya, zapechatlen vid s perevala na zasnezhennye skalistye gory. Vnizu nahoditsya derevnya La Villa na gornolyzhnom kurorte Al'ta Badiya v ital'yanskih Dolomitovyh Al'pah. Nad ognyami derevni vidno sozvezdie Bol'shoi Medvedicy, navisshee nad severnym gorizontom.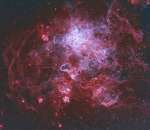 Tumannost' Tarantul
16.11.2017 | Astronomicheskaya kartinka dnya
Diametr tumannosti Tarantul – bolee tysyachi svetovyh let. Eta gigantskaya oblast' zvezdoobrazovaniya nahoditsya v galaktike Bol'shoe Magellanovo Oblako na rasstoyanii okolo 180 tysyach svetovyh let ot nas. Eto kosmicheskoe paukoobraznoe – samye bol'shie i samye burnye zvezdnye yasli vo vsei Mestnoi gruppe galaktik.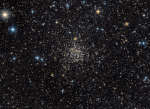 NGC 7789: Roza Karoliny
15.11.2017 | Astronomicheskaya kartinka dnya
Zvezdnoe skoplenie NGC 7789 nahoditsya na rasstoyanii okolo 8 tysyach svetovyh let ot nas v napravlenii na sozvezdie Kassiopei, sredi bogatyh zvezdnyh polei Mlechnogo Puti. Ono bylo otkryto v konce 18-go veka nablyudatel'nicei ob'ektov glubokogo kosmosa astronomom Karolinoi Lukreciei Gershel', i ego chasto nazyvayut Roza Karoliny.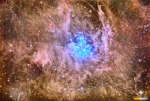 Pyl'nye Pleyady
14.11.2017 | Astronomicheskaya kartinka dnya
Znamenitoe zvezdnoe skoplenie Pleyady medlenno razrushaet proletayushee mimo oblako gaza i pyli. Pleyady – samoe yarkoe rasseyannoe skoplenie na nebe Zemli, ego mozhno uvidet' nevooruzhennym glazom prakticheski iz lyuboi tochki severnogo polushariya. Proplyvayushee mimo...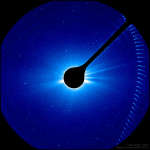 Kometa Machholca priblizhaetsya k Solncu
13.11.2017 | Astronomicheskaya kartinka dnya
Pochemu kometa Machholca tak bedna soderzhashimi uglerod himicheskimi veshestvami? Kometa 96P/Machholca stala izvestnoi, potomu chto ona proletaet blizhe k Solncu, chem lyubaya drugaya korotkoperiodicheskaya kometa. Minimal'noe rasstoyanie ot komety do Solnca v dva raza men'she, chem ot Solnca do Merkuriya, i sblizheniya proishodyat kazhdye pyat' let.