Astronomicheskaya kartinka dnya (APOD)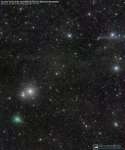 A Conjunction of Comets
23.09.2017 | Astronomicheskaya kartinka dnya
A conjunction of comets is captured in this pretty star field from the morning of September 17. Discovered in July by a robotic sky survey searching for supernovae, comet C/2017 O1 ASASSN is at the lower left. The visible greenish glow of its coma is produced by the fluorescence of diatomic carbon molecules in sunlight.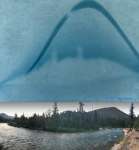 Solyarografiya s zatmeniem
22.09.2017 | Astronomicheskaya kartinka dnya
Segodnya – sentyabr'skoe ravnodenstvie. Solnce napravlyaetsya na yug, i ego put' po nebu peresechet nebesnyi ekvator v 20:02 po Vsemirnomu vremeni. Konechno, v den' ravnodenstviya den' i noch' pochti ravny na vsei planete Zemlya. Odnako 21 avgusta put' Solnca po nebu v nekotoryh mestah byl neobychen: nastupila korotkaya dopolnitel'naya noch'.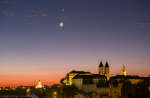 Sentyabr'skoe utrennee nebo
21.09.2017 | Astronomicheskaya kartinka dnya
Luna, tri planety i yarkaya zvezda sobralis' okolo ploskosti ekliptiki utrom 18 sentyabrya v nebe nad zamkom Vesprem v Vengrii. Na etom nebesnom sumerechnom peizazhe Merkurii i Mars vidny okolo vostochnogo gorizonta i skoro ischeznut v siyanii Solnca.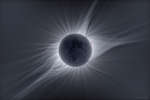 Bol'shaya korona
20.09.2017 | Astronomicheskaya kartinka dnya
Bol'shinstvo fotografii ne peredayut v dolzhnoi mere vse velikolepie solnechnoi korony. Luchshe vsego, konechno, samomu nablyudat' koronu vo vremya polnogo solnechnogo zatmeniya. Chelovecheskii glaz mozhet adaptirovat'sya i uvidet' takie detali korony, kotorye ne mozhet zaregistrirovat' obychnyi fotoapparat. Vprochem... Dobro pozhalovat' v cifrovuyu epohu.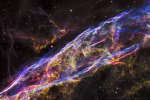 Tumannost' Vual': ostatki vzorvavsheisya zvezdy
19.09.2017 | Astronomicheskaya kartinka dnya
Volokna iz gaza – eto vse vidimye ostatki zvezdy iz Mlechnogo Puti. Primerno 7 tysyach let nazad eta zvezda vzorvalas' kak sverhnovaya i ostavila posle sebya tumannost' Vual', izvestnuyu takzhe kak Petlya v Lebede. Vo vremya vspyshki rasshiryayusheesya oblako, veroyatno, bylo takim zhe yarkim, kak serp Luny.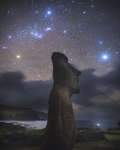 Orion nad ostrovom Pashi
18.09.2017 | Astronomicheskaya kartinka dnya
Zachem byli postroeny statui na ostrove Pashi? Nikto ne znaet tochnogo otveta. Izvestno, chto na ostrove stoit bolee 800 bol'shih kamennyh statui. Statui ostrova Pashi v srednem bolee chem v dva raza vyshe cheloveka i v 200 raz tyazhelee. Ochen' malo izvestno ob istorii i znachenii neobychnyh statui.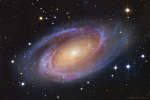 Yarkaya spiral'naya galaktika M81
17.09.2017 | Astronomicheskaya kartinka dnya
Odna iz yarchaishih galaktik na nebe Zemli – eto bol'shaya krasivaya galaktika M81, po razmeram sravnimaya s Mlechnym Putem. Etu ogromnuyu spiral'nuyu galaktiku mozhno naiti na nebe v napravlenii na severnoe sozvezdie Bol'shoi Medvedicy.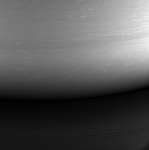 Poslednee izobrazhenie ot Kassini
16.09.2017 | Astronomicheskaya kartinka dnya
Kak i planirovalos', kosmicheskii apparat Kassini voshel v verhnie sloi atmosfery Saturna 15 sentyabrya, posle 13 let issledovanii sistemy Saturna. Dvigateli apparata rabotali do samogo konca. Vhod v atmosferu zavershil besprecedentnuyu seriyu iz 22 proletov mezhdu Saturnom i kol'cami.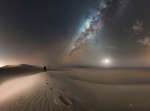 100 shagov vpered
15.09.2017 | Astronomicheskaya kartinka dnya
Prekrasnoe soedinenie Venery i Luny, chelovek, pesok i Mlechnyi Put' zapechatleny na etom nochnom peizazhe planety Zemlya. Panorama smontirovana iz 6 fotografii, snyatyh v moment okonchaniya puteshestviya. Na perednem plane – sledy na dyunah, kotorye iz-za vetra pokrylis' ryab'yu. Mesto s'emki nahoditsya vblizi oazisa Huakahina v yugo-zapadnoi pustyne v Peru.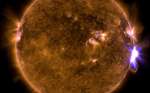 Proshai, AR2673!
14.09.2017 | Astronomicheskaya kartinka dnya
Ogromnaya aktivnaya oblast' AR2673 uzhe pochti ne vidna s nashei prekrasnoi planety, iz-za vrasheniya Solnca ona okazalas' na ego zapadnom krayu. 10 sentyabrya na nei proizoshla moshnaya vspyshka, soprovozhdavshayasya koronal'nym vybrosom. Sama vspyshka vidna sprava na etom izobrazhenii, poluchennom v ul'trafioletovom svete sledyashei za Solncem Observatoriei solnechnoi dinamiki.