Astronomicheskaya kartinka dnya (APOD)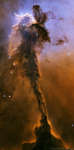 The Fairy of Eagle Nebula
24.09.2022 | Astronomicheskaya kartinka dnya
The dust sculptures of the Eagle Nebula are evaporating. As powerful starlight whittles away these cool cosmic mountains, the statuesque pillars that remain might be imagined as mythical beasts. Featured here is one of several striking dust pillars of the Eagle Nebula that might be described as a gigantic alien fairy.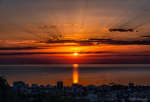 Teni sentyabr'skogo rassveta
23.09.2022 | Astronomicheskaya kartinka dnya
Tochnyi astronomicheskii moment etogo sentyabr'skogo ravnodenstviya – pyatnica, 23 sentyabrya 2022 goda, 01:03 Vsemirnogo vremeni, kogda Solnce pereseklo nebesnyi ekvator, dvigayas' na yug v svoem ezhegodnom puteshestvii po nebu planety Zemlya. Vo vsem mire prodolzhitel'nost' dnya i nochi primerno odinakova, nachinaetsya osen' v severnom polusharii i vesna v yuzhnom polusharii nashei prekrasnoi planety.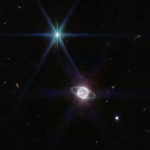 Okruzhennyi kol'cami ledyanoi gigant Neptun
22.09.2022 | Astronomicheskaya kartinka dnya
Okruzhennyi kol'cami ledyanoi gigant Neptun nahoditsya okolo centra etogo chetkogo izobrazheniya, poluchennogo kosmicheskim teleskopom "Dzheims Vebb" v blizhnem infrakrasnom diapazone. Etot tusklyi dalekii mir – samaya dalekaya ot Solnca planeta, ona primerno v 30 raz dal'she, chem planeta Zemlya. Mrachnyi temnyi vid Neptuna na etom effektnom izobrazhenii obuslovlen metanom v atmosfere, pogloshayushim infrakrasnyi svet.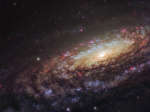 NGC 7331 krupnym planom
21.09.2022 | Astronomicheskaya kartinka dnya
Bol'shuyu, krasivuyu spiral'nuyu galaktiku NGC 7331 chasto nazyvayut analogom nashego Mlechnogo Puti. Ona raspolozhena v 50 millionah svetovyh let ot nas v severnom sozvezdii Pegasa. Davno bylo obnaruzheno, chto NGC 7331 yavlyaetsya spiral'noi tumannost'yu. Eto – odna iz samyh yarkih galaktik, kotoraya ne popala v znamenityi katalog Sharlya Mess'e, sostavlennyi v XVIII veke.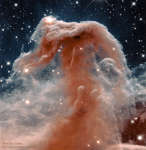 Tumannost' Konskaya Golova v infrakrasnom svete ot teleskopa imeni Habbla
20.09.2022 | Astronomicheskaya kartinka dnya
Plavayushee v kosmose mezhzvezdnoe oblako pyli podverglos' vozdeistviyu zvezdnyh vetrov i izlucheniya i prinyalo ochen' uznavaemuyu formu. Eto oblako, poluchivshee podhodyashee nazvanie tumannost' Konskaya golova, yavlyaetsya chast'yu obshirnoi, obladayushei slozhnoi strukturoi tumannosti Oriona (M42). Etot interesnyi ob'ekt neprosto uvidet' v malen'kii teleskop. Eto isklyuchitel'no chetkoe izobrazhenie bylo polucheno kosmicheskim teleskopom imeni Habbla v infrakrasnom svete.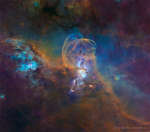 Oblast' zvezdoobrazovaniya NGC 3582 bez zvezd
19.09.2022 | Astronomicheskaya kartinka dnya
Chto proishodit v tumannosti Statuya Svobody? Yarkie zvezdy i interesnye molekuly formiruyutsya i osvobozhdayutsya. Tumannost' so slozhnoi strukturoi raspolozhena v oblasti zvezdoobrazovaniya RCW 57. Nekotorym kazhetsya, chto ona pohozha ne tol'ko na znamenityi monument, no i na letayushego supergeroya ili plachushego angela.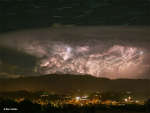 Sledy zvezd i molnii nad Pireneyami
18.09.2022 | Astronomicheskaya kartinka dnya
Na etoi kartinke zapechatleno mnogo yavlenii i ob'ektov, i kazhdyi po-svoemu krasiv. Vnizu vidna zhivopisnaya derevnya Manle v provincii Barselona, Ispaniya. Na shestiminutnoi ekspozicii svet avtomobil'nyh far prevratilsya v polosy. Dal'she zapechatlena gora – Serra de Bellmunt iz znamenitoi evropeiskoi gornoi sistemy Pirenei. Eshe dal'she bushuet moshnaya groza i vidny kuchevo-dozhdevye oblaka klassicheskoi formy.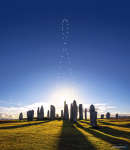 Analemma nad kamnyami Kallanish
17.09.2022 | Astronomicheskaya kartinka dnya
Vozvrashaetsya li Solnce na to zhe samoe mesto na nebe kazhdyi den' v odno vremya? Net. Naglyadnyi otvet na etot vopros – analemma, izobrazhenie, kotoroe poluchaetsya, esli fotografirovat' Solnce v odno vremya v techenie goda.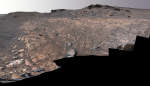 Perseverans v del'te kratera Ezero
16.09.2022 | Astronomicheskaya kartinka dnya
Kamera Mastcam-Z na marsohode Perseverans poluchila izobrazheniya, iz kotoryh smontirovana eta kartinka, 4 avgusta 2022 goda. Robot razmerom s avtomobil' prodolzhaet issledovat' imeyushuyu formu veera del'tu reki, kotoraya neskol'ko milliardov let nazad vpadala v krater Ezero na Marse.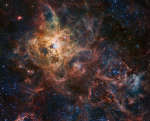 Zona Tarantula
15.09.2022 | Astronomicheskaya kartinka dnya
Diametr tumannosti Tarantul, izvestnoi takzhe kak 30 Zolotoi Ryby, bolee tysyachi svetovyh let. Eto – gigantskaya oblast' zvezdoobrazovaniya v sosednei galaktike Bol'shoe Magellanovo Oblako. Eto samaya bol'shaya i aktivnaya oblast' zvezdoobrazovaniya vo vsei Mestnoi gruppe galaktik, ot nas ona udalena na 180 tysyach svetovyh let.