Astronomicheskaya kartinka dnya (APOD)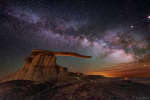 King of Wings Hoodoo under the Milky Way
28.03.2017 | Astronomicheskaya kartinka dnya
This rock structure is not only surreal -- it's real. The reason it's not more famous is that it is, perhaps, smaller than one might guess: the capstone rock overhangs only a few meters.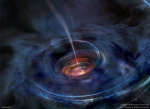 Akkreciruyushaya chernaya dyra s dzhetom
27.03.2017 | Astronomicheskaya kartinka dnya
Chto proishodit, kogda chernaya dyra pogloshaet zvezdu? Mnogie detali ostayutsya neizvestnymi, no nedavnie nablyudeniya mogut pomoch' raskryt' tainu. V 2014 godu moshnyi vzryv byl zaregistrirovan nazemnymi teleskopami-robotami proekta "Avtomatizirovannyi poisk sverhnovyh po vsemu nebu" (ASAS-SN). Posleduyushie nablyudeniya byli osushestvleny neskol'kimi instrumentami, vklyuchaya obrashayushiisya vokrug Zemli sputnik NASA "Svift".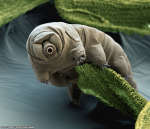 Tihohodka na mhe
26.03.2017 | Astronomicheskaya kartinka dnya
Eto prishelec? Skoree vsego net, odnako iz vseh zhivotnyh na Zemle tihohodki mogut byt' luchshimi kandidatami. Izvestno, chto tihohodki mogut neskol'ko desyatiletii obhodit'sya bez edy ili vody, vyzhivat' pri temperaturah ot blizkih k absolyutnomu nulyu do prevyshayushih tochku kipeniya vody.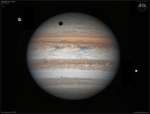 Ten' Ganimeda
25.03.2017 | Astronomicheskaya kartinka dnya
Priblizhaetsya protivostoyanie Yupitera, kotoroe nastupit v nachale sleduyushego mesyaca. Seichas s planety Zemlya na Yupiter luchshe vsego smotret' v teleskop. Etot vpechatlyayushii chetkii snimok samogo bol'shogo gazovogo giganta Solnechnoi sistemy byl sdelan 17 marta iz observatorii v Chili. Znakomye temnye poyasa i svetlye zony opoyasyvayut planetu, ih forma opredelyaetsya sil'nymi postoyanno duyushimi vetrami.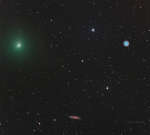 Kometa, Sova i galaktika
24.03.2017 | Astronomicheskaya kartinka dnya
Kometa 41P/Tuttlya-Dzhiakobini-Kresaka poziruet v kompanii ob'ektov Mess'e na etom teleskopicheskom snimke, sdelannom 21 marta. V pole zreniya s uglovym razmerom v 1 gradus popali dva izvestnyh ob'ekta iz znamenitogo kataloga 18-go veka, sostavlennogo astronomom-ohotnikom za kometami.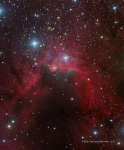 SH2-155: tumannost' Peshera
23.03.2017 | Astronomicheskaya kartinka dnya
Na etom nebesnom peizazhe zapechatlena bogataya pyl'yu emissionnaya oblast', zanesennaya v katalog Sharplessa kak Sh2-155, ili tumannost' Peshera. Na teleskopicheskom izobrazhenii, poluchennom s uzkopolosnym fil'trom, vidno krasnoe svechenie ionizovannyh atomov vodoroda. Tumannost' nahoditsya v ploskosti Mlechnogo Puti na rasstoyanii okolo 2400 svetovyh let ot nas v napravlenii na severnoe sozvezdie Cefeya.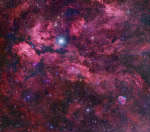 Nebesnyi peizazh v centre Lebedya
22.03.2017 | Astronomicheskaya kartinka dnya
Etot prekrasnyi nebesnyi peizazh narisovan kosmicheskoi kistochkoi svetyashimsya vodorodom vmesto krasok. Na kartinke, ohvatyvayushei oblast' razmerom okolo 6 gradusov, zapechatlen vid v ploskosti nashei Galaktiki Mlechnyi Put' okolo severnogo kraya Bol'shogo Razloma i v centre sozvezdiya Lebedya. Eta kartinka – mozaika iz 36 teleskopicheskih izobrazhenii.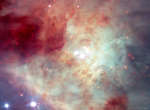 Bystrye zvezdy i planety-otshel'niki v tumannosti Oriona
21.03.2017 | Astronomicheskaya kartinka dnya
Nachnem s sozvezdiya Oriona. Nizhe Poyasa Oriona nahoditsya tumannoe pyatno, izvestnoe kak Bol'shaya tumannost' Oriona. V etoi tumannosti est' yarkoe zvezdnoe skoplenie, izvestnoe kak Trapeciya – chetyre yarkie zvezdy okolo centra kartinki. Nedavno rodivshiesya...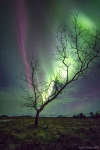 Severnoe siyanie i derevo
20.03.2017 | Astronomicheskaya kartinka dnya
Da, no kak mozhet derevo sdelat' eto? Na fotografii pokazano vidimoe sovpadenie mezhdu temnymi vetvyami blizkogo dereva i yarkim svecheniem dalekogo severnogo siyaniya. Krasota severnogo siyaniya i to, kak udachno ono nalozhilos' na blizkoe derevo, nastol'ko zagipnotizirovali fotografa, chto on dazhe zabyl o fotos'emke.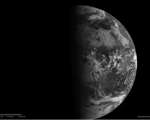 Ravnodenstvie na vrashayusheisya Zemle
19.03.2017 | Astronomicheskaya kartinka dnya
Kogda liniya, razdelyayushaya den' i noch', stanet vertikal'noi? – Zavtra. Zavtra na planete Zemlya nastupit ravnodenstvie – moment v godu, kogda den' i noch' prakticheski ravny mezhdu soboi. Vo vremya ravnodenstviya terminator na Zemle – liniya, razdelyayushaya dnevnuyu i nochnuyu storony planety – raspolagaetsya vertikal'no i soedinyaet severnyi i yuzhnyi polyusa.