Astronomy Picture Of the Day (APOD)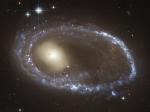 Ring Galaxy AM 0644 741 from Hubble
22.10.2005
How could a galaxy become shaped like a ring? The rim of the blue galaxy pictured on the right is an immense ring-like structure 150,000 light years in diameter composed of newly formed, extremely bright, massive stars.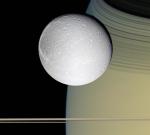 Ringside
21.10.2005
Orbiting in the plane of Saturn's rings, Dione and the other icy saturnian moons have a perpetual ringside view of the gorgeous gas giant planet. Of course, while passing through the ring plane the Cassini spacecraft also shares their stunning perspective.

The Andromeda Galaxy in Infrared
20.10.2005
What is the Andromeda galaxy really like? To find out, astronomers looked at our largest galactic neighbor in a different light: infrared. Astronomers trained the orbiting Spitzer Space Telescope at the Messier monster (M31) for over 18 hours, creating a mosaic that incorporated 11,000 separate exposures.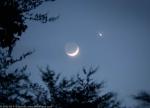 On the Possibility of Ascending to Mars
19.10.2005
On another October 19, in 1899, a 17 year-old Robert Goddard climbed a cherry tree on a beautiful autumn afternoon in Worcester, Massachusetts. Inspired by H.G. Wells' War of the Worlds and gazing...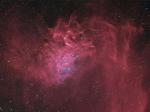 AE Aurigae: The Flaming Star
18.10.2005
Is star AE Aurigae on fire? No. Even though AE Aurigae is named the flaming star, the surrounding nebula IC 405 is named the Flaming Star Nebula, and the region appears to harbor red smoke, there is no fire.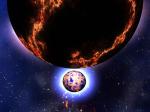 Short Gamma Ray Bursts Localized
17.10.2005
What causes gamma-ray bursts? The most energetic type of explosions known in the cosmos has been an enigma since discovered over 30 years ago. It now appears that there may not be one unique type of progenitor.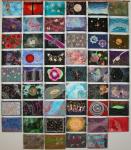 Astronomy Quilt of the Week
16.10.2005
Demonstrating her mastery of a traditional astronomical imaging technique quilter and astronomy enthusiast Judy Ross has produced this spectacular composition of "Astronomy Quilt Piece of the Week". Her year-long effort resulted in an arrangement...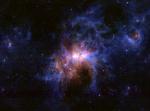 Dusty Environs of Eta Carinae
15.10.2005
Eta Car is a massive star, but it's not as bright as it used to be. Now only easily visible in binoculars or a small telescope, Eta Carinae has a history of spectacular flaring and fading behavior.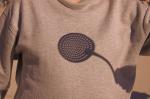 Eclipse Shirt
14.10.2005
Of course, everyone is concerned about what to wear to a solar eclipse. No need to worry though, nature often conspires to project images of the eclipse so that stylish and appropriate patterns adorn many visible surfaces - including clothing - at just the right time.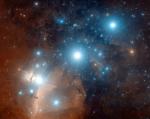 Alnitak, Alnilam, Mintaka
13.10.2005
Alnitak, Alnilam, and Mintaka, are the bright bluish stars from east to west (left to right) along the diagonal in this gorgeous cosmic vista. Otherwise known as the Belt of Orion, these three blue supergiant stars are hotter and much more massive than the Sun.