Astronomy Picture Of the Day (APOD)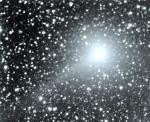 Comet Williams in 1998
6.10.1998
The brightest comet in the sky right now is Comet Williams. Moving slowly though the constellation of Centaurus, Comet Williams, at magnitude 8, is visible to Southern Hemisphere observers with binoculars. In ten days...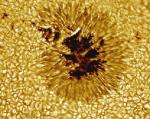 A Sunspot Up Close
5.10.1998
Sometimes, small regions of the Sun appear unusually dark. Visible above is a close-up picture of a sunspot, a depression on the Sun's face that is slightly cooler and less luminous than the rest of the Sun.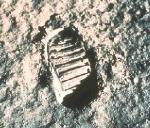 One Small Step
4.10.1998
On July 20th, 1969, a human first set foot on the Moon. Pictured above is the first lunar footprint. The footprint and distinction of the first person to walk on the Moon belong to Neil Armstrong.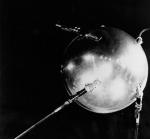 Sputnik: Traveling Companion
3.10.1998
Sputnik means "traveling companion". Despite the innocuous sounding name, the launch of the Earth's first "artificial moon", Sputnik 1, by the Soviets on October 4, 1957 shocked the free world, setting in motion events which resulted in the creation of NASA and the race to the Moon.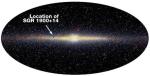 Magnetar In The Sky
2.10.1998
Indicated on this infrared image of the galactic center region is the position of SGR 1900+14 - the strongest known magnet in the galaxy. SGR 1900+14 is believed to be a city-sized, spinning, super-magnetic neutron star, or Magnetar. How strong is a Magnetar's magnetic field?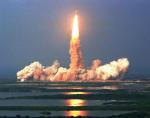 Happy 40th Birthday NASA
1.10.1998
Happy Birthday, NASA! The National Aeronautics and Space Administration officially began operations on October 1, 1958, absorbing its forerunner organization the National Advisory Committee for Aeronautics, NACA. Its landmark achievements in human spaceflight include...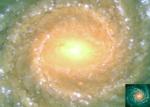 Spiral Galaxy NGC 1232
30.09.1998
Galaxies are fascinating not only for what is visible, but for what is invisible. Grand spiral galaxy NGC 1232, recently captured in detail by the new Very Large Telescope, is a good example.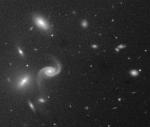 A Peculiar Cluster of Galaxies
29.09.1998
Far across the universe, an unusual cluster of galaxies has been evolving. A diverse group of galaxies populate this cluster, including, on the left, an unusual galaxy showing an equatorial polar ring and a large spiral. Above looms a large elliptical galaxy.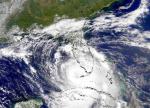 A Hurricane in the Gulf
28.09.1998
Last Friday, Hurricane Georges was photographed from space entering the Gulf of Mexico. This immense storm system, larger than most states, is expected to make landfall today. Starting as a slight pressure difference, hurricanes grow into large spiraling storm systems of low pressure, complete with high winds and driving rain.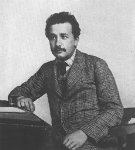 Albert Einstein Describes Space and Time
27.09.1998
Albert Einstein (1879-1955) is considered by many the greatest astrophysicist. He is pictured here in the Swiss Patent Office where he did much of his great work. Einstein's many visionary scientific contributions...