Astronomy Picture Of the Day (APOD)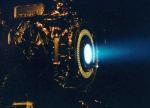 An Ion Drive for Deep Space 1
26.10.1998
Space travel entered the age of the ion drive Saturday with the launch of Deep Space 1, a NASA mission designed primarily to test new technologies. Deep Space 1 is bound for asteroid 1992 KD in July 1999.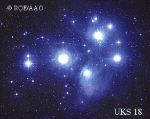 The Pleiades Star Cluster
25.10.1998
It is the most famous star cluster on the sky. The Pleiades can be seen without binoculars from even the depths of a light-polluted city. Also known as the Seven Sisters and M45, the Pleiades is one of the brightest and closest open clusters.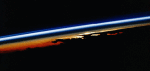 The Sun Also Rises
24.10.1998
Sunrise seen from low Earth orbit by the shuttle astronauts can be very dramatic indeed ( and the authors apologize to Hemingway for using his title!). In this breathtaking view, the Sun is just visible...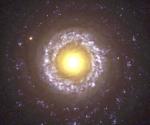 Seyfert Galaxy NGC 7742
23.10.1998
This might resemble a fried egg you've had for breakfast, but it's actually much larger. In fact, ringed by blue-tinted star forming regions and faintly visible spiral arms, the yolk-yellow center of this face-on spiral galaxy, NGC 7742, is about 3,000 light-years across.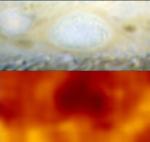 Jupiter: When Storms Collide
22.10.1998
Sometime in February, two of three long-lived Jovian storm systems known as "white ovals" apparently collided and merged -- forming what is now likely the second largest storm in the Solar System, after the famous Great Red Spot.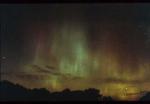 The Case of the Missing Aurora
21.10.1998
Sometimes, near midnight, auroras suddenly stop. Nobody knows why. This nightside gap in aurora was confirmed recently by D. Chua (U. Washington) and colleagues in data from the Ultraviolet Imager onboard the Polar spacecraft.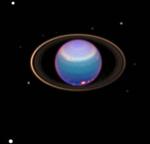 Infrared Uranus
20.10.1998
The Sun's third largest planet usually looks quite dull. Uranus typically appears as a featureless small spot in a small telescope or a featureless large orb in a large telescope. Last August, however...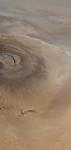 Olympus Mons From Orbit
19.10.1998
Olympus Mons on Mars is the largest volcano in the Solar System. Although three times higher than Earth's Mount Everest, Olympus Mons would not be difficult to climb because of the volcano's great breadth.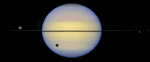 Saturns Rings Seen Sideways
18.10.1998
Saturn's rings are actually very thin. This picture from the Hubble Space Telescope was taken on August 6, 1995 when the rings lined up sideways as seen from Earth. Saturn's largest moon Titan is seen on the left, and Titan's shadow can be seen on Saturn's cloud tops!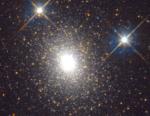 A Giant Globular Cluster in M31
17.10.1998
This cluster of stars, known as G1, is the brightest globular cluster in the whole Local Group of galaxies. Also called Mayall II, it orbits the center of the largest nearby galaxy: M31. G1 contains over 300,000 stars and is almost as old as the entire universe.