Astronomy Picture Of the Day (APOD)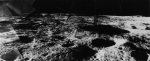 Surveyor Hops
5.12.1998
This panorama of the cratered lunar surface was constructed from images returned by the US Surveyor 6 lander. Surveyor 6 was not the first spacecraft to accomplish a soft landing on the Moon ... but it was the first to land and then lift off again!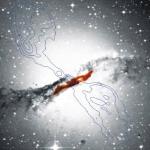 Centaurus A: The Galaxy Deep Inside
4.12.1998
Deep inside Centaurus A, the closest active galaxy to Earth, lies ... another galaxy! Cen A is a giant elliptical galaxy a mere 10 million light-years distant with a central jumble of stars, dust, and gas that probably hides a massive black hole.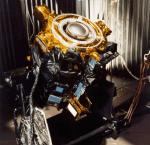 Deep Space 1
3.12.1998
Going gently into the night, Deep Space 1's ion drive has been running smoothly since it was restarted on November 24. How powerful is this high-tech spacecraft's ion propulsion system? At full...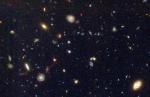 A Deep Field In The Southern Sky
2.12.1998
This new deep view of the cosmos is the sequel to the 1995 hit Hubble Space Telescope Deep Field. Billed as the Hubble Deep Field South, it was produced by pointing the space telescope toward a patch of sky in the southern constellation Tucana.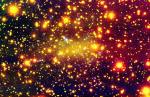 Cepheus 1: Nearby Galaxy Hiding
1.12.1998
Some galaxies are hard to find. Besides being hidden behind the dust and bright foreground stars of our Milky Way Galaxy, recently discovered Cepheus 1 was missed previously because it is so uniformly dim.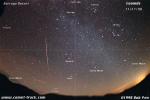 An Annotated Leonid
30.11.1998
The 1998 Leonids Meteor Shower was perhaps the most photographed meteor event in history. Patient observers saw bright meteors streak across dark skies every few minutes, frequently leaving fading trails stretching across the sky. High above the Anza-Borrego Desert, a meteor was photographed streaking up from the radiant constellation of the Leonids: Leo.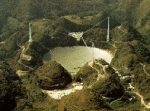 Arecibo: The Largest Telescope
29.11.1998
The Arecibo radio telescope is currently the largest single-dish telescope in the world. First opening in 1963, this 305 meter (1000 foot) radio telescope resides in a natural valley of Puerto Rico. The Arecibo telescope has been used for many astronomical research projects, including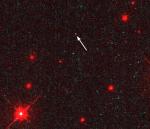 A Lonely Neutron Star
28.11.1998
How massive can a star get without imploding into a black hole? These limits are being tested by the discovery of a lone neutron star in space. Observations by the Hubble Space Telescope have...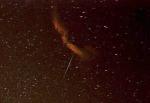 Twisting Meteor Train
27.11.1998
Blazing through the sky at 70 kilometers per second, 100 kilometers or so above planet Earth, many bright Leonid meteors left behind a persistent, smoke-like trail of glowing, hot, ionized gas. Twisting in high altitude winds, these trails or trains typically were visible for many minutes.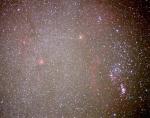 Meteor Milky Way
26.11.1998
The bold, bright star patterns of Orion (right) are a familiar sight to even casual skygazers. But this gorgeous color photo also features a subtler spectacle - the faint stars of the Milky Way.