Astronomy Picture Of the Day (APOD)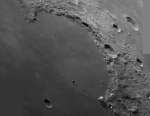 The Bay of Rainbows
7.02.2008
Dark, smooth regions that cover the Moon's familiar face are called by Latin names for oceans and seas. The naming convention is historical, though it may seem a little ironic to denizens...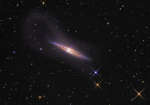 NGC 4013 and the Tidal Stream
6.02.2008
Nearly 50 million light-years away in the constellation Ursa Major, NGC 4013 was long considered an isolated island universe. Seen edge-on, the gorgeous spiral galaxy was known for its flattened disk and central bulge of stars, cut by silhouetted dust lanes.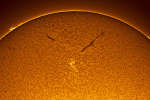 A Sunspot in the New Solar Cycle
5.02.2008
A new cycle has begun on our Sun. Over the past year, the Sun's magnetic field has reset and now a new 11 year period is beginning. Pictured above in a specific color of light emitted by hydrogen is sunspot 10982, one of the first sunspots of the new solar cycle.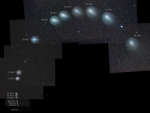 Three Month Composite of Comet Holmes
4.02.2008
How has Comet Holmes changed? Since brightening unexpectedly by nearly one million fold in late October, the last three months have found the coma of Comet 17P/Holmes both expanding and fading. This spectacular composite image shows how the coma and tail of Comet Holmes have changed.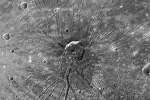 A Spider Shaped Crater on Mercury
3.02.2008
Why does this crater on Mercury look like a spider? When the robotic MESSENGER spacecraft glided by the planet Mercury last month, it was able to image portions of the Sun's closest planet that had never been seen before.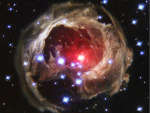 Light Echoes from V838 Mon
2.02.2008
What caused this outburst of V838 Mon? For reasons unknown, star V838 Mon's outer surface suddenly greatly expanded with the result that it became the brightest star in the entire Milky Way Galaxy in January 2002. Then, just as suddenly, it faded.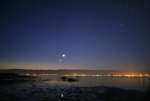 Venus and Jupiter in Morning Skies
1.02.2008
These two celestial beacons shining brightly in the east before sunrise are actually children of the Sun, the planets Venus and Jupiter. The second and third brightest objects in the sky at Night after...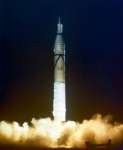 The First Explorer
31.01.2008
Fifty years ago (on January 31, 1958) the First Explorer, was launched into Earth orbit by the Army Ballistic Missile Agency. Inaugurating the era of space exploration for the United States, Explorer I was a thirty pound satellite that carried instruments to measure temperatures, and micrometeorite impacts, along with an experiment designed by James A.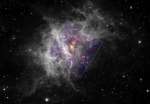 Young Star Cluster Westerlund 2
30.01.2008
Dusty stellar nursery RCW 49 surrounds young star cluster Westerlund 2 in this remarkable composite skyscape from beyond the visible spectrum of light. Infrared data from the Spitzer Space Telescope is shown in black...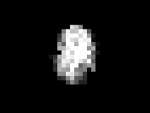 Asteroid 2007 TU24 Passes the Earth
29.01.2008
Asteroid 2007 TU24 passed by the Earth yesterday, posing no danger. The space rock, estimated to be about 250 meters across, coasted by just outside the orbit of Earth's Moon. The passing...