Astronomy Picture Of the Day (APOD)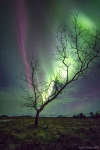 The Aurora Tree
20.03.2017
Yes, but can your tree do this? Pictured is a visual coincidence between the dark branches of a nearby tree and bright glow of a distant aurora. The beauty of the aurora -- combined with...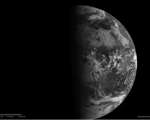 Equinox on a Spinning Earth
19.03.2017
When does the line between day and night become vertical? Tomorrow. Tomorrow is an equinox on planet Earth, a time of year when day and night are most nearly equal. At an equinox, the Earth's terminator -- the dividing line between day and night -- becomes vertical and connects the north and south poles.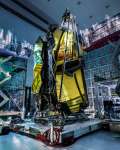 JWST: Ghosts and Mirrors
18.03.2017
Ghosts aren't actually hovering over the James Webb Space Telescope. But the lights are out as it stands with gold tinted mirror segments and support structures folded in Goddard Space Flight Center's Spacecraft Systems Development and Integration Facility clean room.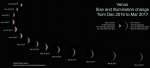 Phases of Venus
17.03.2017
Just as the Moon goes through phases, Venus' visible sunlit hemisphere waxes and wanes. This composite of telescopic images illustrates the steady changes for the inner planet, seen in the west as the evening star, as Venus grows larger but narrows to a thin crescent from December 20, 2016 through March 10.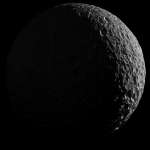 Mimas in Saturnlight
16.03.2017
Peering from the shadows, the Saturn-facing hemisphere of Mimas lies in near darkness alongside a dramatic sunlit crescent. The mosaic was captured near the Cassini spacecraft's final close approach on January 30, 2017. Cassini's camera was pointed in a nearly sunward direction only 45,000 kilometers from Mimas.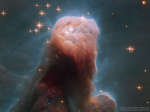 The Cone Nebula from Hubble
15.03.2017
Stars are forming in the gigantic dust pillar called the Cone Nebula. Cones, pillars, and majestic flowing shapes abound in stellar nurseries where natal clouds of gas and dust are buffeted by energetic winds from newborn stars. The Cone Nebula, a well-known example, lies within the bright galactic star-forming region NGC 2264.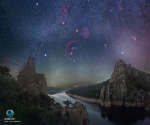 A Dark Winter Sky over MonfragЭe National Park in Spain
14.03.2017
You, too, can see a night sky like this. That is because MonfragЭe National Park in Spain, where this composite image was created, has recently had its night sky officially protected from potential future light pollution.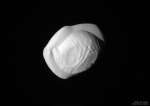 Saturns Moon Pan from Cassini
13.03.2017
Why does Saturn's moon Pan look so odd? Images taken last week from the robotic Cassini spacecraft orbiting Saturn have resolved the moon in unprecedented detail. The surprising images reveal a moon that looks something like a walnut with a slab through its middle.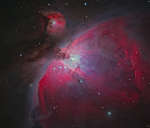 At the Heart of Orion
12.03.2017
Near the center of this sharp cosmic portrait, at the heart of the Orion Nebula, are four hot, massive stars known as the Trapezium. Tightly gathered within a region about 1.5 light-years in radius, they dominate the core of the dense Orion Nebula Star Cluster.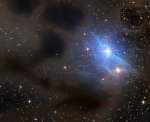 Reflections on vdB 31
11.03.2017
Riding high in the constellation of Auriga, beautiful, blue vdB 31 is the 31st object in Sidney van den Bergh's 1966 catalog of reflection nebulae. It shares this well-composed celestial still life with dark, obscuring clouds recorded in Edward E. Barnard's 1919 catalog of dark markings in the sky.