Astronomy Picture Of the Day (APOD)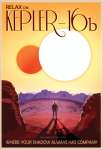 Where Your Shadow Has Company
20.02.2016
Want to take a relaxing interstellar vacation? Consider visiting Kepler-16b, a world in a binary star system. In fact Kepler-16b is the first discovered circumbinary planet. It was detected in a wide 229 day orbit around a close pair of cool, low-mass stars some 200 light-years away.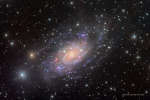 NGC 2403 in Camelopardalis
19.02.2016
Magnificent island universe NGC 2403 stands within the boundaries of the long-necked constellation Camelopardalis. Some 10 million light-years distant and about 50,000 light-years across, the spiral galaxy also seems to have more than its fair share of giant star forming HII regions, marked by the telltale reddish glow of atomic hydrogen gas.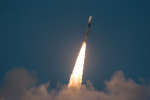 Hitomi Launches
18.02.2016
On February 17 at 5:45pm JST this H-IIA rocket blasted skyward from JAXA's Tanegashima Space Center located off the southern coast of Japan, planet Earth. Onboard was the ASTRO-H X-ray astronomy satellite, now in orbit.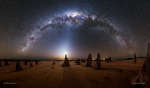 Milky Way over the Pinnacles in Australia
17.02.2016
What strange world is this? Earth. In the foreground of the featured image are the Pinnacles, unusual rock spires in Nambung National Park in Western Australia. Made of ancient sea shells (limestone), how these human-sized picturesque spires formed remains unknown.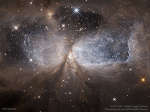 Star Forming Region S106
16.02.2016
Massive star IRS 4 is beginning to spread its wings. Born only about 100,000 years ago, material streaming out from this newborn star has formed the nebula dubbed Sharpless 2-106 Nebula (S106), featured here.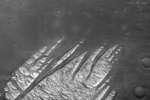 White Rock Fingers on Mars
15.02.2016
What caused this unusual light rock formation on Mars? Intrigued by the possibility that they could be salt deposits left over as an ancient lakebed dried-up, detailed studies of these fingers now indicate a more mundane possibility: volcanic ash. Studying the exact color of the formation indicated the possible volcanic origin.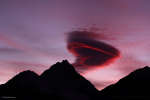 A Heart Shaped Lenticular Cloud
14.02.2016
Can a cloud love a mountain? Perhaps not, but on a Valentine's Day like today, one might be prone to seeing heart-shaped symbols where they don't actually exist. A fleeting pareidolia, the featured heart was really a lenticular cloud that appeared one morning last July above Mount Cook National Park in New Zealand.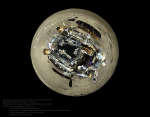 Yutu on a Little Planet
13.02.2016
Tracks lead to a small robot perched near the top of this bright little planet. Of course, the planet is really the Moon. The robot is the desk-sized Yutu rover, leaving its looming Chang'e 3 lander after a after a mid-December 2013 touch down in the northern Mare Imbrium.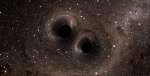 Two Black Holes Merge
12.02.2016
Just press play to watch two black holes merge. Inspired by the first direct detection of gravitational waves by LIGO, this simulation video plays in slow motion but would take about one third of a second if run in real time.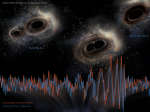 LIGO Detects Gravitational Waves from Merging Black Holes
11.02.2016
Gravitational radiation has been directly detected. The first-ever detection was made by both facilities of the Laser Interferometer Gravitational-Wave Observatory (LIGO) in Washington and Louisiana simultaneously last September. After numerous consistency checks, the resulting 5-sigma discovery was published today.