Astronomy Picture Of the Day (APOD)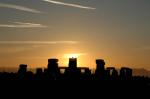 Sunrise Solstice at Stonehenge
21.06.2006
Today the Sun reaches its northernmost point in the planet Earth's sky. Called a solstice, the date traditionally marks a change of seasons -- from spring to summer in Earth's Northern Hemisphere and from fall to winter in Earth's Southern Hemisphere. Pictured above is the 2005 Summer Solstice celebration at Stonehenge in England.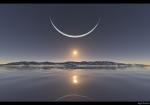 Hideaway
20.06.2006
Is this a picture of a sunset from Earth's North Pole? Regardless of urban legends circulating the Internet, the answer is no. The above scene was drawn to be an imaginary celestial place that would be calm and peaceful, and therefore titled Hideaway.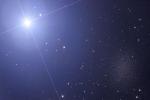 Bright Star Regulus near the Leo 1 Dwarf Galaxy
19.06.2006
The star on the upper left is so bright it is sometimes hard to notice the galaxy on the lower right. Both the star, Regulus, and the galaxy, Leo I, can be found within one degree of each other toward the constellation of Leo.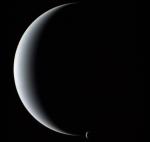 Crescent Neptune and Triton
18.06.2006
Gliding silently through the outer Solar System, the Voyager 2 spacecraft camera captured Neptune and Triton together in crescent phase in 1989. The above picture of the gas giant planet and its cloudy moon was taken from behind just after closest approach.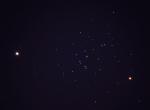 Saturn, Mars, and the Beehive Cluster
17.06.2006
Grab a pair of binoculars and check out Saturn and Mars in the early evening sky tonight! Looking west shortly after sunset, your view could be similar to this one - recorded on June 14.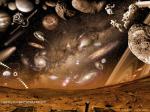 APOD Turns Eleven
16.06.2006
The first APOD appeared eleven years ago today, on 1995 June 16. Although garnering only 14 page views on that day, we are proud to estimate that APOD has now served over 400 million space-related images over the last eleven years.

Gordel van Venus
15.06.2006
Scroll right and enjoy this 180 degree panorama across the South African Astronomical Observatory's hilltop Sutherland observing station. Featured are SAAO telescope domes and buildings, along with the dark, wedge-shaped shadow of planet Earth stretching into the distance, bounded above by the delicately colored antitwilight arch.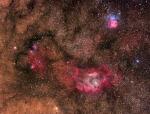 Sagittarius Triplet
14.06.2006
These three bright nebulae are often featured in telescopic tours of the constellation Sagittarius and the crowded starfields of the central Milky Way. In fact, 18th century cosmic tourist Charles Messier cataloged two of them; M8, the nebula below and right of center, and colorful M20 at the upper right.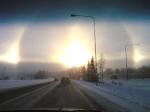 Driving Toward a Sun Halo
13.06.2006
What's happened to the Sun? Sometimes it looks like the Sun is being viewed through a large lens. In the above case, however, there are actually millions of lenses: ice crystals. As water freezes in the upper atmosphere, small, flat, six-sided, ice crystals might be formed.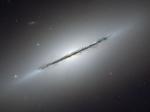 Edge On Galaxy NGC 5866
12.06.2006
Why is this galaxy so thin? Many disk galaxies are actually just as thin as NGC 5866, pictured above, but are not seen edge-on from our vantage point. One galaxy that is situated edge-on is our own Milky Way Galaxy.