Astronomy Picture Of the Day (APOD)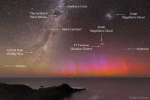 Red Aurora Over Australia
29.01.2017
Why would the sky glow red? Aurora. A solar storm in 2012, emanating mostly from active sunspot region 1402, showered particles on the Earth that excited oxygen atoms high in the Earth's atmosphere. As the excited element's electrons fell back to their ground state, they emitted a red glow.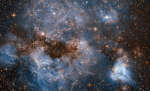 N159 in the Large Magellanic Cloud
28.01.2017
Over 150 light-years across, this cosmic maelstrom of gas and dust is not too far away. It lies south of the Tarantula Nebula in our satellite galaxy the Large Magellanic Cloud a mere 180,000 light-years distant. Massive stars have formed within.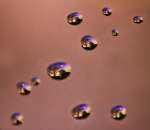 Venus Through Water Drops
27.01.2017
Now the brilliant "star" in planet Earth's evening skies, Venus is captured in this creative astrophotograph. Taken with a close-focusing lens on January 18 from Milton Keynes, UK, it shows multiple images of the sky above the western horizon shortly after sunset.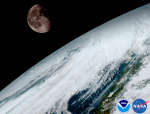 GOES 16: Moon over Planet Earth
26.01.2017
Launched last November 19 from Cape Canaveral Air Force Station, the satellite now known as GOES-16 can now observe planet Earth from a geostationary orbit 22,300 miles above the equator. Its Advanced Baseline Imager captured this contrasting view of Earth and a gibbous Moon on January 15.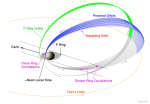 Cassinis Grand Finale Tour at Saturn
25.01.2017
Cassini is being prepared to dive into Saturn. The robotic spacecraft that has been orbiting and exploring Saturn for over a decade will end its mission in September with a spectacular atmospheric plunge. Pictured here is a diagram of Cassini's remaining orbits, each taking about one week.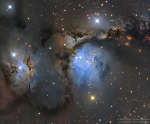 M78 and Orion Dust Reflections
24.01.2017
In the vast Orion Molecular Cloud complex, several bright blue nebulas are particularly apparent. Pictured here are two of the most prominent reflection nebulas - dust clouds lit by the reflecting light of bright embedded stars. The more famous nebula is M78, in the image center, cataloged over 200 years ago.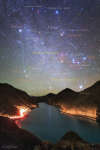 Winter Hexagon over Manla Reservoir
23.01.2017
If you can find Orion, you might be able to find the Winter Hexagon. The Winter Hexagon involves some of the brightest stars visible, together forming a large and easily found pattern in the winter sky of Earth's northern hemisphere.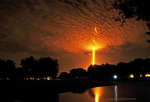 SpaceX Falcon 9 to Orbit
22.01.2017
Birds don't fly this high. Airplanes don't go this fast. The Statue of Liberty weighs less. No species other than human can even comprehend what is going on, nor could any human just a millennium ago. The launch of a rocket bound for space is an event that inspires awe and challenges description.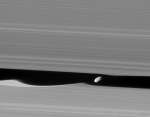 Daphnis the Wavemaker
21.01.2017
Plunging close to the outer edges of Saturn's rings, on January 16 the Cassini spacecraft captured this closest yet view of Daphnis. About 8 kilometers across and orbiting within the bright ring system's Keeler gap, the small moon is making waves.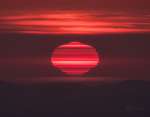 Layer Cake Sunset
20.01.2017
On January 18 a tantalizing sunset was captured in this snapshot. Seemingly sliced into many horizontal layers the Sun shimmered moments before it touched the horizon, setting over the Pacific Ocean as seen from the mountaintop Las Campanas Observatory in Chile.