Astronomy Picture Of the Day (APOD)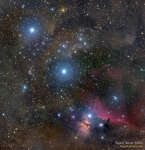 Alnitak, Alnilam, Mintaka
12.12.2013
Alnitak, Alnilam, and Mintaka, are the bright bluish stars from east to west (lower right to upper left) along the diagonal in this gorgeous cosmic vista. Otherwise known as the Belt of Orion, these three blue supergiant stars are hotter and much more massive than the Sun.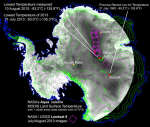 The Coldest Place on Earth
11.12.2013
How cold can it get on Earth? In the interior of the Antarctica, a record low temperature of -93.2 C (-135.8 F) has been recorded. This is about 25 C (45 F) colder than the coldest lows noted for any place humans live permanently.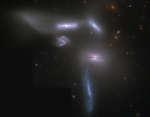 Seyferts Sextet
10.12.2013
What will survive this battle of the galaxies? Known as Seyfert's Sextet, this intriguing group of galaxies lies in the head portion of the split constellation of the Snake (Serpens). The sextet actually contains only four interacting galaxies, though.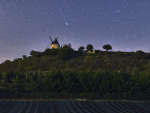 Comet Lovejoy over a Windmill
9.12.2013
Lovejoy continues to be an impressive camera comet. Pictured above, Comet C/2013 R1 (Lovejoy) was imaged above the windmill in Saint-Michel-l'Observatoire in southern France with a six-second exposure. In the foreground is a field of lavender.

Everest Panorama from Mars
8.12.2013
If you could stand on Mars -- what might you see? Scroll right to find out. The robotic Spirit rover that rolled around Mars from 2004 to 2009 Mars climbed...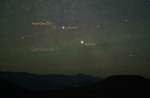 Naked Eye Nova Centauri 2013
7.12.2013
Brightest stellar beacons of the constellation Centaurus, Alpha and Beta Centauri are easy to spot from the southern hemisphere. For now, so is new naked eye Nova Centauri 2013. In this night skyscape recorded...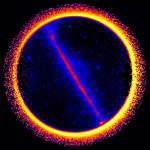 Gamma Ray Earth and Sky
6.12.2013
For an Earth-orbiting gamma-ray telescope, Earth is actually the brightest source of gamma-rays, the most energetic form of light. Gamma-rays from Earth are produced when high energy particles, cosmic rays from space, crash into the atmosphere.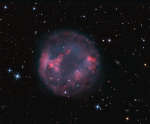 Planetary Nebula Abell 7
5.12.2013
Very faint planetary nebula Abell 7 is some 1,800 light-years distant, just south of Orion in planet Earth's skies in the constellation Lepus, The Hare. Surrounded by Milky Way stars and near...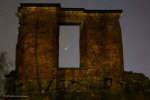 Comet Lovejoy through Morby Castle Ruins
4.12.2013
This new comet is quite photogenic. Comet Lovejoy, discovered only three months ago, was imaged through ruins of ancient MЖrby Castle in Sweden last week sporting a green-glowing coma and tails trailing several degrees.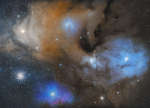 The Colorful Clouds of Rho Ophiuchi
3.12.2013
The many spectacular colors of the Rho Ophiuchi (oh'-fee-yu-kee) clouds highlight the many processes that occur there. The blue regions shine primarily by reflected light. Blue light from the star Rho Ophiuchi and nearby stars reflects more efficiently off this portion of the nebula than red light.