Astronomy Picture Of the Day (APOD)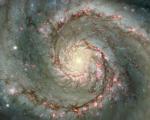 M51: The Whirlpool Galaxy in Dust and Stars
10.04.2001
The Whirlpool Galaxy is a classic spiral galaxy. At only 30 million light years distant and fully 60 thousand light years across, M51, also known as NGC 5194, is one of the brightest and most picturesque galaxies on the sky.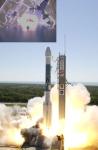 Mars Odyssey Lifts Off for Mars
9.04.2001
Next stop: Mars. On Saturday the 2001 Mars Odyssey spacecraft lifted off from Cape Canaveral, Florida on a path to enter orbit around Mars in late October. Pictured above, a Delta II rocket lifted...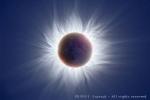 The Big Corona
8.04.2001
Most photographs don't adequately portray the magnificence of the Sun's corona. Seeing the corona first-hand during a total solar eclipse is best. The human eye can adapt to see features and extent that photographic film usually cannot. Welcome, however, to the digital age.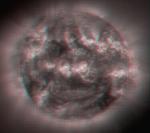 Stereo Sun
7.04.2001
This week's stereo offering features the now famous Active Region 9393, the largest sunspot group in the last 10 years. Viewed with red/blue glasses, the stereo pair of images merges into one 3D representation of the Sun with AR9393 above and right of center.
Aurora Over New Zealand
6.04.2001
Last weekend skygazers at middle and high latitudes around the globe were treated to expansive auroral displays as a magnetic storm raged around planet Earth. The storm was triggered by a solar coronal mass ejection associated with the giant sunspot group cataloged as active region number 9393.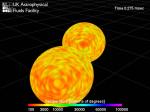 On the Origin of Gold
5.04.2001
Where did the gold in your jewelry originate? No one is completely sure. The relative average abundance in our Solar System appears higher than can be made in the early universe, in stars, and even in typical supernova explosions. Some astronomers now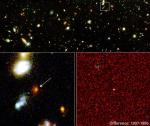 Distant Supernova Dark Energy
4.04.2001
Light from a star that exploded over 10 billion light-years away is revealed in the panel at the lower right, a cosmic snapshot of the most distant supernova. The ancient stellar detonation was detected...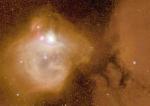 New Stars Destroying NGC 1748
3.04.2001
NGC 1748 cannot contain all the new stars it has formed. The young stars, the most massive of which are bright blue, emit so much energy they are pushing out and dispersing the gas and dust that comprise this star forming nebula.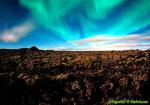 Aurora Over Clouds
2.04.2001
Aurorae usually occur high above the clouds. The auroral glow is created when fast-moving particles ejected from the Sun impact air molecules high in the Earth's atmosphere. An oxygen molecule, for example, will glow in a green light when reacquiring an electron lost during a collision with a solar particle.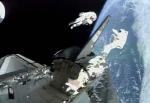 Americans Defeat Russians in First Space Quidditch Match
1.04.2001
A historic first Space Quidditch match came to a spectacular conclusion last night as astronaut Michael Lopez-Alegria caught the Golden Snitch to give the Americans a hard fought victory over the Russians. "The Russians...