Astronomy Picture Of the Day (APOD)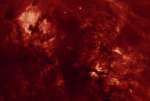 Cygnus Without Stars
24.04.2008
The sky is full of hydrogen, though it can take a sensitive camera and telescope to see it. For example, this twelve-degree-wide view of the northern part of the constellation Cygnus reveals cosmic clouds of hydrogen gas along the plane of our Milky Way galaxy.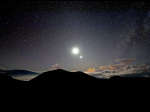 Above the Clouds
23.04.2008
From the windswept peak of Mauna Kea, on the Big Island of Hawaii, your view of the world at night could look like this. At an altitude of about 13,500 feet, the mountain top is silhouetted in the stunning skyscape recorded near dusk in early December of 2005.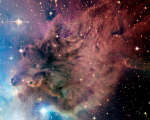 The Fox Fur Nebula from CFHT
22.04.2008
This interstellar beast is formed of cosmic dust and gas interacting with the energetic light and winds from hot young stars. The shape, visual texture, and color, combine to give the region the popular name Fox Fur Nebula.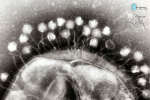 Bacteriophages: The Most Common Life Like Form on Earth
21.04.2008
There are more bacteriophages on Earth than any other life-like form. These small viruses are not clearly a form of life, since when not attached to bacteria they are completely dormant. Bacteriophages attack and eat bacteria and have likely been doing so for over 3 billion years ago.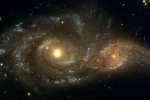 Spiral Galaxies in Collision
20.04.2008
Billions of years from now, only one of these two galaxies will remain. Until then, spiral galaxies NGC 2207 and IC 2163 will slowly pull each other apart, creating tides of matter, sheets of shocked gas, lanes of dark dust, bursts of star formation, and streams of cast-away stars.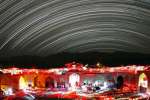 Running Messier s Marathon
19.04.2008
Gripped by an astronomical spring fever, many northern hemisphere stargazers embark on a Messier Marathon. Completing the marathon requires viewing all 110 objects in 18th century French astronomer Charles Messier's catalog in one glorious dusk-to-dawn observing run.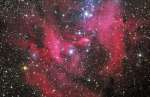 IC 2948: The Running Chicken Nebula
18.04.2008
Bright nebulae abound in and around the expansive southern constellation of Centaurus. This one, cataloged as IC 2948 is near the star Lambda Centauri and not far on the sky from the better known Eta Carinae Nebula.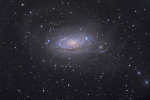 Messier 63: The Sunflower Galaxy
17.04.2008
A bright spiral galaxy of the northern sky, Messier 63 is about 25 million light-years distant in the loyal constellation Canes Venatici. Also cataloged as NGC 5055, the majestic island universe is nearly 100,000 light-years across, about the size of our own Milky Way.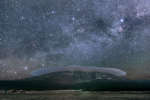 A Protected Night Sky Over Flagstaff
16.04.2008
This sky is protected. Yesterday marked the 50 year anniversary of the first lighting ordinance ever enacted, which restricted searchlight advertisements from sweeping the night skies above Flagstaff, Arizona, USA. Flagstaff now enjoys...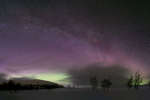 Sky Delights Over Sweden
15.04.2008
This night was a sky enthusiast's delight. While relaxing in Sweden last week, many a cosmic wonder was captured with a single snapshot. They are described here from near to far. In the foreground are nearby trees and more distant snow covered mountains.