Astronomy Picture Of the Day (APOD)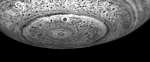 Beneath the South Pole of Saturn
27.10.2008
What clouds lurk beneath Saturn's unusual South Pole? To help find out, the robotic Cassini spacecraft currently orbiting Saturn imaged the nether region of the gigantic ringed orb in infrared light. There thick...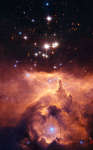 Massive Stars in Open Cluster Pismis 24
26.10.2008
How massive can a normal star be? Estimates made from distance, brightness and standard solar models had given one star in the open cluster Pismis 24 over 200 times the mass of our Sun, making it a record holder. This star is the brightest object located just above the gas front in the above image.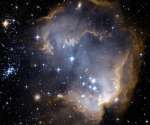 NGC 602 and Beyond
25.10.2008
Near the outskirts of the Small Magellanic Cloud, a satellite galaxy some 200 thousand light-years distant, lies 5 million year young star cluster NGC 602. Surrounded by natal gas and dust, NGC 602 is featured in this stunning Hubble image of the region.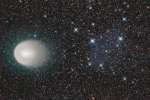 Amazing Comet Holmes
24.10.2008
One year ago, Comet 17P/Holmes amazed sky watchers across planet Earth. A stunningly rapid outburst transformed it from a faint comet quietly orbiting the Sun with a period of about 7 years to a naked-eye comet rivaling the brighter stars in the constellation Perseus.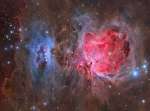 Great Orion Nebulae
23.10.2008
The Great Nebula in Orion, also known as M42, is one of the most famous nebulae in the sky. The star forming region's glowing gas clouds and hot young stars...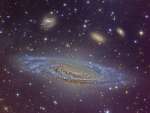 Beautiful Spiral NGC 7331
22.10.2008
A favorite target for astronomers, big, beautiful spiral galaxy NGC 7331 is one of the brighter galaxies not found in Charles Messier's famous 18th century catalog. About 50 million light-years distant...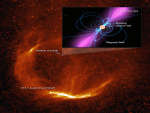 A Dark Pulsar in CTA 1
21.10.2008
Where's the pulsar? Previously, the nebula CTA 1 showed an expanding supernova remnant, a jet, and a point source expected to be a pulsar -- a rotating neutron star producing pulses at radio energies. But no radio pulses were detected.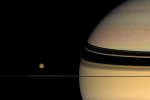 Moons, Rings, and Unexpected Colors on Saturn
20.10.2008
Why would Saturn show such strange colors? The robotic Cassini spacecraft currently orbiting Saturn has beamed back images showing that the northern hemisphere our Solar System's most spectacularly ringed planet has changed noticeably since Cassini arrived in 2004, now sporting unusual and unexpected colors. No one is sure why.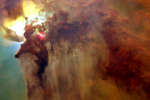 In the Center of the Lagoon Nebula
19.10.2008
The center of the Lagoon Nebula is a whirlwind of spectacular star formation. Visible on the upper left, at least two long funnel-shaped clouds, each roughly half a light-year long, have been formed by extreme stellar winds and intense energetic starlight. The tremendously bright nearby star, Hershel 36, lights the area.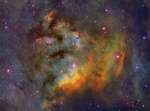 Sharpless 171
18.10.2008
Cosmic pillars of cold molecular gas and clouds of dark dust lie within Sharpless 171, a star-forming region some 3,000 light-years away in the royal constellation Cepheus. This tantalizing false-color skyscape spans about 20 light-years across the nebula's bright central region.