Astronomy Picture Of the Day (APOD)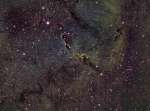 The Elephant s Trunk in IC 1396
26.12.2008
(xxxedit and linkxxx) Like an illustration in a galactic Just So Story, the Elephant's Trunk Nebula winds through the emission nebula and young star cluster complex IC 1396, in the high and far off constellation of Cepheus. Of course, this cosmic elephant's trunk is over 20 light-years long.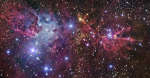 Fox Fur, a Unicorn, and a Christmas Tree
25.12.2008
Clouds of glowing hydrogen gas fill this colorful skyscape in the faint but fanciful constellation Monoceros, the Unicorn. A star forming region cataloged as NGC 2264, the complex jumble of cosmic gas and dust...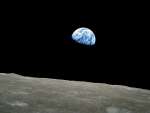 Earthrise
24.12.2008
Forty years ago, in December of 1968, the Apollo 8 crew flew from the Earth to the Moon and back again. Frank Borman, James Lovell, and William Anders were launched atop a Saturn V rocket on December 21, circled the Moon ten times in their command module, and returned to Earth on December 27.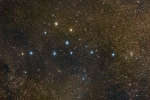 Collinder 399: The Coat Hanger
23.12.2008
Is this coat hanger a star cluster or an asterism? This cosmic hang-up has been debated over much of last century, as astronomers wondered whether this binocular-visible object is really a physically associated open cluster or a chance projection. Chance star projections are known as asterisms, an example of which is the popular Big Dipper.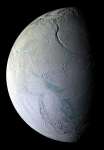 Labtayt Sulci on Saturns Enceladus
22.12.2008
Do some surface features on Enceladus roll like a conveyor belt? A leading interpretation of recent images taken of Saturn's most explosive moon indicate that they do. This form of asymmetric tectonic activity...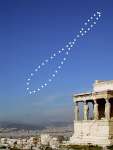 Analemma Over the Porch of Maidens
21.12.2008
If you took a picture of the Sun at the same time each day, would it remain in the same position? The answer is no, and the shape traced out by the Sun over the course of a year is called an analemma.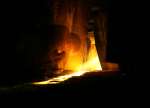 Solstice at Newgrange
20.12.2008
Tomorrow's solstice marks the southernmost point of the Sun's annual motion through planet Earth's sky and the astronomical beginning of winter in the north. In celebration of the northern winter solstice...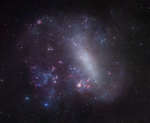 The Large Cloud of Magellan
19.12.2008
The 16th century Portuguese navigator Ferdinand Magellan and his crew had plenty of time to study the southern sky during the first circumnavigation of planet Earth. As a result, two fuzzy cloud-like objects easily...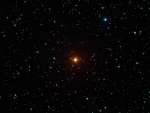 La Superba
18.12.2008
Y Canum Venaticorum (Y CVn) is a very rare star in planet Earth's night sky. It's also very red, exhibiting such a remarkable spectrum of light, 19th century astronomer Angelo Secchi dubbed it La Superba.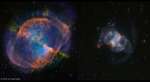 The Dumbells
17.12.2008
These two nebulae are cataloged as M27 (left) and M76, popularly known as The Dumbbell and the Little Dumbbell. Not intended to indicate substandard mental prowess, their popular names refer to their similar, dumbbell or hourglass shapes.