Astronomy Picture Of the Day (APOD)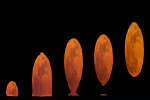 An Etruscan Vase Moon Rising
22.02.2009
What's happened to the Moon? Nothing, although from some locations, February's full moon, which occurred about two weeks ago, appeared strangely distorted as it rose. Visible in particular was a curiously inverted...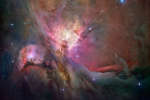 Orion Nebula: The Hubble View
21.02.2009
Few cosmic vistas excite the imagination like the Orion Nebula. Also known as M42, the nebula's glowing gas surrounds hot young stars at the edge of an immense interstellar molecular cloud only 1,500 light-years away.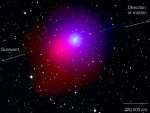 The Swift View of Comet Lulin
20.02.2009
Now growing brighter, Comet Lulin is headed for its closest approach to planet Earth early next week. But the comet's greenish glow, familiar to earthbound skygazers, is replaced by false colors in this premier view from the orbiting Swift satellite.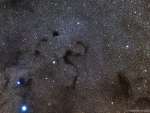 Snake in the Dark
19.02.2009
Dark nebulae snake across a gorgeous expanse of stars in this telescopic view toward the pronounceable constellation Ophiuchus and the center of our Milky Way Galaxy. In fact, the twisting central shape seen here is well known as the Snake Nebula.

Mauna Kea Milky Way Panorama
18.02.2009
Aloha and welcome to a breathtaking skyscape. The dreamlike panoramic view looks out from the 4,200 meter volcanic summit of Mauna Kea, Hawai'i, across a layer of clouds toward a starry night sky and the rising Milky Way.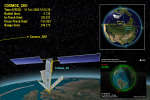 Satellites Collide in Low Earth Orbit
17.02.2009
How often do satellites collide? Although minuscule space debris may strike any satellite on occasion, the first known collision between time two full satellites occurred only last week. Even though thousands of satellites have been launched, the low collision rate is caused by the great vastness of space.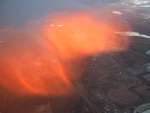 Unusual Red Glow Over Minnesota
16.02.2009
What in heaven's blazes is that? When landing in Minneapolis, Minnesota, USA in 2002, just after his flight descended below cloud level in the early evening, passenger Tyler Blessing saw and photographed "huge...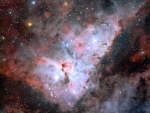 The Great Carina Nebula
15.02.2009
A jewel of the southern sky, the Great Carina Nebula, aka NGC 3372, spans over 300 light-years, one of our Galaxy's largest star forming regions. Like the smaller, more northerly Great Orion Nebula...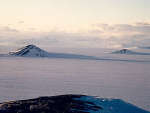 Antarctic Ice Shelf Vista
14.02.2009
It's all gone but the mountains. Most of the sprawling landscape of ice that lies between the mountains visible above has now disintegrated. The above picture was taken in Antarctica from the top of Grey Nunatak, one of three Seal Nunatak mountains that border the Larsen B Ice-Shelf.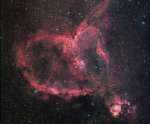 IC 1805: The Heart Nebula
13.02.2009
Sprawling across almost 200 light-years, emission nebula IC 1805 is a mix of glowing interstellar gas and dark dust clouds. Derived from its Valentine's-Day-approved shape, its nickname is the Heart Nebula. About 7,500 light-years away in the Perseus spiral arm of our galaxy, stars were born in IC 1805.